Sessions Critical of White House Immigration Plan
By Brandon Moseley
Alabama Political Reporter
U.S. Senator Jeff Sessions (R) issued a written statement following the leak of President Barack Obama's (D) secret immigration reform plan.
Sen. Sessions said, "The release of the President's immigration plan is more than a misstep or clever political maneuver. It is a dramatic disclosure of his real immigration ideology and goals. The plan grants amnesty on day one while making hollow promises of future enforcement that will never occur. The plan is a giveaway for the special interests and the open borders lobby. This president will never dedicate himself to enforcing the law, and this plan offers only further proof of that."
Sessions continued, "It is plain what is happening. The special interests are again in the White House, demanding and getting their favors granted, while American workers and the public interest are again locked out.
Unfortunately, the leaked plan is little different in its substance from the Gang of 8 plan, which is also unlikely to withstand scrutiny. Crucially, both plans confer legal status and work authorization on day one in exchange for promises of future enforcement on which this administration will never deliver. Perhaps this leak, and what it reveals, may mark the beginning of the collapse of this new scheme to force through a fatally flawed plan."
Sen. Sessions' opposition to President Obama's efforts to give legal residency and a path to American citizenship for up to 11 million illegal aliens has drawn much criticism from the pro undocumented worker lobby.
On Wednesday members of the Alabama Coalition for Immigrant Justice (ACIJ) picketed a fish fry organized by friends of Sen. Sessions.
In their statement to the press the ACIJ said, "It is time to jump on the bandwagon or to step aside."
Juanita Mendoza said, "Our families are citizens, residents, and aspiring citizens of Alabama and we want to contribute to our community. "We ask that our members of Congress join the push for immigration reform or step aside and accept that immigration reform will become a reality."
The Alabama Coalition for Immigrant Justice was joined by the Alabama Immigration Compact in the vigil outside Sen. Sessions public fish fry in Russellville, AL.
According to their statement the goal of the protest was to call attention to Senator Sessions', "Extreme stance against immigration reform and to remind the Senator and all members of Congress that the people of Alabama want them to create a common sense immigration process that reflects the American values of freedom, hard work, and keeping families together."
The Alabama Coalition for Immigrant Justice is a network of individuals and organizations which are seeking to provide a united voice in favor of immigration reform.
Senator Sessions has long been critical of President Obama's immigration policy because he feels that giving citizenship to illegal aliens would only encourage more immigrants to enter the country illegally while increasing the burden on taxpayers to pay for services for the new immigrants.
Trump Truck and boat parades this weekend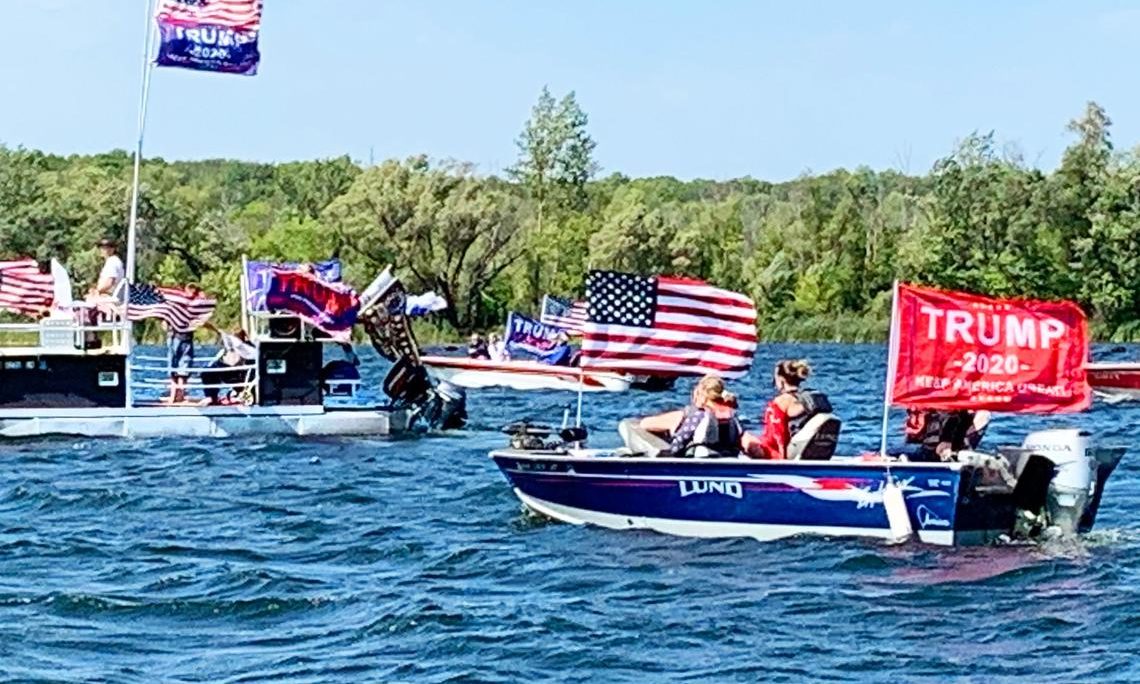 As Election Day draws near, Alabama Republicans are excited about promoting the re-election of Donald J. Trump as President and the election of Tommy Tuberville for U.S. Senate. This weekend two pro-President Trump events are happening in the state. There will be a truck parade from Ashland to Phenix City on Saturday sponsored by the Clay County Republican Party, while there will also be a boat parade on Wilson Lake in the Shoals sponsored by the Colbert County Republican Party on Sunday.
The pickup trucks will assemble at the Ashland Industrial Park in Clay County, 8240 Hwy 9, Ashland. There is a pre-departure rally at 10:00 a.m. central standard time. The trucks will depart at 11:00 a.m. and then proceed on a parade route that will take them into the bitterly contested swing state of Georgia. The Trump Pickup Parade will wind through east Alabama and West Georgia traveling through LaGrange and Columbus before concluding near the Alabama/Georgia line in Phenix City, 332 Woodland Drive, Phenix City at approximately 2:00 p.m. central time. Speakers will begin at 3:00. Trump flags will be on sale at the event.
The Phenix Motorsports Park will be hosting what sponsor hope could possibly the world's largest Pickup Tuck parade in U.S. history that is routing over 50 mile through Georgia in effort to "pickup" President Trump's numbers in GA.
A number dignitaries have been invited to address the Phenix City rally, including Coach Tuberville. Former State Sen. Shadrack McGill, Trump Victory Finance Committee member former State Rep. Perry O. Hooper Jr., and Paul Wellborn, the President and CEO of the largest Family owned Kitchen Cabinet manufacture in the USA are among the featured speakers who have committed to speak at the event.
Entertainment will be provided by: Charity Bowden, an up and coming country music singer who was the runner up on "The Voice". Charity will sing 'I am Proud to be an American' as well as songs from her Voice performances. The McGill Girls will also perform. The three beautiful and talented sisters will be singing patriotic songs in three part harmony. Geoff Carlisle, a professional DJ will be keeping the crowd pumped with music and entertainment.
Following the speakers and the entertainment there will Trump truck-vs- Joe Bidden truck races down the drag strip for the finale.
The Northwest Alabama boat parade will be on Sunday. The boats will gather at 2:00 p.m. near Turtle Point and then the flotilla will parade around the open waters of Wilson Lake til 3_00 p.m.. There will be a contest for best decorated Trump boats.
Trump supporters have held a number of large boat parades across the state to show their support for the re-election of Pres. Trump.
Boat parade sponsors say that this parade will be: pro-American, pro-law enforcement, pro-military.