Democrats Still Angry Over Alabama Accountability Act
By Brandon Moseley
Alabama Political Reporter
The people of Alabama have given Alabama's Democratic legislators a decided disadvantage versus Alabama's Republicans in the Alabama Capital. That was never more apparent than Thursday, when Republicans were so dismissive of Alabama Democrats that they passed the state's most comprehensive education reform package in history without even bothering to include 18 pages of the Alabama Accountability Act's 27 pages in the version on the calender. Despite angry Democratic Party opposition that Act passed easily and there was nothing Democrats could do to shape it, stop it, or even slow it down. Democrats are understandably angry.
The Chairman of the House Democratic Caucus Representative Thomas Jackson from Thomasville says that the Republicans violated the state Open Meetings Law. Rep. Thomas Jackson said in a written statement, "They were supposed to meet to discuss changes to the School Flex Bill instead they left the meeting and conducted a private meeting then came back with a bill that was 3 times longer and the extra content added included nothing that corresponded with the previously passed bill."
Rep. Christopher John England (D) from Tuscaloosa said on Facebook, "Leadership does not operate in this manner. Operating like this should undermine your faith, (if you had any before) in this entire system. Although there are 140 elected members in the Alabama Legislature, the will of a few overrode the will of the body. That essentially means that they decided that Democracy was an inconvenience to them. Therefore, they manipulated the rules to ignore you. Whether or not you support tax credits, charter schools, or anything else in this Bill, you should be outraged that the process was subverted and you were ignored. I am outraged and you should be as well."
Rep. Joe Hubbard (D) from Montgomery said on Facebook, "Tonight, democracy died at the hands of cloak and dagger politics. The House and Senate leadership passed a bill behind closed doors that provides a tax credit give-away to rich families zoned for failing schools to subsidize the private school tuition they are already paying."
Alabama House Minority Leader Craig Ford (D) from Gadsden said, "This is a bait and switch. The bill that came out of the conference committee was more than three times longer than the bill we passed. There is no way that happened in the thirty minutes that the conference committee met today. This bill has been sitting in someone's desk drawer for months. It was their strategy all along to pass one version of the bill, and then come back and push this version through conference committee. The Republican leadership operated unethically, and in bad faith. But it is our children who are going to suffer because of this, and my heart breaks for them today."
The leadership of both of the two major teachers unions in Alabama were also upset by the legislation which is expected to lead more students and dollars from unionized poor performing government schools to non-unionized private schools.
The President of the Jefferson County of the Alabama Federation of Teachers, Vi Parramore said, "This bill was passed under the cloak of darkness without any public hearings, public input or a copy of the bill available to anyone. By the time this 'flexibility' bill passed last night, the only flexibility was the bill's authors' ability to keep its anti-public schools content hidden from teachers, parents, and even other lawmakers."
The Executive Secretary of the Alabama Education Association Henry Mabry told reporters, "We were railroaded. We were lied to. Lawmakers lied to us. The Senate pro tem lied to us. …The governor lied to us."
The President of the Birmingham Federation of Teachers Richard Franklin said, "This is a direct assault on public schools and will do serious harm to students. It sets up voucher schools as the silver bullet, but not one credible study has shown that students do better at voucher schools."
The bill Alabama Accountability Act would provide parents with a tax credit if they removed their child from one of the worst schools in Alabama and enrolls them in a private school. The bill also allows businesses and individuals to get tax credits for contributing to a scholarship fund for scholarships so that poor children can escape from Alabama's worst schools. The bill also gives Alabama public school boards the freedom to apply to the state for waivers from Alabama's school regulations in order to attempt to improve school performance. Public schools would not have to accept transfers from neighboring failing schools and the scholarships would apply only to those students whose neighborhood public schools are officially recognized by the U.S. Department of Education as being consistent poor performers or have been declared failing by the Alabama Superintendent of Education. Only the worst ten percent of Alabama schools would ever fall in to this category.
Three mental health crisis centers coming to Mobile, Montgomery and Huntsville
"Today marks a culture change in Alabama for treatment of individuals with mental illness and substance use disorders," Mental Health Commissioner Lynn Beshear said.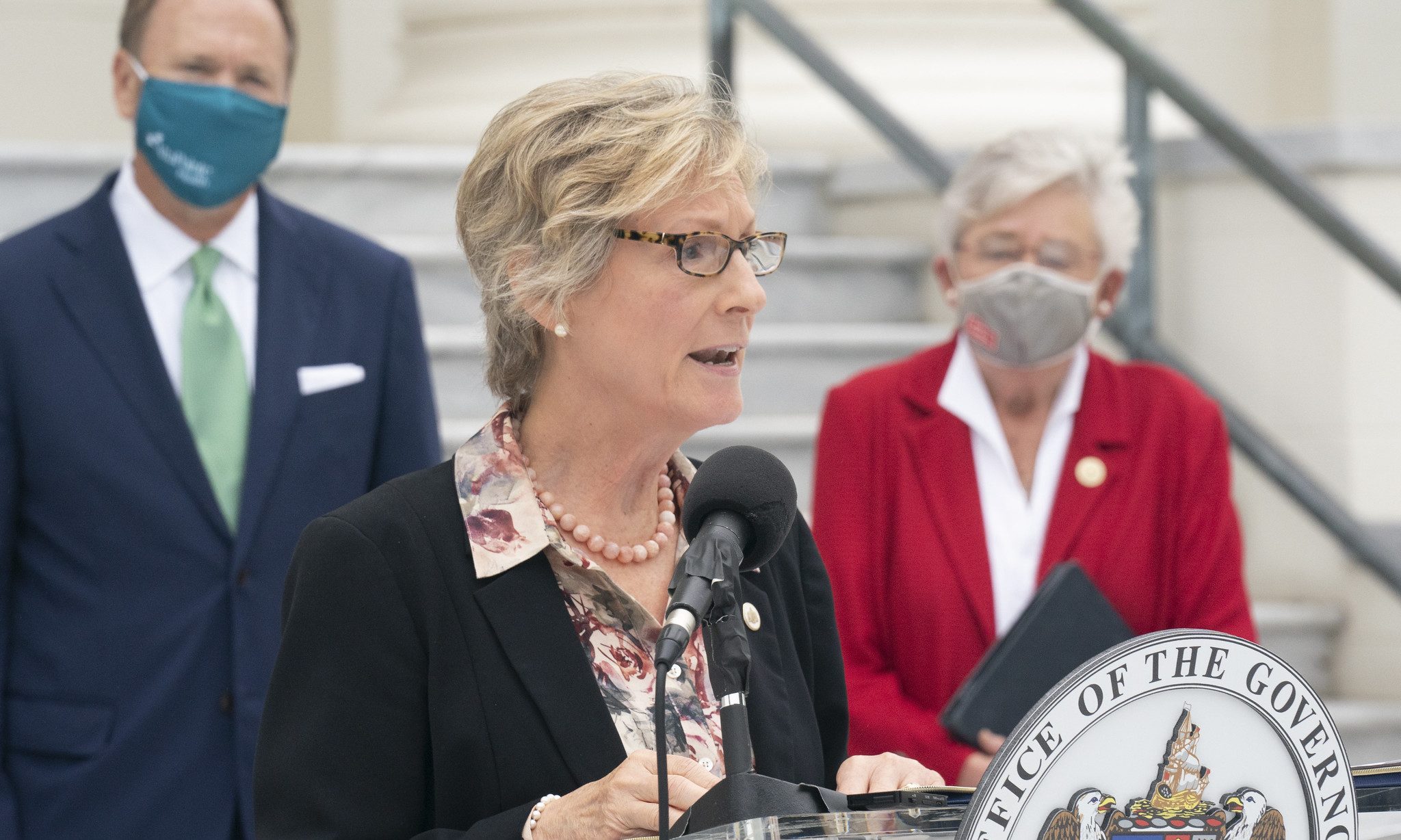 Gov. Kay Ivey on Wednesday announced an $18 million project to create three new mental health crisis centers to be located in Mobile, Montgomery and Huntsville. 
These centers, once in operation, will reduce the number of people suffering from mental health crises who are hospitalized or jailed, Ivey said during a press briefing in front of the Capitol Building in Montgomery. 
"When these facilities are open and fully staffed, these centers will become a safe haven for people facing mental health challenges," Ivey said. 
Lynn Beshear, commissioner of the Alabama Department of Mental Health, said during the briefing that the centers will provide "recovery based" care with "short term stays of a few hours, or up to a few days, to provide treatment, support, and connection to care in the community." 
"Today marks a culture change in Alabama for treatment of individuals with mental illness and substance use disorders," Beshear said. 
Beshear said AltaPointe Health in Mobile will operate one of the three facilities, and once built it is to serve Mobile, Baldwin, Clarke, Conecuh, Escambia, Monroe and Washington counties with 21 new beds, including 15 temporary observation beds. Altapointe will begin with a temporary space while constructing the new facilities, she said. 
Beshear said the Montgomery Area Mental Health Authority is partnering with the East Alabama Mental Health Authority and the Central Alabama Mental Health Authority to serve the 11 counties in Region 3 with 21 new beds, including 10 temporary observation and respite beds. 
"The regional crisis center will be located in Montgomery, and will be open to walk-ins and for drop off by law enforcement, first responders and referrals from emergency rooms," Beshear said. 
Wellstone Behavioral Health in Huntsville was selected to open the third center, and will do so at a temporary site while a new facility is being built, with the help of an additional $2.1 million from local governments, Beshear said. That facility will eventually have 39 beds, including 15 for temporary observation and 24 for extended observation.
"There's not a day that goes by that after-hours care is not an issue in our state," said Jeremy Blair, CEO of Wellstone Behavioral Health, speaking at the press conference. "And so I applaud the Department of Mental Health and the leaders for their efforts in recognizing that and taking it a step further and funding our efforts here." 
Asked by a reporter why a center wasn't located in Jefferson County, one of the most populous counties with a great need for such a center, Ivey said those residents will be served in one of the other regions. 
"Plans are underway to continue this effort. Today's beginning, with these three crisis centers, is just the beginning," Ivey said. 
Ivey added that request for proposals were sent out for these three centers and "it was a strong competition for the location of these three crisis centers." 
Alabama House Majority Leader Nathaniel Ledbetter, R-Rainsville, said during the briefing that more than a year ago, Ivey asked him what the state should be looking at, and that he replied "we're failing miserably in mental health."
Ledbetter said Ivey asked him to take on the challenge of correcting the state's response to mental health, and a team was created to do just that. 
"Working together, today's announcement will not only change Alabamians lives, but will help to save lives," Ledbetter said.