Supreme Court Rejects AEA's Lawsuit
By Brandon Moseley
Alabama Political Reporter
On Wednesday (as almost everyone expected) the Alabama Supreme Court ruled that the courts do not regulate the rules of the legislature.  The Alabama Education Association (AEA) had sued to block Alabama Governor Robert Bentley (R) from signing the Alabama Accountability Act.  Judge Price (D) had ruled in favor of AEA; but the Republican controlled legislature appealed that decision to the Republican controlled Alabama State Supreme Court and the court ruled that Judge Price had acted improperly in granting the AEA their request.
Failing to do anything but slow down the process AEA Executive Secretary Henry Mabry begged Gov. Bentley not to sign the bill.  Secretary Mabry said, said, "Today's action by the Alabama Supreme Court is disappointing.  At this point we hope Gov. Robert Bentley has the understanding and insight to recognize that the voucher bill is fraught with errors and bad policies that will haunt our state if he signs it and it is implemented.  We continue to strongly encourage Governor Bentley to veto this anti-public school legislation."
If the Governor signs the landmark education reform bill Democrats promise to continue to litigate.  Alabama House Minority Leader Craig Ford (D) from Gadsden said in a written statement, "This ruling does not mean an end of the legal challenges. This was just the first issue. But regardless of the legal challenges, Democrats remain committed to repealing this terrible bill, and that will be our first priority if voters elect a Democratic majority to the state legislature in 2014."
Alabama Speaker of the House Mike Hubbard (R) from Auburn said in a written statement "This ruling clearly demonstrates that constitutional principles and the basic separation of powers take precedence over the patently political actions of a liberal lower court judge. While the enemies of education reform will continue to file baseless actions and fight the changes that our public education system desperately needs, today's unanimous decision is a great victory for students, parents and educators alike. As a result of this decision, students trapped in failing schools will soon get the educational opportunities they deserve, and their parents can make meaningful choices in how and where their children are taught."
Alabama Lientenant Governor Kay Ivey (R) said in a written statement "I am pleased to see the Alabama Supreme Court has dismissed the case blocking education reform in our state. The Court has upheld separation of powers, a fundamental doctrine of our Republic which is crucial to the successful operation of state government. Unfortunately, I expect this will not be the last attempt to obstruct real and lasting education reform in Alabama."
Governor Robert Bentley (R), who is expected to sign the bill said when the bill passed that it was "the most significant piece of legislation that's been passed in this Legislature in years."  Now some sources are claiming that the Governor will only sign the bill after a "thorough legal review."
According to the Senate Pro Tempore's Office: The Alabama Accountability Act of 2013 does three things: it allows for flexibility contracts between the State Board of Education and local school districts, it creates tax credits for families with students in a (chronically) failing school to attend a nonpublic school or non-failing public school and it creates tax credits for taxpayers (individuals and businesses) who donate to a nonprofit "scholarship granting organization" that provides scholarships for students to attend a nonpublic school or non-failing public school.
The ability to opt out of your local school would only apply to students who are zoned to the poorest performing 10% of schools in Alabama.  Supporters believe that giving more children a chance for a decent education will raise more Alabamians out of chronic intergenerational poverty.
Opponents of the bill worry that public dollars would be flowing to non-public schools and that education employees will lose jobs as more students take the opportunity to flee their failing school.
If Bentley signs the bill, it is certain that AEA and their Democratic Party allies will challenge it in federal court on just about any grounds that they can think of.
Three mental health crisis centers coming to Mobile, Montgomery and Huntsville
"Today marks a culture change in Alabama for treatment of individuals with mental illness and substance use disorders," Mental Health Commissioner Lynn Beshear said.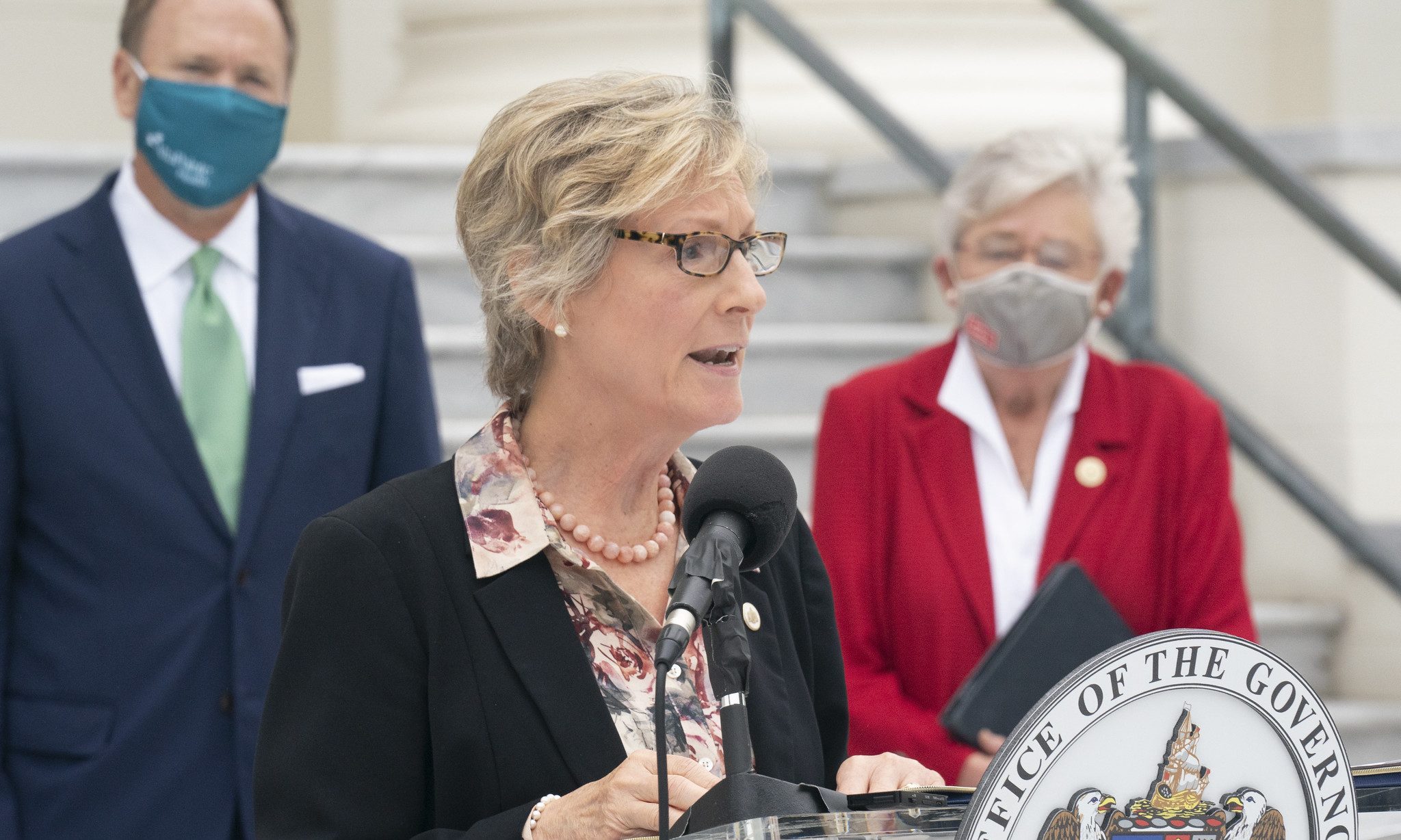 Gov. Kay Ivey on Wednesday announced an $18 million project to create three new mental health crisis centers to be located in Mobile, Montgomery and Huntsville. 
These centers, once in operation, will reduce the number of people suffering from mental health crises who are hospitalized or jailed, Ivey said during a press briefing in front of the Capitol Building in Montgomery. 
"When these facilities are open and fully staffed, these centers will become a safe haven for people facing mental health challenges," Ivey said. 
Lynn Beshear, commissioner of the Alabama Department of Mental Health, said during the briefing that the centers will provide "recovery based" care with "short term stays of a few hours, or up to a few days, to provide treatment, support, and connection to care in the community." 
"Today marks a culture change in Alabama for treatment of individuals with mental illness and substance use disorders," Beshear said. 
Beshear said AltaPointe Health in Mobile will operate one of the three facilities, and once built it is to serve Mobile, Baldwin, Clarke, Conecuh, Escambia, Monroe and Washington counties with 21 new beds, including 15 temporary observation beds. Altapointe will begin with a temporary space while constructing the new facilities, she said. 
Beshear said the Montgomery Area Mental Health Authority is partnering with the East Alabama Mental Health Authority and the Central Alabama Mental Health Authority to serve the 11 counties in Region 3 with 21 new beds, including 10 temporary observation and respite beds. 
"The regional crisis center will be located in Montgomery, and will be open to walk-ins and for drop off by law enforcement, first responders and referrals from emergency rooms," Beshear said. 
Wellstone Behavioral Health in Huntsville was selected to open the third center, and will do so at a temporary site while a new facility is being built, with the help of an additional $2.1 million from local governments, Beshear said. That facility will eventually have 39 beds, including 15 for temporary observation and 24 for extended observation.
"There's not a day that goes by that after-hours care is not an issue in our state," said Jeremy Blair, CEO of Wellstone Behavioral Health, speaking at the press conference. "And so I applaud the Department of Mental Health and the leaders for their efforts in recognizing that and taking it a step further and funding our efforts here." 
Asked by a reporter why a center wasn't located in Jefferson County, one of the most populous counties with a great need for such a center, Ivey said those residents will be served in one of the other regions. 
"Plans are underway to continue this effort. Today's beginning, with these three crisis centers, is just the beginning," Ivey said. 
Ivey added that request for proposals were sent out for these three centers and "it was a strong competition for the location of these three crisis centers." 
Alabama House Majority Leader Nathaniel Ledbetter, R-Rainsville, said during the briefing that more than a year ago, Ivey asked him what the state should be looking at, and that he replied "we're failing miserably in mental health."
Ledbetter said Ivey asked him to take on the challenge of correcting the state's response to mental health, and a team was created to do just that. 
"Working together, today's announcement will not only change Alabamians lives, but will help to save lives," Ledbetter said.