By Bill Britt
Alabama Political Reporter
MONTGOMERY—When Alabama House Speaker Mike Hubbard secretly obtained competitors' bids for the lucrative broadcast rights to Auburn University's sports department in 2002, he set into motion a chain of events that not only enriched his business interests by millions of dollars, but threatens to drag a premiere Alabama university into yet another public scandal.
According to a former Auburn official, Hubbard was given the details of competitors' bids – unfairly and potentially illegally – in his effort to hang onto a contract to control the broadcasts, advertising and myriad other money-making initiatives of Auburn's Division I sports department.
This report is the second in a series of periodic stories in which the Alabama Political Reporter follows an unseemly roadmap for bid-rigging drawn by Speaker Hubbard and one of his business interests, Auburn Network Inc. While much of our reporting uncovers new information, this story and others also document previously published and some unpublished interviews conducted over the years recounting Hubbard's activities. In particular, we examine here how Hubbard doubled-down on his unfair advantage over competitors by misleading Auburn officials about the financial condition of other companies that sought the broadcast rights contract.
Broadcast Rights and Big Money
Broadcast rights agreements for a NCAA Division I university like Auburn are complex matters with extraordinary amounts of money at stake. Under these agreements between media/production companies – such as Auburn Network Inc. – and Division I universities, the schools turn over near-total control of the sports publicity apparatus, down to the minute details of how long a coach can speak on camera to a local television reporter to how many times a sports writer can Tweet from a basketball game.
Essentially, the company holding broadcast rights controls everything related to the airing of games on radio and television networks. They control sports related publishing, printing, creative design, marketing, licensing, Web sites, video products, promotions, national advertising and signage within sports venues. Everything sports-related goes through a single filter.
In exchange for the rights, the school is paid a fixed price over the life of the contract. The amounts can mean tens of millions of dollars per year for top universities. On the other side of the deal, the companies holding broadcast rights make sky-high profits by selling advertising, printing and sports team exposure far and above the fixed cost it pays the university.
In the case of Auburn University in 2002, Host Communications Inc. – at the time a Lexington, KY-based company with broadcast rights contracts multiple Division I universities around the country – made an offer that would have paid $12.5 million to Auburn over a five year period. Financially, it was the best offer the university received.
Hubbard and his Auburn Network offered $8.5 million over the same five years – financially, the least attractive bid offered to the university.
Other proposals submitted to Auburn at the same time included a joint venture by Learfield Communications of Jefferson City, Mo. and ISP Sports ($10.75 million) of Winston-Salem, N.C., (now IMG College) and Viacom Outdoor Sports Marketing ($8.5 million) of Phoenix, Ariz.
The bottom-line: By passing over the Host proposal in favor of Hubbard's, Auburn lost $789,000 per year or roughly $4 million over five year deal.
Facing Financial Ruin, Hubbard Seeks Unfair Advantage
In 2002, the Auburn University contract with Hubbard's Auburn Network Inc. had ground to a end. The university had decided to seek competitive bids and beef up the revenue generated by Tigers football, basketball, baseball and other sports.
The university's decision to seek competitive bids made Hubbard sweat. And for good reason – Auburn Network clearly could not compete, financially, with the offers of several other bidders.
According to Buddy Mitchell, Auburn's former chief lobbyist, Hubbard was in a virtual panic, pleading for help in retaining the media rights contract. Hubbard "stated to me that his business would be in shambles and he would be facing financial ruin if he was unable to keep his contract with Auburn," Mitchell said in a sworn affidavit obtained by The Alabama Political Reporter.
Mitchell said in his sworn statement that Hubbard wanted copies of the bids submitted by his competition. Concerned that a clash with the state Representative from Auburn would make his lobbying job difficult, Mitchell said he handed over all of competitors' bid proposals—he had obtained from a trustee— to Hubbard.
Hubbard needed copies of his competitors' proposals "to clarify or amend his proposal and to raise doubts to Auburn Athletic Department officials about the other proposals." Mitchell said.

 Indeed, Hubbard raised enough doubt about competitors – and Host Communications Inc. – that Auburn officials accepted a bid by Hubbard that, in the end, cost the university $4 million or more in lost revenue.
Hubbard, on the other hand, again held the university's broadcast rights. But even more, he also was able to continue directing athletic department spending on printing, advertising and radio to his other business holdings. This included funneling spending from Tigers Unlimited, a nonprofit that raised millions of dollars to support the athletics department scholarships and recruiting efforts.
Mischaracterizing the Competition
According to Mitchell account Hubbard used the information from the other proposals to alter his own proposal, but further, to criticize the Host Communication plan by falsely characterizing the company as financially unstable,
By all indications, that was not the case. Consider:
Jim Host, who founded Host Communications Inc. in 1972, said Host always had solid financial backing. He said his company had ultimate financing from billionaire J. Mack Robinson, the founder and president of Delta Fire & Casualty Life Insurance Co., and a majority shareholder in Wachovia Corp. (now Wells Fargo).
The company was "totally capitalized" by Robinson's wealth, according to Host.
In late 2001, Host won an 11-year contract with CBS Sports for marketing, licensing and media rights.
Host also was awarded the exclusive worldwide rights to administer the NCAA Corporate Partner Program. Under that contract, Host gained the rights to sell registered marks of the NCAA and its championships, television rights for NCAA championships not aired by CBS or ESPN, video streaming rights and home video rights to all NCAA championships except the Final Four and exclusive rights to the Hoop City Experience at the men's and women's Final Four.
Host in December 2001 reached an agreement with the National Basketball Association to create a new NBA All-Star Saturday Night event entitled All-Star Hoop-It-Up. It was also during that period that Host renewed a 10-year multi-media rights deal with the University of Texas at Austin.

 During 2002 when Auburn was seeking requests for proposals, Host already had contracts with Arizona, Boston College, Florida State, Kentucky, Mississippi State, Michigan, Tennessee and Texas, and several conferences, including the Southeastern Conference.
 
That confirmed what officials at three major universities said at the time.


DeLoss Dodds, athletics director at the University of Texas since 1981, said Host was a solid marketing company for Texas for 20 years. Texas signed an $80 million deal with Host in 2007, but is now with IMG College.
 
"We've had great years, some average years, and Host maybe went through one year when they were thin financially, but we never had a financial issue with them," Dodds said. "They've always paid us on time and paid us in full, and we're making more money than anyone in the country. Their finances were never an issue with us."


Kentucky was a client of Host for more than three decades.

Rob Mullens, former deputy director of athletics at the University of Kentucky, said that school had a long-term relationship with Host, "and it's been a fine partnership for both sides." Mullens is now director of athletics at Oregon. 

In 2004, Kentucky agreed to a multimedia rights deal with Host worth $80 million over 10 years, then the richest college deal ever brokered. It was described then as "a new gold standard in college sports marketing."


Steve Early, general manager of the Vol Network at the University of Tennessee, and Bud Ford, now-retired sports information director at Tennessee, separately recalled Host having no financial problems during that same period when Host had the rights to Volunteer broadcast services.

"Your competition will always try to bring something to light, whether it's true or not," said Early. "Host never failed us as a company."


Ford said Tennessee always had a "good relationship" with Host

Tennessee, which had an 18-year relationship with Host, renewed a 10-year, $83.4 million contract in 2007 with the company. It is also now with IMG College.

Host generated $81.8 million in revenues in the fiscal year that ended June 30, 2007, according to financial reports. In November 2007, the company was acquired for $74.3 million by New York and London-based IMG World. Host, which was renamed IMG College, retained many of its top clients, including Division I schools in Tennessee and Texas.
Six months earlier, IMG World acquired Atlanta-based Collegiate Licensing Company, which was founded by former Alabama football star and ex-Tennessee football coach Bill Battle.
Jim Host, who is now retired, said he never knew the details of Hubbard's offer to Auburn, and was unaware of the rigged process that allowed Hubbard to see other proposals. "When I heard someone else won, I told my representative, Fine, let's let it go and move on."
Meanwhile, Hubbard kept up the fiction that his chief competitor had money troubles. Hubbard claimed, later, Auburn University did a financial analysis of Host that indicated the company was in poor financial condition. But no Auburn official ever seemed to remember such an audit being done.

 A Hubbard Plan Comes Together
A year after winning the Auburn contract, Hubbard sold his multi-media rights to ISP Sports (now IMG College). He was then named president of IMG's Auburn affiliate.
On April 18, 2006, Auburn Athletic Director Jay Jacobs announced the school was extending its contract with IMG College — with no competitive bidding — for nine years after the end of the agreement in 2007.
Auburn athletics is still represented by IMG College. Mitchell's account of the events in 2002 was also affirmed in an Oct. 28, 2010 story written by Paul Davis, the late owner and president of The Tuskegee News.
That story can be accessed here:
http://www.thetuskegeenews.com/articles/2010/10/28/opinion/doc4cc8753903ed9709148896.txt
Three mental health crisis centers coming to Mobile, Montgomery and Huntsville
"Today marks a culture change in Alabama for treatment of individuals with mental illness and substance use disorders," Mental Health Commissioner Lynn Beshear said.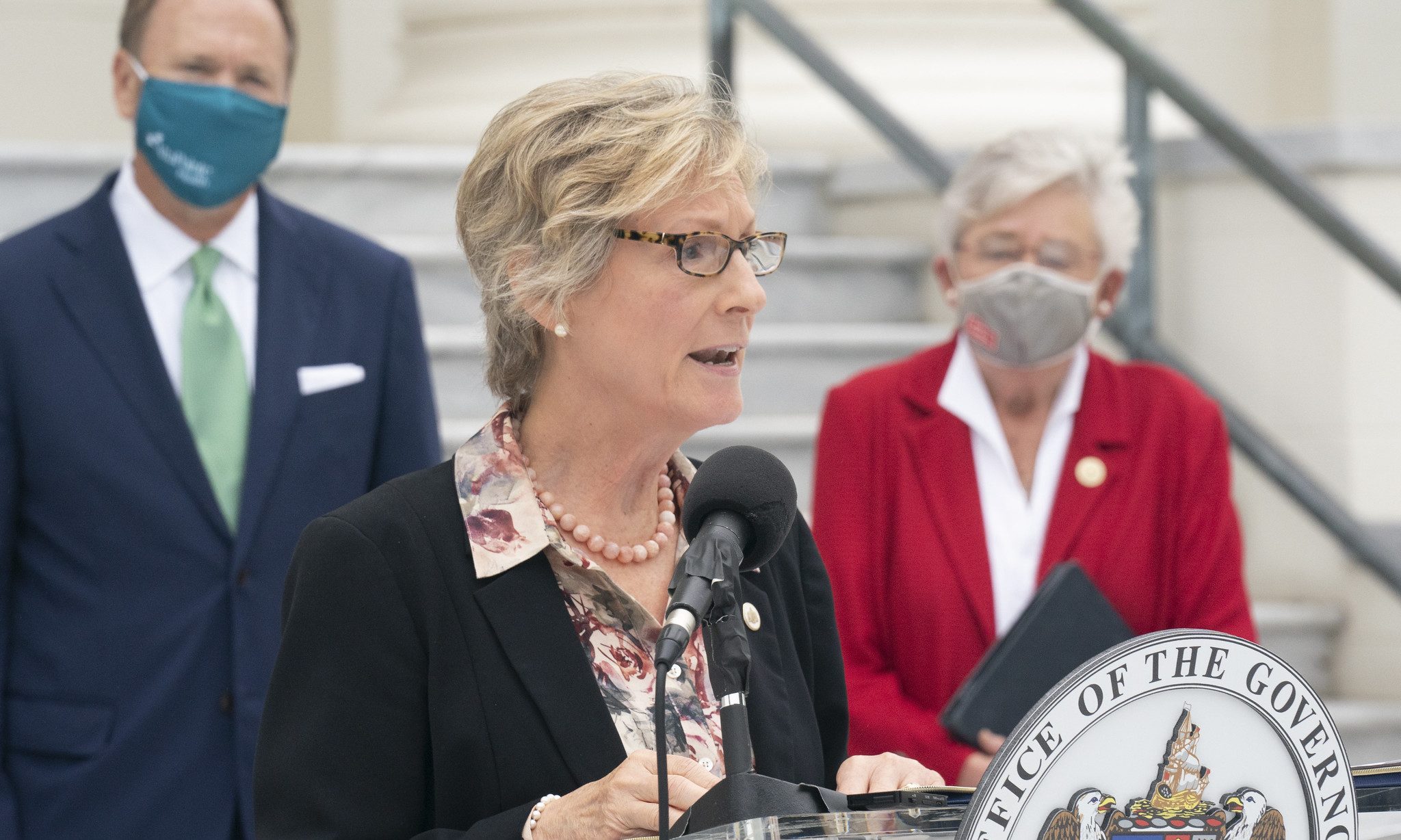 Gov. Kay Ivey on Wednesday announced an $18 million project to create three new mental health crisis centers to be located in Mobile, Montgomery and Huntsville. 
These centers, once in operation, will reduce the number of people suffering from mental health crises who are hospitalized or jailed, Ivey said during a press briefing in front of the Capitol Building in Montgomery. 
"When these facilities are open and fully staffed, these centers will become a safe haven for people facing mental health challenges," Ivey said. 
Lynn Beshear, commissioner of the Alabama Department of Mental Health, said during the briefing that the centers will provide "recovery based" care with "short term stays of a few hours, or up to a few days, to provide treatment, support, and connection to care in the community." 
"Today marks a culture change in Alabama for treatment of individuals with mental illness and substance use disorders," Beshear said. 
Beshear said AltaPointe Health in Mobile will operate one of the three facilities, and once built it is to serve Mobile, Baldwin, Clarke, Conecuh, Escambia, Monroe and Washington counties with 21 new beds, including 15 temporary observation beds. Altapointe will begin with a temporary space while constructing the new facilities, she said. 
Beshear said the Montgomery Area Mental Health Authority is partnering with the East Alabama Mental Health Authority and the Central Alabama Mental Health Authority to serve the 11 counties in Region 3 with 21 new beds, including 10 temporary observation and respite beds. 
"The regional crisis center will be located in Montgomery, and will be open to walk-ins and for drop off by law enforcement, first responders and referrals from emergency rooms," Beshear said. 
Wellstone Behavioral Health in Huntsville was selected to open the third center, and will do so at a temporary site while a new facility is being built, with the help of an additional $2.1 million from local governments, Beshear said. That facility will eventually have 39 beds, including 15 for temporary observation and 24 for extended observation.
"There's not a day that goes by that after-hours care is not an issue in our state," said Jeremy Blair, CEO of Wellstone Behavioral Health, speaking at the press conference. "And so I applaud the Department of Mental Health and the leaders for their efforts in recognizing that and taking it a step further and funding our efforts here." 
Asked by a reporter why a center wasn't located in Jefferson County, one of the most populous counties with a great need for such a center, Ivey said those residents will be served in one of the other regions. 
"Plans are underway to continue this effort. Today's beginning, with these three crisis centers, is just the beginning," Ivey said. 
Ivey added that request for proposals were sent out for these three centers and "it was a strong competition for the location of these three crisis centers." 
Alabama House Majority Leader Nathaniel Ledbetter, R-Rainsville, said during the briefing that more than a year ago, Ivey asked him what the state should be looking at, and that he replied "we're failing miserably in mental health."
Ledbetter said Ivey asked him to take on the challenge of correcting the state's response to mental health, and a team was created to do just that. 
"Working together, today's announcement will not only change Alabamians lives, but will help to save lives," Ledbetter said.