AEA Files New lawsuit Challenging The Alabama Accountability Act

By Brandon Moseley
Alabama Political Reporter
As everyone expected, the Alabama Education Association (AEA) has filed suit to block the Alabama Accountability Act.  The powerful Alabama education workers union has filed suit in Montgomery County Circuit Court alleging that the legislature violated its' own rules when the Alabama legislature turned the nine page School Flexibility Act into the twenty seven page Alabama Accountability Act in a conference committee.
Following the Governor's signature of the historic education reform package AEA Executive Secretary Henry Mabry vowed to continue fighting the package.  Dr. Mabry said in the 'Alabama School Journal', "AEA will never retreat in our battle to overcome this law, which hurts every public school in the state just to pay for some to go to private school.  The language in the law, the mistakes in the law, and the outrageous backroom tactics used to pass it provide many ways to attack this outrageous affront to the people of our state, our students, and those who sacrifice so much to teach and work in our public schools."
Alabama Governor Robert Bentley (R) said in a written statement, "All children deserve access to a quality education, no matter where they live.  This provides a new option to help children receive the best education possible.  As promised, this bill gives flexibility without infringing on the rights and responsibilities of our classroom teachers. This bill shows that we trust our teachers to innovate and to develop new programs to reach our children.  And this bill shows families that we're committed to making sure their children have access to a quality education."
Speaker of the House Mike Hubbard (R) from Auburn said that the bill, "Will be looked back on as historic because it was the start of real education reform in the state of Alabama. We finally have a vehicle through which we can start to address the failing schools in Alabama, to help improve graduation rates, and to ensure that every child no matter where they live has access to good quality public schools."
After the Republican Alabama Supreme Court rejected the AEA's previous suit Hubbard said on Facebook, "This ruling clearly demonstrates that constitutional principles and the basic separation of powers take precedence over the patently political actions of a liberal lower court judge. While the enemies of education reform will continue to file baseless actions and fight the changes that our public education system desperately needs, today's unanimous decision is a great victory for students, parents and educators alike. As a result of this decision, students trapped in failing schools will soon get the educational opportunities they deserve, and their parents can make meaningful choices in how and where their children are taught."
Secretary Mabry said, "Since 2008, we have 12,000 less teachers and education employees in our schools, little money to buy up-to-date books, less pay and benefits for employees, pre-K for only a fraction of Alabama kids, inadequate funding for the math and science initiative, and no money for securing our schools, yet the private school voucher act permanently prevents adequate money to invest in our public schools.  This law mocks the dedication, caring, and hard work of educators across this state who have steadily improved schools over the past 10-years."
It is doubtful that whatever Montgomery Circuit Judge Gene Reese rules will be accepted by the party that loses the decision and this is also likely not the last legal challenge that the Alabama Accountability Act will face.
Print this piece
Jones criticized for voting to limit Trump's war powers authority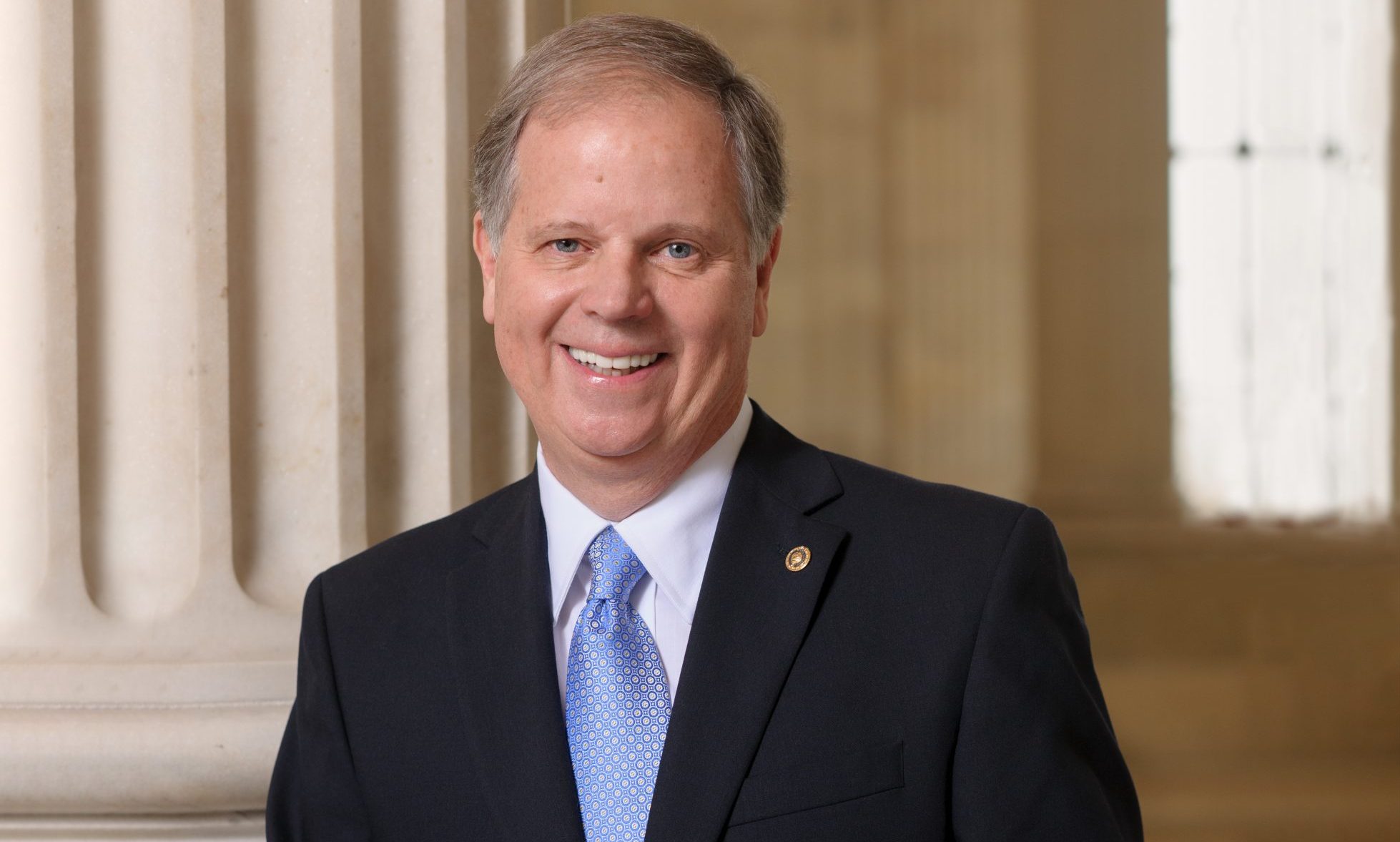 Thursday, U.S. Senator Doug Jones (D-Alabama) voted in favor of S.J.Res.68, a resolution which directs the removal of United States military from hostilities against the Islamic Republic of Iran that have not been authorized by Congress. Jones have been criticized by Republicans for voting to limit President Donald J. Trump's war powers on Iran.
"Before a President can lead us into war, he or she must first earn the support of the American people and also fulfill their solemn constitutional obligation to seek approval from Congress," Sen. Jones said in a statement. "While the President has the power to protect Americans in the case of an imminent attack, that authority does not extend to committing our service members to long-term hostilities unilaterally. This resolution sends a strong message that we will follow the Constitution and we will not send our troops into harm's way without the serious consideration and consent of the Congress."
Trump Victory National Finance Committee member Perry O. Hooper Jr. released a statement in response.
"Senator Jones once again turned his back on Alabama and voted as the leftwing Democrats commanded. He has no regard for the values, opinions or views of Alabamians," Hooper said. "He sees us as deplorables just like the elites of the Democratic party who have funded 80 percent of his doomed campaign for re-election.:
Hooper stated, "I whole heartily support the President who stated 'We are doing very well with Iran and this is not the time to show weakness… If my hands were tied, Iran would have a field day. Sends a very bad signal. The Democrats are only doing this as an attempt to embarrass the Republican Party.'"
"The Commander-in-chief must be free to work with his staff and his military leaders to conduct covert operations like the one that eliminated Iran's terrorist-in-chief General Soleimani," Hooper added. "You can't micromanage the war on terrorism. The Democrats in Congress are so filled with Trump Derangement Syndrome that no matter how much it would benefit our country and the world; they would never give Trump a "victory". If it came down to it, they would leak everything to the media no matter what the consequences."
Senator Jones is a cosponsor of the legislation and a member of the Senate Armed Services Committee. Eight moderate Republicans voted with the Democrats on the resolution.
Senator Jones has also been criticized by Republicans for his comments that he was "appalled" by Pres. Trump's actions following his acquittal on both Articles of Impeachment.
"Newsflash for Senator Doug Jones: Most Alabamians have been appalled by his actions his entire time in office," former Attorney General Jeff Sessions said. "It's about time we send Doug home, and replace him with someone who understands our values. Alabamians deserve a Senator they can be proud of again."
Sessions is a candidate for the Republican nomination for Jones' Senate seat.
The Republican primary will be on March 3.
Print this piece