Governor says working toward smaller government
By Brandon Moseley
Alabama Political Reporter
Alabama Governor Robert Bentley (R) together with the Republican super majority continued to work to make Alabama state government smaller, leaner, and more efficient.  The Governor signed three measures on Thursdays that continue to strive toward the goal of efficiency.
Governor Bentley said, "Our goal since taking office has been to make government more efficient while saving taxpayer dollars.   We are working closely with members of the Alabama Legislature to accomplish this goal.  The measures I am signing today will all help us achieve greater efficiency."
Alabama Speaker of the House Mike Hubbard (R) from Auburn said, "While President Obama and the federal government continue to bloat and expand, Alabama is taking the necessary steps to ensure that our state is operating in the most efficient manner possible," said Alabama House Speaker Mike Hubbard (R-Auburn).  "Republicans are the party of smaller government, and we owe it to our state's taxpayers to streamline our efforts to the best of our ability.  The bills signed by Governor Bentley today will make good on our commitment to the people of Alabama."
Alabama Senate President Pro Tem Del Marsh (R) from Anniston said, "When it comes to cutting costs and working toward a more efficient government, no one has been more committed to this effort than Governor Bentley and my colleagues in the Legislature."
Alabama Lieutenant Governor Kay Ivey said, "I applaud this Legislature for making right-sizing government a priority.  Continuing economic challenges have taught us to tighten our belts and look for efficiencies in government where possible.  I am confident these measures will result in saving the state millions of dollars and will help serve the people of Alabama more efficiently and effectively."
Senate Bill 108 merges and consolidates multiple Alabama law enforcement agencies eliminating duplication of services and administrative expenses while freeing more resources for the actual law enforcement services.  Alabama has 23 different state agencies and departments with law enforcement functions.  This will consolidate most of that into one uniformed service and one investigative service.
Gov. Bentley said, "We appreciate the service and dedication of all of our state law enforcement officers.  As we improve coordination between their departments, we'll be able to better protect our citizens while also saving taxpayers money."
This effort was spearheaded by Senate President Pro Tem Del Marsh who sponsored the legislation and who has been studying this for over a year.  Sen. Marsh said, "After more than two years of work involving countless hours from representatives from the law enforcement community, we have a model that will result in better, more cost-effective services to the people of Alabama."
Rep. Mike Ball (R) from Madison said, "As a retired state trooper, oftentimes my colleagues and I would see ways that our agency and partnering agencies could be run more efficiently and effectively.  After much study and thorough investigation, this legislation will finally streamline Alabama's law enforcement efforts while conserving taxpayer dollars and maximizing efficiency."
Senate Bill 117 streamlines the state's information technology (I.T.) functions.  Currently, each state agency has its own I.T. department and there is little coordination among state-level, non-education agencies. The bill creates a Secretary of Information Technology who will identify ways to save money and improve coordination within the state's I.T. networks.  The Secretary will be responsible for developing and implementing a responsible plan to coordinate the purchasing, management and use of I.T. across state agencies.  The Secretary's office will be overseen by a legislative oversight committee.
Gov. Bentley said, "Our Secretary of Information Technology will help us organize I.T. to make it more efficient, to save taxpayer dollars and to make it more secure.  By improving coordination, we can make sure we're spending money wisely and saving money where we can."
The sponsor of the bill, Senator Phil Williams (R) from Rainbow City said, "As state operations become more and more dependent upon technology, it's imperative that we have someone to hold accountable for making sure we're operating in the most efficient and responsible manner. The signing of this bill marks a positive step toward significant cost savings for state I.T. functions, and I'm proud to have been a part of this effort."
State Representative Ken Johnson (R) from Moulton sponsored the legislation in the House.  Rep. Johnson said, "As a businessman, I know that in order to keep the doors open, it's important to maximize your efficiencies and results while minimizing your overhead.  It is imperative to have someone to hold accountable for making sure I.T. is managed in the most efficient way possible, particularly at a time when we are becoming increasingly dependent on technology to operate."
In addition to the two efficiency bills that the Governor signed he also signed an executive order establishing an Office of Fleet Management and a Fleet Manager within the Alabama Department of Transportation.  The Fleet Manager will work with state agencies to assess the state's current fleet of vehicles and then develop a uniform, statewide program to ensure the most efficient methods of managing those vehicles.  Bentley has instructed that the plan focus on issues like fuel efficiency and cost-effective maintenance in order to have the lowest possible cost per mile driven.
Governor Bentley said, "The Department of Transportation has done an excellent job in fleet management, and we are choosing ALDOT to oversee management of the entire state's fleet program.  The Fleet Manager will work closely with all agencies to make this transition as efficient and seamless as possible."
Companion legislation will soon be introduced by Senator Cam Ward (R) from Alabaster and Representative Greg Wren (R) from Montgomery to  also help support more efficient fleet management.
Sen. Ward said, "This efficiency reform to our state fleet policies will help bring Alabama's vehicle management into the 21st century. I've worked on these issues since I was first elected, and I'm proud of our Governor for his forward-thinking leadership.  This not only cuts down on energy use, it will also save the state millions of tax dollars and allow us to upgrade public safety vehicles at the same time.  This reform will be an enormous savings for state government, which is a win-win for everyone."
Rep. Wren said, "I'd like to commend Governor Bentley for working with the Legislature to create a state fleet management program within the Department of Transportation."  "This Executive Order to create a Fleet Manager within ALDOT is consistent with Governor Bentley's efforts to save taxpayer dollars.  I applaud the Governor and ALDOT Director John Cooper for their ongoing working relationship with the Legislature."
Alabama GOP chair Terry Lathan congratulates Tuberville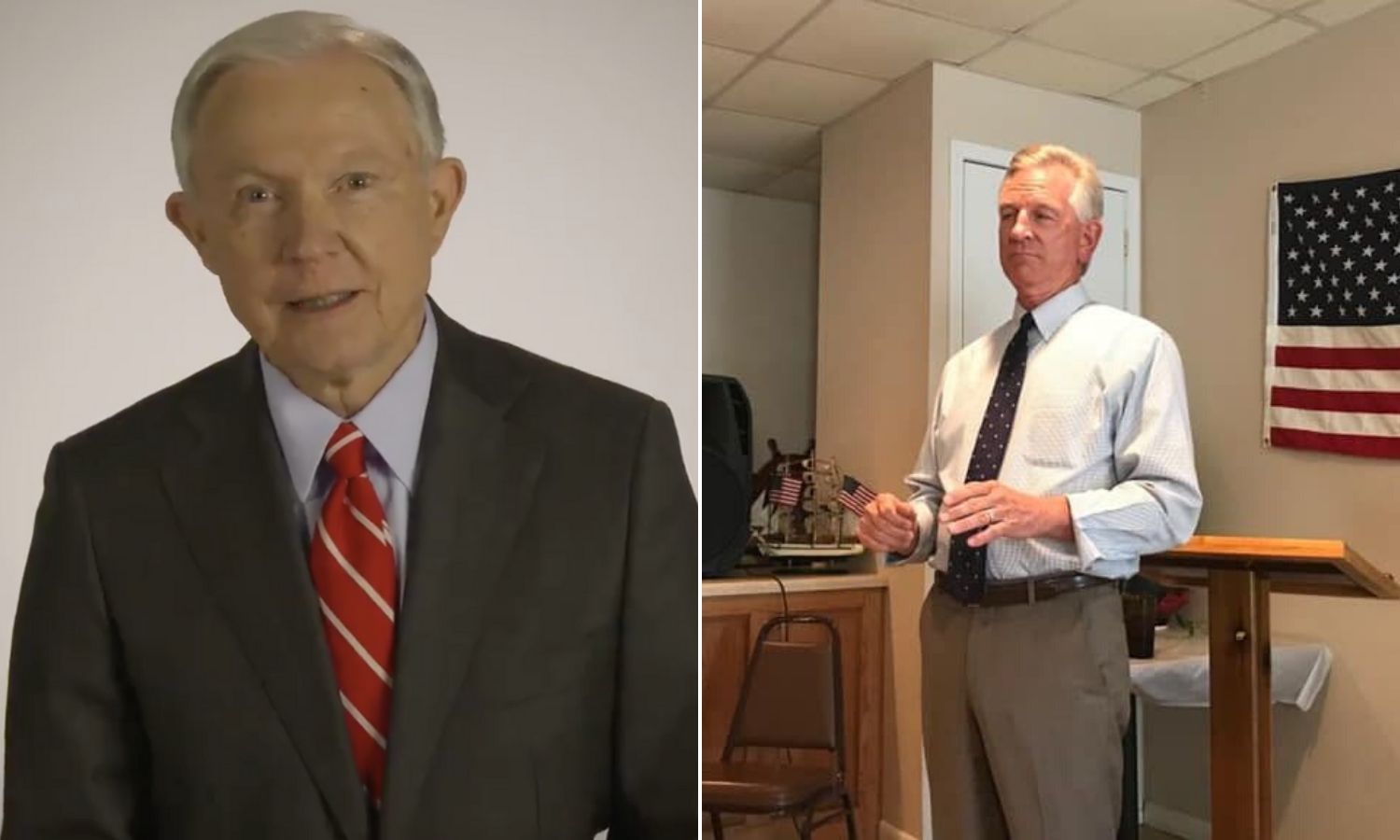 Former Auburn football head coach Tommy Tuberville soundly defeated former Sen. Jeff Sessions, R-Alabama, on Tuesday in the Republican primary runoff. Alabama Republican Party Chairman Terry Lathan issued a statement congratulating Tuberville on the victory.
"It's great to be an Alabama Republican! Our voters have spoken and they have chosen an outstanding U.S. Senate nominee for the November 3rd General Election, Coach Tommy Tuberville," Lathan said. "Even under difficult circumstances with the COVID-19 situation, Alabamians were deeply engaged and determined to participate in our voting process."
With 100 percent of the boxes reporting, Tuberville won 60.74 percent compared to Sessions with 39.26 percent. Tuberville won 64 of Alabama's 67 counties.
"Tommy Tuberville is a true Washington outsider and has gained the trust of Alabama Republican Party voters to represent them and help President Trump 'Drain the Swamp'" Lathan continued. "He will fight for the will of the majority who have been ignored since 2017. His conservative positions on the issues and support of our president will be welcomed when he defeats Doug Jones in November. Alabama is the highest approval rated state for President Trump. The combination of Coach Tuberville and President Trump's popularity in our state puts us in a very strong position to flip this seat back to the GOP."
Tuberville's win effectively ended the 27-year political career of former Attorney General Sessions. Sessions left this Senate seat in 2017 to become U.S. attorney general. Sessions was fired from that post by the man who appointed him to it, President Donald Trump, over strong disagreement with Sessions' decision to recuse himself from the Russian collusion scandal investigation in the 2016 election.
A still angry Trump denounced Sessions as "the biggest mistake" of his presidency and endorsed Tuberville. Sessions could never overcome the president's disapproval with Alabama Republican voters. As recently as Saturday, Trump said of Sessions: "Washington doesn't want him back."
Sessions is also a former Alabama attorney general and chairman of the Alabama Republican Party.
"We are greatly appreciative of Jeff Sessions and his lifetime of commitment to conservative policy and service – not just to Alabamians but to all Americans," Lathan said. "He is a true patriot in every sense of the word and our nation is stronger because of his willingness to take a stand on the issues and fight for the will of Alabamians. Senator Sessions has earned his place in history as a true conservative warrior."
"We would also like to thank Secretary of State John Merrill and the election teams around the state who worked so diligently in providing heath care protection to the voters in today's elections," Lathan added. "Together, we are unstoppable on November 3rd. Alabamians have that date circled in red and plan to end the tenure of liberal Doug Jones. While we know a battle is ahead, his voting record will be in the spotlight – voting to impeach our president and not to seat Justice Kavanaugh, voting against building our nation's security walls and tax cuts just to name a few. We look forward to doing to Doug Jones what he and his left wing buddies failed to do to President Trump – end his time in office."
Tuberville in his speech came out swinging against incumbent Sen. Doug Jones, blasting him for voting to impeach Trump and for voting against Brett Kavanaugh for the Supreme Court.
"Democrat Doug Jones is running for reelection with the slogan of One Alabama," Tuberville said. "Well, you can make no mistake about it: what Doug really means is, One Liberal Alabama."
Tuberville accused Jones of taking "marching orders from Joe Biden, Nancy Pelosi and Chuck Schumer and bartender AOC."
Tuberville thanked Trump for his support and called him: "The greatest President of my life."
Tuberville said he will vote to defend Alabama's Second Amendment rights: "By God, they're not taking our guns."
Tuberville faces stiff competition from Jones, who has raised close to $10 million to spend by Nov. 3 and was not bloodied in a primary contest.
Tuberville is an Arkansas native and a career football coach; best remembered for his tenure at Auburn University. He was also the head coach at the University of Mississippi, Cincinnati, and Texas Tech. He won a national championship as a defensive coordinator at the University of Miami.