House Passes Legislation in Special Wednesday Night Session
By Brandon Moseley
Alabama Political Reporter
The Alabama House of Representatives reconvened at 4:30 pm on Wednesday following a day of important committee meetings.  The special Wednesday night session allowed the legislators to leave a day early for their mid-session spring holiday.  The House did pass two important bills that originated in the Alabama Senate.
Representative Christopher John England (D) from Tuscaloosa said on Facebook, "House has adjourned until 1 PM on Tuesday April 2. Lucky for you, the Legislature will be not be in session at all next week. The house passed SB66 and SB192 tonight."
Senate Bill 66 makes it a crime to improperly interfere, meddle with or make an unwarranted alteration to the property of a utility and makes it a crime to "Threatens an individual with a deadly weapon or dangerous instrument with the intent to obstruct the operation of a utility. This subdivision only applies if the individual is working under the procedures and within the scope of his or her duties as an employee of the utility and has properly identified himself or herself when asked by stating his or her name, employer, and purpose of work."  SB 66 was sponsored by Senator Greg Reed (R) from Jasper.
Senate Bill 192 was sponsored by Senator Paul Bussman (R) from Cullman and was cosponsored by Senators Dick Brewbaker (R) from Montgomery, Bryan Taylor (R) from Prattville, Marc Keahey (D) from Grove Hill, Vivian Figures (D) from Mobile, Linda Coleman (D) from Birmingham, and Priscilla Dunn (D) from Bessemer.
SB 192 creates a fund for the state to provide matching funds to poor counties and municipalities so that they can participate in state road building grant programs.  The bill limits, "the borrowing authority of the corporation to be not more than $25 million in aggregate principal amount of bonds of the corporation outstanding at any time for the purpose of financing the state's share of the cost of constructing roads, bridges, and related improvements and to provide matching funds otherwise to be paid by counties or municipalities for local roadway, bridge, and related improvement projects awarded through the Rural Assistance Match Program and administered by the Alabama Department of Transportation.'
Since the passage of his ATRIP initiative in March 2012 Governor Robert Bentley has announced a total of 439 road and bridge projects that are financed with GARVEE bonds.  ATRIP is the largest road and bridge improvement program in Alabama's history.
Governor Bentley said in a written statement recently, "Everyone benefits from ATRIP.  We're improving public safety by replacing old bridges and repairing and widening outdated roads.  ATRIP also helps create jobs.  When companies build new facilities, they look for areas with good roads and bridges.  ATRIP is giving them what they need.  The more companies that build and expand in Alabama, the more jobs we're able to create."
61 of Alabama's 67 counties have received ATRIP funding for various road and bridge projects.  SB 192 should allow Alabama's remaining six counties to participate in ATRIP.  Those counties are: Fayette, Hale, Lawrence, Marengo, Wilcox and Winston.
Both bills have been passed by the Senate and are expected to be signed by Gov. Bentley
Trump Truck and boat parades this weekend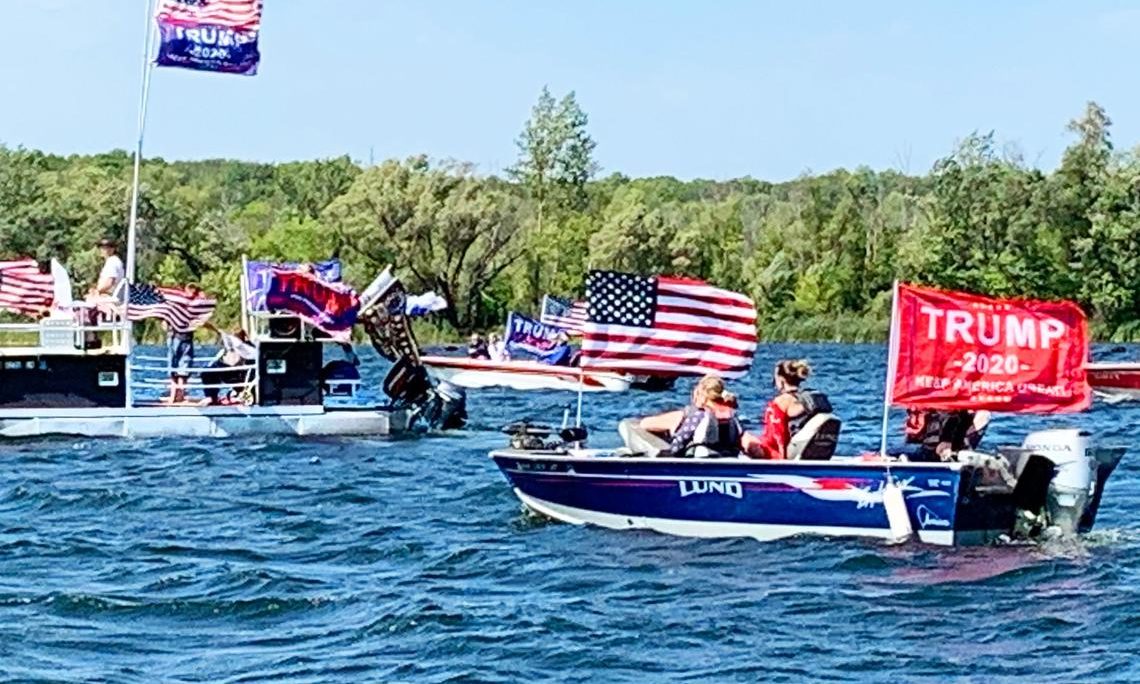 As Election Day draws near, Alabama Republicans are excited about promoting the re-election of Donald J. Trump as President and the election of Tommy Tuberville for U.S. Senate. This weekend two pro-President Trump events are happening in the state. There will be a truck parade from Ashland to Phenix City on Saturday sponsored by the Clay County Republican Party, while there will also be a boat parade on Wilson Lake in the Shoals sponsored by the Colbert County Republican Party on Sunday.
The pickup trucks will assemble at the Ashland Industrial Park in Clay County, 8240 Hwy 9, Ashland. There is a pre-departure rally at 10:00 a.m. central standard time. The trucks will depart at 11:00 a.m. and then proceed on a parade route that will take them into the bitterly contested swing state of Georgia. The Trump Pickup Parade will wind through east Alabama and West Georgia traveling through LaGrange and Columbus before concluding near the Alabama/Georgia line in Phenix City, 332 Woodland Drive, Phenix City at approximately 2:00 p.m. central time. Speakers will begin at 3:00. Trump flags will be on sale at the event.
The Phenix Motorsports Park will be hosting what sponsor hope could possibly the world's largest Pickup Tuck parade in U.S. history that is routing over 50 mile through Georgia in effort to "pickup" President Trump's numbers in GA.
A number dignitaries have been invited to address the Phenix City rally, including Coach Tuberville. Former State Sen. Shadrack McGill, Trump Victory Finance Committee member former State Rep. Perry O. Hooper Jr., and Paul Wellborn, the President and CEO of the largest Family owned Kitchen Cabinet manufacture in the USA are among the featured speakers who have committed to speak at the event.
Entertainment will be provided by: Charity Bowden, an up and coming country music singer who was the runner up on "The Voice". Charity will sing 'I am Proud to be an American' as well as songs from her Voice performances. The McGill Girls will also perform. The three beautiful and talented sisters will be singing patriotic songs in three part harmony. Geoff Carlisle, a professional DJ will be keeping the crowd pumped with music and entertainment.
Following the speakers and the entertainment there will Trump truck-vs- Joe Bidden truck races down the drag strip for the finale.
The Northwest Alabama boat parade will be on Sunday. The boats will gather at 2:00 p.m. near Turtle Point and then the flotilla will parade around the open waters of Wilson Lake til 3_00 p.m.. There will be a contest for best decorated Trump boats.
Trump supporters have held a number of large boat parades across the state to show their support for the re-election of Pres. Trump.
Boat parade sponsors say that this parade will be: pro-American, pro-law enforcement, pro-military.