Alabama College Democrats Convention is April 6th
By Brandon Moseley
Alabama Political Reporter
The Alabama College Democrat's (ACD) convention will be held on April 6th at Alabama State University in Montgomery.  Thursday is the deadline for pre-registration.  The Thursday pre-registration price covers lunch, a t-shirt, and a "swag bag" of Democratically-themed items for just $10. After Thursday, the price will go up to $15.  Congresswoman Terri A Sewell (D) from Selma will be the special guest of the ACD.
"Voices for Change" is the 3rd annual statewide convention for the Alabama College Democrats. The event brings together College Democrats chapters from around the state and doubles as a leadership summit for students around the state. Students are invited whether they are involved with College Democrats or not. The Alabama College Democrats said, "We want to invite all students advocating on behalf of progressive change around Alabama. We are working hard to craft a program to help students develop programs to speak on behalf of the issues that matter. Our goal is to be able to effectively educate our peers about how laws can have an impact on their lives, and why students should get involved in the political process."
ACD officer and College Democrats of America Political Director Beth Clayton said on Facebook, "We have a great program and slate of speakers, from Congresswoman Terri Sewell to Senator Marc Keahey to Representative John Knight.  We will also be joined by members of Organizing for Action, Democracy for America, Alabama Arise, Alabama Afl Cio, Scouts for Equality, Alabama's National Organization for Women (NOW) and many more organizations from around the state!"
Congresswoman Sewell represents Alabama's 7th congressional district, which includes parts of Birmingham, Montgomery, and Tuscaloosa.  It also includes Sumter, Greene, Hale, Clarke, Lowndes, Dallas, Macon, and much of the black belt.  Sewell is the first African-American woman elected to serve in Alabama's congressional delegation.  She serves on the House Financial Services Committee and is the deputy whip for the Democratic Caucus.  She is the only Democrat in Alabama's Congressional Delegation.
This is the third annual statewide convention held by the Alabama College Democrats. In addition to Rep. Sewell the participants will hear from speakers including: Alabama Senator Mark Keahey (D), President of the Alabama AFL-CIO Al Henley, the President of the National Organization for Women (NOW) Shirley Ann Rawls, Alabama Democratic Party Chairman Judge Mark Kennedy, the founder of Scouts for Equality Zach Wahls, Alabama Democratic Party field organizer Leanne Townsend, College Democrats Black Caucus Chairman CJ Jackson, and Jefferson County Organizer CJ Willie. Students will learn how to grassroots organize.
Elections for the ACD Executive Board will also be held at April's convention.
Prior to her service in the U.S. Congress, Sewell was a prominent public finance attorney for more than 15 years and was a partner in the Birmingham law office of Maynard, Cooper & Gale, P.C. Congresswoman Sewell is the daughter of retired Coach Andrew A. Sewell and retired librarian Nancy Gardner Sewell, the first black City Councilwoman in Selma, Alabama.
Trump Truck and boat parades this weekend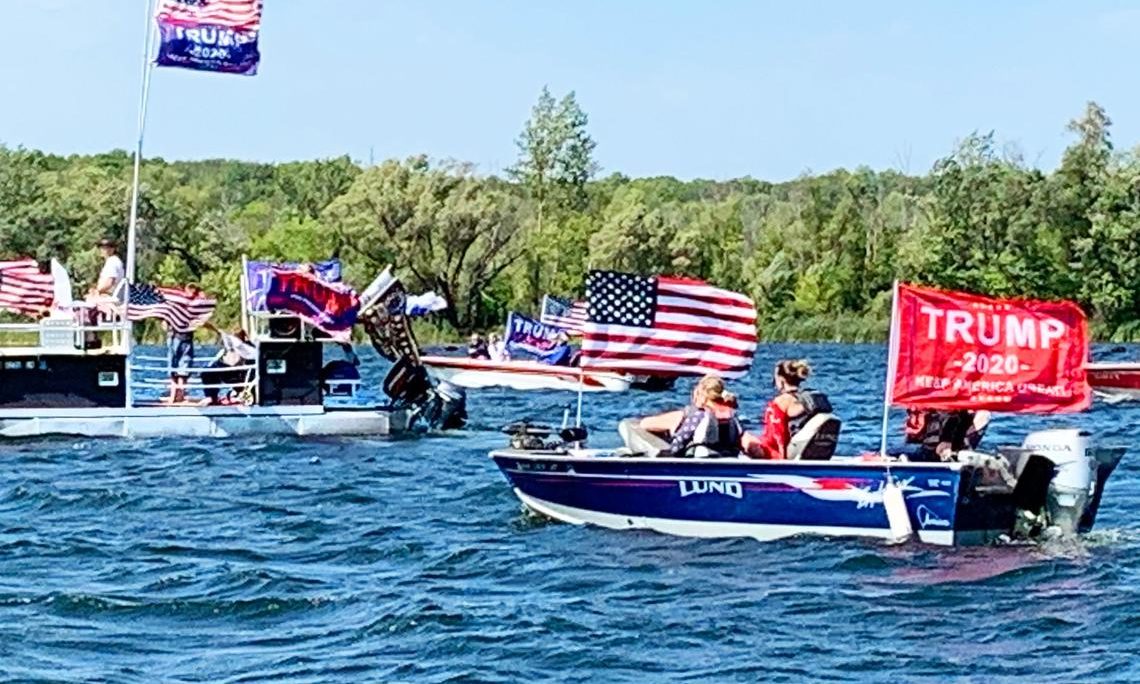 As Election Day draws near, Alabama Republicans are excited about promoting the re-election of Donald J. Trump as President and the election of Tommy Tuberville for U.S. Senate. This weekend two pro-President Trump events are happening in the state. There will be a truck parade from Ashland to Phenix City on Saturday sponsored by the Clay County Republican Party, while there will also be a boat parade on Wilson Lake in the Shoals sponsored by the Colbert County Republican Party on Sunday.
The pickup trucks will assemble at the Ashland Industrial Park in Clay County, 8240 Hwy 9, Ashland. There is a pre-departure rally at 10:00 a.m. central standard time. The trucks will depart at 11:00 a.m. and then proceed on a parade route that will take them into the bitterly contested swing state of Georgia. The Trump Pickup Parade will wind through east Alabama and West Georgia traveling through LaGrange and Columbus before concluding near the Alabama/Georgia line in Phenix City, 332 Woodland Drive, Phenix City at approximately 2:00 p.m. central time. Speakers will begin at 3:00. Trump flags will be on sale at the event.
The Phenix Motorsports Park will be hosting what sponsor hope could possibly the world's largest Pickup Tuck parade in U.S. history that is routing over 50 mile through Georgia in effort to "pickup" President Trump's numbers in GA.
A number dignitaries have been invited to address the Phenix City rally, including Coach Tuberville. Former State Sen. Shadrack McGill, Trump Victory Finance Committee member former State Rep. Perry O. Hooper Jr., and Paul Wellborn, the President and CEO of the largest Family owned Kitchen Cabinet manufacture in the USA are among the featured speakers who have committed to speak at the event.
Entertainment will be provided by: Charity Bowden, an up and coming country music singer who was the runner up on "The Voice". Charity will sing 'I am Proud to be an American' as well as songs from her Voice performances. The McGill Girls will also perform. The three beautiful and talented sisters will be singing patriotic songs in three part harmony. Geoff Carlisle, a professional DJ will be keeping the crowd pumped with music and entertainment.
Following the speakers and the entertainment there will Trump truck-vs- Joe Bidden truck races down the drag strip for the finale.
The Northwest Alabama boat parade will be on Sunday. The boats will gather at 2:00 p.m. near Turtle Point and then the flotilla will parade around the open waters of Wilson Lake til 3_00 p.m.. There will be a contest for best decorated Trump boats.
Trump supporters have held a number of large boat parades across the state to show their support for the re-election of Pres. Trump.
Boat parade sponsors say that this parade will be: pro-American, pro-law enforcement, pro-military.