Pro Choice Rally at Capital

By Brandon Moseley
Alabama  Political Reporter
Planned Parenthood Southeast has announced in a press release that they and their allies plan to gather in Montgomery for Women's Day on Tuesday April 2.
The pro-choice groups said in their statement, "Planned Parenthood Southeast will gather with supporters from across Alabama at the State House to rally for women's health. During this session, legislators fast-tracked House Bill 57 (HB 57), which threatens to restrict women's access to safe and legal abortion by shutting down women's health centers throughout the state. Coming from all corners of the state, rally participants also will meet with lawmakers to urge them to reject HB 57 and other bills that attack women's health and rights."
The Women's Day Rally will be held on: Tuesday, April 2, 2013, 12 noon to 1:00 p.m. at the State House in Montgomery whatever the weather does.
The group said that Alabama State Representative Darrio Melton (D); Milly Kennamer Breeden (a pro-choice Republican activist); the Chairman of the Alabama Democratic Party Judge Mark Kennedy; the President and CEO of Planned Parenthood Southeast, Staci Fox; the Executive Director of the West Alabama Women's Center, Inc., Gloria Grey; and University of Alabama student Amanda Reyes will all address the crowd.  Additionally the group has invited Sen. Vivian Figures (D), Sen. Harri Anne Smith (I), Sen. Linda Coleman (D), Sen. Priscilla Dunn (D), and Sen. Tammy Irons (D).
Following the rally the participants are encouraged to visit the offices of legislators to encourage them to vote "no" on HB 57.
On Tuesday the Alabama House of Representatives voted to pass the Women's Health and Safety Act, HB 57, by a margin of 73 to 23. HB 57 holds Alabama abortion clinics to the same health and regulatory standards as those applied to other out patient surgical centers in the state.
Representative Mary Sue McClurkin (R) from Indian Springs was the sponsor of the bill in the Alabama House. Rep. McClurkins told the Alabama House, "House Bill 57 is a bill that would improve the safety of women who choose to have an abortion. This is a bill that has been debated in this house before." McClurkin presented a long list of individual citations that have occurred in abortion clinics under Alabama's current lax regulatory standards over the last few years as evidence that the bill is needed.
Rep. McClurkin told the House, "Abortion clinics are not operating with the standard of care that you would choose." McClurkin said that this bill protects the right of a woman having an abortion to have that procedure done as safely as possible. The bill would stipulate that only a physician may perform an abortion. McCurkin said that a, "Physician performing an abortion must be licensed in Alabama and have admission privileges at a local Alabama hospital." The bill also instructs the physician to encourage a girl age 16 and under having the abortion to reveal the name of the father. Abortions on a child 14 year olds or younger must be reported to the Alabama Department of Human Resources (DHR). The physician must also give his name and telephone number to patients so that they can contact him if they experience any complications. The bill also stipulates that nurses involved in assisting abortions must be professional Rns or LPNs. Section Six of the bill describes the safety codes. McClurkin said that the bill holds Alabama abortion providers to just the common codes that ambulatory surgery centers have to abide by. McClurkin said that the bill makes sure that professionals are the ones performing abortions.
Alabama Citizens For Life said in a statement on their website, "Senator Scott Beason (R from Gardendale) is championing this bill in the Senate Chamber and we are grateful for his assistance as well. We are continuing to ask ALL of the Senators to Vote Yes on HB57 WITH NO AMENDMENTS."
If HB 57 passes the Senate without amendment it would go to the Governor for his signature.
Trump Truck and boat parades this weekend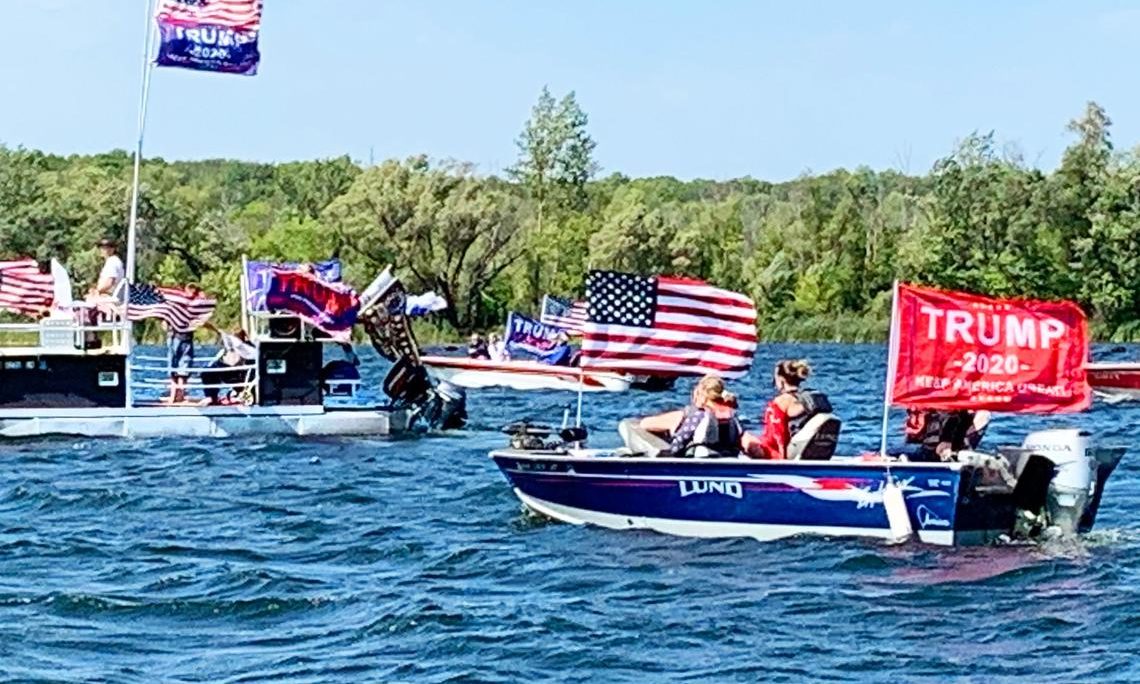 As Election Day draws near, Alabama Republicans are excited about promoting the re-election of Donald J. Trump as President and the election of Tommy Tuberville for U.S. Senate. This weekend two pro-President Trump events are happening in the state. There will be a truck parade from Ashland to Phenix City on Saturday sponsored by the Clay County Republican Party, while there will also be a boat parade on Wilson Lake in the Shoals sponsored by the Colbert County Republican Party on Sunday.
The pickup trucks will assemble at the Ashland Industrial Park in Clay County, 8240 Hwy 9, Ashland. There is a pre-departure rally at 10:00 a.m. central standard time. The trucks will depart at 11:00 a.m. and then proceed on a parade route that will take them into the bitterly contested swing state of Georgia. The Trump Pickup Parade will wind through east Alabama and West Georgia traveling through LaGrange and Columbus before concluding near the Alabama/Georgia line in Phenix City, 332 Woodland Drive, Phenix City at approximately 2:00 p.m. central time. Speakers will begin at 3:00. Trump flags will be on sale at the event.
The Phenix Motorsports Park will be hosting what sponsor hope could possibly the world's largest Pickup Tuck parade in U.S. history that is routing over 50 mile through Georgia in effort to "pickup" President Trump's numbers in GA.
A number dignitaries have been invited to address the Phenix City rally, including Coach Tuberville. Former State Sen. Shadrack McGill, Trump Victory Finance Committee member former State Rep. Perry O. Hooper Jr., and Paul Wellborn, the President and CEO of the largest Family owned Kitchen Cabinet manufacture in the USA are among the featured speakers who have committed to speak at the event.
Entertainment will be provided by: Charity Bowden, an up and coming country music singer who was the runner up on "The Voice". Charity will sing 'I am Proud to be an American' as well as songs from her Voice performances. The McGill Girls will also perform. The three beautiful and talented sisters will be singing patriotic songs in three part harmony. Geoff Carlisle, a professional DJ will be keeping the crowd pumped with music and entertainment.
Following the speakers and the entertainment there will Trump truck-vs- Joe Bidden truck races down the drag strip for the finale.
The Northwest Alabama boat parade will be on Sunday. The boats will gather at 2:00 p.m. near Turtle Point and then the flotilla will parade around the open waters of Wilson Lake til 3_00 p.m.. There will be a contest for best decorated Trump boats.
Trump supporters have held a number of large boat parades across the state to show their support for the re-election of Pres. Trump.
Boat parade sponsors say that this parade will be: pro-American, pro-law enforcement, pro-military.