Figures/DeGraffenried Room Dedicated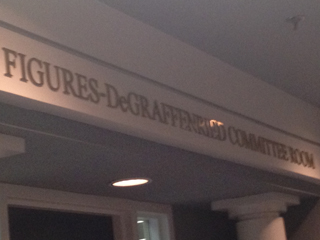 By Susan Britt
Alabama Political Reporter
MONTGOMERY–Wednesday, preceding the Senate Judiciary Committee meeting, a ceremony was held  to dedicate the committee room to Senator Michael Figures and Senator Ryan deGraffenried, Jr., both former President Pro Tempores of the Alabama State Senate. The room is now called the Figures DeGraffenried Judiciary Committee Room.
Present were Lt. Governor Kay Ivey, Senate President Pro Tem Del Marsh (R-Anniston), Judiciary Committee Chairman Cam Ward (R-Alabaster), Senate Secretary Pat Harris and other Judiciary Committee members.
In opening remarks Ward said, "At the beginning of last year when the Senate and House decided to began needing more committee room space in this building, the leadership of the House and the Senate felt that the best way to utilize these rooms, in addition to providing more space, was to commend the legislators that had come before us from both parties and both chambers. We have had many magnificent leaders over the years. Some have left us already but have left an indelible mark."
Family members were also present to receive the resolutions, Sandra deGraffenried, Ryan deGraffenried, III and Senator Vivian Davis Figures (D-Mobile).
Senator Vivian Davis Figures was elected to the Alabama State Senate in 1997 in a special election after the sudden death of her husband, Senator Michael Figures. She said that Michael made history when he was elected by his colleagues to be the first African-American President Pro Tempore  in his seventeenth year (1995). This year Senator Vivian Figures was elected Senate Minority Leader (the first woman to serve as Minority or Majority Leader in either the House or the Senate in the history of the legislature).
Ryan deGraffenried, Jr., served as State Senator (1978 to 1994), Senate President Pro Tempore (1987 to 1995) and Lt. Governor under Governor Jim Folsom, Jr.
He was elected to the Senate in a special election when Richard Shelby was elected to the U.S. House of Representatives.
When Governor Guy Hunt was removed from office, Jim Folsom, Jr. became governor making deGraffnried the acting Lt. Governor. He ran for Lt. Governor in 1994, but was defeated in the Democratic primary by Don Siegelman.
His father, Ryan deGraffenried, Sr. ran for governor twice. The first time he was defeated by George Wallace. One day after qualifying to run again, he died, at 56, in a plane crash in northeast Alabama leaving the election to Lurleen Wallace.
Both deGraffenried and Figures were elected to the Senate in 1978.
Pat Harris, Secretary of the Senate, said, "These two men I knew since I started up here. Ryan deGraffenreid help make my job and Senator Figures helped save my job. They are both really heroes to me. It is truly an honor to continue to work with Ryan's son and to work with Senator [Vivian] Figures over the years."
Senator Michael Figures was one of the first three African-Americans to graduate from the Alabama School of Law in Tuscaloosa. First African-American senator from Mobile County in 1978. In 1995, he became the highest ranking state senator when he was elected to be Senate President Pro Tempore.
He was involved in the case that "broke the back of the Ku Klux Klan in Alabama" and the all-white city government of Mobile.
President Pro Tem Marsh spoke saying how honored he was to attend and speak at the event. "It is my pleasure to be here today and to see these two fine gentlemen that worked as pro tem much before me. I tell you when you have people like this to follow those footsteps, it's tough footsteps to follow in. But they have done so much for this state and much of the impact many of you will never know.
"Both of these gentlemen would have been glad that this room made access to the public much more available. They were both for that.
For what they did for this state, this is a small tribute to that but a very fitting one."
When Senator Vivian Figures was asked what her husband would have thought of this event, she said that he would be greatly honored. "He wasn't a man that believed in a lot of awards or accolades, he was just about doing the work," she said. "To have this done for him, he would truly be honored in particular since it is the judiciary committee room. He was a lawyer and he was all about bringing justice for everyone. He was that professionally, politically and in his private life. It was about justice and being there for people."
There are pictures and the resolutions hanging on the interior wall of the committee room commemorating the careers of these two men.
Trump Truck and boat parades this weekend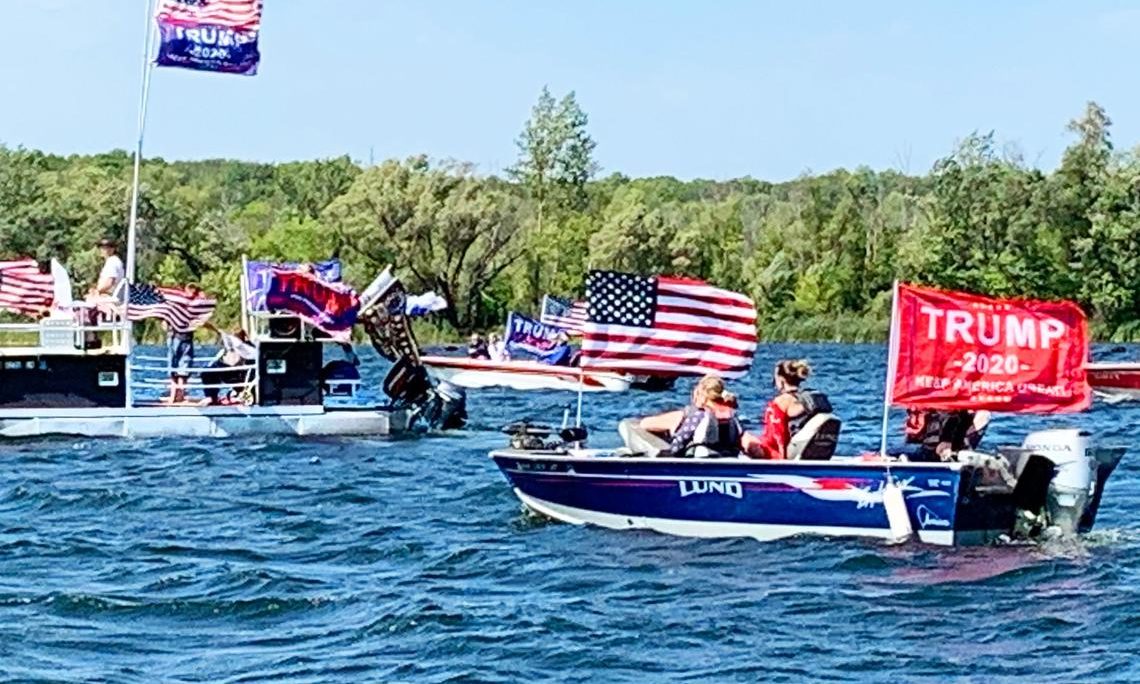 As Election Day draws near, Alabama Republicans are excited about promoting the re-election of Donald J. Trump as President and the election of Tommy Tuberville for U.S. Senate. This weekend two pro-President Trump events are happening in the state. There will be a truck parade from Ashland to Phenix City on Saturday sponsored by the Clay County Republican Party, while there will also be a boat parade on Wilson Lake in the Shoals sponsored by the Colbert County Republican Party on Sunday.
The pickup trucks will assemble at the Ashland Industrial Park in Clay County, 8240 Hwy 9, Ashland. There is a pre-departure rally at 10:00 a.m. central standard time. The trucks will depart at 11:00 a.m. and then proceed on a parade route that will take them into the bitterly contested swing state of Georgia. The Trump Pickup Parade will wind through east Alabama and West Georgia traveling through LaGrange and Columbus before concluding near the Alabama/Georgia line in Phenix City, 332 Woodland Drive, Phenix City at approximately 2:00 p.m. central time. Speakers will begin at 3:00. Trump flags will be on sale at the event.
The Phenix Motorsports Park will be hosting what sponsor hope could possibly the world's largest Pickup Tuck parade in U.S. history that is routing over 50 mile through Georgia in effort to "pickup" President Trump's numbers in GA.
A number dignitaries have been invited to address the Phenix City rally, including Coach Tuberville. Former State Sen. Shadrack McGill, Trump Victory Finance Committee member former State Rep. Perry O. Hooper Jr., and Paul Wellborn, the President and CEO of the largest Family owned Kitchen Cabinet manufacture in the USA are among the featured speakers who have committed to speak at the event.
Entertainment will be provided by: Charity Bowden, an up and coming country music singer who was the runner up on "The Voice". Charity will sing 'I am Proud to be an American' as well as songs from her Voice performances. The McGill Girls will also perform. The three beautiful and talented sisters will be singing patriotic songs in three part harmony. Geoff Carlisle, a professional DJ will be keeping the crowd pumped with music and entertainment.
Following the speakers and the entertainment there will Trump truck-vs- Joe Bidden truck races down the drag strip for the finale.
The Northwest Alabama boat parade will be on Sunday. The boats will gather at 2:00 p.m. near Turtle Point and then the flotilla will parade around the open waters of Wilson Lake til 3_00 p.m.. There will be a contest for best decorated Trump boats.
Trump supporters have held a number of large boat parades across the state to show their support for the re-election of Pres. Trump.
Boat parade sponsors say that this parade will be: pro-American, pro-law enforcement, pro-military.