Bill Allowing Non-Profit Spay/Neuter Clinics is in Senate
By Brandon Moseley
Alabama Political Reporter
House Bill 188 which would make it lawful for veterinarians to work for non-profit spay and neuter clinic to operate legally in Alabama is now under consideration by the Alabama Senate after the Alabama House passed it last week.  Alabama has four spay/neuter clinics and this bill (if passed) would allow them to remain open.
'The Alabama Political Reporter' talked with Sherry Rout who is the State Director of the American Society for the Prevention of Cruelty to Animals (ASPCA) Government Relations for the Southern Region.  Director Rout told 'The Alabama Political Reporter' that the APCA supports House Bill 188.
Director Rout said Spay/Neuter Centers serve low income areas where pet owners are less likely to be able to afford full veterinary services.  By providing low cost spay neuter services, Director Rout said that the Spay and Neuter Clinics will reduce the number of pets that go into shelters and which run loose and unfed in Alabama communities.
Director Rout said that the ASPCA believes that spay and neuter clinics can help curb pet overpopulation and suffering.
According to information provided to 'The Alabama Political Reporter' by Director Rout and the ASPCA, spaying and neutering pets has several benefits for society, for the pets, and for the pet's family. Female pets live a longer and healthier life since spaying helps prevent uterine infections and breast cancer.  Neutering male pets prevents testicular cancer, if done before six months of age.  Spayed females won't go into heat. Male dogs and cats are much less likely to roam away from home and get into fights with other males. Neutered males will be much better behaved and will focus their attention on their human families. Many aggression problems can be avoided by early neutering. The cost of spay/neuter surgery is a lot less than the cost of having and caring for a litter. Spaying and neutering your pet is good for the community. Stray animals prey on wildlife, cause car accidents, and frighten children. Every year, millions of cats and dogs of all ages and breeds are euthanized or suffer as strays. These high numbers are the result of unplanned litters that could have been prevented by spaying or neutering, HB 188 was sponsored by Representative Patricia Todd (D) from Birmingham.
The bill is opposed by several prominent Alabama veterinarians who think the non-profit low cost spay/neuter services would provide too much competition for the veterinarians.  Rep. Todd told her fellow legislators on the House floor: "For every phone call you are getting from a veterinarian there are hundreds of constituents supporting this bill."
Rep. Todd said that the spay neuter clinics can not expand their scope of service beyond what is spelled out in this bill.  Todd said that the clinics must contract with an existing veterinarian and they can not perform any veterinary services other than spaying and neutering, vaccinations, and flea treatments. Todd says that her bill limits the services that the spay/neuter clinics can offer, "They can not operate a full service veterinary clinic."  Todd said that Alabama euthanizes 160,000 animals a year and that does not count the animals walking around loose getting hit by a car some place.  Todd said, "This is more restrictive than the bill that I had last year."
Rep. Todd said that a female cat can have as many as 400 kittens over her life. Todd said that the vets wanted to make sure that the clinics could not expand their scope of service.  This version of the bill has been endorsed by the Alabama Veterinary Association.  Todd said that members of the Alabama Veterinary Examiner's Board are still opposed.  They are an association charged with regulating and licensing veterinary practice.  Todd said, "For the last two years we have spent hours talking to them we have taken some of their suggestions in how to change the bill to suit them." Todd said that only a few members of the board oppose it and they have been very vocal on it.  Todd said that the Spay and Neuter Clinics still have to be licensed and regulated by the Board.
House Bill 188 passed in the House by a margin of 79 to 14.  The bill is now in the Senate where there is already a competing version.  In 2012 Todd's bill passed in the House but died in the Senate.
Trump Truck and boat parades this weekend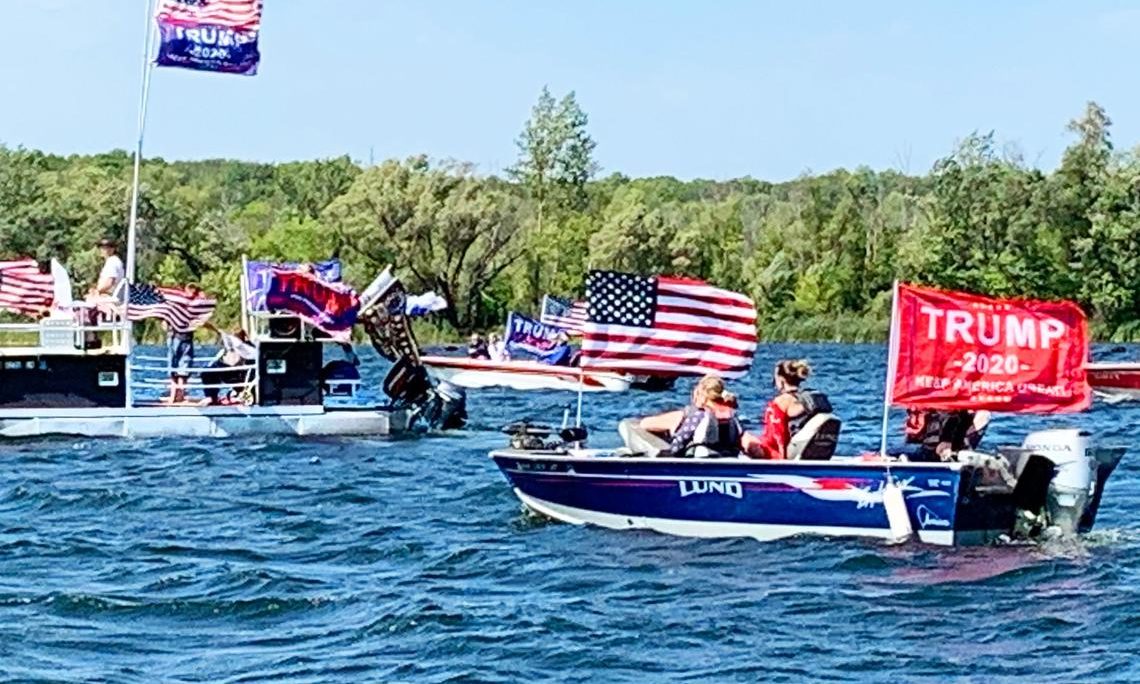 As Election Day draws near, Alabama Republicans are excited about promoting the re-election of Donald J. Trump as President and the election of Tommy Tuberville for U.S. Senate. This weekend two pro-President Trump events are happening in the state. There will be a truck parade from Ashland to Phenix City on Saturday sponsored by the Clay County Republican Party, while there will also be a boat parade on Wilson Lake in the Shoals sponsored by the Colbert County Republican Party on Sunday.
The pickup trucks will assemble at the Ashland Industrial Park in Clay County, 8240 Hwy 9, Ashland. There is a pre-departure rally at 10:00 a.m. central standard time. The trucks will depart at 11:00 a.m. and then proceed on a parade route that will take them into the bitterly contested swing state of Georgia. The Trump Pickup Parade will wind through east Alabama and West Georgia traveling through LaGrange and Columbus before concluding near the Alabama/Georgia line in Phenix City, 332 Woodland Drive, Phenix City at approximately 2:00 p.m. central time. Speakers will begin at 3:00. Trump flags will be on sale at the event.
The Phenix Motorsports Park will be hosting what sponsor hope could possibly the world's largest Pickup Tuck parade in U.S. history that is routing over 50 mile through Georgia in effort to "pickup" President Trump's numbers in GA.
A number dignitaries have been invited to address the Phenix City rally, including Coach Tuberville. Former State Sen. Shadrack McGill, Trump Victory Finance Committee member former State Rep. Perry O. Hooper Jr., and Paul Wellborn, the President and CEO of the largest Family owned Kitchen Cabinet manufacture in the USA are among the featured speakers who have committed to speak at the event.
Entertainment will be provided by: Charity Bowden, an up and coming country music singer who was the runner up on "The Voice". Charity will sing 'I am Proud to be an American' as well as songs from her Voice performances. The McGill Girls will also perform. The three beautiful and talented sisters will be singing patriotic songs in three part harmony. Geoff Carlisle, a professional DJ will be keeping the crowd pumped with music and entertainment.
Following the speakers and the entertainment there will Trump truck-vs- Joe Bidden truck races down the drag strip for the finale.
The Northwest Alabama boat parade will be on Sunday. The boats will gather at 2:00 p.m. near Turtle Point and then the flotilla will parade around the open waters of Wilson Lake til 3_00 p.m.. There will be a contest for best decorated Trump boats.
Trump supporters have held a number of large boat parades across the state to show their support for the re-election of Pres. Trump.
Boat parade sponsors say that this parade will be: pro-American, pro-law enforcement, pro-military.