Republican Legislators Releases Report on School Security
By Brandon Moseley
Alabama Political Reporter
On Tuesday the Speaker of the Alabama House of Representatives Mike Hubbard (R) from Auburn joined fellow Republican Representatives Mary Sue McClurkin (R) Indian Springs), Alan Baker (R) from Brewton, and Allen Treadaway (R) from Morris along with Senator Dick Brewbaker (R) from Montgomery in announcing legislation designed to preventing school violence.
The legislation is based on details found in the Alabama School Security and Student and Teacher Safety Report.  According to the press statement the report is based on a public hearing and months of discussions with the relevant stakeholder groups and provides legislative recommendations to help ensure Alabama schools are as safe and secure as possible.
Following the tragic mass shooting at Sandy Hook Elementary School in Newtown, Connecticut, Speaker Hubbard called for a joint hearing of the House and Senate Education Policy Committees to study this issue and to make recommendations to make Alabama public schools as safe, secure and protected as they can possibly be given the violent nature of this society.
That joint hearing was held on January 9 at the State House in Montgomery.  The legislature took input from diverse voices that included Dr. Tommy Bice, Superintendent of the Alabama Department of Education, the Alabama Department of Homeland Security, the Alabama District Attorney's Association, the Alabama, the Sheriff 's Association, and others.
Based on that report Rep. Alan Baker (R} from Brewton is introducing House Bill 91 which changes the current fire drill statute from mandating schools have fire drills once a month to replace "fire drill" language with "emergency drills" and requiring that a "Code Red" drill be conducted every semester.  6 weeks of the semester. A "Code Red" drill would prepare students and faculty for a hard lockdown of the school.
Baker has also introduced House Bill 105.  It will create a new crime for trespassing on school buses.  The need for this legislation was made all too apparent after a bus trespasser in Dale County killed the school bus driver and kidnapped a child.
Senate Bill 383 sponsored by Sen. Brewbaker would allow local school boards to use local education funds to hire armed APOST-certified school resource officers without the threat of lost state funding. Passage of this bill would simply give the local school systems the option to hire their own armed officers.  It would not mandate that they do so.  The report said, "We believe that local school systems should have the option to hire armed, APOST certified (Alabama Peace Officers Standards and Training) school resource officers at the discretion of the local board of education. Currently, schools only have this ability if the local law enforcement agency, such as police departments or sheriff 's offices, pay for and send their own officers to patrol these schools. In addition, the Department of Education has actually threatened to withhold funding from schools that have armed guards." SB 383 would give systems that authority without any threats from bureaucrats in Montgomery.
House Bill 612 is sponsored by Rep. Treadaway.  It will authorize the Alabama Public School and College Authority to sell and issue up to $50 million in bonds to provide funds for local school systems to purchase the necessary school safety equipment and renovations.  Some of the proposed renovations include doors that lock from the inside, cameras at exterior doors, metal detectors, and the ability of the office to lock all exterior doors via remote.
Joint House resolution 204 would provide school personnel with training for an active shooter emergency.  HJR 204 is sponsored by Rep. McClurkin.  HJR 203 encourages the Alabama Department of Education and the Alabama Department of Homeland Security to create an active shooter preparation course to be used in all Alabama public schools. The resolutions asks the Department of Homeland Security to seek input from other education, law enforcement, and emergency management entities creating the course.  HJR 204 requires that all local school safety plans have an active shooter component and requires them to implement the active shooter preparation course.
The report also calls for increased funding for Virtual Alabama and active shooter training for law enforcement.  The report said, "We recommend increasing funding for the Department of Homeland Security specifically for the purpose of expanding the Virtual Alabama program and the availability of active shooter training to more state and local law enforcement officers. The proposed Education Trust Fund budget for FY2014 includes a $3.9M supplemental appropriation for public safety, and part of these funds have been assigned to the Virtual Alabama program."
House Joint Resolution 226, sponsored by Rep. McClurkin would encourage the Alabama Department of Education and the Alabama Department of Mental Health to expand their efforts to provide support services at all of Alabama's public schools to detect and treat psychological and emotional disorders. In addition, HJR 226 encourages the Department of Education to create education programs for teachers to help focused them recognizing students that have psychological and emotional symptoms.
McClurkin's HJR 205, sponsored by McClurkin, would encourage Director Collier to meet regularly with the School Safety Task force.
House Minority Leader Craig Ford responding to the report said, "There are a lot of good ideas in this report, many of which were proposed months ago by Democrats in the Alabama legislature. But I am deeply disappointed that there is not more support for school resource officers and mental health. The Republicans' legislation would put the financial burden for the resource officers entirely on the local school systems, many of which cannot afford them, and they ask the Department of Mental Health to expand it's services but do not give them any funding or tools to do so."
Alabama reports record-breaking 2,164 new COVID-19 cases
Thursday's number of new cases hit 2,164 and blew past the previous daily record set on July 3 by 406 cases.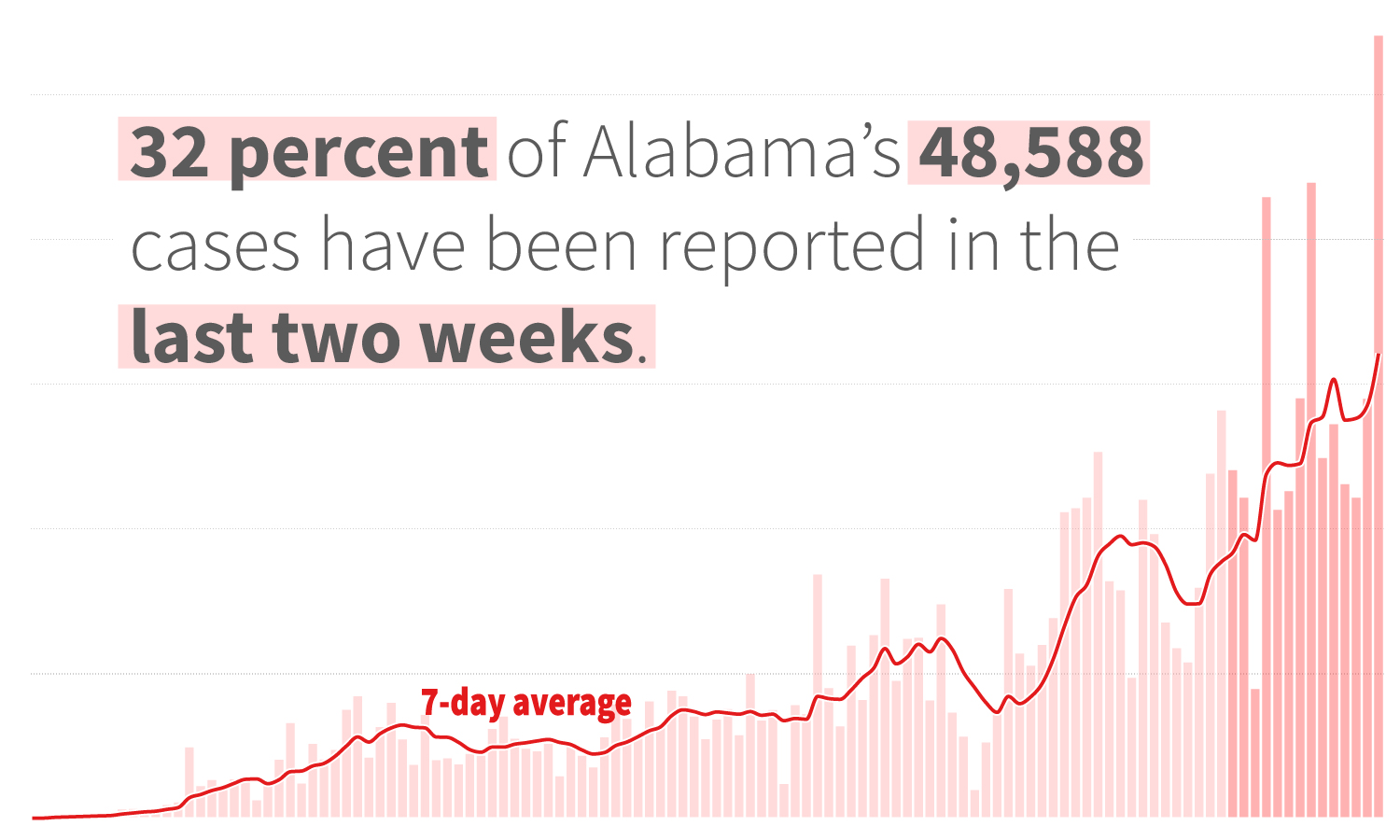 New COVID-19 cases in Alabama on Thursday jumped by nearly double from the day before, and for the first time broke 2,000 in a single day, according to the latest data from the Alabama Department of Public Health.

Thursday's number of new cases hit 2,164 and blew past the previous daily record set on July 3 by 406 cases. Both the seven-day and 14-day rolling average of new daily cases in Alabama were also at record highs Thursday. 
Thirty-two percent of the state's 48,588 cumulative confirmed cases have been added within the last two weeks. 
The Alabama Department of Public Health did not publish Wednesday an update to the total number of tests performed, which throws off the day's figures for the percentage of tests that are positive, but on average, over the last week, the state's seven-day rolling average of percent positivity has roughly 15 percent. 
Public health experts say the percent positivity should be at or below 5 percent — otherwise there isn't enough testing being done and cases are going undetected. 
Along with surging new cases, the number of COVID-19 patients hospitalized on Wednesday was higher than it's been since the beginning of the pandemic. On Wednesday 1,110 coronavirus patients were being treated in state hospitals, which was the fourth straight day of record current hospitalizations. 
UAB Hospital's COVID-19 Intensive care units were nearing their existing capacity Tuesday. The hospital has both a COVID ICU and a COVID acute care unit designated to keep patients separated from those who don't have the virus, but it has more space in other non-COVID units should it need to add additional bed space.

Hospitals in Madison County this week are also seeing a surge of COVID-19 patients. Paul Finley, the mayor of the city of Madison, told reporters Wednesday that local hospitals were reporting record numbers.

Hospitals there were at 80 to 90 percent capacity.
"Our ambulances yesterday had their greatest number of runs since this started," said Crestwood Hospital CEO Dr. Pam Hudson on Wednesday, adding that in about 20 percent of calls staff is having to wear full personal protective equipment. "That indicates that they are working with patients who have symptoms that could be compatible with COVID."
Meanwhile, Madison County set a new daily record, adding 286 cases Thursday, the first time the county has surpassed 200 cases a day. The county was largely spared early on in the pandemic, with low case counts and low death rates, but roughly 42 percent of Madison County's total case count since March has been reported in the last week as 803 new cases have been added.
Jefferson County and Madison County, over the last week, have accounted for 26 percent of the state's new cases.
Jefferson County led the state in the most new cases Thursday with 343 and has added 1,498 cases in the last week. The county's total cases increased by 33 percent from last week, and stood at 6,030 confirmed COVID-19 cases Thursday.
While Jefferson County and Madison County are seeing the state's most intense increases, other large counties including Shelby County, Baldwin County and Tuscaloosa County have also seen record increases and rising percent positive rates.
At least 81 people have died from COVID-19 in the last week, and 162 people have died in the last two weeks.
At least 1,042 people have died from COVID-19 since March, and at least 26 other deaths are listed as "probable" COVID-19 deaths.