Sessions Says Gang Of Eight Immigration Proposal Would be Detrimental to Low Income Americans
By Brandon Moseley
Alabama Political Reporter
A bipartisan group of Senators have prepared a massive immigration reform package that would dramatically increase the number of legal immigrants that businesses are allowed to bring to this country to perform work that they believe Americans are incapable of doing or are not willing to do.  The proposal also gives a path to citizenship to an estimated eleven million illegal aliens who already live here.
U.S. Senator Jeff Sessions (R) from Alabama issued a written following statement regarding the Gang of Eight immigration proposal. Senator Sessions said,
"The bill produced by the Gang of Eight is nearly 1,000 pages long and will impact every aspect of our society and every single American worker and taxpayer. It will take months—not days or weeks as the Majority proposes—to review this legislation.  Already, we know that the bill's sponsors have abandoned their core promise to the American people that enforcement would come first. This bill is legalization first, not enforcement first."
Sessions said,
"In recent years interior enforcement has been significantly undermined. And yet our interior enforcement needs are almost totally neglected in the Gang's proposal. Alarmingly, the bill leaves intact the single greatest obstacle to immigration reform: the Administration's abuse of prosecutorial discretion to prevent the enforcement of federal law. It will also provide safe harbor to those who have committed a variety of offenses—ranging from identity theft, to multiple immigration violations, and even those with criminal records.  This bill opens up citizenship to recent arrivals and, remarkably, millions who overstayed their visas. If adopted, this bill would send the following message to the world: if you get a U.S. visa and it expires, never leave—just stay put and evade detection. It even opens up citizenship to those who have been deported from the country."
Sessions warned,
"Once illegal immigrants are granted green cards, they will become eligible for generous welfare and entitlement programs. Because of how these benefits are structured, low-wage illegal immigrants who are legalized will ultimately receive trillions more in benefits than they contribute to these programs. Obamacare alone, over the long term, will see its unfunded liability grow by $2 trillion. The unfunded obligation for Medicare and Social Security, together, would likely increase by $2.5 trillion."
"This proposal would economically devastate low-income American citizens and current legal immigrants. It will pull down their wages and reduce their job prospects. Including those legalized, this bill would result in at least 30 million new foreign workers over a 10-year period—more than the entire population of the state of Texas. This at a time when 90 million Americans are outside the labor force and a record number of our citizens are on welfare."
Sessions accused special interests of placing their priorities above the national interest. "Instead of spending months courting the support of big business and labor bosses in Washington, the Gang's first meeting should have been with the immigration enforcement officers who know the flaws in our system better than anyone. And before proposing a dramatic increase in the number of low-skill foreign workers, they should have met with experts about how this would hurt struggling Americans."
Sessions concluded, "Congress' duty is to the American people.  I believe it is going to be clearly established that this plan will be detrimental to working Americans—and will not pass. What Congress needs to understand is that our obligation is to law-abiding Americans who have seen their wages erode over the last decade. We can't further weaken their financial position in order to provide more benefits to those here unlawfully."
Sessions has been a vocal opponent of amnesty plans and a supporter of increased border enforcement for years.
Breaking down the six amendments on Alabama's November ballot
What do the six proposed amendments on Alabama's November ballot do? We answer your questions here.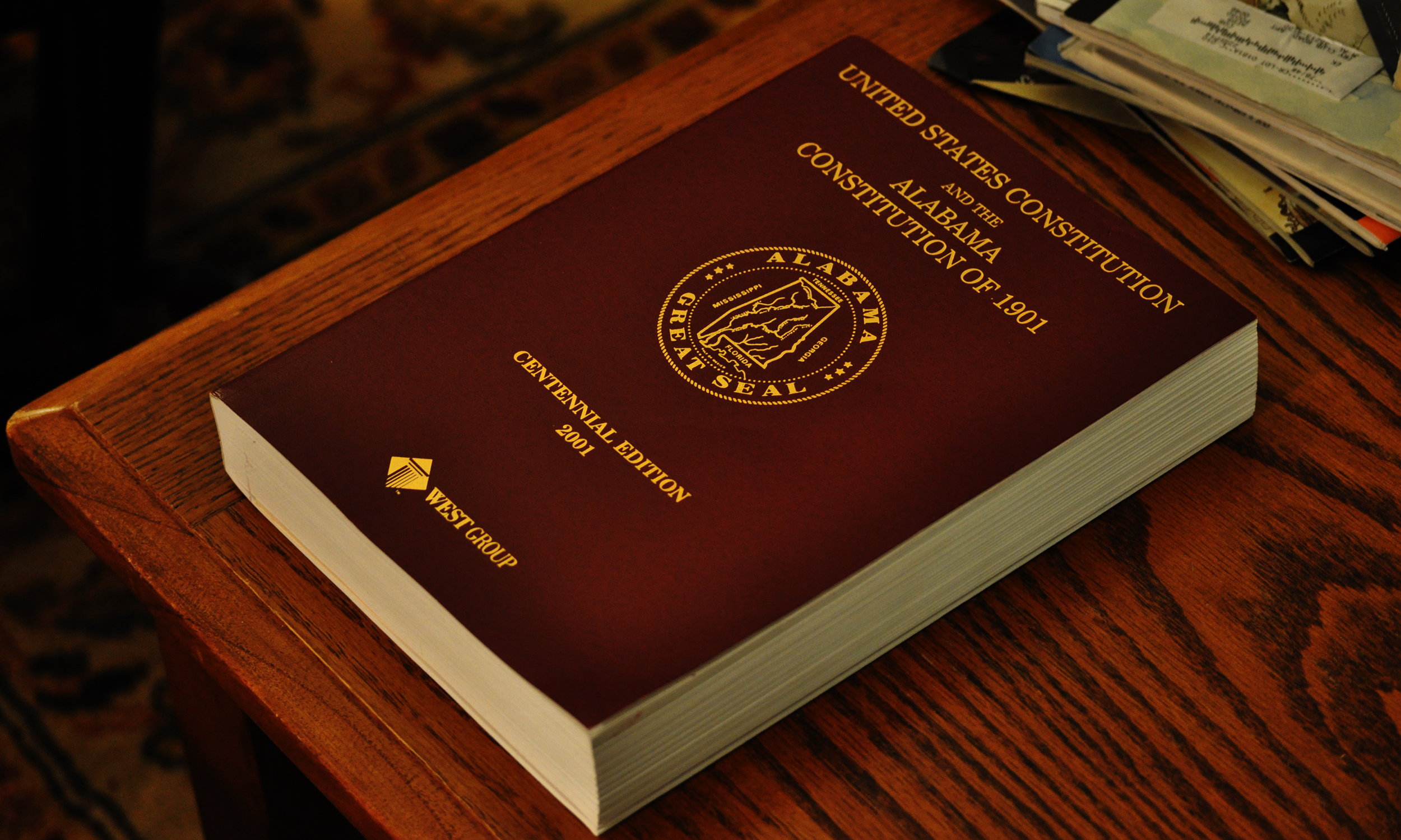 Alabama voters in the Nov. 3 election will have to decide on whether to add six constitutional amendments to what is already believed to be the longest constitution in the world. 
If approved, three of the amendments won't actually make substantive changes to state law, however.
To be added to the constitution, the amendments must receive support from a majority of voters.

Amendment 1
Amendment 1 — sponsored by State Sen. Del Marsh, R-Anniston — would "grant the right to vote to 'only' those U.S. citizens who meet the requirements." 
If approved, the change in the state's constitution would be to replace wording that the constitution grants the right to vote for "every" U.S. citizen who meets the requirements, to it grants the right to vote for "only" those U.S. citizens who meet the requirements. 
The amendment makes no changes to state voting requirements, and it's already a federal requirement to be a U.S. citizen to vote. Marsh told WBRC that the amendment "sends a message to Washington." Opponents to Amendment 1 say it could make it easier for the GOP-controlled Legislature to restrict voting rights.

Amendment 2
Amendment 2 processes numerous changes to the state's judicial system, including a change that would allow Alabama Supreme Court, rather than the Chief Justice, to appoint the Administrative Director of Courts. 
The amendment would also increase the Judicial Inquiry Commission from nine members to 11 and would  allow Governor, rather than the Lieutenant Governor, to appoint a member of the Court of the Judiciary. 
If approved, it would also prevent automatic disqualification from holding public offices for a judge solely because a complaint was filed with the Judiciary Inquiry Commission. Additionally, it would provide that a judge can be removed from office only by the Court of the Judiciary.
Amendment 3
Amendment 3 would extend the time appointed district and circuit court judges serve. State law now mandates appointed judges serve one year, or until the end of the term of the judge whom they were appointed to replace, whichever is longer.  
The amendment would allow the appointed judge to serve two years before running to keep their judgeship in an election. 
Amendment 4
Amendment 4 would allow "a rearranged version of the state constitution" to be drafted to "remove racist language," "remove language that is repeated or no longer applies,"  "combine language related to economic development"  and "combine language that relates to the same county."
 The rearranged version of the state constitution would have to be drafted by the state Legislature in 2022, according to the amendment, and the new draft wouldn't become law until approved by a majority of voters.
Amendments 5 and 6
Amendments 5 and 6 relate to Franklin and Lauderdale counties only, and if approved, would add to the state constitution that "a person is not liable for using deadly physical force in self-defense or in the defense of another person on the premises of a church under certain conditions" in both of those counties. 
Alabama already has a "stand your ground" that applies to the use of deadly force in churches, however. 
Alabama Attorney General Steve Marshall in a Jan. 2 statement, following the West Freeway Church of Christ shooting in White Settlement, Texas, wrote that Alabama law "does not impose a duty to retreat from an attacker in any place in which one is lawfully present."