By A Single Mom
If you keep up with what's happening in our state at all, you've heard of Common Core. In a very literal sense, recent decisions made by the Alabama State Board of Education have completely turned my life upside down.
I'm a single mother of three beautiful children. I work too many hours to make just enough to get by. I have a thrift store wardrobe so my children can go to school each day without the fear of being mocked for having holes in their clothes. I sacrifice any semblance of a social life to spend my time taking my kids from ball park to ball park. I heat a bottle of Prego and call it a homemade meal. I am a modern-day American mother.
However, I feel like someone recently threw a grenade into my well-oiled "mommy machine:" Excessive amounts of homework. Lower test grades. Disappointing report cards. My child, who used to crave learning, now has to be practically bribed into reading a 15 page book.
THAT is Common Core.
What's missing in the Common Core conversation in Alabama? Real life. Real Moms. Real Dads. And what's really best for our children.
My daughter and I spend hours working together to try to figure out how to solve math equations by drawing a picture of sticks.
Equation with a picture?! ….
Yep. In her Common Core workbook, my daughter is instructed to solve math problems using several different methods. Students are tested on each method. Under Common Core, children are no longer taught several different ways at arriving at an answer and then allowed to use which method works best for them when they test… they must perfect every method.
Here's one of more than over 100 examples:
1.   y – 10 = 23
Draw a picture to solve the problem.
2. y – 10 = 23
Use a number line to solve the problem.
While you're trying to figure out how on Earth either of those makes any sense, I'll continue:
After homework is complete, I sometimes retreat to my room, furious at the overwhelming helplessness I'm feeling. My child is frustrated because no matter how hard she tries, she does not understand, and so she is off to bed with a crushed spirit.
THAT is Common Core.
Some people are running around acting like they've saved Alabama from the Great Education Depression. Because by becoming "common," at least we aren't last anymore… Their arms are strained from patting themselves on the back.
These people will go to bed smiling because they think they've won something.
I'll go to bed angry because I miss spending time with my children on a school night.
My daughter will go to bed crying because she feels like a failure.
THAT is Common Core.
It may be difficult to believe, but this is not at all the education system your children grew up in.
Did your kids learn about Christopher Columbus on Columbus Day? Mine Don't.
Did your children learn cursive? Mine don't – and won't.
Does your child have any idea what Sept 11th is? Mine didn't.
Do your kids say the Pledge of Allegiance in class? Mine don't.
I am no lobbyist. I am no politician. I have no election to win next year. I barely make $23k a year, so money certainly isn't my motive…
I'm writing this to my fellow Momma Bears, both Democrats and Republicans –
I'm not hinting. I'm not asking. I'm not requesting. I'm not nudging. I'm not guilting.
I'M BEGGING —
Read your child's text book (if they still have one).
Ask them what they learned.
Ask them what Veterans Day is.
Ask them what a veteran is.
Find out if your child is given birth control without your permission.
Ask how much your school is teaching your child about 9/11.
Find out if your child is still pledging their allegiance to America's flag.
Tune in to what's happening (like, yesterday), because "this Common Core thing" is already in your school. We can't stop it from happening…. But we can stop it from spreading.
Alabamians are some of the most blessed people in all of America. We live in the most conservative state in the union. Wouldn't you think that the Republicans in the most conservative state in America would act, well, conservative? It's time that we demand that they do.
Governor Bentley claims to be against Common Core. I, personally, have never heard him make a statement denouncing the Common Core Curriculum or calling for its repeal. However, I believe that he is a good man, and I hope that he will go public and ask the legislature to fast track the repeal of Common Core. There are few "working" days left in this legislative session – but enough to repeal Common Core in both Houses if the bills are prioritized.  Is anything more important than our children?  Take thirty seconds and call Governor Bentley at 205/242-7100.  Then email your State Rep and State Senator. They need to know that there are better curriculums out there. Encourage them to get rid of this one.
In only 4 months, Common Core will be fully implemented.
As a parent, I expect – no, I demand – an education level that's higher than common for my children.
There have been polls done recently about Common Core and how "we," as Alabamians, feel about it. After reading the article/poll on a site that is nothing short of biased, I thought to myself, "Wouldn't it be fantastic if REAL questions were asked that sparked REAL discussion about Common Core?"
The questions below are asked with no spin, no shadiness, and absolutely no ulterior motive.
I'd simply like to know if I'm the only one out here whose life has already been "fundamentally transformed" by Common Core.
Questions:
Do you think the State Board of Education should be able to tell a teacher exactly what curriculum they should be using in their classroom?
Do you think your City or County Board of Education should develop the curriculum for your school system?
Do you think State Board of Education members should be allowed to receive campaign contributions from organizations actively lobbying for a national education curriculum (Common Core)?
Do you think you should be asked about changing the way your child is learning, or should others make these decisions for you?
Do you think the Governor and Legislators should act immediately to make sure that Alabama decisions about education stay in Alabama?
Opinion | Let the head coach lead the team: Vote no on Amendment 2
"As the 34th chief justice of the Alabama Supreme Court and an Alabama justice for over 15 years, I strongly urge you to vote 'no' on Amendment 2," Chief Justice Tom Parker writes.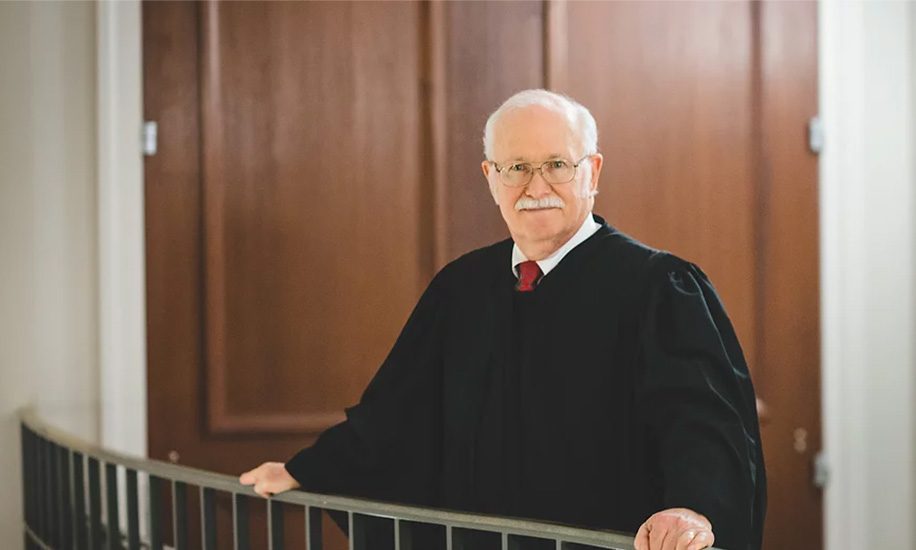 Down the ballot from the presidential race are several proposed constitutional amendments, but one of them does not deserve your vote. Statewide Amendment 2 contains a "Trojan horse" that would disrupt the Alabama court system from the top-down and overthrow an important part of the Alabama Constitution.
As the 34th chief justice of the Alabama Supreme Court and an Alabama justice for over 15 years, I strongly urge you to vote "no" on Amendment 2.
Just what would this amendment do? Amendment 2 would strip from the chief justice the important power to appoint his own administrative director of courts (ADC) — the second-in-command of the whole judicial branch of government since the ratification of the Judicial Article in 1973 — and would instead give that power to the eight associates justices of the Supreme Court.
Amendment 2 would give the ADC a long 10-year term and make it much more difficult to remove him or her, instead of serving at the discretion of the chief justice as they do now.
This strange scenario is like Nick Saban and Gus Malzahn having their assistant coaches selected for them by the athletic departments at Alabama and Auburn, and then being told they have to keep those assistant coaches for 10 years! Such a bizarre scheme would totally undermine the ability of the head coach to effectively lead the offense, defense, special teams and all departments of their program — and, if necessary, fire underperforming coaches.
That's not good leadership in football, and it's not good government for Alabama. It's a losing game plan.
The direct relationship and accountability between a head football coach and his assistant coaches are crucial to the successful execution of the head coach's process and vision.
In the same way, the ADC, under the direct leadership of the chief justice who appoints him, directs the day-to-day administration of Alabama's Unified Judicial System, which includes all the circuit and district judges, personnel and equipment throughout the state of Alabama.
The ADC is one of the most important positions in the Alabama court system, because the ADC is the linchpin between the chief justice and the trial courts throughout the state. The ADC provides direct accountability and feedback to the chief justice so that he can make necessary and sometimes quick "game-time decisions" that affect all courts.
The ADC is the singular "assistant coach" carrying out the leadership and direction of the judicial "head coach."
This is exactly how the framers of the Judicial Article of the Alabama Constitution intended it. Article VI, Section 149 makes the chief justice "the administrative head of the judicial system" with the power to appoint the ADC "to assist [the chief justice] with his administrative tasks."
But Amendment 2 flips the constitutional order and destroys that close accountability between the chief justice and the ADC. Instead, it gives the appointment power to the eight associate justices who, ironically, are not elected with the authority to lead the administration of the judicial branch of government.
To put it in the context of another branch of government, it would be like letting the governor's cabinet select her chief of staff for her. How strange would it be for the elected head of the executive branch to be unable to choose her top in-house official? And then to be told to work with this person for the rest of her term! This is what Amendment 2 would do to the leadership dynamics of the judicial branch.
Since you did me the great honor of electing me as chief justice two years ago, I have experienced first-hand just how demanding it is to run the day-to-day operations of our entire judicial system. I take seriously that responsibility to lead the court system, as does the ADC.
But my ability to lead this branch, and the ability of future chief justices, would be severely hampered if Amendment 2 passed. Mind you, the chief justice would still be the elected administrative head under the Constitution, but their second-in-command would be picked by a political process and given a longer term of office than even the chief justice's 6-year term.
Supporters of Amendment 2 claim that letting the associate justices pick the ADC would lead to "stability" and "longevity" in that position. That's the problem! The amendment would make the ADC nearly unaccountable to the chief justice that he is supposed to assist — and for a cushy 10-year term, regardless of how poorly he is doing the job.
The ADC should carry the football for the chief justice the people have elected, and it is entirely appropriate that both positions follow the desires of the people who elect the head of the branch.
Vote no on Amendment 2 and let the head coach lead the courts as the people have elected him to.