Sewell Supports Cyber Intelligence Sharing and Protection Act
By Brandon Moseley
Alabama Political Reporter
On Thursday Congresswoman Terri A. Sewell (D) from Selma released a written statement following her vote in favor of H.R. 624, the Cyber Intelligence Sharing and Protection Act (CISPA) which passed in the U.S. House of Representatives by a vote of 288-127.
Representative Sewell wrote, "Every day, our computer networks in both the public and private sector face an increasing number of cyber attacks from foreign agents, criminal hackers and terrorist organizations. In order to keep our nation safe, it is necessary that we take proactive steps to ensure that we have the safeguards in place to combat these cyber threats. I voted for the Cyber Intelligence Sharing and Protection Act today because I believe this bill provides a solid framework for addressing serious threats to our national and economic security while providing privacy protections to ensure our civil liberties."
Rep. Sewell continued, "As a newly appointed member of the Intelligence Committee, I worked closely with Committee Chairman Mike Rogers (R-MI) and Ranking Member Dutch Ruppersberger (D-MD) on this legislation.  I also worked with my Republican and Democratic colleagues on the committee and within the House to craft a bill that serves as an important first step in addressing these critical issues.  I am also pleased that my amendment to prevent improper government use of data was included in the bill."
Congresswoman Sewell concluded, "While not a perfect bill, I am hopeful that the Senate will draft a measure that makes this bill even stronger.  And as we move forward, we must continue to work together to strengthen privacy protections and find a balance between preserving privacy and protecting the security of our country from the danger of cyber attacks. I remain committed to working with the Senate and the Administration to find a workable solution to ensure our national security."
The Cyber Intelligence Sharing and Protection Act (CISPA) will allow corporations to search through personal and sensitive user data of ordinary U.S. residents to identify "threat information," which will then be shared with other opt-in firms and the U.S. government.   Some civil liberties activists complain that doing this without a court ordered search warrant essentially allows a company like Facebook, Twitter, Google, or your cell service provider to legally hand over information about you and other customers to the U.S. government and federal law enforcement without being subject to lawsuits.
CISPA's advocates argue that it is vitally important to U.S. national security that government and the corporate world be able to share information quickly so that the data can be used in real time to stop cyberattacks and give the government the tools to trace cyberattacks back to their source. Supporters argue that cyberattacks against U.S. networks are weapons that the government needs tools to fight against in the virtual battlefield.
The Bill also amends the National Security Act to allow U.S. intelligence agencies to share classified information to individuals and corporation that do not have security clearance in order to help companies fight back against and prevent cyberattacks on their systems in the future.
Congresswoman Terri A Sewell represents Alabama's Seventh Congressional District.
Trump Truck and boat parades this weekend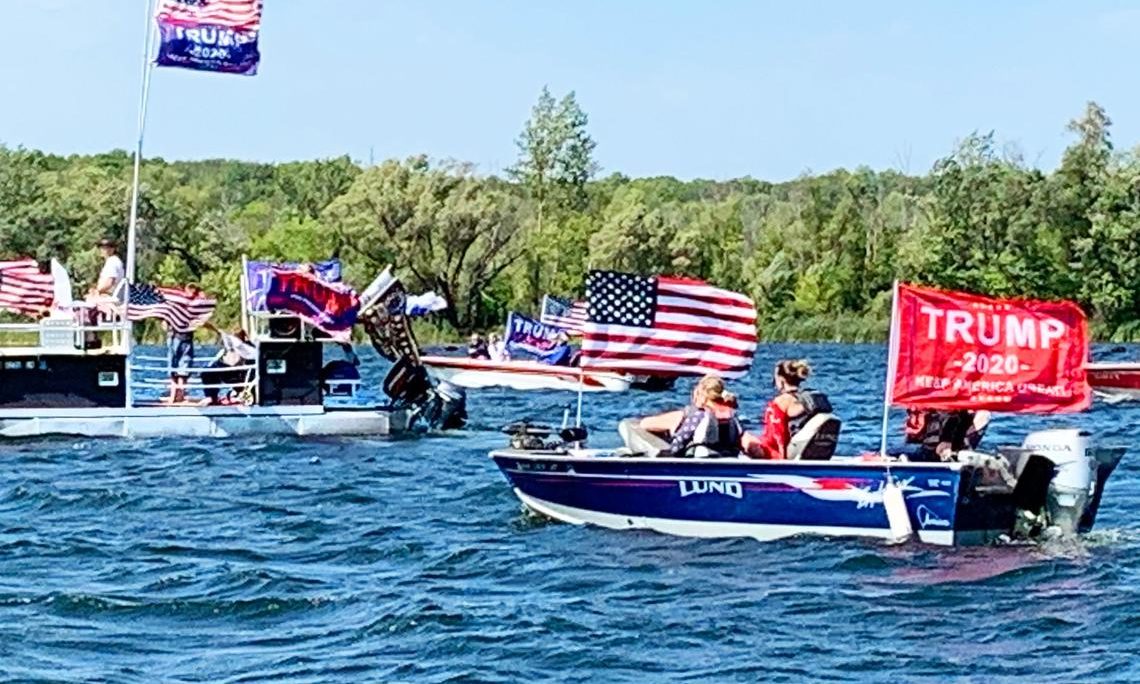 As Election Day draws near, Alabama Republicans are excited about promoting the re-election of Donald J. Trump as President and the election of Tommy Tuberville for U.S. Senate. This weekend two pro-President Trump events are happening in the state. There will be a truck parade from Ashland to Phenix City on Saturday sponsored by the Clay County Republican Party, while there will also be a boat parade on Wilson Lake in the Shoals sponsored by the Colbert County Republican Party on Sunday.
The pickup trucks will assemble at the Ashland Industrial Park in Clay County, 8240 Hwy 9, Ashland. There is a pre-departure rally at 10:00 a.m. central standard time. The trucks will depart at 11:00 a.m. and then proceed on a parade route that will take them into the bitterly contested swing state of Georgia. The Trump Pickup Parade will wind through east Alabama and West Georgia traveling through LaGrange and Columbus before concluding near the Alabama/Georgia line in Phenix City, 332 Woodland Drive, Phenix City at approximately 2:00 p.m. central time. Speakers will begin at 3:00. Trump flags will be on sale at the event.
The Phenix Motorsports Park will be hosting what sponsor hope could possibly the world's largest Pickup Tuck parade in U.S. history that is routing over 50 mile through Georgia in effort to "pickup" President Trump's numbers in GA.
A number dignitaries have been invited to address the Phenix City rally, including Coach Tuberville. Former State Sen. Shadrack McGill, Trump Victory Finance Committee member former State Rep. Perry O. Hooper Jr., and Paul Wellborn, the President and CEO of the largest Family owned Kitchen Cabinet manufacture in the USA are among the featured speakers who have committed to speak at the event.
Entertainment will be provided by: Charity Bowden, an up and coming country music singer who was the runner up on "The Voice". Charity will sing 'I am Proud to be an American' as well as songs from her Voice performances. The McGill Girls will also perform. The three beautiful and talented sisters will be singing patriotic songs in three part harmony. Geoff Carlisle, a professional DJ will be keeping the crowd pumped with music and entertainment.
Following the speakers and the entertainment there will Trump truck-vs- Joe Bidden truck races down the drag strip for the finale.
The Northwest Alabama boat parade will be on Sunday. The boats will gather at 2:00 p.m. near Turtle Point and then the flotilla will parade around the open waters of Wilson Lake til 3_00 p.m.. There will be a contest for best decorated Trump boats.
Trump supporters have held a number of large boat parades across the state to show their support for the re-election of Pres. Trump.
Boat parade sponsors say that this parade will be: pro-American, pro-law enforcement, pro-military.