Rogers Responds to Reports of Pentagon Crackdown on Christian Soldiers
By Brandon Moseley
Alabama Political Reporter
Congressman Mike Rogers (R) from Saks responds to the controversy surrounding reports that Christians who preach their faith (including military chaplains) could potentially face a court-martial for preaching the Gospel.
Representative Rogers said, "As a Christian, I know the importance of my faith and strongly believe our brave men and women in uniform should have the right to worship and speak of their faith freely. This is a deeply troubling report, and I will monitor this situation closely during the upcoming defense bill debate."
Representative Rogers is referring to the Pentagon's confirmation of a Breitbart News Report that Obama administration official met with Mikey Weinstein on Apri 23. Weinstein is the head of the Military Religious Freedom Foundation. The Pentagon confirmed that Christian soldiers could potentially be court-martialed for expressing or sharing their faith.
LCDR Nate Christensen said in a written statement, "Religious proselytization is not permitted within the Department of Defense." "Court martials and non-judicial punishments are decided on a case-by-case basis and it would be inappropriate to speculate on the outcome in specific cases." Christensen however added, "The U.S. Department of Defense has never and will never single out a particular religious group for persecution or prosecution. The Department makes reasonable accommodations for all religions and celebrates the religious diversity of our service members."
FoxNews's Sean Hannity claimed that the reports of talks between the Pentagon and anti-Christian groups over possible new Pentagon tolerance policy guidelines shows that the Obama administration is engaged in a, "Cleansing of Christians in the United States Military."
The President of the Family Research Council, Tony Perkins told Fox News, "Why would military leadership be meeting with one of the most rabid atheists in America to discuss religious freedom in the military. That's like consulting with China on how to improve human rights," referring to the Military Religious Freedom Foundation's Mikey Weinstein.
Weinstein told Fox News that they are calling on court martials of any service member caught proselytizing and warned of a, "tidal wave of fundamentalists," in the armed forces. "Someone needs to be punished for this. Until the Air Force or Army or Navy or Marine Corps punishes a member of the military for unconstitutional religious proselytizing and oppression, we will never have the ability to stop this horrible, horrendous, dehumanizing behavior." Weinstein compared preaching the Gospel to mental rape.
Former Lt. General Jerry Boykins who is now the executive vice president of the Family Research Council (FRC), said on Fox & Friends, "It's a matter of what do they mean by "proselytizing." …I think they've got their defintions a little confused. If you're talking about coercion that's one thing, but if you're talking about the free exercise of our faith as individual soldiers, sailors, airmen and marines, especially for the chaplains, they I think the worst thing we can do is stop the ability for a soldier to be able to exercise his faith."
Congressman Mike Rogers represents Alabama's Third congressional district.
Trump Truck and boat parades this weekend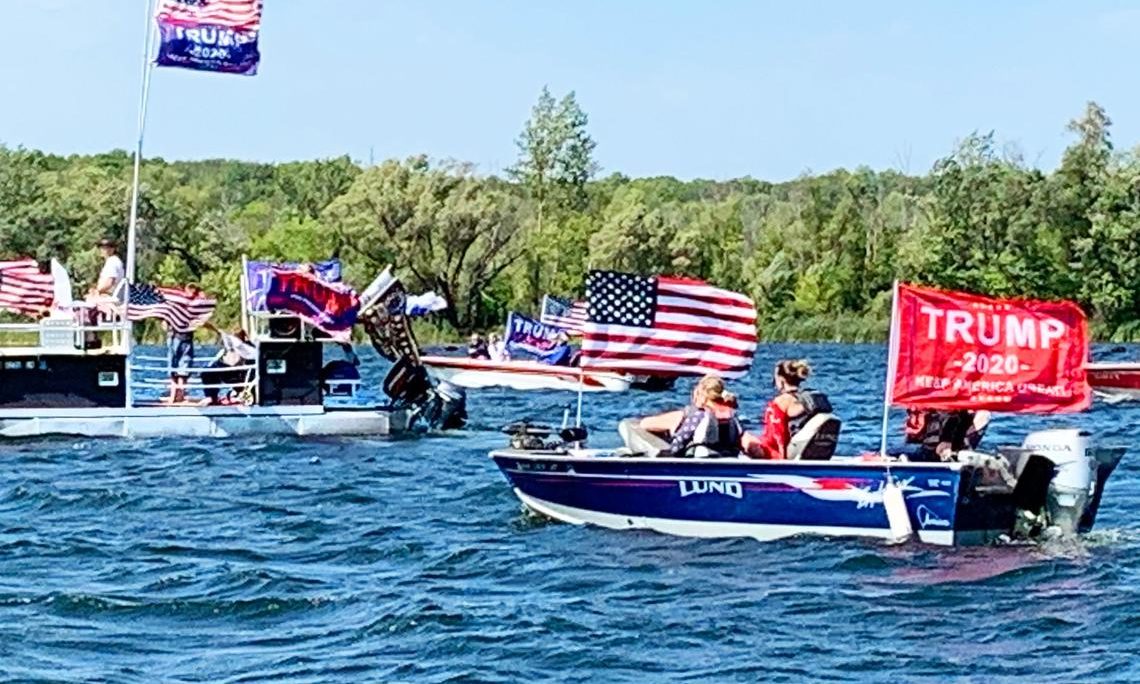 As Election Day draws near, Alabama Republicans are excited about promoting the re-election of Donald J. Trump as President and the election of Tommy Tuberville for U.S. Senate. This weekend two pro-President Trump events are happening in the state. There will be a truck parade from Ashland to Phenix City on Saturday sponsored by the Clay County Republican Party, while there will also be a boat parade on Wilson Lake in the Shoals sponsored by the Colbert County Republican Party on Sunday.
The pickup trucks will assemble at the Ashland Industrial Park in Clay County, 8240 Hwy 9, Ashland. There is a pre-departure rally at 10:00 a.m. central standard time. The trucks will depart at 11:00 a.m. and then proceed on a parade route that will take them into the bitterly contested swing state of Georgia. The Trump Pickup Parade will wind through east Alabama and West Georgia traveling through LaGrange and Columbus before concluding near the Alabama/Georgia line in Phenix City, 332 Woodland Drive, Phenix City at approximately 2:00 p.m. central time. Speakers will begin at 3:00. Trump flags will be on sale at the event.
The Phenix Motorsports Park will be hosting what sponsor hope could possibly the world's largest Pickup Tuck parade in U.S. history that is routing over 50 mile through Georgia in effort to "pickup" President Trump's numbers in GA.
A number dignitaries have been invited to address the Phenix City rally, including Coach Tuberville. Former State Sen. Shadrack McGill, Trump Victory Finance Committee member former State Rep. Perry O. Hooper Jr., and Paul Wellborn, the President and CEO of the largest Family owned Kitchen Cabinet manufacture in the USA are among the featured speakers who have committed to speak at the event.
Entertainment will be provided by: Charity Bowden, an up and coming country music singer who was the runner up on "The Voice". Charity will sing 'I am Proud to be an American' as well as songs from her Voice performances. The McGill Girls will also perform. The three beautiful and talented sisters will be singing patriotic songs in three part harmony. Geoff Carlisle, a professional DJ will be keeping the crowd pumped with music and entertainment.
Following the speakers and the entertainment there will Trump truck-vs- Joe Bidden truck races down the drag strip for the finale.
The Northwest Alabama boat parade will be on Sunday. The boats will gather at 2:00 p.m. near Turtle Point and then the flotilla will parade around the open waters of Wilson Lake til 3_00 p.m.. There will be a contest for best decorated Trump boats.
Trump supporters have held a number of large boat parades across the state to show their support for the re-election of Pres. Trump.
Boat parade sponsors say that this parade will be: pro-American, pro-law enforcement, pro-military.