The Graftmaster Cometh: Hubbard Strikes Back at Critics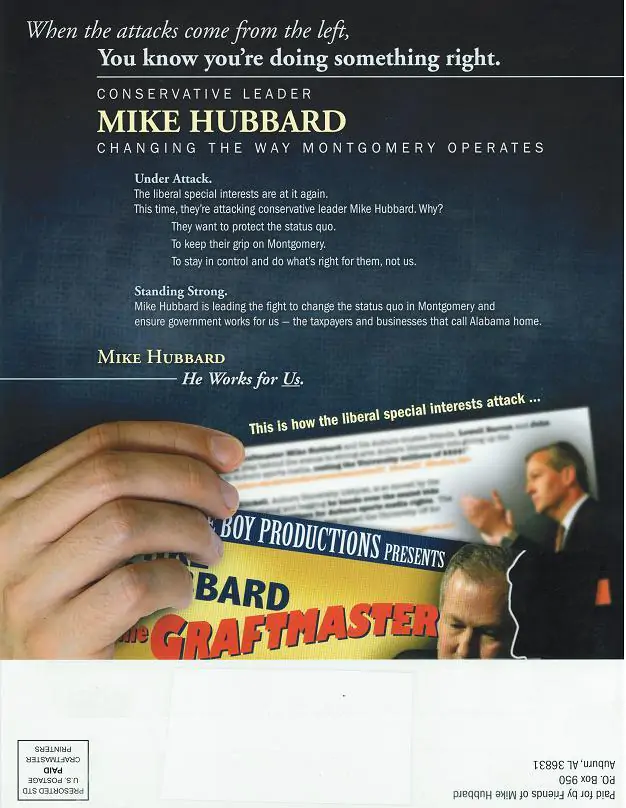 By Bill Britt
Alabama Political Reporter
MONTGOMERY— Lee County voters were treated to a campaign-style push-card this week, paid for by the Friends of Mike Hubbard. The mail drop is an unusual direct response to a stinging—and humorous—flyer branding the Speaker of the House Mike Hubbard as "The Graftmaster."
The "Graftmaster" label is an ironic play-of-words on Hubbard's prized business holdings, the Auburn-based Craftmaster Printers Inc. A state grand jury is hearing testimony regarding an investigation into how more than $800,000 was secretly funneled from the Alabama Republican Party to a Florida vendor and then to Craftmaster Printers Inc. during the 2010 election cycle. Hubbard was chairman of the ALGOP at the time.
Now, Hubbard is striking back with a glossy, high-production quality direct mail piece that insists he is a "conservative leader" who "works for us." The irony should be lost on no one that Craftmaster Printers appears to have printing the flyer, and the Craftmaster postal permit was used to pay postal costs. The printed address for the Friends of Mike Hubbard campaign committee uses is, naturally, the headquarters of his other lucrative business, Auburn Network Inc.
It seems in keeping with Hubbard's usual business practices that he would use his personal business interests to support campaign activities. Hubbard delivers to constituents a high-quality—and likely high-priced political mailer, paid for with donations to his campaign committee. And then he pays his own companies to print and deliver the propaganda. It's Diamond Mike at his best.
 
But exactly how Friends of Mike Hubbard paid for the mailer and postage costs is unclear. State campaign finance laws require political communications state clearly who pays the costs. The mailer states that is was paid for Paid for by Friends of Mike Hubbard. Yet, Secretary of State records show that Friends of Mike Hubbard as only having $607 dollars in its account as of January 31, 2013. Keep in mind that it is illegal for him to raise or transfer money until June, after the legislative session ends.
Where did the money come from to paid for a mailer that could cost anywhere between $20 and $30 thousand dollars to produce?  
The front of Hubbard's card reads: "Under Attack: Liberal special interests are at it again."
This begs the question, "What liberal special interest in Alabama still has the juice (or money) to launch the Graftmaster attack on Hubbard?"
Certainly not the fractured and virtually bankrupt Democratic Party.
Alabama Appleseed?  Alabama Arise? These groups hardly constitute a threat to Mike Hubbard or the ALGOP.
Does he mean the Alabama Education Association? Perhaps Hubbard doesn't realize that a large percentage of AEA members are, in fact, conservatives, who vote Republican.
"Liberal special interests" are simply buzzwords Hubbard uses to stir the base. And the conservative base seems to have figured this out. Speaker Hubbard's rhetoric has no virtually no impact on conservatives.
Hubbard's propaganda card goes on to say, "They want to protect the status quo, To keep their grip on Montgomery, to stay in control and do what is right for them, not us."
Of course, Hubbard knows that the Business Council of Alabama now has the "grip on Montgomery" and is now the status quo. Hubbard knows this because he pushes through the BCA, corporate agenda—all the while imploring conservatives to believe he "works for us."  Under his leadership the ship-of-state has become a money-ladened barge hauling off the taxpayers dollars for big dollar donors. It is Hubbard and his band of crony-capitalist that have a "grip," on Montgomery not the mythical "them."
The talking points here are as silly as they are old. Grassroots conservatives are not fooled by such petty blather, neither is the Tea Party. Hubbard and those he controls in the Legislature, abandoned conservatives on Common Core, even though the RNC, Governor Bentley and ALGOP Chairman Bill Armistead wanted it killed by state lawmakers.
Hubbard and his band, passed meaningless and weak gun bills that will have little effect but look good in direct mail pieces. Hubbard is a fraud, and the Graftmaster mailer called him out for it.
Talk around the Statehouse is that Hubbard's ego was bruised, so, he struck back with this latest piece of mail. Closer to the truth is probably that Hubbard is in real trouble back in his district and has a tenuous grip Speaker's gavel. Hubbard has promised so much money to those who he seeks to control that not even Midas has enough gold to keep all the Speaker's promises.
The push-card spins a tale of how Hubbard has lowered taxes, created jobs and made Alabama safe for democracy. How? In bold headlines the text of the card reads, "Changing the way Montgomery operates." Diamond Mike certainly has done that. He has ushered in an era of pay-to-play that is unparalleled in since Reconstruction. Like a mafia Don, Diamond Mike sits on the fifth-floor of the Statehouse handing out favors and dealing out punishment.
 
On the backside of the push-card it reads, "Mike Hubbard is no typical politician." Most everyone would agree.
Hubbard's pushback on the Graftmaster mailer is little more than a steady stream of buzzwords, codewords, half-truths and total fabrications. It seems hurried and ill-conceived. Totally lacking the ability to grab a reader. Mike says, "When the attacks come from the left, you know you're doing something right." What it should say is, "When the attacks come from the RIGHT and the LEFT, you know you are WRONG for Alabama."
The 2014 campaign season will soon be in motion. Hubbard will need a better strategy than this to stay in power. Of course an Attorney General's Special Grand Jury (that dreaded liberal special interest group) may have more to say than any push-card….maybe something like— "Hubbard indicted!"
Opinion | Inside the Statehouse: Buck's pocket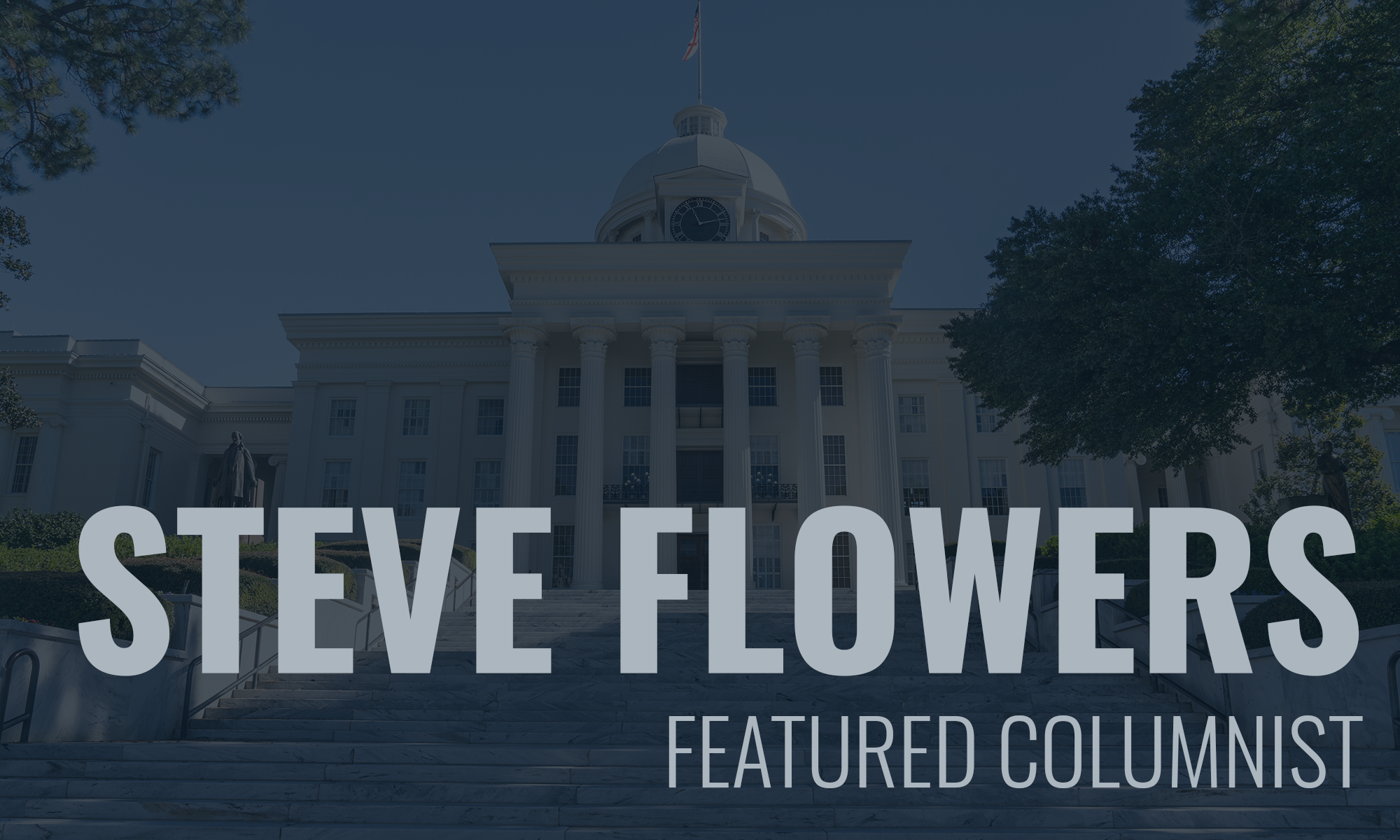 You voted Tuesday on a crowded ballot.
Historically, in Alabama we have voted more heavily in our Governor's race year than in a presidential year. That is probably because we were more interested in the local sheriff and probate judge's races, which run in a gubernatorial year, than who is president. The old adage, "all politics is local," definitely applies here in Alabama.
We not only have a governor's race this year, we have all secondary statewide offices with a good many of them open including Lt. Governor, Attorney General, State Treasurer, Auditor, and two seats on the Public Service Commission. We have five seats on the State Supreme Court, one being Chief Justice. All 140 seats in the Legislature are up for a four-year term. These 35 state Senate seats and 105 House contests are where most of the special interest PAC money will go. And, yes, we have 67 sheriffs and 68 probate judges as well as a lot of circuit judgeships on the ballot.
You may think the campaigning is over. However, some of the above races have resulted in a runoff which will be held on July 17. So get ready, we have six more weeks of campaigning before all the horses are settled on for the sprint in November.
We have a lot of folks headed to Buck's Pocket. Last year after the open Senate seat contest, a young TV reporter for one of the stations I do commentary for asked me about Roy Moore and his loss. I told her ole Moore had gotten on his horse, Sassy, and ridden off into the sunset to Buck's Pocket, which by the way wasn't a long ride from his home in Gallant in Etowah County. She looked at me with a puzzled look. Probably a lot of you are also wondering what I'm talking about when I refer to Buck's Pocket.
For decades, losing political candidates in Alabama have been exiled to Buck's Pocket.  It is uncertain when or how the colloquialism began, but political insiders have used this terminology for at least 60 years.  Alabama author, Winston Groom, wrote a colorful allegorical novel about Alabama politics and he referred to a defeated gubernatorial candidate having to go to Buck's Pocket.  Most observers credit Big Jim Folsom with creating the term.  He would refer to the pilgrimage and ultimate arrival of his opponents to the political purgatory reserved for losing gubernatorial candidates.
This brings me to another contention surrounding Buck's Pocket. Many argue that Buck's Pocket is reserved for losing candidates in the governor's race. Others say Buck's Pocket is the proverbial graveyard for all losing candidates in Alabama.
One thing that all insiders agree on is that once you are sent to Buck's pocket you eat poke salad for every meal. Groom also suggested that you were relegated to this mythical rural resting place forever. However, history has proven that a good many defeated Alabama politicians have risen from the grave and left Buck's Pocket to live another day. Roy Moore may be a good example. He has risen from the grave before. He is only 70, and he may grow weary of eating poke sallet.
Most folks don't know that there really is a Buck's Pocket. Big Jim would campaign extensively in rural North Alabama often one on one on county roads. One day while stumping in the remote Sand Mountain area of DeKalb County he wound up in an area referred to as Buck's Pocket. It was a beautiful and pristine area, but it was sure enough back in the woods. Big Jim who loved the country and loved country folks was said to say that, "I love the country but I sure wouldn't want to be sent to Buck's Pocket to live."
Buck's pocket is now not a mythical place. If you are traveling up the interstate past Gadsden, on the way to Chattanooga, you will see it. There is a Buck's Pocket State Park in DeKalb County, thanks to Big Jim.
So the next time you hear an old timer refer to a defeated candidate as going to Buck's Pocket, you will know what they are talking about.
See you next week.
Steve Flowers is Alabama's leading political columnist. His weekly column appears in over 60 Alabama newspapers. He served 16 years in the state legislature. Steve may be reached at www.steveflowers.us.