Alabama Shake (Down): Hubbard Style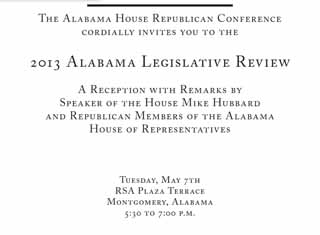 By Bill Britt
Alabama Political Reporter
MONTGOMERY—Dinner and drinks Tuesday, 5:30 to 7:00, at the RSA Plaza Terrace, across from the statehouse. It'll cost you as much as $5,000, but you'll get to sit up close and personal while state House Republicans like Speaker Mike Hubbard blather on about how they have defended your rights during this legislative session.
Of course, you (like most of Alabamians) perhaps cannot afford $1,000 to $5,000 for one meal, a few drinks and 90 minutes of political grandstanding. That's why you (like most Alabamians) probably didn't get the invitation.
But  Montgomery's well-heeled lobbyists and Big Business donors certainly received the invite to attend the May 7th soiree. In the most polite terms, it reads: "The House Republican Conference Cordially Invites You to the 2013 Alabama Legislative Review … A Reception with Remarks by Speaker of the House Mike Hubbard and Republican Members of the House of Representatives."
For the corporate special interests who are still waiting for a bill to be passed, or for fat cats who still owe Mike Hubbard a favor, dropping five grand might be worth it.
To be fair, nothing about this fundraiser appears to be in violation of the letter of the Fair Campaign Practices Act, which regulates how politicians and political groups can raise and spend money. And, the fact is, this kind of money-grabbing event is nothing new to the statehouse, where the art of the political shakedown was perfected.
With many bills yet to pass for 2013—including the general fund budget and the education budget—it would seem an opportune time to seek donations from lobbyist and corporations that have interests before the House body.
Legal, yes. Smelly, certainly. The fundraiser might adhere to the letter of the Fair Campaigns Practices Act—which among other things, prohibits lawmakers from soliciting donations for their campaigns during a legislative session.  However, the Alabama Republican House Conference cash-call certainly violates the spirit of the FCPA because the session is not over yet.
What is the Alabama House Republican Conference, Inc.?
Even though it is raising big money from lobbyists and businessmen, and has Speaker Hubbard and his top lieutenants are the officers of the group, the invitation wants you to know the Alabama House Republican Conference is not a Political Action Committee. "AHRC is not a Political Action Committee and will not receive contributions or make expenditures, as defined by the Fair Campaign Practices Act, to or on behalf of any candidate or for the purpose of influencing the outcome of any election."
There you have it. It is not a PAC, so nothing improper here folks… Move along.
In fact, the Alabama House Republican Conference is a registered a non-profit organization (whose directors are Speaker Hubbard, and Reps. Jay Love and Micky Harmon), given tax-free status because its mission is to "discuss" and "educate" the the public on "public matters." See the Secretary of State record here: http://arc-sos.state.al.us/cgi/corpdetail.mbr/detail?corp=032173&page=name&file=
So, according to its organizers it is a nonprofit created for the public's benefit…Like the Red Cross…Or the Big Oak Ranch for children.
Since the Alabama House Republican Conference Inc. is not a PAC and does not use contributions to support or oppose any candidate or to influence elections, what exactly tax-exempt activities will it perform with the tens of thousands of dollars Gold Sponsors and Silver Sponsors will surely pay for their private get-together with Speaker Hubbard and other lawmakers?
Surely, nothing improper, or of a partisan political nature.
No doubt co-director Micky Hammon will be holding statewide lectures on good, sober government. While Jay Love another director for the Alabama House Republican Conference Inc. is sure to be traveling the state giving inside tips to budding business owners the wonders of public/private partnerships.
And in time the donors to the Alabama House Republican Conference Inc. will be treated to personal visits from Speaker Hubbard, the next time there is a need to raise more money.
Oh, by the way, sorry if you didn't receive an invitation, I didn't get one either. I found mine in the dumpster (next to a copy of the state's ethics code) well, sort of.
Opinion | Inside the Statehouse: Buck's pocket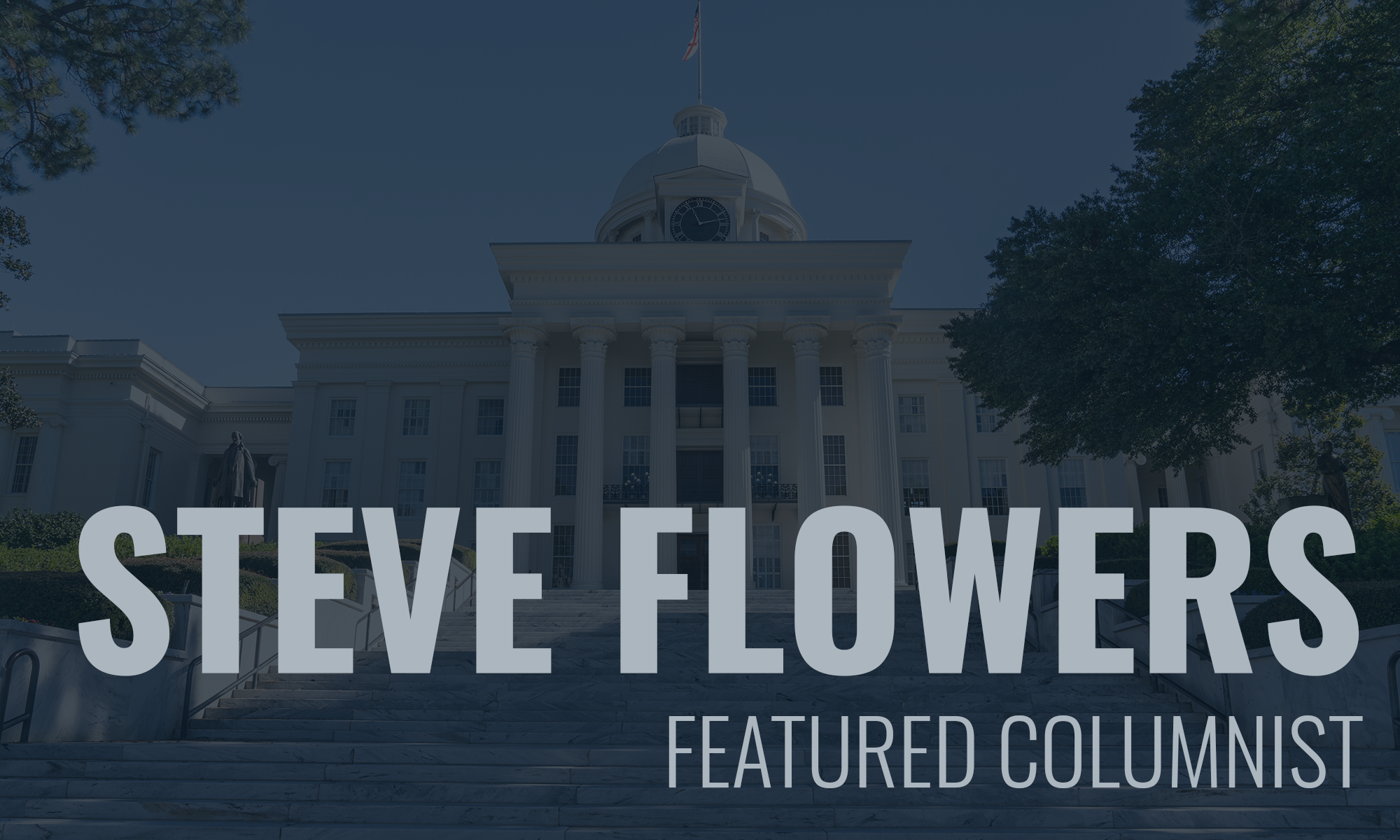 You voted Tuesday on a crowded ballot.
Historically, in Alabama we have voted more heavily in our Governor's race year than in a presidential year. That is probably because we were more interested in the local sheriff and probate judge's races, which run in a gubernatorial year, than who is president. The old adage, "all politics is local," definitely applies here in Alabama.
We not only have a governor's race this year, we have all secondary statewide offices with a good many of them open including Lt. Governor, Attorney General, State Treasurer, Auditor, and two seats on the Public Service Commission. We have five seats on the State Supreme Court, one being Chief Justice. All 140 seats in the Legislature are up for a four-year term. These 35 state Senate seats and 105 House contests are where most of the special interest PAC money will go. And, yes, we have 67 sheriffs and 68 probate judges as well as a lot of circuit judgeships on the ballot.
You may think the campaigning is over. However, some of the above races have resulted in a runoff which will be held on July 17. So get ready, we have six more weeks of campaigning before all the horses are settled on for the sprint in November.
We have a lot of folks headed to Buck's Pocket. Last year after the open Senate seat contest, a young TV reporter for one of the stations I do commentary for asked me about Roy Moore and his loss. I told her ole Moore had gotten on his horse, Sassy, and ridden off into the sunset to Buck's Pocket, which by the way wasn't a long ride from his home in Gallant in Etowah County. She looked at me with a puzzled look. Probably a lot of you are also wondering what I'm talking about when I refer to Buck's Pocket.
For decades, losing political candidates in Alabama have been exiled to Buck's Pocket.  It is uncertain when or how the colloquialism began, but political insiders have used this terminology for at least 60 years.  Alabama author, Winston Groom, wrote a colorful allegorical novel about Alabama politics and he referred to a defeated gubernatorial candidate having to go to Buck's Pocket.  Most observers credit Big Jim Folsom with creating the term.  He would refer to the pilgrimage and ultimate arrival of his opponents to the political purgatory reserved for losing gubernatorial candidates.
This brings me to another contention surrounding Buck's Pocket. Many argue that Buck's Pocket is reserved for losing candidates in the governor's race. Others say Buck's Pocket is the proverbial graveyard for all losing candidates in Alabama.
One thing that all insiders agree on is that once you are sent to Buck's pocket you eat poke salad for every meal. Groom also suggested that you were relegated to this mythical rural resting place forever. However, history has proven that a good many defeated Alabama politicians have risen from the grave and left Buck's Pocket to live another day. Roy Moore may be a good example. He has risen from the grave before. He is only 70, and he may grow weary of eating poke sallet.
Most folks don't know that there really is a Buck's Pocket. Big Jim would campaign extensively in rural North Alabama often one on one on county roads. One day while stumping in the remote Sand Mountain area of DeKalb County he wound up in an area referred to as Buck's Pocket. It was a beautiful and pristine area, but it was sure enough back in the woods. Big Jim who loved the country and loved country folks was said to say that, "I love the country but I sure wouldn't want to be sent to Buck's Pocket to live."
Buck's pocket is now not a mythical place. If you are traveling up the interstate past Gadsden, on the way to Chattanooga, you will see it. There is a Buck's Pocket State Park in DeKalb County, thanks to Big Jim.
So the next time you hear an old timer refer to a defeated candidate as going to Buck's Pocket, you will know what they are talking about.
See you next week.
Steve Flowers is Alabama's leading political columnist. His weekly column appears in over 60 Alabama newspapers. He served 16 years in the state legislature. Steve may be reached at www.steveflowers.us.