Medicaid Reform passed in House on Tuesday
By Brandon Moseley
Alabama Political Reporter
The Alabama House of Representatives is scheduled to address comprehensive Medicaid reform on Tuesday. Senate Bill 340 is sponsored by Senator Greg Reed (R) from Jasper. If passed, it would divide the state into Regional Care Organizations that would provide for the delivery of medical services to Medicaid beneficiaries on a managed care basis.
The Alabama Political Reporter' talked with House Health Committee Chairman Jim McClendon (R) from Springville, who is carrying the bill in the Alabama House, about the plan and the likelihood of it's passage. Rep. McClendon said that the bill is the first bill on Tuesday's special order calendar and if there is any organized opposition to the plan they have not contacted him.
Rep. McClendon said that the bill will bring care closer to the Medicaid beneficiaries in Alabama and that the RCOs will be able to customize the care to the region that they are in.
McClendon said that managed care will lead to better patient outcomes, which will lead to less emergency room visits and consequentially tremendous cost savings for the state. McClendon estimated that Medicaid reform could save the state between $50 million and $70 million a year over the next ten years.
'The Alabama Political Reporter' asked McClendon if the state would be able to continue to offer the same level of Medicaid benefits that it currently offers to beneficiaries if no reform plan passes without raising taxes. McClendon said "No. Absolutely not."
McClendon said that as part of the Medicaid reform plan the state was going to provide counseling services so that poor Medicaid/Medicare dual eligible seniors could understand their Medicare options.
While SB 340 reforms most of the troubled Alabama Medicaid program, long-term care services will continue to operate as it currently is configured. Advocates for Alabama seniors argue that the state could provide better care for Alabama's indigent elderly if Medicaid would offer home healthcare and assisted living options
The state legislature has already passed a series of reforms designed to curb prescription drug abuse, which if effective, have the potential of curbing drug abuse by Medicaid beneficiaries. Rep. McClendon said in a written statement, "There's no doubt that Alabama is suffering from a drug abuse epidemic as evidenced by statistics from just a few years ago showing just under 200,000 adults abused prescription drugs in our state. In addition to the human toll, the National Institute of Health estimates the societal cost of prescription drug abuse is as high as $50 billion a year in the United States, so dramatic steps are obviously needed."
McClendon is also the sponsor of House Bill 110 which is designed to fight Medicaid fraud. McClendon said in a prepared statement, "Abusing a program that provides essential health care to the neediest citizens among us is the ultimate insult to Alabama taxpayers. By extending the statute of limitations and providing additional investigative tools to law enforcement agencies, the Medicaid Fraud Reduction Act will force even the most dishonest individual to think twice before trying to take advantage of the system." HB 110 has already passed the House and could come before the state senate this week.
The Alabama Senate is also considering legislation introduced by Rep. Mike Ball (R) from Madison which would make the state a member of a Medicaid compact (with Congressional approval) and receive Medicaid money from the federal government as a block grant. Currently the state has no control over the benefits offered or who is eligible for Alabama Medicaid programs even though the state provides much of the funds.
Alabama Republicans urge Jones to meet with Trump's SCOTUS nominee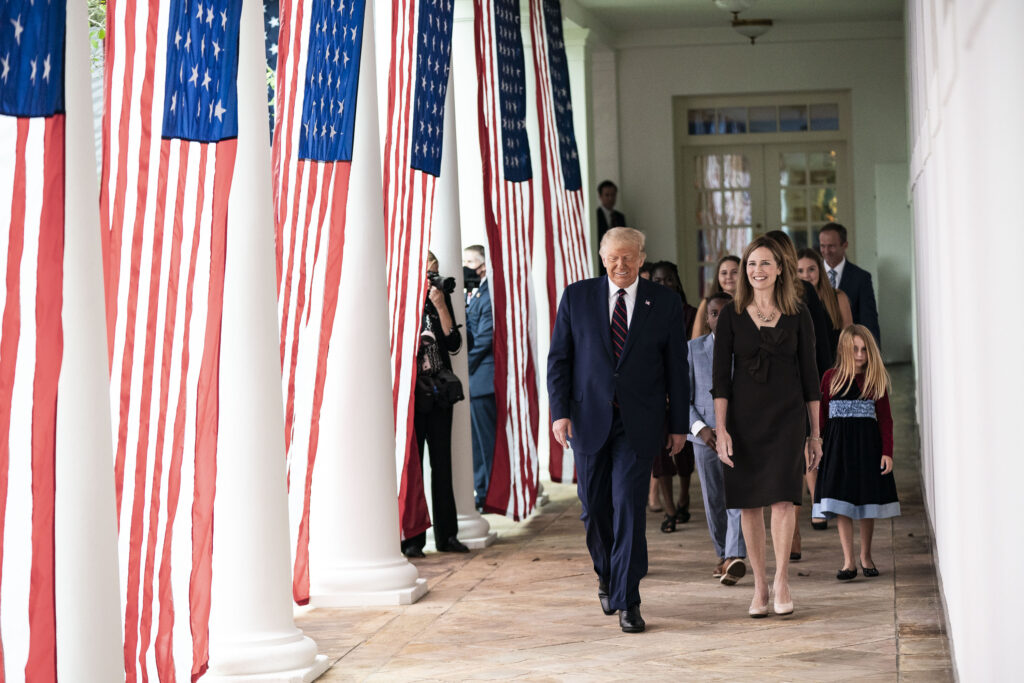 Wednesday, Alabama Republican Party Chairman Terry Lathan and over 25 supporters held a news conference at ALGOP Headquarters in Hoover to demand that Senator Doug Jones not ignore the majority of Alabamians and consider Amy Coney Barrett for the Supreme Court.
"Today is the day we are challenging Doug Jones to do something he rarely does – listen to the majority of Alabamians," Lathan said. "He has ignored the majority over and over on major issues."
Lathan said that Jones has ignored the wishes of the majority of Alabama: "On voting to remove the President…twice. When he voted no to seat now Supreme Court Justice Brett Kavanaugh. He still owes Justice Kavanaugh an apology for going along with the circus the Democrats orchestrated against a nominee that Alabamians supported. On voting to withhold funding from the southern border wall being built. On declaring he will vote to take away Alabama tax cuts courtesy of President Trump…in other words take away your money that you work for – he's telling you, Alabama, it's his to take and not yours to keep. He wants your family income back.
"And now he has said he will not vote to confirm a deeply qualified and highly respected judge, Amy Coney Barrett for the Supreme Court," Lathan continued. "He said it's because it's too close to an election. Well, there was an election held in 2016 and 2018 – Alabama said we highly support President Trump in the White House and America added 2 more Republican U.S. Senate seats. With the Republican Party now the majority in the Senate and in the White House, Senator Jones needs to do his job – meet with her, listen to her and then decide on Judge Barrett's credentials."
"If he can find time to have campaign drive-in events, he can find time to do one of the most important jobs a U.S. Senator is tasked to do – the seating of a Supreme Court Justice, authored by the Founding Fathers through the United States Constitution," Lathan continued. "Look, we understand he's in a jam – with over 80% of his funding from out of state, mostly New York and California, he has to cash out with them. He'd fit in nicely in those lands of radical liberalism especially since he only votes with President Trump 35% of the time while representing the highest approval rated state for Donald Trump in the nation."
Lathan said that, "Tone deafness to the seating of Judge Barrett will not stand. There is no reason not to meet with this mother of 7 who drives a minivan, is highly regarded by her students, professors and those who have worked with her in the judicial system. Why is he afraid? He looks weak. Alabama does not like that look at all. Do your job, Senator Jones. Use your own words that you pride yourself on of being fair. Meet with Judge Barrett on behalf of Alabama."
"Doug Jones was asked on CNN about voting against the will of the majority of Alabamians during the Kavanaugh hearing," Lathan said. "His answer was smug, arrogant and a true snapshot of how out of step he is with our state – he replied, 'That may be true but it's not the be all to end all.' That's code for 'I don't care'. So again, we find Doug Jones being Doug Jones – thumbing his liberal left-wing nose at one of the most conservative states in the nation."
Friday, Jones announced that he will not support any Trump nominee for the Supreme Court for the vacancy created by Justice Ruth Bader Ginsburg's passing. Jones stated, "I will not support the confirmation of any Supreme Court justice nominee before the election."
"It is a poor reflection of the state of our national politics that, just hours after Justice Ginsburg's passing, we were thrust into a divisive partisan fight over her successor, denying the nation the time to mourn this extraordinary American's death," Jones continued. "Just weeks from a national election, we are confronting a blatant power grab by Senate Majority Leader Mitch McConnell and the President that will undermine the court and subvert the will of the American people."
"Just four years ago, Leader McConnell held open a Supreme Court seat for ten months before a presidential election because he said time and again that, in an election year, we must let the American people decide," Jones said. "If confirming a Supreme Court justice ten months prior to a presidential election would have denied the American people a voice, then isn't he now denying the American people a voice by rushing to confirm a justice just weeks before a presidential election?"
"Under these circumstances, I will not support the confirmation of any Supreme Court justice nominee before the election," Jones explained. We should not force the country into a brutal and divisive partisan confirmation fight while Americans are already voting to choose the next President. If President Trump is re-elected, I will evaluate any pending or future nominee on their merits and vote for or against the nominee based solely on their qualifications."
"OK – go ahead Senator Jones. You do you and we are going to do us," Chairman Lathan said. "On November 3rd when Alabamians have all of the power, we will prove that your one hit wonder term was really a one hit blunder term. We will thumb our noses at you with the stoke of our pens. You will have no one to blame but yourself. In 34 days, your millions of dollars and appeasement of the left will not save you. Alabamians don't take kindly to being ignored and on November 3rd they will not be ignored by you any longer."
"In 34 days, Alabama will again add a new page in our history books when we will show Doug Jones that the voters are the be all to end all," Lathan said. "We will end his placeholder status and elect Tommy Tuberville to replace Doug Jones. Coach Tuberville will support our president and, as important, not ignore the wishes of the people of sweet home Alabama."
Lathan was joined at ALGOP headquarters by State Representative David Wheeler (R-Vestavia), State Senator Jabo Wagoner (R-Vestavia), Jefferson County Republican Party Chairman former State Rep. Paul DeMarco (R-Homewood), and Republican National Committeewoman Vickie Drummond.
"The world is watching Alabama. Will we keep the majority in the Senate," Lathan said.
Lathan challenged Senator Doug jones "to at least meet with her that is the minimum that he can do."
Lathan warned that "Complacency is the enemy of the Republican Party," when discussing the GOP's prospects in the 2020 election.