Roby's Working Families Flexibility Act Likely to Be Voted On Wednesday
By Brandon Moseley
Alabama Political Reporter
Congresswoman Martha Roby (R) from Montgomery has written legislation that would change decades old private sector workplace rules regarding over time and how we work. Roby's Working Families Flexibility Act would allow workers to voluntarily negotiate flexible work place schedules with their employers that currently are forbidden under the Fair Standards Labor Act of 1938. Representative Roby is reporting that the whole U.S. House of Representatives could be voting on her bill, H.R. 1406. as early as Wednesday.
Representative Martha Roby said on Facebook, "Chairman Pete Sessions and the House Rules Committee just advanced my bill, the Working Families Flexibility Act, to the House floor for debate tomorrow and a final vote on Wednesday. The bill would give working moms and dads the time flexibility they need in the modern workplace. I encourage each of you to watch the clip below to see how the bill would help Karen DeLoach, a bookkeeper from Montgomery. Karen is just one of many hardworking Americans who deserve the opportunity to choose for themselves what works best for them. It's time to get Washington out of the way of how you use your time."
Rep. Roby told the Associated Press Monday, "For some people, time is more valuable than the cash that would be accrued in overtime." Most public sector employees have had this benefit for decades. Rep. Roby said, "Why should public-sector employees be given a benefit and the private sector be left out?"
Speaker of the House John Boehner (R) from Ohio said, "This week, we'll pass Martha Roby's bill to help working moms and dads better balance their lives between work and their responsibilities as parents. Let me congratulate Martha for a great job in moving this bill.  I have been involved in this issue for over 20 years. We have tried to move a bill through the House a number of times over that period of time, and it seems remarkable to me that such a commonsense piece of legislation gets bogged down because of special interests on the other side."
House Majority Leader Mickey Eric (R) from Virginia said, "If you are a working parent then you know that there is one thing all of us have in common, and that is the need for more time. Martha Roby is here with us today, and she is a working mom from Montgomery, Alabama, who knows firsthand the challenges involved in being a working parent," Leader Cantor stated that The Working Families Flexibility Act "puts parents over politics. There is no reason in the world for anyone to object to this bill. It is something that makes sense and helps working moms and dads."
Rep. Roby said, "I am proud to sponsor the Working Families Flexibility Act on behalf of working moms and dads throughout this country who find it difficult to balance the demands of family and work. Our message to the American people is this: we want to get Washington out of the way of how you use your time."
On Tuesday, House Republicans held a roundtable discussion with working parents at on the tenth floor at The CENTECH Group in Falls Church, VA. The roundtable event was followed by a press conference. Participants in the CENTECH event included: Representative Martha Roby, Majority Leader Eric Cantor (R) from Virginia, House GOP Conference Chair Cathy McMorris Rodgers (R) from Washington, House Committee on Education and the Workforce Chairman John Kline (R)f from Minnesota, Representative Renee Ellmers (R) from North Carolina, CENTECH President & CEO Fernando Galaviz, Society of Human Resources Management Vice President of Government Affairs Mike Aitken, as well as working parents.
Alabama Congressman Robert Aderholt (R) from Haleyville has endorsed Rep. Roby's landmark legislation: "As a parent, I understand first-hand the difficulty Alabama families face in balancing work and family life. I know busy moms and dads across the 4th District that find themselves having to make tough decisions between these two responsibilities."
Representative Aderholt continued, "That's why my Alabama colleague and mother of two small children, Martha Roby, introduced H.R. 1406, the Working Families Flexibility Act of 2013. I am proud to cosponsor this legislation that would allow private-sector employers the ability to offer their employees the choice of paid time off in lieu of cash wages for overtime hours."
Congresswoman Roby said, "Talk to just about any working mom and dad and they'll tell you they need more time. They need one more hour in the day to be able to take care of responsibilities outside of work. We can't legislate another hour in the day.But we can help working people better balance the demands of family and work by removing an unnecessary federal restriction on utilizing comp time in the private sector. That's what the Working Families Flexibility Act is all about. It offers working moms and dads more options for balancing the demands of family and work."
Congresswoman Roby's The Working Families Flexibility Act: Allows employers to offer employees a choice between cash wages and comp time for overtime hours worked. Employees who choose to receive cash wages would be able to continue to do so. The employer and the employee would have to complete a written agreement to use comp time. The agreement would be entered into knowingly and voluntarily by the employee. This protects all existing employee protections in current law, including the 40 hour work week and how overtime compensation is accrued. Employers would be required to pay cash wages for any unused time at the end of the year. Workers could 'cash out' their accrued comp time whenever they choose to do so.
Trump Truck and boat parades this weekend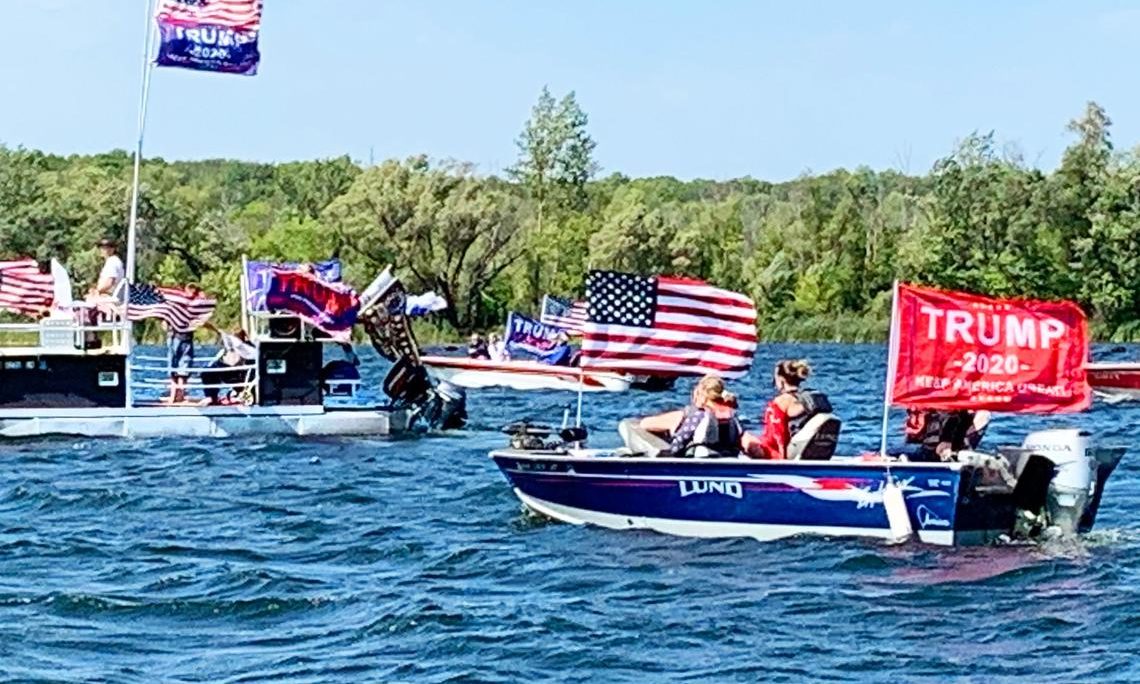 As Election Day draws near, Alabama Republicans are excited about promoting the re-election of Donald J. Trump as President and the election of Tommy Tuberville for U.S. Senate. This weekend two pro-President Trump events are happening in the state. There will be a truck parade from Ashland to Phenix City on Saturday sponsored by the Clay County Republican Party, while there will also be a boat parade on Wilson Lake in the Shoals sponsored by the Colbert County Republican Party on Sunday.
The pickup trucks will assemble at the Ashland Industrial Park in Clay County, 8240 Hwy 9, Ashland. There is a pre-departure rally at 10:00 a.m. central standard time. The trucks will depart at 11:00 a.m. and then proceed on a parade route that will take them into the bitterly contested swing state of Georgia. The Trump Pickup Parade will wind through east Alabama and West Georgia traveling through LaGrange and Columbus before concluding near the Alabama/Georgia line in Phenix City, 332 Woodland Drive, Phenix City at approximately 2:00 p.m. central time. Speakers will begin at 3:00. Trump flags will be on sale at the event.
The Phenix Motorsports Park will be hosting what sponsor hope could possibly the world's largest Pickup Tuck parade in U.S. history that is routing over 50 mile through Georgia in effort to "pickup" President Trump's numbers in GA.
A number dignitaries have been invited to address the Phenix City rally, including Coach Tuberville. Former State Sen. Shadrack McGill, Trump Victory Finance Committee member former State Rep. Perry O. Hooper Jr., and Paul Wellborn, the President and CEO of the largest Family owned Kitchen Cabinet manufacture in the USA are among the featured speakers who have committed to speak at the event.
Entertainment will be provided by: Charity Bowden, an up and coming country music singer who was the runner up on "The Voice". Charity will sing 'I am Proud to be an American' as well as songs from her Voice performances. The McGill Girls will also perform. The three beautiful and talented sisters will be singing patriotic songs in three part harmony. Geoff Carlisle, a professional DJ will be keeping the crowd pumped with music and entertainment.
Following the speakers and the entertainment there will Trump truck-vs- Joe Bidden truck races down the drag strip for the finale.
The Northwest Alabama boat parade will be on Sunday. The boats will gather at 2:00 p.m. near Turtle Point and then the flotilla will parade around the open waters of Wilson Lake til 3_00 p.m.. There will be a contest for best decorated Trump boats.
Trump supporters have held a number of large boat parades across the state to show their support for the re-election of Pres. Trump.
Boat parade sponsors say that this parade will be: pro-American, pro-law enforcement, pro-military.