Hubbard Takes Charge on Last Day of Session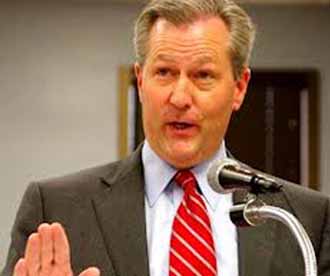 By Brandon Moseley
Alabama Political Reporter
The last day of the 2013 legislative session began poorly: Senate Democrats were tying up the Alabama Senate with yet another mindless filibuster that threatened to kill hundreds of pieces of legislation. Protestors from the Save Our Selves Coalition (SOS) were outside chanting "No Justice No Peace" demanding that the legislature overturn the Alabama Accountability Act. The Republican Governor who signed the Alabama Accountability Act saying in March, "This provides a new option to help children receive the best education possible," was now demanding that the legislature postpone the whole thing for two years. There were even widespread rumors in the Capital Building that Gov. Robert Bentley was going to veto the Education Budget. Speaker of the House Mike Hubbard stepped up to the challenge and firmly crushed any doubts that anyone might have that he is the most powerful man in the state of Alabama and has unprecedented control of the Republican Super Majority.
Speaker Hubbard responded to the Senate by promptly declaring a lengthy recess. If the Senate won't pass House local bills the House won't even discuss Senate local bills. The House eventually came back and then took on the powerful Business Council of Alabama by passing the Omnibus Gun Bill which stripped Alabama employers of the right to demand that employees not have weapons in their cars when parked in the company parking lot.
It was then after 12:00 and everyone expected a lunch recess, but Speaker Hubbard chose to have Governor Bentley for lunch. The House easily passed a resolution to non-concur with Governor Bentley's amendment to House Bill 658. Governor Bentley's executive amendment which would have given Alabama's failing schools two more years to come up with a plan to turn their poor performance around was rejected by the Republican Super-Majority. The Senate was left only with the option of joining the House and steamrolling the objections of the Republican Governor and pass HB 658 without the executive amendment or accept that the original version of the Alabama Accountability Act would be the law of the land.
Afterwords Speaker Hubbard told 'The Alabama Political Reporter' that the state was going to address poor performing schools and if they needed to fix something later they could come back and address it with another statute. Hubbard said that the Accountability Act was just one issue and that there were no hard feelings with Governor Bentley. When asked if the Governor was receiving bad advice from his staff, Speaker Hubbard said, "I can't comment on that."
A chastised Governor Bentley released a statement, "House members made a mistake by rejecting my executive amendment to the Alabama Accountability Act. My first responsibility is to the people of this state, and I believe the majority of the people support this executive amendment. This executive amendment was fiscally responsible."
The mid day's actions set a tone and controversial pieces of legislation passed one after another. The Speaker took on capital employees and critics alike with the passage of SB 122, which reformed how the capital is organized to create savings through efficiency. It also gave the leadership unprecedented power in how the capital building functions in the future.
The House also voted to concur with SB 445 which eliminated the caps on how much money C-corps could give to campaigns.
The House voted 68 to 3 to override Governor Bentley's veto of Rep. Johnny Mack Morrow's bill to create a armed volunteer security force in the Franklin County Schools. The Senate followed suit and did the same thing.
When rumors filled the building that Governor Bentley was going to veto the Education budget, the Speaker picked up the telephone and talked directly to the governor. Both budgets were signed without any more executive amendments. Speaker Hubbard announced the signings to the full house.
Speaker Hubbard later told 'The Alabama Political Reporter' that this was the most productive legislative session given what all was accomplished since he had been in the legislature.
Print this piece
ER doctors in frontline battle against COVID-19 are facing pay cuts
Emergency room doctors across the nation are experiencing cuts to pay, benefits and hours even as they battle COVID-19. Suddenly ER doctors in Alabama are facing the same slashes to their income.
"It's crazy, cutting hours and pay right as hell breaks loose," said an Alabama ER doctor who has spent the last month treating COVID-19 patients. "We are putting ourselves at risk, reusing supplies and dealing with constant uncertainty, and this is how we are treated."
Healthcare professionals quoted in this report have asked that they not be identified by name because many hospitals have forbidden staff from speaking directly to the press.
"Testing is still so limited and the numbers are so inaccurate, and they don't want the public to know how bad it is, so they tell us to shut up," said an ER healthcare worker. "Now they are cutting our hours and pay, what are we supposed to do? I'm so frustrated."
In other states, health system CEOs and leadership are forgoing or donating pay during the COVID-19 outbreak as systems face furloughing workers due to low revenue, according to a report in Fierce Healthcare.
Mount Sinai, a healthcare network in New York City, announced last week that the system's leadership team would take a 50 percent pay cut "for as long as necessary so that these dollars can be directed to our front lines in this fight."
Erlanger Health System, a seven-hospital system in Tennessee and North Carolina, announced March 30 it is reducing leadership pay as have other systems throughout the country.
Here in Alabama, cash strapped hospitals are cutting some frontline workers' pay first while administrators so far have not offered to reduce their salaries to help those working in the middle of the calamity.
Over half of Alabama's hospitals were already facing financial difficulties before the coronavirus struck.
About 52 percent of the state's hospitals had negative total margins before COVID-19, and 75 percent of them had negative operating margins before the outbreak, according to a report by APR's Chip Brownlee.
Layoffs and potential closures: Alabama hospitals strapped for cash
More than half of Alabama's hospitals were already in a precarious situation before coronavirus.
According to Brownlee's report, nearly 90 percent of rural hospitals had negative operating margins before the COVID-19 pandemic invaded Alabama.
The recent $2.2 trillion stimulus bill known in congressional circles as COVID 3 was created in part to reimburse hospitals and other health providers to offer compensation for losses and additional expenses at the local level.
"The 2 trillion dollar package we passed — hospitals, health care facilities will get about $133 billion," Alabama's Democratic U.S. Sen. Doug Jones told APR in a phone conversation Wednesday evening. "That will be divvied up by the states and there's a formula that they'll use. Every hospital that's dealing with this should get some of that money. That will help them in one way dealing with this crisis."
But money from the stimulus package is slowly flowing and hospital administrators are not confident how much money they will receive. But even when the funds from COVID 3 are fully allocated, it will not be enough to fill the gaping hole in hospital budgets Jones believes.
"We all recognize that this [COVID 3] is not enough," said Jones. "We're going to have to put out some more money to help shore up these hospitals. So many of them have been operating in the red."
In an effort to reduce stress on the state's hospitals, all elective services were canceled. Elective surgeries, along with health and wellness programs, are profit centers for hospitals.
In some cases, more patients are coming into the hospitals, but they are not there for the high-profit procedures; they are sick needing immediate care.
"Now they're focused on saving Alabamians, saving Americans, and so we've got to do our part to help backfill — we can't afford to lose doctors and get them out of the profession," said Jones. "We've already got a shortage. So we're doing things I think to help that in COVID 3, and I think that's going to be included in COVID 4."
Senate Democrats are proposing that the fourth COVID-19 stimulus bill include additional pay for doctors, nurses, grocery-store workers, and other workers whose jobs are deemed essential.
"We are here at the hospital trying to help patients, protect the public and do our jobs under unbelievable circumstances," said an ER doctor. "Who is watching out for us? Nobody?"
Jones says help is on its way but more must be done going forward.
"So now, people understand that your neighbor's health — your health — is dependent on your neighbor's health," said Jones.
COVID-19 has exposed severe cracks in the state's healthcare system. Jones sees expanding Medicaid under the Affordable Care Act as a vital part of restoring Alabama's healthcare system while offering much needed relief to all individuals affected by COVID-19.
"This has shone a light on the deficiencies in our system," said Jones. "This has shone a light on the racial disparities in urban and rural areas. Everybody in Alabama, and America, has an opportunity to fix it," said Jones. "We must act now."
Not all Alabama hospitals are cutting ER doctors' pay, hours, or benefits, but for many healthcare professionals on the frontlines, they now have one more thing to worry about — paying the bills.
---
Update: East Alabama Medical Center in Opelika, Alabama, announced after APR published this story that its leaders were taking a temporary reduction in pay in order to prevent cutting pay for frontline staff.
EAMC President and CEO Laura Grill explained the decision, "In an attempt to avoid impacting frontline staff as we are seeing elsewhere in Alabama and across the country, we are making some temporary pay cuts. I asked our senior leadership team to take the first cut and then we asked our employed physicians as well. Then, yesterday, we communicated a reduction in pay to the rest of our leadership team—our directors and managers. I am very hopeful that these cuts will be temporary and that business will return to normal in the near future. However, leadership starts with all of us. I am immensely proud of our team and entire organization, and thankful for the support of our community as we navigate these challenges."
Print this piece