NRA Wins Hard Fought Victory in Gun Bill
By Brandon Moseley
Alabama Political Reporter
The Alabama House of Representatives passed Senate Bill 286. The Omnibus Gun bill sponsored by Senator Scott Beason (R) from Gardendale and carried in the House of Representatives by Representatives Ed Henry (R) from Hartselle was a priority of the Alabama National Rifleman's Association (NRA).
Alabama Republican Party Chairman Bill Armistead said, "After all of the changes to this bill, I applaud Sen. Beason and Rep. Henry for not losing focus and guiding this bill to passage. This is a good bill that protects our Second Amendment rights and allows Alabamians to better protect themselves." "In a time when Washington D.C. is attempting to take away our guns and limit our rights, it is refreshing to see our elected officials in Alabama listening to constituents and responding in a positive way. The best way to reduce gun crime is to allow law-abiding citizens to bear arms, and that is exactly what this bill does."
House Minority Leader Craig Ford (D) from Gadsden said, "I have always been a supporter of the second amendment and was prepared to bring an amendment to the Republicans' signature gun bill that would have protected an employees' right to keep their firearm stored safely in their vehicle while parked at work. But Republicans did not want to vote on this amendment. Doing so would have put them in between the Business Council of Alabama, which opposed the amendment, and the NRA, which supports the amendment. In the end, the Republican Supermajority passed a heavily watered-down version of the amendment in a different gun bill. This legislation was a part of the Republicans' legislative agenda for this year, and they almost couldn't pass it because of the divide between the business interests that fund their campaigns and many of the grassroots voters that elected them in the first place."
The Alabama Political Reporter talked with Barry Cleland and other members of Alabama Gun Rights (AGR) and they were jubilant over passage of the bill. The Omnibus Gun Bill allows those who possess a valid Alabama pistol permit to keep firearms stored in their vehicle while at work. It will also allow anyone who has a valid Alabama hunting license store an unloaded rifle or shotgun in their vehicle while at work. It allows Alabamans to transport a handgun in a vehicle without an Alabama pistol permit as long as the handgun is unloaded, locked in a container and out of reach of the driver or passenger. It changes Alabama from being a "May Issue" concealed carry permit system to a "Shall Issue" permit system and requires that a sheriff must issue or deny the carry permit within thirty days. If someone is denied a permit, a written denial must be provided and the applicant will have an opportunity to appeal. Applicants can ask for a five year concealed carry permit, but any Alabama Concealed Carry Permit expires if you get residency in another state. SB286 requires that sheriffs use the National Instant Criminal Background Check System (NICS) for background check on concealed pistol permits. SB286 allows for all other valid state-issued concealed carry permits to be recognized in Alabama.
Importantly Alabama's firearms preemption statute reserves to the state legislature complete control over regulation and policy relating to firearms, ammunition and firearm accessories. It also extends the Castle Doctrine to places of business.
Rep. Ed Henry (R) from Hartselle said on the floor of the Alabama House that the conference committee had limited the exemption for weapons carry in county commission and city council meetings to just when Commission or Council was actually meeting. As long the building is not a court house it will be legal to carry in those buildings if there is not a meeting in session. Alabama citizens will be able to concealed carry in sporting events unless there are security measures in place. If there are no guards, barricades, metal detector, or biometric screening at the sporting you would not be allowed to carry there. You can carry if there are no security measures and there is not sign at the facility prohibiting carry there. Any Alabama citizen who can legally possess a gun will now be able to carry that weapon openly provided that it is secured, unless there is a sign posted publicly on that property by the property owner forbidding weapon carry there (that would also prevent concealed carry).
Henry said that buildings and facilities that prohibit weapons carry (concealed or open) must post signs. Businesses can not prevent people from keeping guns in their cars if they have permits. Nothing in the law will be construed to prevent law enforcement for acting if they have a reasonable suspicion that a person may about to commit a crime.
Rep. Henry said, "We should have the right to protect ourselves. It is not up to the Governor. It is not up to the police to protect us we want to be able to protect ourselves."
Rep. James Buskey (D) from Mobile said, "I want to vote with the Mobile Chamber of Commerce and the BCA. I am standing up here fighting for their position." "I am with them on this issue." I am with the BCA on this issue until I hear something different from them."
Rep. Henry said, "BCA was at the table and we did our best to give them what they wanted. They demanded an opt out clause for businesses I couldn't do that." "BCA does not support the bill but they like it a lot better than the bill that came out of the Senate."
The House voted to concur with the Senate by a margin of 73 to 28.
Alabama lawmaker suggests more should become infected with COVID-19
The leader of Alabama's State Senate suggested to a reporter that he'd actually like to see more people become infected to build the state's overall immunity to the virus, a claim that would require thousands more deaths to become a reality.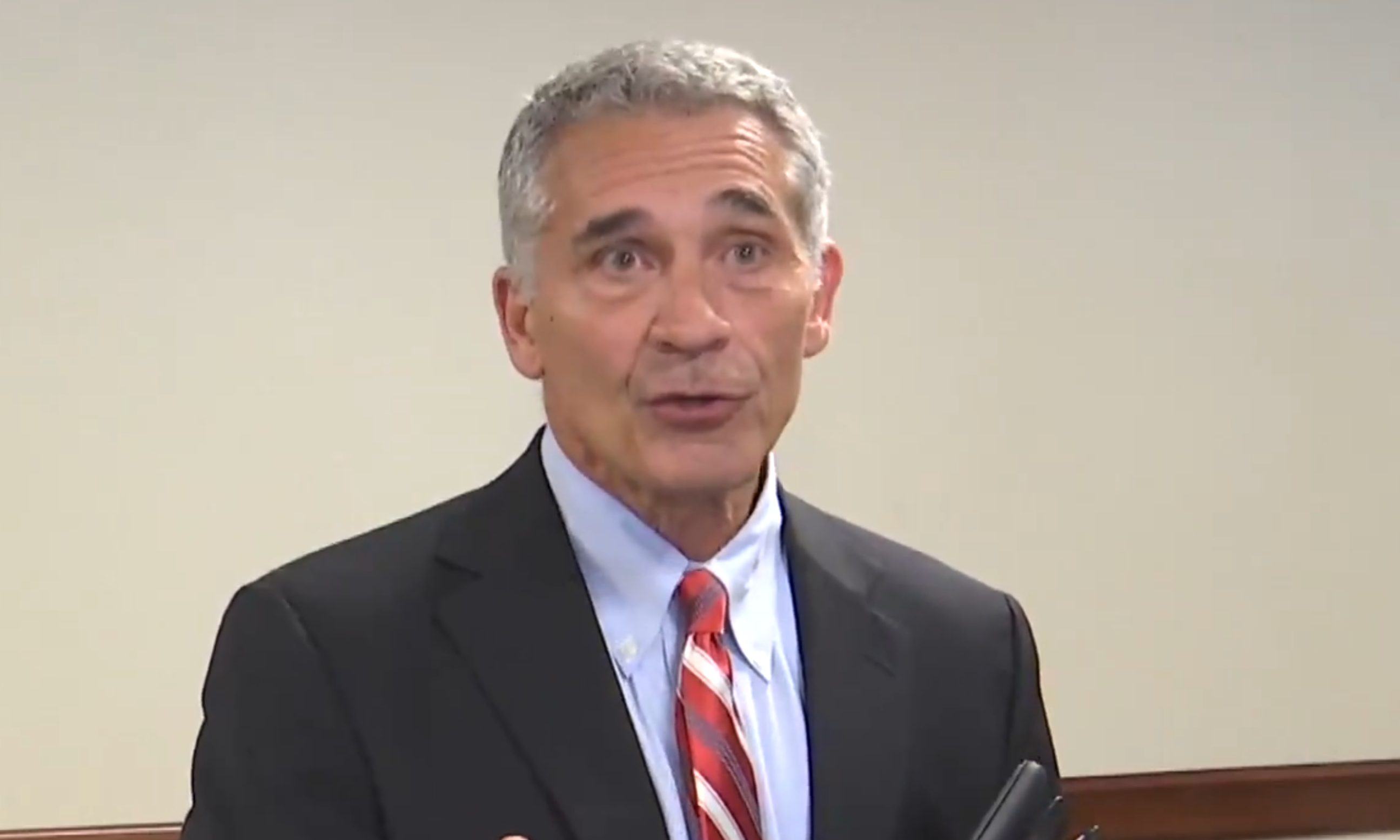 East Alabama Medical Center's critical care beds on Thursday were at 90 percent capacity, and COVID-19 hospitalizations statewide on Thursday were at another record high for the fifth straight day. Administrators at EAMC sounded the alarm Thursday that if things don't change soon, the exponential growth of COVID-19 cases could stress the hospital to the breaking point.
UAB Hospital's COVID-19 intensive care and acute care units were approaching their existing capacity Tuesday, when the hospital was caring for 92 coronavirus patients. The hospital had 91 inpatients who had been diagnosed with COVID-19 on Wednesday. Jefferson County has added more than 1,000 COVID-19 cases over the last week.

Alabama has experienced numerous record increases in cases and hospitalizations in the last several weeks, as the state continues to grapple with a growing pandemic and stressed hospitals.
Despite that, the leader of Alabama's State Senate — and member of Gov. Kay Ivey's COVID-19 task force — suggested to a reporter that he'd actually like to see more people become infected to build the state's overall immunity to the virus.
The state's top health officials suggested Thursday that doing so would lead to unnecessary deaths.
Sen. Del Marsh, R-Anniston, told CBS 42's Reshad Hudson that he's not concerned with the growing number of COVID-19 cases.
Sen. Del Marsh (R) Anniston, says he wants to see more people get #coronavirus to build up an immunity. I asked was he concerned about Alabama's latest surge in cases. pic.twitter.com/omb2GVg9Ev

— Reshad Hudson (@ReshadHudson) July 9, 2020
"I'm not concerned so much at the number of cases. In fact, quite honestly, I want to see more people because we start reaching an immunity, if more people have it and get through it," Marsh said.
"I don't want any deaths. As few as possible. I get it," Marsh said, adding that we need to do all we can to protect those with preexisting conditions and the elderly. "But I'm not concerned. I want to make sure that everybody can receive care, but right now, to my knowledge as of today we still have ample beds."
Marsh has said in interviews this week that he doesn't predict a statewide mask order or a return to the restrictions that data shows slowed the virus's growth.
State Health Officer Dr. Scott Harris was asked by a CBS42 reporter about Marsh's statement encouraging more infections.
"There is absolutely no reason to think at this point that getting infected will give you any degree of immunity. We simply don't know that," Harris said.
"We've looked at countries like Sweden, who have tried to actually generate herd immunity among their population, and it's been disastrous. They've had increased numbers of deaths much higher than their neighbors, in trying to keep their economy open. It does not work well at all," Harris said.
In Sweden, one study found that after months of infections and deaths, less than 10 percent of the population had developed antibodies to the virus. Public health experts believe at least 60 percent of the population would need to be infected for a population to reach herd immunity.
In reality, reaching a level of herd immunity that would be high enough to slow transmission would require tens of thousands more infections and thousands more deaths.
"The way to prevent illness and death, and to keep the economy open, quite frankly, is to keep people from getting this disease," Harris said. 'We need people to wear face coverings, to wash their hands, to stay home when they're sick and to practice social distancing."
Harris told CBS 42 that the state's availability of ICU beds was at its lowest point since the start of the COVID-19 pandemic. Of around 1,400 ICU beds, less than 200 were available Thursday, he said.
Because of Sweden's decision to attempt herd immunity, deaths in country have been eight times higher than in Denmark and 19 times higher than in Norway, according to The Washington Post.
Sweden has seen 543 deaths per million of its population, compared to just 105 per million in Denmark, according to the Worldometer.
 "I believe we're at another pivotal point," said EAMC President and CEO Laura Grill in a statement Thursday. "We had flattened the curve in our community, but due to relaxed state orders and an unwillingness by some people to follow the three simple guidelines needed to help control COVID-19, we are almost back to square one. It's frustrating and quite demoralizing to our staff and physicians, and those in our community who are following the rules."
On Thursday 259 of EAMC's  314 beds were occupied, six nursing units were at 100 percent capacity and 27 of the 30 critical care beds were in use. 
"In other words, EAMC was having a 'red census' day for the second time this week. Patients with positive COVID-19 cases occupied 36 of the beds, with two other patients awaiting results," the hospital said in a release. 
The 36 COVID-19 patients was less than the hospital's peak of 54 on April 11, but at that time the hospital had 164 total patients, and Thursday hospital staff were treating 100 more than that. 
Grill noted the record-breaking number of new COVID-19 cases statewide on Thursday and called for the public to do what's needed to slow the spread. 
"This morning, Alabama announced 2,164 new cases in the past 24 hours—by far the most in a single day—and people are still debating the merits of wearing a mask, calling the virus a hoax and questioning qualified health officials on whether an asymptomatic person can spread the virus. It's all very frustrating," she said.

COVID-19 hospitalizations statewide on Thursday were 1,125, the highest it's been since the start of the pandemic. Nine of the last 11 days the state has seen record high coronavirus hospitalizations. 
Regional Medical Center in Anniston, Marsh's hometown in Calhoun County, on Thursday was caring for 15 coronavirus patients, a record high for the hospital, according to The Anniston Star.
Calhoun County on Thursday added 33 new COVID-19 cases, which was the second-highest single day of new cases the county has seen since the pandemic began. In the last week the county added 156 cases, or 35 percent of the county's total coronavirus cases.