Collins and Wallace Reflect on 2013 Legislative Session
By Brandon Moseley
Alabama Political Reporter
State Representative Kurt Wallace (R) from Maplesville said on Facebook, "I just want to say what a great session we had in the legislature this year. Even the Governor stated that he thought it was "the best session ever!" We (the Republican Party) had a very aggressive agenda that we titled "WE DARE DEFEND OUR RIGHTS". We worked long and hard to pass much needed legislation that will improve the lives of Alabama's citizens for many years to come."
Representative Terri Collins (R) from Decatur said on Facebook that the tenth best accomplishment of this session was passing the general fund budget. She said, "Passing budgets is our required duty."
Rep. Wallace listed, "The "People's Trust Act," which keeps a Republican promise to repay $437 million that referendum voters transferred from the Alabama Trust Fund. Now every dime we borrowed will be paid back in a timely manner." The "Repay Alabama Trust Fund plan" was sixth on Rep. Collins list.
Both Representatives supported legislation strengthening Second Amendment protections. Rep Wallace said, "The "Firearms Protection Act" if this amendment to our 1901 Constitution is approved by voters next year, Alabama will have among the strongest gun rights protections in the United States, and judges will be forced to strictly review any laws that may infringe upon your ability to own, use and enjoy firearms." "The "Omnibus Gun Bill" that cements Alabama as a "right to carry" state and eases the ability for honest, law-abiding Alabamians to obtain and maintain conceal/carry permits for their firearms. It also awards blanket tort protections to business owners if employees keep guns locked in their vehicles while at work."
Similarly both representatives supported Medicaid Reform. Rep. Collins said that Medicaid Reform
"(moving from fee-for-service to managed care)" was the seventh best accomplishment of the session.
Rep. Wallace said that the, "Legislation needed to fix what many view as a behemoth federal boondoggle known as Obamacare. With our reform legislation, providers will be paid based upon the results they produce, and Medicaid recipients will be discouraged from using the emergency room like it has a revolving door."

Rep. Wallace liked, "The "Women's Health and Safety Act" this new law will require direct physician involvement and set mandatory standards for nursing care and post-operative visits at abortion clinics. Severe penalties await abortion clinics that do not comply."
Collins said that the Women's Health & Safety Act would, "Keep women & babies alive in AL."

Both had the Alabama Accountability Act as one of the top accomplishments of the session. Rep. Wallace said, "This bill sends the clear message that no child should be trapped in a failing school, and it provides administrators and educators with the flexibility they need in order to innovate and improve."
State Representative Collins said that the Alabama Accountability Act (the #2 accomplishment on her top ten list) provided hope for students stuck in the bottom 6% of Alabama schools.

Rep. Wallace list the Twenty-First Century Workforce Act as a top accomplishment of the sessions. Rep. Wallace said, "These dollars will be used to make upgrades and improvements in career and technical education facilities so that our graduating students will be ready for the 21st century job market."
Rep. Collins had the pardon of the Scottsboro Boys as the number 8 accomplishment of the session.
Rep. Wallace liked the American Laws in Alabama Courts Act. Rep. Wallace said, "This law assures Alabama citizens that only "American" laws will be tried in Alabama courts. No liberal Global laws will be tolerated in our courts." Rep. Collins had that and the gun bills as her number nine accomplishment.
Rep. Collins also listed the Historic District Tax Credit as her #5 legislative accomplishment.
#4 on her top ten list was the Gulf State Park Bill. She said that it was the, "Best use of BP $ to benefit parks and AL."
Rep. Collins listed the passage of the Education Trust Fund Budget as the top accomplishment of the 2013 legislative session. Collins said that this budget was 3.6% larger that last year, provided a 2% pay raise for K-12 Teachers, increased funding for Pre-K by $9.4 million, and a $2 million increase for Advanced Placement (AP) classes. Rep. Collins said that the Republican Super-Majority has had a, "Perfect record of budgeting without proration" and had been "Very fiscally responsible."

Rep. Wallace said of his list, "If we had only passed the bills listed above, this session would have been considered an unqualified success…but we accomplished much more than space limitations allow me to post."
Both Representatives Terri Collins and Kurt Wallace were elected in 2010 as part of the historic class of Republican State legislators who took control of both Houses of the Alabama State legislature for the first time in over 120 years.
Print this piece
Jones criticized for voting to limit Trump's war powers authority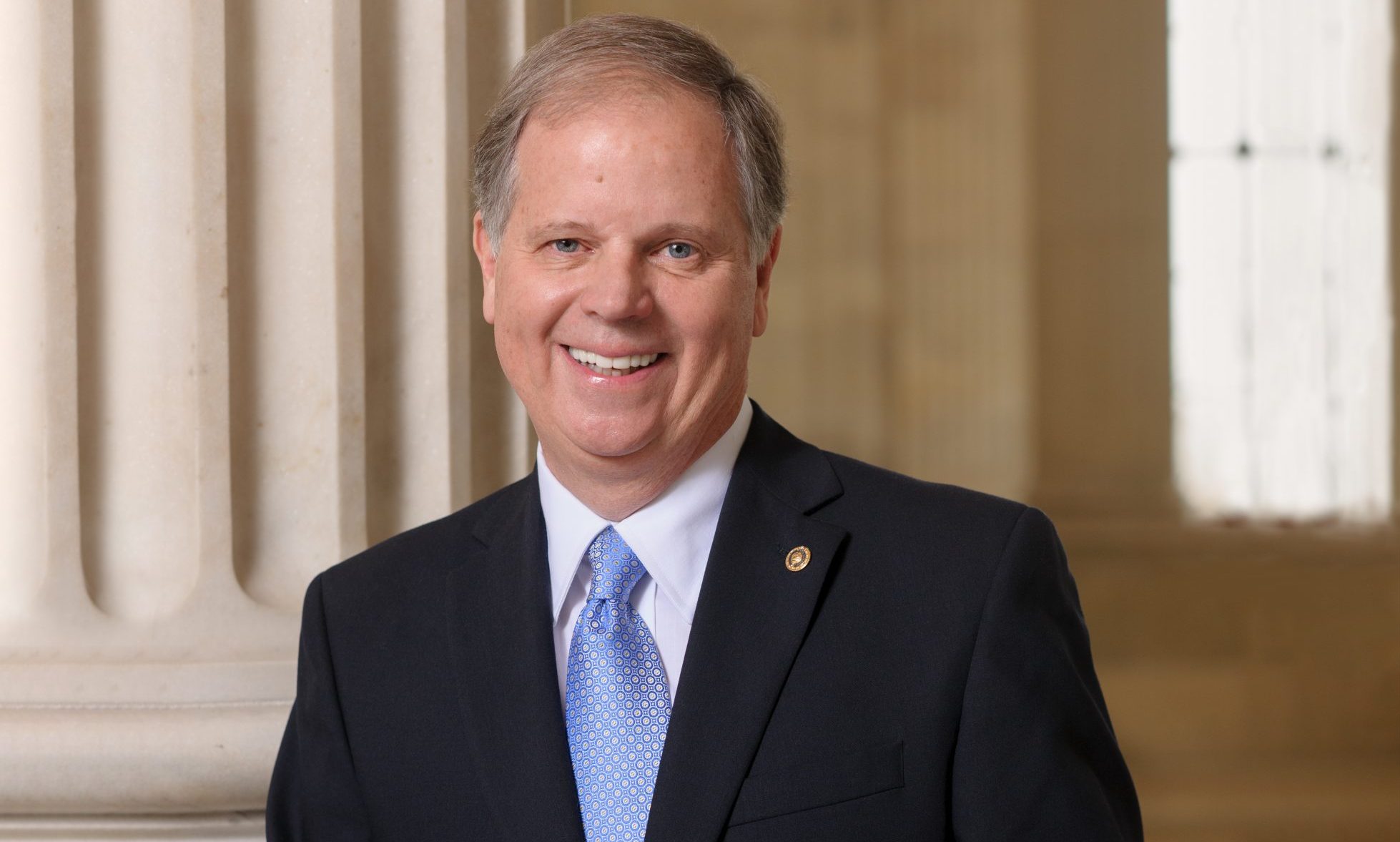 Thursday, U.S. Senator Doug Jones (D-Alabama) voted in favor of S.J.Res.68, a resolution which directs the removal of United States military from hostilities against the Islamic Republic of Iran that have not been authorized by Congress. Jones has been criticized by Republicans for voting to limit President Donald J. Trump's war powers on Iran.
"Before a President can lead us into war, he or she must first earn the support of the American people and also fulfill their solemn constitutional obligation to seek approval from Congress," Sen. Jones said in a statement. "While the President has the power to protect Americans in the case of an imminent attack, that authority does not extend to committing our service members to long-term hostilities unilaterally. This resolution sends a strong message that we will follow the Constitution and we will not send our troops into harm's way without the serious consideration and consent of the Congress."
Trump Victory National Finance Committee member Perry O. Hooper Jr. released a statement in response.
"Senator Jones once again turned his back on Alabama and voted as the leftwing Democrats commanded. He has no regard for the values, opinions or views of Alabamians," Hooper said. "He sees us as deplorables just like the elites of the Democratic party who have funded 80 percent of his doomed campaign for re-election.:
Hooper stated, "I whole heartily support the President who stated 'We are doing very well with Iran and this is not the time to show weakness… If my hands were tied, Iran would have a field day. Sends a very bad signal. The Democrats are only doing this as an attempt to embarrass the Republican Party.'"
"The Commander-in-chief must be free to work with his staff and his military leaders to conduct covert operations like the one that eliminated Iran's terrorist-in-chief General Soleimani," Hooper added. "You can't micromanage the war on terrorism. The Democrats in Congress are so filled with Trump Derangement Syndrome that no matter how much it would benefit our country and the world; they would never give Trump a "victory". If it came down to it, they would leak everything to the media no matter what the consequences."
Senator Jones is a cosponsor of the legislation and a member of the Senate Armed Services Committee. Eight moderate Republicans voted with the Democrats on the resolution.
Senator Jones has also been criticized by Republicans for his comments that he was "appalled" by Pres. Trump's actions following his acquittal on both Articles of Impeachment.
"Newsflash for Senator Doug Jones: Most Alabamians have been appalled by his actions his entire time in office," former Attorney General Jeff Sessions said. "It's about time we send Doug home, and replace him with someone who understands our values. Alabamians deserve a Senator they can be proud of again."
Sessions is a candidate for the Republican nomination for Jones' Senate seat.
The Republican primary will be on March 3.
Print this piece