Sewell Joins President Obama for Congressional Gold Medal Bill Honoring the "Four Little Girls"
By Brandon Moseley
Alabama Political Reporter
Congresswoman Terri A. Sewell (D) from Sewell joined President Barack Obama at the White House for a bill signing ceremony for the Congressional Gold Medal Bill honoring the "Four Little Girls."
The bill, H.R. 360, to award the posthumous Congressional Gold Medals to the four little girls killed in a bombing of their Church by domestic terrorists in Birmingham passed unanimously in the House of Representatives on April 24. The bipartisan bill was introduced in the U.S. House of Representatives by Congresswoman Sewell and Congressman Spencer Bachus (R) from Vestavia together with the entire Alabama delegation and Alabama natives Rep. John Lewis (D) from GA and Rep. Sanford Bishop (R) from GA.
Representative Sewell said,"I applaud President Obama for signing the Congressional Gold Medal Bill to honor the lives of Addie Mae Collins, Denise McNair, Carole Robertson, and Cynthia Wesley. I am pleased that this nation has finally honored the sacrifices of these four little girls that ignited the spark which led to the passage of the Civil Rights Act of 1964. And though we will never be able to replace the lives lost or the injuries suffered, this medal will serve as a compelling reminder of the sacrifices so many freedom fighters made to help us achieve equality and social change."
Representative Bachus said, "This Congressional Gold Medal will commemorate the legacy of four beautiful little girls whose lives, while far too short, led to permanent change in our society and who are part of the honor roll of the civil rights movement.  The fact that this moved from being a legislative proposal to a law signed by the President in such a relatively short period of time is a recognition of the historic significance of 16th Street Baptist Church bombing and its aftermath. It was a pleasure to work with Congresswoman Sewell and our entire Alabama delegation in the House and Senate on this deserved honor."
H.R. 360 was carried in the U.S. Senate by U.S. Senators Richard Shelby (R) and Jeff Sessions where it was approved unanimously on May 9. Over two-thirds of the Senate were co-sponsors of the legislation.
The bill signing ceremony was also attended by: Alabama native, U.S. Surgeon General Regina Benjamin; Birmingham Mayor William Bell; the Pastor of the 16th Street Baptist Church, Reverend Arthur Price Jr.; the sister of Carole Robertson, Dianne Braddock; the sister of Denise McNair, Lisa McNair, and Denise McNair, the sister of Maxine McNair.
Dianne Braddock said, "Thanks to Congresswoman Sewell and Congressman Bachus along with the entire Alabama delegation for wanting to have this recognition and for pursuing it in Congress as well as ensuring that the bill was passed by the house and Senate. I'm very grateful. I'm sure the country will be grateful for their vision and diligence in awarding this honor to the four little girls."
Lisa McNair said, "What a glorious day. This makes us feel so good. We are so grateful to Congresswoman Sewell and Congressman Bachus for their continued efforts to pass this bill. It has also been such a pleasure to meet the first African-American President. I look forward to the ceremony in the fall."
Hash Tags: Lisa McNair, Denise McNair, Congressional Gold Medal Ceremony, President Barack Obama, Rep. Spencer Bachus, Rep. Terri Sewell
Trump Truck and boat parades this weekend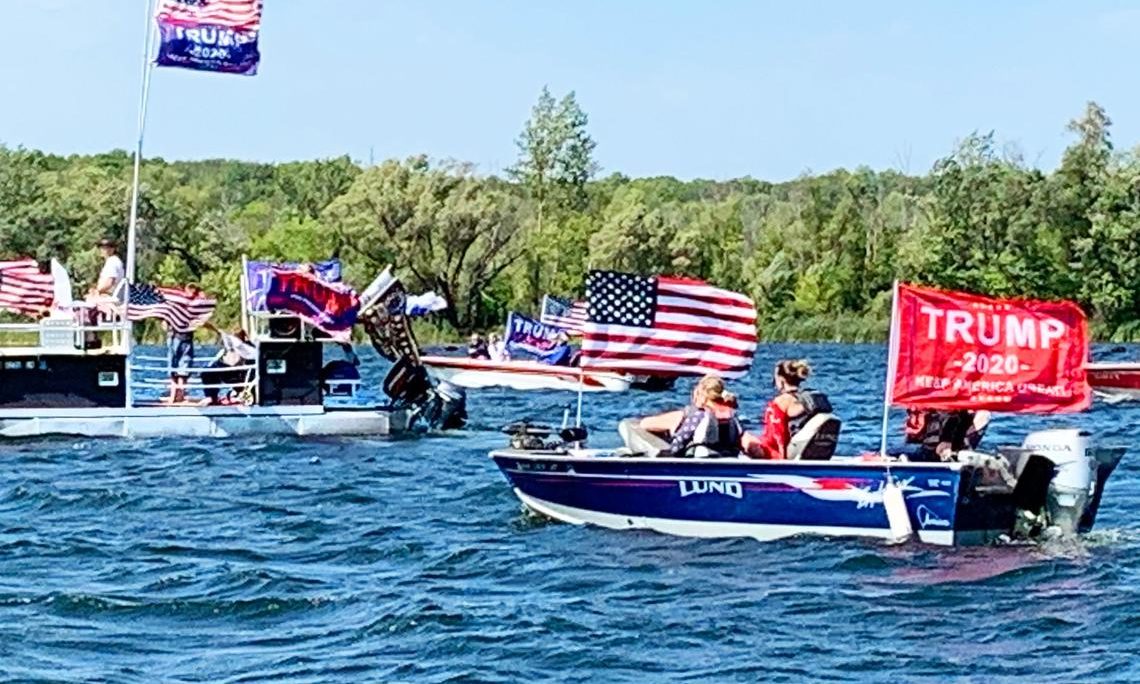 As Election Day draws near, Alabama Republicans are excited about promoting the re-election of Donald J. Trump as President and the election of Tommy Tuberville for U.S. Senate. This weekend two pro-President Trump events are happening in the state. There will be a truck parade from Ashland to Phenix City on Saturday sponsored by the Clay County Republican Party, while there will also be a boat parade on Wilson Lake in the Shoals sponsored by the Colbert County Republican Party on Sunday.
The pickup trucks will assemble at the Ashland Industrial Park in Clay County, 8240 Hwy 9, Ashland. There is a pre-departure rally at 10:00 a.m. central standard time. The trucks will depart at 11:00 a.m. and then proceed on a parade route that will take them into the bitterly contested swing state of Georgia. The Trump Pickup Parade will wind through east Alabama and West Georgia traveling through LaGrange and Columbus before concluding near the Alabama/Georgia line in Phenix City, 332 Woodland Drive, Phenix City at approximately 2:00 p.m. central time. Speakers will begin at 3:00. Trump flags will be on sale at the event.
The Phenix Motorsports Park will be hosting what sponsor hope could possibly the world's largest Pickup Tuck parade in U.S. history that is routing over 50 mile through Georgia in effort to "pickup" President Trump's numbers in GA.
A number dignitaries have been invited to address the Phenix City rally, including Coach Tuberville. Former State Sen. Shadrack McGill, Trump Victory Finance Committee member former State Rep. Perry O. Hooper Jr., and Paul Wellborn, the President and CEO of the largest Family owned Kitchen Cabinet manufacture in the USA are among the featured speakers who have committed to speak at the event.
Entertainment will be provided by: Charity Bowden, an up and coming country music singer who was the runner up on "The Voice". Charity will sing 'I am Proud to be an American' as well as songs from her Voice performances. The McGill Girls will also perform. The three beautiful and talented sisters will be singing patriotic songs in three part harmony. Geoff Carlisle, a professional DJ will be keeping the crowd pumped with music and entertainment.
Following the speakers and the entertainment there will Trump truck-vs- Joe Bidden truck races down the drag strip for the finale.
The Northwest Alabama boat parade will be on Sunday. The boats will gather at 2:00 p.m. near Turtle Point and then the flotilla will parade around the open waters of Wilson Lake til 3_00 p.m.. There will be a contest for best decorated Trump boats.
Trump supporters have held a number of large boat parades across the state to show their support for the re-election of Pres. Trump.
Boat parade sponsors say that this parade will be: pro-American, pro-law enforcement, pro-military.