Bonner Says That low Benefits Claims Processing is Failing Our Veterans
By Brandon Moseley
Alabama Political Reporter
Congressmen Jo Bonner (R) from Mobile issued a written statement criticizing the VA for its failure to process veterans' claims in a timely manner.
Rep. Bonner said, "Our country owes our veterans more than parades and cheering crowds. After they return home, our nation's gratitude for their duty and sacrifice should also be reflected in our commitment to helping all who have served to receive the veterans' benefits to which they are entitled. Despite a 40 percent increase in funding and efforts to modernize its claims system, the Department of Veterans Affairs (VA) has failed to keep up with backlogged veterans' disability claims. In the last four years, pending claims have grown by 2000 percent. As a result, more than 600,000 veterans remain stuck in the VA's disability claims logjam."
Two weeks ago, Rep. Mike Rogers (R) from Saks sent a letter to Veterans Affairs Secretary Eric K. Shinseki seeking answers about efforts to improve compensation claims for veterans. In the letter Congressman Rogers wrote, "While I applaud the VA's efforts to reduce decision times, I am concerned with the lack of information regarding the implementation of this new initiative. All Veterans deserve to have their claims decided in a timely fashion. I respectfully request that you closely monitor this new initiative to ensure that resources are not shifted away from other Veterans priorities and that the average processing time for new claims does not get longer. Our Veterans have bravely served our country and they deserve the best we can give them. I plan to closely monitor this initiative as it moves forward." Rep. Rogers said, "These backlogs must be cleared up as soon as possible."
Rep. Bonner called the backlog, "Both outrageous and unacceptable." "While the average veteran wait time for first-time disability claims currently ranges between 316 and 327 days, veterans in certain parts of the country, including our major cities, are forced to endure even longer delays in processing their claims. For example, veterans in Pittsburgh must wait 625 days on average; Las Vegas, 681 days; Los Angeles, 619 days; Houston, 586 days; and, New York, 642 days. Here in South Alabama, we are not far behind. Veteran disability claims delays can run from 300 to 600 days. Among the worst cases nationally, veterans have waited 800 days, 900 days, and even more than 1000 days for a disability claims decision from the VA. Solving this problem is critical for veterans of all generations."
Rep. Bonner said that he had recently joined a number of other Members of Congress in calling on President Obama to take direct action to address this major breakdown in the VA disability claims system. "It's time President Obama got directly involved to help establish a clear plan to end the VA claims backlog once and for all. This failure is nothing short of a dishonor to our country's heroes."
U.S. Secretary of Veteran Affairs Eric Ken Shinseki said, "Too many Veterans wait too long for a decision, and this has never been acceptable. That is why we are implementing an aggressive plan to eliminate the backlog in 2015. This initiative is the right thing to do now for Veterans who have waited the longest."
Congressman Jo Bonner represents Alabama's First Congressional District. Rep. Bonner is retiring in August. Congressman Mike Rogers represents Alabama's Third Congressional District.
Breaking down the six amendments on Alabama's November ballot
What do the six proposed amendments on Alabama's November ballot do? We answer your questions here.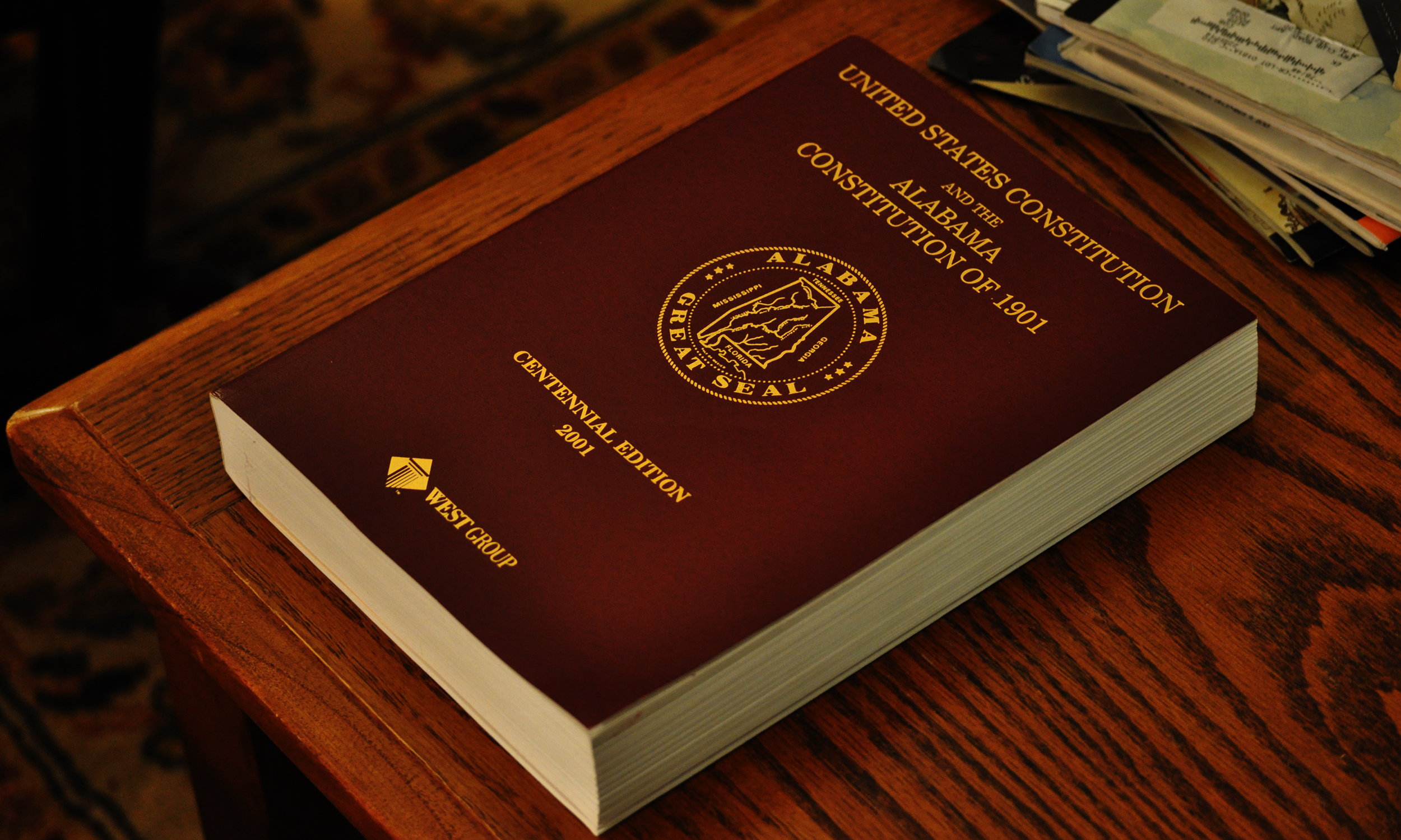 Alabama voters in the Nov. 3 election will have to decide on whether to add six constitutional amendments to what is already believed to be the longest constitution in the world. 
If approved, three of the amendments won't actually make substantive changes to state law, however.
To be added to the constitution, the amendments must receive support from a majority of voters.

Amendment 1
Amendment 1 — sponsored by State Sen. Del Marsh, R-Anniston — would "grant the right to vote to 'only' those U.S. citizens who meet the requirements." 
If approved, the change in the state's constitution would be to replace wording that the constitution grants the right to vote for "every" U.S. citizen who meets the requirements, to it grants the right to vote for "only" those U.S. citizens who meet the requirements. 
The amendment makes no changes to state voting requirements, and it's already a federal requirement to be a U.S. citizen to vote. Marsh told WBRC that the amendment "sends a message to Washington." Opponents to Amendment 1 say it could make it easier for the GOP-controlled Legislature to restrict voting rights.

Amendment 2
Amendment 2 processes numerous changes to the state's judicial system, including a change that would allow Alabama Supreme Court, rather than the Chief Justice, to appoint the Administrative Director of Courts. 
The amendment would also increase the Judicial Inquiry Commission from nine members to 11 and would  allow Governor, rather than the Lieutenant Governor, to appoint a member of the Court of the Judiciary. 
If approved, it would also prevent automatic disqualification from holding public offices for a judge solely because a complaint was filed with the Judiciary Inquiry Commission. Additionally, it would provide that a judge can be removed from office only by the Court of the Judiciary.
Amendment 3
Amendment 3 would extend the time appointed district and circuit court judges serve. State law now mandates appointed judges serve one year, or until the end of the term of the judge whom they were appointed to replace, whichever is longer.  
The amendment would allow the appointed judge to serve two years before running to keep their judgeship in an election. 
Amendment 4
Amendment 4 would allow "a rearranged version of the state constitution" to be drafted to "remove racist language," "remove language that is repeated or no longer applies,"  "combine language related to economic development"  and "combine language that relates to the same county."
 The rearranged version of the state constitution would have to be drafted by the state Legislature in 2022, according to the amendment, and the new draft wouldn't become law until approved by a majority of voters.
Amendments 5 and 6
Amendments 5 and 6 relate to Franklin and Lauderdale counties only, and if approved, would add to the state constitution that "a person is not liable for using deadly physical force in self-defense or in the defense of another person on the premises of a church under certain conditions" in both of those counties. 
Alabama already has a "stand your ground" that applies to the use of deadly force in churches, however. 
Alabama Attorney General Steve Marshall in a Jan. 2 statement, following the West Freeway Church of Christ shooting in White Settlement, Texas, wrote that Alabama law "does not impose a duty to retreat from an attacker in any place in which one is lawfully present."