Will Governor expand Medicaid coverage?
By Beth Clayton
Alabama Political Reporter
MONTGOMERY–Due to recent changes in the Medicaid program, many believe Governor Bentley will take this opportunity to expand the reach of Medicaid coverage.
Recent legislation sponsored by Senator Greg Reed (R-Jasper) passed during the 2013 regular session establishes Regional Care Organizations, which offer a funding alternative to Medicaid.
According to the Alabama Medicaid website, the 2013 legislation "calls for the state to be divided into regions and that a community-led network coordinate the health care of Medicaid patients in each region, with networks ultimately bearing the risks of contracting with the state of Alabama to provide that care."
According to the Medicaid website, "In order to implement RCOs in Alabama, the federal government must approve an exception, or waiver, to the existing program.  This will be done in the form of an 1115 Waiver."
Currently, Alabama's Medicaid program covers 933,907 enrollees with an annual budget of $5.9 billion, according to the 1115 Waiver Concept Paper on the Medicaid website.
The Concept Paper continues to explain that Medicaid reform through RCOs seeks to address three main concerns: cost of care, delivery system infrastructure and payment methodologies.
State Health Officer Dr. Don Williamson explained the RCO program. "It would let hospitals, doctors, and other Alabama health providers form groups called regional care organizations that could sign contracts to provide medical care to Medicaid beneficiaries on the state's behalf in return for negotiated payments per beneficiary," he said.
"If a regional care organization could provide care that met Medicaid's quality standards for less money than it was getting from Medicaid, it would make money. If it couldn't, it would lose money," Williamson said.
According to the 1115 Waiver concept paper on the Medicaid website, "The availability of federal funds for [Designated State Health Program]s will free up state funds that can be used to make significant investments to the internal infrastructure and capacity within the State Medicaid  Agency so that it can be an active purchaser and responsible partner in delivery system transformation. This is a critical component to making the demonstration a success."
Representative Jim McClendon (R-Springville), who sponsored this legislation in the House, said that the legislation does not address pharmacies, dentists, and nursing homes. He said that those areas will be addressed in the future.
McClendon said that managed care will lead to better patient outcomes, which will lead to less emergency room visits and consequentially tremendous cost savings for the state. McClendon estimated that Medicaid reform could save the state between $50 million and $70 million a year over the next ten years.
After the legislation passed the Senate, Majority Leader Vivian Figures (D-Mobile) and other Democrats addressed the chamber, calling this reform an opportunity to expand Medicaid coverage.
Under the law, the Medicaid agency would have to draw the regions by October 1, 2013. McClendon said that they discussed having six to eight regions, but opted to allow the Medicaid Agency to make that decision.
This legislation was based on recommendations by the Medicaid Advisory Commission established by Governor Bentley in October, headed by Alabama Health Officer and acting Alabama Medicaid Commissioner Dr. Donald Williamson.
Trump Truck and boat parades this weekend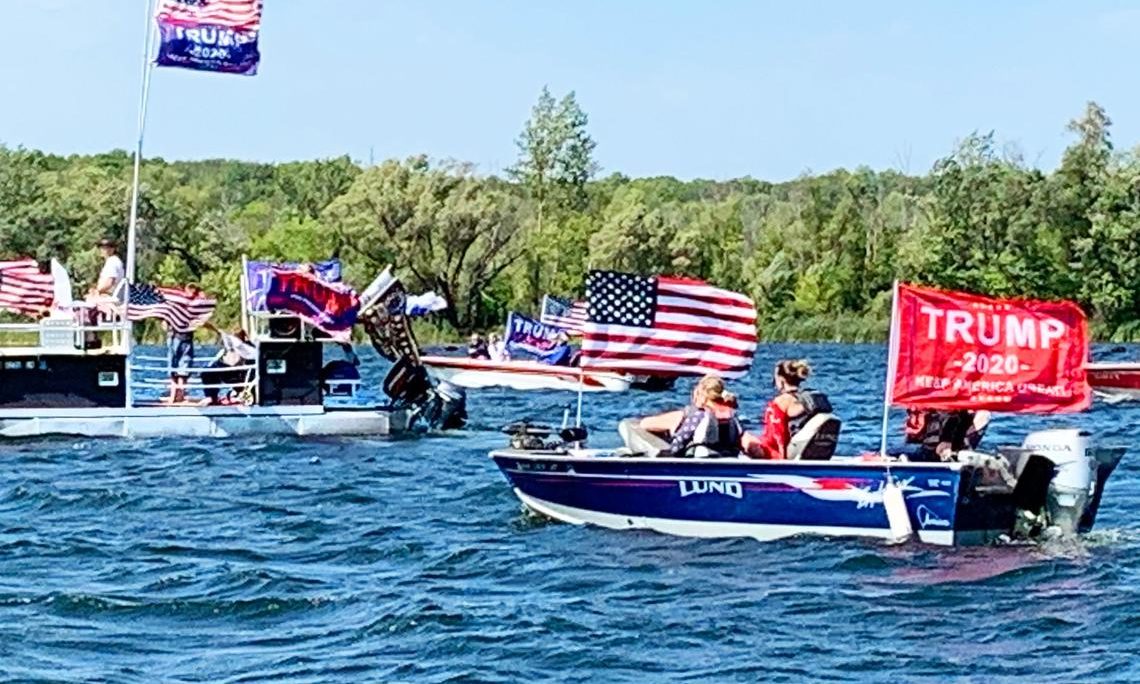 As Election Day draws near, Alabama Republicans are excited about promoting the re-election of Donald J. Trump as President and the election of Tommy Tuberville for U.S. Senate. This weekend two pro-President Trump events are happening in the state. There will be a truck parade from Ashland to Phenix City on Saturday sponsored by the Clay County Republican Party, while there will also be a boat parade on Wilson Lake in the Shoals sponsored by the Colbert County Republican Party on Sunday.
The pickup trucks will assemble at the Ashland Industrial Park in Clay County, 8240 Hwy 9, Ashland. There is a pre-departure rally at 10:00 a.m. central standard time. The trucks will depart at 11:00 a.m. and then proceed on a parade route that will take them into the bitterly contested swing state of Georgia. The Trump Pickup Parade will wind through east Alabama and West Georgia traveling through LaGrange and Columbus before concluding near the Alabama/Georgia line in Phenix City, 332 Woodland Drive, Phenix City at approximately 2:00 p.m. central time. Speakers will begin at 3:00. Trump flags will be on sale at the event.
The Phenix Motorsports Park will be hosting what sponsor hope could possibly the world's largest Pickup Tuck parade in U.S. history that is routing over 50 mile through Georgia in effort to "pickup" President Trump's numbers in GA.
A number dignitaries have been invited to address the Phenix City rally, including Coach Tuberville. Former State Sen. Shadrack McGill, Trump Victory Finance Committee member former State Rep. Perry O. Hooper Jr., and Paul Wellborn, the President and CEO of the largest Family owned Kitchen Cabinet manufacture in the USA are among the featured speakers who have committed to speak at the event.
Entertainment will be provided by: Charity Bowden, an up and coming country music singer who was the runner up on "The Voice". Charity will sing 'I am Proud to be an American' as well as songs from her Voice performances. The McGill Girls will also perform. The three beautiful and talented sisters will be singing patriotic songs in three part harmony. Geoff Carlisle, a professional DJ will be keeping the crowd pumped with music and entertainment.
Following the speakers and the entertainment there will Trump truck-vs- Joe Bidden truck races down the drag strip for the finale.
The Northwest Alabama boat parade will be on Sunday. The boats will gather at 2:00 p.m. near Turtle Point and then the flotilla will parade around the open waters of Wilson Lake til 3_00 p.m.. There will be a contest for best decorated Trump boats.
Trump supporters have held a number of large boat parades across the state to show their support for the re-election of Pres. Trump.
Boat parade sponsors say that this parade will be: pro-American, pro-law enforcement, pro-military.