Ron Crumpton to Run for Alabama Senate as Democrat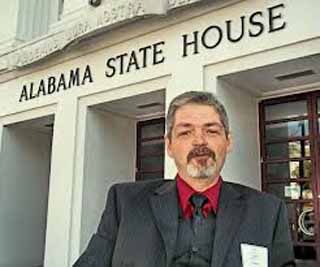 By Brandon Moseley
Alabama Political Reporter
Alabama Senate District 11 already has two Republicans vying from the district in 2014 and now it also has a Democrat. Medical Marijuana advocate Ron Crumpton has announced that he will be running as a Democrat in the heavily Republican district consisting of parts of St. Clair, Shelby, and Talladega Counties.
In a written statement, Crumpton (D) from Cropwell said, "After years as an activist, sitting and watching as our rights are ripped away, I have decided that the only way for me to change the government, is to do it from the inside. Though I have always considered myself a Republican, I can no longer consider myself a member of that party. I have always been a firm supporter of state's rights, and the belief that government works best when it is closest to the people, but when the party that used to keep big brother off your back became big brother, I fell out with the party. To reverse the words of another Ron, I did not leave the Republican Party… It left me! Democratic Party of Alabama. For that reason, when filling my paperwork with the Secretary of State, I listed that I would be pursuing the district 11 seat of the Alabama Senate as a Democrat."
Crumpton continued, "For too many years, our leaders have overlooked obvious avenues to create revenue because of the moral objections and financial interests of a limited number of Alabamians. Our state is going broke, but we continue to ignore the revenue potential of a state lottery. Many of our residents spend millions every year in Mississippi Casinos, but we continue to ignore ideas that would create a system of limited casino gambling in Alabama, and even though marijuana is safer than alcohol, safer than tobacco and safer than peanuts, we continue to arrest people for minor possession, clogging the prison system and feeding the criminal empires it creates as opposed to a sensible policy on marijuana that would produce hundreds of millions of dollars in tax revenue. It is time that we stop being stupid when it comes to creating revenue in this state. These programs would generate more revenue than is currently allotted to the state's general fund budget."
Crumpton said, "We have to address the problems in our education system, vilifying others and turning our backs on the school systems in trouble is not the answer. Many Alabama students do not have adequate supplies and are forced to attend schools that are falling apart, yet they are expected to perform as well as students with adequate supplies and adequate facilities; that is not a reasonable expectation. It is easy to blame the schools, blame the teachers or blame the parents, but none of that solves our problems."
Crumpton believes in legalizing gay marriage in the state of Alabama as well as marijuana and gambling. Crumpton wrote, "Marriage is a religious institution; the government has no right to prohibit churches from preforming marriages. While the government does not necessarily have to join LGBT couples in marriage or civil unions, in my opinion, they have no right to refuse to register or honor marriages of LGBT couples performed by the church without refusing to register and honor all marriages performed by the church, but that in itself would violate the same 1st amendment issue preventing the free exercise of religion…If someone believes that, the love of two people somehow diminishes the love they have for another then they need to evaluate their own relationship and not the relationship of others."
Crumpton also supports gun ownership rights. Ron Crumpton said, "The right to self-protection is supreme. Taking guns from law-abiding citizens benefits criminals and jeopardizes that right."
If Ron Crumpton wins the Democratic Party Primary, he will face the winner of the Alabama Republican Primary. Already Alabama State Senator Jerry Fielding from Sylacauga and state Representative Jim McClendon from Springville have announced that they are running for the seat currently held by Fielding. Sen. Fielding was elected in 2010 as a Democrat, but changed to the Republican Party in 2012 and will be running as a Republican in 2014.
Ron Crumpton has lobbied the state legislature for the legalization of marijuana throughout this legislative session and although State Representative Patricia Todd (D) from Birmingham has sponsor legislation allowing medical marijuana and decriminalizing marijuana possession none of that legislation has passed out of committee. Rep. Todd's efforts earned her the "Shroud Award" for the deadest legislation of the 2013 Alabama Legislative session.
Alabama GOP chair: "We expect our elected officials to follow the law" after Dismukes arrest
"Will Dismukes matter: We expect our elected officials, regardless of Party, to follow the laws of our state and nation," Alabama GOP chair Terry Lathan said on Twitter.
Alabama Republican Party Chair Terry Lathan said Thursday that Alabamians expect their leaders to follow the law. Her comments came in response to news that an arrest warrant had been issued for State Rep. Will Dismukes, R-Prattville, on the charge of felony theft.
"Will Dismukes matter: We expect our elected officials, regardless of Party, to follow the laws of our state and nation," Lathan said on Twitter. "No one is immune to these standards. It is very disappointing to hear of these allegations. This is now a legal matter and it must run its course."
Will Dismukes matter:
We expect our elected officials, regardless of Party, to follow the laws of our state and nation. No one is immune to these standards. It is very disappointing to hear of these allegations.This is now a legal matter and it must run its course. #alpolitics

— Terry Lathan (@ChairmanLathan) August 6, 2020
Speaker of the House Mac McCutcheon, R-Monrovia, said Friday in a statement that Dismukes will get his day in court.
"As a former law enforcement officer, I have faith in the criminal justice process and trust that he will receive a full and fair hearing," McCutcheon said. "Both Democrats and Republicans have been accused of similar crimes in the past, and we cannot tolerate such behavior whether the lawmaker involved has a D or an R beside their name."
Dismukes has been charged by his former employer, a custom flooring company, of felony theft charges. Dismukes left that employer and started his own custom flooring company.
Dismukes, who is serving in his first term and is one of the youngest members of the Alabama Legislature, has been heavily criticized for his participation in a birthday party for Confederate Lt. General Nathan Bedford Forrest in Selma. Forrest was also the first grand wizard of the Ku Klux Klan.
The party in Selma occurred the same week that Congressman John Lewis's funeral events were happening in Selma. Dismukes resigned his position at Valley Baptist Church when the Southern Baptists threatened to disassociate the Prattville Church if they retained Dismukes. He has defiantly refused to step down from the Legislature, but if convicted of a felony, he would be automatically removed from office.
Both Democrats and Republicans have called for Dismukes to resign from the Alabama House of Representatives over his being the chaplain of the Prattville Sons of Confederate Veterans and his Facebook post lauding Forrest. The investigation into the theft predates the controversies surrounding Dismukes's glorification of the Confederacy and Forrest.
Republican State Sen. Clyde Chambliss, who also represents Prattville, has called on Dismukes to resign.
"Since first being elected in 1996, I've had a policy of not publicly criticizing other elected officials, but at this time I am making an exception since Rep. Dismukes is MY state representative. He does not represent my views or the views of the vast majority of people of District 88," Chambliss said. "The post is bad enough, the timing is even worse, but the real problem is that an elected official in 2020 would attend a celebration of the life of someone that led a group that terrorized and killed other human beings. He has had 24 hours to understand why people are so upset, but his interview on WSFA a few moments ago confirms that he is lacking in understanding and judgment — he should resign immediately."
Alabama Democratic Party Chairman State Rep. Chris England, D-Tuscaloosa, has repeatedly called for Dismukes to resign from the Alabama House of Representatives.
The Alabama Democratic Party recently said in a statement, "Will Dismukes is morally unfit for office. Republicans and Democrats statewide seem to agree. Unfortunately, despite the mounting calls for his immediate resignation, Will intends to stay in office and seek re-election without penalty from the Republican Party."
"While Alabama Republicans hope this will be a distant memory when Dismukes runs for re-election in 2022, we are not going to let him off the hook," the ADP wrote. "The Alabama Democratic Party is going to leverage every tool we have to send Will packing when he comes up for re-election in two years."
"In our darkest hours in life there is still light in Christ!" Dismukes wrote on social media Wednesday. "As the storm continues to blow with heavy force, there is yet a peace that this too shall pass. I guess sometimes we find out if we have built our house on sand or the solid rock of Christ. Psalm 23."
When Speaker of the House Mike Hubbard, R-Auburn, was indicted on 21 charges of felony ethics violations, he did not resign and actually remained speaker until a jury of his peers in Lee County convicted him on 12 counts.