Brooks Says Federal Government Aggressively Undermines Our Rights to Freedom of Speech and Association
By Brandon Moseley
Alabama Political Reporter
On Wednesday, Congressman Mo Brooks (R) from Huntsville spoke on the House of Representatives floor warning that the White House is acting in a way that risks undermining the trust that the American people have in our federal government.
Representative Brooks said, "America is in uncharted waters when our own federal government aggressively undermines our rights to freedom of speech and association . . . rights won with American blood on the battlefields of Lexington and Concord, Trenton and Princeton, Saratoga, Cowpens and Kings Mountain, and Yorktown.
Rep. Brooks said, "America seeks the proper balance between our privacy rights and national security, one thing stands out. Americans must be able to trust our federal government to do the right thing with the privacy information Americans give up."
Congressman Brooks said that the administration has: used the Justice Department to target Associated Press, Fox News, and other journalists; the State Department and White House contrived a false story about Americans murdered in Benghazi; used the IRS to targets law-abiding citizens in the Tea Party movement; has sent in heavily armed SWAT teams to raid Gibson Guitars for importing the same wood as Martin Guitars, but leaves Martin alone because they support Democrats while Gibson supports Republicans like Lamar Alexander and Marsha Blackburn; had Health and Human Services Secretary Kathleen Sebelius unethically, and perhaps unlawfully, shake down the companies she regulates for donations to support ObamaCare; rewarded "illegal conduct by giving illegal aliens work permits in direct violation of American law; and this "White House manages the 'Fast and Furious' gunrunning scandal that left hundreds of Mexicans and an American border patrol agent dead."
Brooks warned, "Fifty years ago, our foes were well-known nation-states like the Soviet Union and Communist China. Now, our enemies may be foreign neighbors, foreign tourists, or even foreign students. Foreign terrorists seek chemical, biological or nuclear weapons of mass destruction that can destroy an American city or murder hundreds of thousands of Americans in a single attack."
Rep. Brooks said, "If we cannot trust the federal government to use our privacy information solely for anti-terrorism purposes, then the balance shifts. We will not give up our privacy information, thereby increasing the risk of a successful weapon of mass destruction terrorist attack on an American city."
Congressman Brooks said, "More and more, our own federal government disregards the rule of law that is essential to avoid the strife and bloodshed of anarchy. More and more, the federal government targets American citizens who differ politically with the White House. While the IRS, Gibson Guitar, Benghazi, Fast & Furious and numerous other scandals are troublesome, the bigger picture is that this White House, this Administration, has breached the public's trust. The bigger scandal is that this White House, this Administration, by their breach of trust, has undermined America's national security and thereby risked American lives."
Congressman Mo Brooks represents the Fifth Congressional District of Alabama. The second term conservative congressman sits on the House Armed Services Committee, the Foreign Affairs Committee, and the Science, Space, and Technology Committee.
Three mental health crisis centers coming to Mobile, Montgomery and Huntsville
"Today marks a culture change in Alabama for treatment of individuals with mental illness and substance use disorders," Mental Health Commissioner Lynn Beshear said.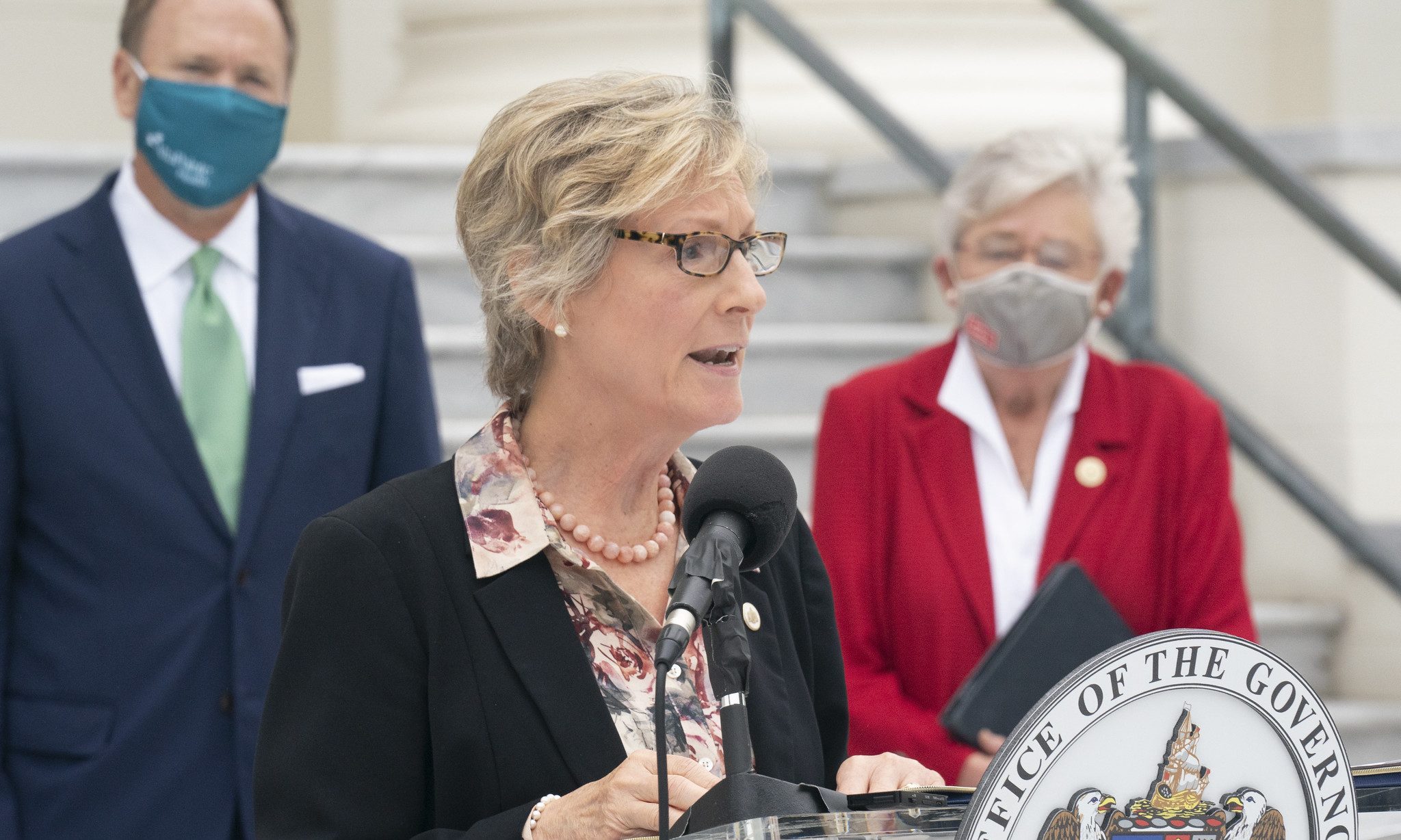 Gov. Kay Ivey on Wednesday announced an $18 million project to create three new mental health crisis centers to be located in Mobile, Montgomery and Huntsville. 
These centers, once in operation, will reduce the number of people suffering from mental health crises who are hospitalized or jailed, Ivey said during a press briefing in front of the Capitol Building in Montgomery. 
"When these facilities are open and fully staffed, these centers will become a safe haven for people facing mental health challenges," Ivey said. 
Lynn Beshear, commissioner of the Alabama Department of Mental Health, said during the briefing that the centers will provide "recovery based" care with "short term stays of a few hours, or up to a few days, to provide treatment, support, and connection to care in the community." 
"Today marks a culture change in Alabama for treatment of individuals with mental illness and substance use disorders," Beshear said. 
Beshear said AltaPointe Health in Mobile will operate one of the three facilities, and once built it is to serve Mobile, Baldwin, Clarke, Conecuh, Escambia, Monroe and Washington counties with 21 new beds, including 15 temporary observation beds. Altapointe will begin with a temporary space while constructing the new facilities, she said. 
Beshear said the Montgomery Area Mental Health Authority is partnering with the East Alabama Mental Health Authority and the Central Alabama Mental Health Authority to serve the 11 counties in Region 3 with 21 new beds, including 10 temporary observation and respite beds. 
"The regional crisis center will be located in Montgomery, and will be open to walk-ins and for drop off by law enforcement, first responders and referrals from emergency rooms," Beshear said. 
Wellstone Behavioral Health in Huntsville was selected to open the third center, and will do so at a temporary site while a new facility is being built, with the help of an additional $2.1 million from local governments, Beshear said. That facility will eventually have 39 beds, including 15 for temporary observation and 24 for extended observation.
"There's not a day that goes by that after-hours care is not an issue in our state," said Jeremy Blair, CEO of Wellstone Behavioral Health, speaking at the press conference. "And so I applaud the Department of Mental Health and the leaders for their efforts in recognizing that and taking it a step further and funding our efforts here." 
Asked by a reporter why a center wasn't located in Jefferson County, one of the most populous counties with a great need for such a center, Ivey said those residents will be served in one of the other regions. 
"Plans are underway to continue this effort. Today's beginning, with these three crisis centers, is just the beginning," Ivey said. 
Ivey added that request for proposals were sent out for these three centers and "it was a strong competition for the location of these three crisis centers." 
Alabama House Majority Leader Nathaniel Ledbetter, R-Rainsville, said during the briefing that more than a year ago, Ivey asked him what the state should be looking at, and that he replied "we're failing miserably in mental health."
Ledbetter said Ivey asked him to take on the challenge of correcting the state's response to mental health, and a team was created to do just that. 
"Working together, today's announcement will not only change Alabamians lives, but will help to save lives," Ledbetter said.