Bentley In Paris to Promote Alabama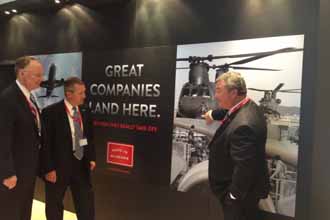 By Brandon Moseley
Alabama Political Reporter
Alabama Governor Robert Bentley (R), Alabama Commerce Secretary Greg Canfield (R), and team are at the Paris Air Show to promote the state of Alabama and recruit more jobs to the state. Gov. Bentley addressed almost 100 economic development officials and local elected officials at a breakfast at the Paris Marriott.
Governor Bentley said on Facebook, "As more companies choose to locate and expand in Alabama, more jobs are created for the people of Alabama. Aerospace is one of 11 industry sectors that we identified as having tremendous potential for growth. The purpose of our visit to Paris is to promote Alabama as a solid choice for companies looking to build and expand."
Bentley is promoting the state at the 50th Paris Air Show, a biannual aerospace and defense trade show attended by both companies and countries. Aerospace companies showcase their latest technology while talking business…including relocation and expansion plans.
Bentley said in an interview at www.madeinalabama.com that the state of, "Alabama has had tremendous success in transportation manufacturing and engineering. Some might think that began with the automotive industry – Mercedes, then Honda, then Hyundai. But in reality, it began with the development of NASA's Saturn V rocket in Huntsville in the early 1960s. Because of Alabama's history in aerospace, we have the expertise, the talent and the infrastructure companies need. So it's a natural growth sector for us, and it provides the kind of high-tech, high-paying jobs that we are working to recruit to our state."
Gov. Bentley said, "Without question, the Airbus facility opens up a new set of opportunities. We are very focused on building relationships with companies that could serve as Airbus suppliers and vendors. We want those companies to build their plants in Alabama and bring their job opportunities to Alabama. I want these companies to come to Alabama, not other states."
Bentley said that the construction of Airbus's newest assembly plant in Mobile reinforces the state's position as a leader in the aviation industry. Gov. Bentley said, "We have had a significant presence with Boeing's defense division for more than 50 years, and we already had major suppliers such as GKN and PPG on the ground. Now, we'll be producing commercial jets as well, which was really the only big piece missing from the puzzle."
Gov. Bentley said that he and Commerce Secretary Greg Canfield will be meeting with companies that already have operations in Alabama as well as several prospective projects. Gov. Bentley said, "We won't be sharing any details just yet on those prospects, but I can tell you that I'm meeting with companies such as Safran, which recently announced a new operation at Mobile's Brookley Aeroplex, UTC, which has a big operation in Baldwin County, Raytheon, GE, Boeing and, of course, Airbus. All of these companies are growing globally and represent potential new jobs for our state now and in the future."
Gov. Bentley said that he expected to walk away with deeper relationships with decision-makers who will be key to future announcements. Gov. Bentley said, "The purpose of our visit to Paris is to promote Alabama as a solid choice for companies looking to build and expand. We have the best workforce of any place in the country. We have a positive business climate. We offer the tools that companies need to succeed. As more companies choose to locate and expand in Alabama, more jobs are created for the people of Alabama."
Gov. Bentley said his top priority is creating jobs. "We are actively recruiting companies across the board."
Bentley was elected vowing not to take a salary until he got the state back to full employment.
Internal report on Alabama inmate's death backs statements by concerned whistleblowers
Almost all of the information in the report has already been published through APR's own independent reporting on McMillian's death, and the report corroborates much of APR's reporting.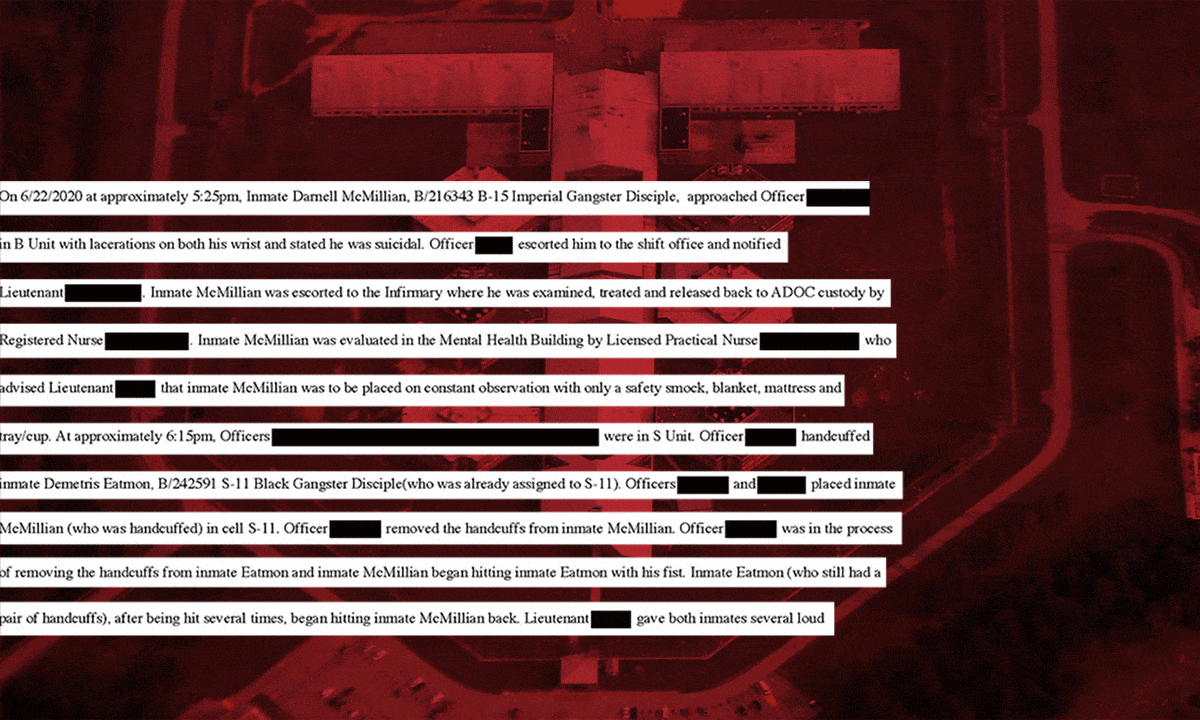 Many of the allegations made by concerned workers at an Alabama prison about the death of an inmate were corroborated in a report filed by an officer who was involved in the incident.
Darnell McMillian, 38, was on suicide watch when he died on June 22 after correctional officers placed him in a cell with another inmate, Demetris Eatmon, who was also on suicide watch. Statements by the two workers and a narrative in the report shed light on what happened in the moments before and after McMillian's death.
According to the workers' statements and the Alabama Department of Corrections internal report, once McMillian was placed in the cell with the other man, a fight ensued and officers used pepper spray to break it up. While the report notes two cans were used, one of the workers said three cans were sprayed into the cell, and the excessive amount may have resulted in his death.
The two Alabama Department of Corrections workers spoke separately to APR with concerns about McMillian's death — one by phone on July 1 and another worker on July 9. Each said they had worked with both of the inmates and the officers involved, and all knew that the other inmate who fought with McMillian was violent and that no other inmates were to be placed in his cell.
"Eatmon is a very volatile inmate. Very violent. Very big guy," one of the workers told APR.  "You never put anybody in the cell with him."
One of the workers told APR previously that once the two inmates were in the cell together, they were enticed by the officers to fight, and that while they were uncertain of why they did so in this instance, such tactics are used by officers regularly when an inmate angers them, the person said.
Demetris Eatmon of Midfield pleaded guilty and is serving a 20-year sentence for attempted murder and robbery for an incident on January 12, 2004, in which he shot a man, according to court records. The duty officer report on McMillian's death lists Eatmon as a member of the Black Gangster Disciple gang, and McMillian as a member of the Imperial Gangster Disciple gang.
The lieutenant and three correctional officers who were involved in the incident all were assigned to work the mental health area of the prison, all knew the inmates well and all knew that no one else was to be placed in a cell with the other inmate, both workers said. The captain who was involved in the incident had just recently been promoted and may not have been aware, however, one worker said.
According to the duty officer report, which was completed by one of the officers involved in the incident, McMillian started hitting the other inmate while the officer was attempting to take handcuffs off the other inmate through a tray slot in the cell door. The other inmate broke free with one handcuff still attached and the two began fighting, according to the report and statements to APR by the employees.
APR isn't naming the officers or other ADOC employees involved with the incident, as there have been no criminal charges filed against any of them.
The worker who spoke to APR on July 1 said officers sprayed three cans of pepper spray into the cell, an excessive amount that may have killed him.
The worker said sometime around 6 p.m. on June 22, three correctional officers placed McMillian into the cell with Eatmon, who was known to be violent. The duty officer report notes he was placed into the cell close to 6:15 p.m. that day.
The first worker to speak to APR in July said that officers enticed the two men to fight, and once Eatmon began threatening McMillian, McMillian took the first swing. The report also notes that McMillian swung first, while the other inmate was still partially handcuffed.
One officer "drew his Aerosol Deterrent Spray, Sabre Red can #6099417" and sprayed several bursts into the cell and ordered them to stop fighting, according to the report, which states that a separate officer "retrieved the Sabre Red Cell Buster from the cube and administered a burst into the cell, with more verbal orders to stop fighting. Both inmates then complied." The cube is a secure area for officers located in the center of the cell blocks.
"The inmate was yelling that he couldn't breathe," the employee told APR on July 1 referring to McMillian.
The other inmate was taken to the infirmary, decontaminated and released back to ADOC custody by a nurse, the report states.
McMillian was taken to the infirmary in a wheelchair at around 6:25 p.m., according to the report, where a nurse "observed that inmate McMillian was non-verbal and unresponsive" and three nurses "began administering CPR and utilizing the Automatic External (sic) Difibulator."
The report states that the prison's warden was notified and arrived at the prison at 7 p.m. About 35 minutes later, paramedics arrived, and at 7:49 p.m. called a UAB doctor who pronounced McMillian dead.
The first officer to have sprayed pepper spray into the cell then "secured cell S-11 with tape and the triage room in the Infirmary. Pictures were taken of S-11 and the triage room," according to the report.
The worker who spoke to APR on July 1 said that before photos were taken, officers had inmates clean the cell of everything except for several spots of blood, which the worker said might make it appear to have been a homicide by the other inmate."
Jefferson County Coroner Bill Yates told APR in July that McMillian's final cause of death awaits toxicology and other lab results, which can take between four and six weeks, but that there did not appear to be any external injuries that could have caused his death.
"From our autopsy, I don't believe we found any type of trauma that would explain death," Yates said at the time.
The duty officer report notes the incident as "Death – Inmate-on-Inmate."
ADOC spokeswoman Samantha Rose in a message to APR on Aug. 7 said that the investigation into McMillian's death is ongoing, and therefore the department cannot comment on the matter. Rose verified the duty officer report as authentic but said that it doesn't tell the whole picture.
"Please note this file represents an initial reporting of the incident and does not include nor is reflective of information gathered during the course of the ADOC's ongoing investigation into Darnell McMillian's death," Rose said.
Rose also cautioned APR against publishing the report, saying that doing so could jeopardize the investigation.
"The information not only was unethically provided to you, it was provided in violation of the law. The disclosure of this protected information compromises the integrity of our active investigation, and we strongly advise you to consider the consequences of publishing it," Rose said.
APR decided to publish the report in redacted form for several reasons. Almost all of the information in the report has already been published through APR's own independent reporting on McMillian's death, and the report corroborates much of APR's reporting.
Additionally, in a report released July 23 by the U.S. Department of Justice on the excessive uses of force against inmates by Alabama correctional officers, investigators note systemic problems of unreported or underreported excessive use of force incidents, a failure to properly investigate them and attempts by correctional officers and their supervisors to cover them up.
"These uses of excessive force — which include the use of batons, chemical spray, and physical altercations such as kicking — often result in serious injuries and, sometimes, death," the report found.
Federal investigators also noted that despite a large number of use-of-force incidents, a small fraction are investigated above the prison-level and sent to ADOC's Investigations and Intelligence division.
APR also decided to publish the redacted report because it sheds more light on what those federal investigators said were inappropriate uses of pepper spray on inmates, and instances of officers ignoring ADOC's policies on the use of pepper spray.
"Chemical spray is regularly used as retribution. These kinds of applications of chemical agents violate the Constitution," the report reads.