Alabama in Paris, "La Belle Époque" (The Beautiful Era) for jobs?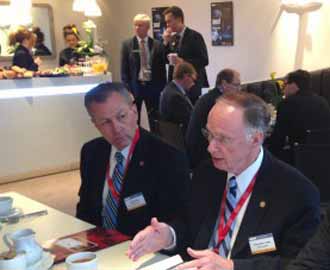 By Bill Britt
Alabama Political Reporter
Last week, Governor Robert Bentley and an entourage of nearly 100 prominent Alabamians touched down in Paris, France, days ahead of the 50th Paris Air Show. The economic mission was described as an opportunity for Alabama economic development officials and local elected leaders to meet with aerospace companies in hopes of bringing jobs back home.
Bentley spokesperson Jeremy King said of the trip, "The purpose…is to bring more jobs to Alabama. Governor Bentley, Secretary Canfield and others are meeting with dozens of companies to discuss recruiting them to Alabama or helping them expand the operations they already have in Alabama."
Alabama Speaker of the House Mike Hubbard took to his Facebook account to say he was in Paris with Governor Bentley and Commerce Secretary Greg Canfield to "Bring jobs to Alabama."
But, really…how many public officials, staff members, spouses and other hangers-on are needed for the "economic development mission" that Team Alabama attends every year? And exactly how much will this "mission" set Alabama taxpayers back when all the airline tickets, hotel rooms, champagne lunches, etc. are added up?
Secretary Canfield misled the press on the actual cost of the Paris trip, telling AL.com that, "The delegation includes five people traveling on state dollars, plus security for the governor."
Canfield declined to provide an estimate the cost of the trip to taxpayers. He promised an accounting of the costs at some time in the future.
Canfield's assertion that only five people are traveling on taxpayer dollars leaves out the fact that several municipalities, other state agencies and a gaggle of lobbyists are all part of Team Alabama, present at the Air Show. The size of the Alabama contingent at the Air Show is much closer to 100 than the five people Canfield cited.
King, the governor's spokesperson, said the "around 100″ number factors in the local economic developers, etc., who are also "working to promote their regions for job growth."
The total of public taxpayer funds used to finance these individuals is spread throughout various municipalities and agencies, so a true account will be difficult to get from officials.
King confirmed that Commerce was responsible for expenses for the, "Governor as well as the First Lady, the Commerce Secretary, two additional representatives of the Department of Commerce and security for the Governor." This includes Stefania Cumuze, Canfield's Special Assistant.
Regardless of the cost to taxpayers, Team Alabama is making sure we all get to see and hear about how public dollars are being spent. Glowing reports and picturesque photography of the events were provided by Big Communications, a Birmingham-based public relations and advertising firm. The company, founded by John Montgomery, grew from "1 man in a loft to 38 people in 5 Points South in Birmingham, servicing clients all over the Southeast," according to its website.
Montgomery has been personally on hand to photograph the governor and the members of "Team Alabama." There is even a picture of one of Big's executives with First Lady Diane Bentley, and one of Montgomery with the Eiffel Tower in the background.
By the way, just prior to the Paris trip, Big Communications was paid almost $300,000 as part of a multi-million dollar state contract. According to state records, Big Communications was paid over $2 million in FY 2012, and is on target to reap an additional $2 million in taxpayer dollars in 2013.
A Big Communications spokesperson told the Alabama Political Reporter that an official with the company would respond to requests for information. The official never returned our calls.
When the Governor's office was asked how much Big Communications was being paid to write stories and photograph dignitaries in Paris, King referred the question to Gerrianne Miller, communications manager for commerce. He gave the same response when asked why the state needed a PR firm at the air show.
Miller's office said she was not at work on Wednesday and that other staff officials were still in France.
According to the daily news provided by Big Communication, the cities of Huntsville and Mobile had an "active presence" at the Air Show as well as Auburn, Opelika, Tuscaloosa, Andalusia, Montgomery and more. Big, also reported that Baldwin County Commission Chairman Tucker Dorsey, Daphne Mayor Dane Haygood and President of the Baldwin County Economic Development Alliance Lee Lawson were on hand for the receptions paid for by yet unnamed sponsors—as well as Montgomery Mayor Todd Strange.
These elected politicians are just a handful of the power elite to travel to the posh Paris Air Show.
Along with the receptions, a champagne brunch was provided for members of Alabama delegation at the famed home of King Louis IV, the Palace of Versailles. Julie Burge Lindsey – the mother of Canfied's secretary – posted to her Facebook account. "OMG we were treated to a champagne reception before our picnic lunch a Versailles."
At Château de Versailles, a member of the Alabama delegation wrote on Facebook, "we were allowed entry… into the private chambers and into Marie Antionette's personal theatre."
There were also posts about visits to the shops of Louis Vuitton and other famed French luxury Haute couture designers.
Does anyone remember a short few years ago when Freedom Fries replaced French Fries as a sign of Alabamians distaste for all things French? How ironic that a chance to cruise the Seine and stroll the wide sidewalks of the des Champs-Élysées, with its cinemas, cafés, and luxury shops, has given rise to a new group of Alabama Francophiles.
King said that Mrs. Lindsey was a volunteer and was not paid by the state. King did not give an estimate of how many volunteers had accompanied Canfield and the governor.
While the annual pilgrimage to Paris Air show dubbed, "the biggest junket there is," did not begin with Bentley and Team Alabama, it would seem they have so far been the most successful and exuberant.
Opinion | Electing Tuberville could cost Alabama billions
If your conscience or decency isn't enough, vote your wallets.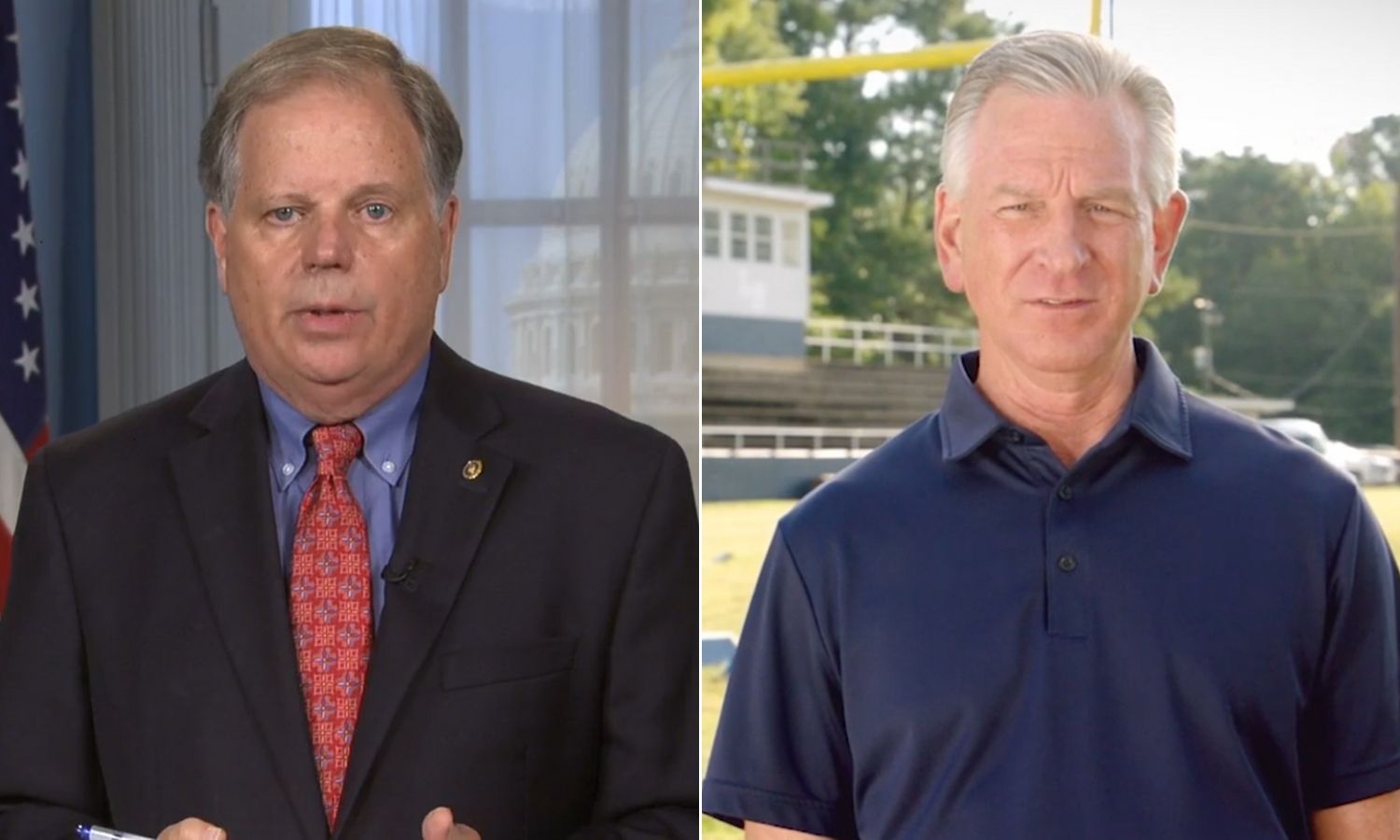 Money matters in Alabama. Oh, I know that we're not supposed to say that out loud. That we're supposed to promote our image of southern grace and hospitality, of churchiness and care, of rich people never getting into heaven. 
But the truth is greed is our biggest character flaw in this state. 
Every problem we have can be traced back to our unending thirst for dollars. Our ancestors didn't keep slaves because they hated black people. They did it because they loved money and the difference in skin color gave them an excuse — a really, really stupid excuse — to mistreat other humans to take advantage of the free labor. 
Our rivers and lakes and dirt aren't filled with poisons from factories because we're too dumb to understand how this works. They're that way because our politicians are paid off to turn a blind eye to the dumping of toxic waste. 
Our schools aren't terrible because we have dumb kids or bad teachers. It's because we're too cheap to pay for them. 
You see what I mean? It's our lust for the almighty dollar. Every time. 
We love money. 
Which makes me seriously wonder why so many people in this state are going to vote for a man who will cost us all — and especially our biggest businesses — so much of it. 
Tommy Tuberville will be like a money vacuum for Alabama. Billions of dollars will vanish for this welfare state that relies so much on federal contracts, federal programs and federal dollars. 
If you doubt this, don't simply take my word for it. Just Google up the press releases from Sen. Richard Shelby's office from the last, say, six years — the most recent span in which Republicans have controlled the Senate. 
Almost every single release is about Shelby securing millions or billions of dollars in federal funding for this project or that project, getting the state's share of dollars from a variety of different programs and initiatives implemented by Congress. 
Shelby and I obviously have different political viewpoints, but it's hard to argue that the man has been successful in securing money for Alabama. Lots and lots of money. 
Money for airports and roads. Money for defense contractors in Huntsville. Money for the port in Mobile. Money for car manufacturers. Money for farmers. 
Money. Money. Money. 
Shelby can do that because of three things: He's on the right committees, he's a member of the party in power and he's liked by the right people.
Tuberville will be none of those things. 
Most pundits are predicting that Democrats will take over the Senate, tipping the balance of power and giving the party control of both houses and the White House. 
That automatically means that a first-time senator in the opposition party will have little to no say in any decisions. 
But what's worse for Tuberville, and for Alabama, is that other Republicans don't like him either. 
Establishment Republicans essentially openly campaigned against Tuberville in the primary, tossing tens of millions of dollars behind his opponent, Jeff Sessions. They even favored third-place finisher Bradley Byrne over Tuberville. 
It's not hard to understand why — he's clueless. 
I know that's a Doug Jones talking point, but this one happens to be true. Let me give you an example: On Thursday, Tuberville tweeted out what was meant to be a shot at Jones, claiming that Alabama's current senator wouldn't meet with Trump's Supreme Court nominee because Jones knows "he won't have much time in the Senate to work with her."
If you're unaware, the Senate doesn't "work with" the Supreme Court. They're separate entities. 
Combine that with his other nonsensical answers on COVID relief, school reopenings, the Voting Rights Act, senate committee assignments, education, foreign affairs — really, the list is almost endless — and it shows how little work he's put in over the last two years to understand this job he's applying for. 
Now, that might be just fine with Alabama voters who care more about the party affiliation and owning the libs, but it's not OK with grownups who take the job of running the country seriously. 
And those people — both Rs and Ds — don't like Tuberville or his here-for-an-easy-check-like-always approach to one of the most serious jobs in the world. 
He will be frozen out of the most sought after committee assignments. His voice will carry zero weight. His presence will be all but forgotten. 
And in the process, so will Alabama. Especially in two years, when Shelby retires and his senior status is lost. 
In the meantime, Jones is highly respected by senators on both sides of the aisle. He already has a presence on top committees, and is so well liked within the Democratic Party that he's on the short list to be Joe Biden's AG, should he not be re-elected. 
The choice seems pretty simple. On the one hand is a competent, prepared and serious statesman who knows how to maneuver his colleagues to get the most for the state. On the other hand is an unprepared, uncaring, lazy carpetbagger who doesn't understand any process. 
If your conscience or decency isn't enough, vote your wallets.