Bussman Launches Reelection Campaign With Fundraiser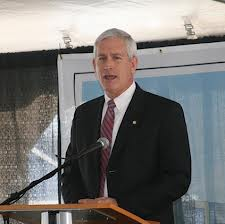 By Brandon Moseley
Alabama Political Reporter
Senator Paul Bussman (R) from Cullman announced his intent to re-election last month and team has announced that they will kick off the re-election campaign for State Senate with a fundraiser in Cullman
Senator Bussman said on Facebook, "Wanted to make sure everyone knows about our Re-Election Kickoff on Thursday, July 18th at Top of the Town (uniquely remodeled 4th floor of Cullman Savings Bank). Everyone is invited, but please go to the link below and let us know that yo…u are coming so we can get a reasonable headcount. We are asking a minimal campaign contribution of $25 per person. Look forward to seeing all of you there!"
The campaign announcement praised the Senator for his accomplishments: "Senator Bussman has had a successful three years in his first term as a state senator, including several important and significant accomplishment…s for the district. Some of these accomplishments include: the initial phase of the Highway 157 4-lane road project and bringing to fruition the longtime promised 222 Interchange. He has secured $1.8 million over the next three years for Wallace State Community College and provided more than $120,000 in grants for local schools."
The Menu for the evening event includes: pork tenderloin with sweet rolls, grilled chicken skewers, mini twice baked potatoes and Cobb salads, Greek pasta salad, mini cheesecakes, tiramisu, crème brulee, key lime pie, brownies and other assorted dishes. The food is being catered by the noted Cullman catering company, Designs by Grace.
Sen. Bussman was elected to his first term in 2010 when he defeated powerful Democratic incumbent and then Senate Majority Leader, Zeb Little. Little had gained statewide notoriety in the press and talk radio for accusations accusing him of driving under the influence. Little made more waves by running negative controversial television spots attacking Bussman over his much earlier divorce. Despite the wild negative attacks, the people of Alabama's Fourth Senate District chose the challenger, Bussman…..a popular local dentist.
Bussman was born in New Orleans but grew up in Cullman. Paul graduated from Cullman High School in 1975 and then attended Troy State University where he played basketball and completed a B.S. Degree. He received his dentistry degree from the University of Alabama School of Dentistry. In addition to his successful Cullman dentistry practice he is also the owner of FUNZONE, a family entertainment center in Cullman which includes miniature golf, go-karts, batting cages, an inflatable gymnasium, and an electric train.
Senator Bussman serves on the Senate Children, Youth Affairs and Human Resources Committee where he is the Chairman. He is also the Vice Chairman of the Senate Health Committee. The Fourth District includes Cullman, Lawrence, and Winston Counties.
2010 was a wave election when the people across Alabama came together to firmly reject the Democratic Party and what it has come to stand for under controversial President Barack H. Obama (D). Republicans hope that the public's disgust with Democrats continues, while Democrats hope that they can run the 2014 election on perceived shortcomings of the Republican Super-majority's performance in these last four years.
Jones says Senate race a choice between "substance and leadership, and nothing"
"One of the great disappointments in this campaign is that Alabama is not really getting choices between substance and substance," Jones said.
Speaking outside the Calhoun County Democratic Party headquarters in Anniston on Friday, Sen. Doug Jones, D-Alabama, told a group of supporters that Alabamians haven't gotten a look at what his Republican opponent might do if he wins the Nov. 3 election. 
"One of the great disappointments in this campaign is that Alabama is not really getting choices between substance and substance," Jones said. "They're getting a choice between substance and leadership, and nothing — nothing. We have not heard anything from Tommy Tuberville about what he really wants to do." 
While Jones has held numerous interviews with the media, and regular web briefings over the summer and in recent weeks, Tuberville's campaign seems to prefer the safety of keeping Tuberville from making possible gaffs or damaging statements in interviews. 
Tuberville hasn't agreed to interviews with traditional media outlets, or to debate Jones, and instead has focused on conservative talk radio spots, speaking to smaller Republican groups and at private parties.
Tuberville's campaign has ignored or denied our numerous attempts to interview Tuberville, including another request on Friday. He also declined to attend a student forum held at Auburn University on Wednesday, which Jones attended. The forum was sponsored by the Auburn College Republicans and College Democrats.
"If you ever hear something Tommy Tuberville says, it is just simply this: 'Build a wall. No amnesty. Drain the swamp.' That ain't him. That's Donald Trump," Jones said. "He cannot think for himself. He doesn't think for himself." 
Jones spoke of his record of working to help veterans through legislation. And he referred to Tuberville's nonprofit for veterans and reporting that indicates, through tax records, that less than a third of the money raised for Tuberville's charity went to help veterans. 
"I don't just create charities and send only pennies on the dollar. I do things for the veterans of this state and this country," Jones said. 
Jones also made a case for Alabamians to remember the contributions past Democrats made in the state. Jones said it was Democratic Sen. John Sparkman who helped build Alabama's Redstone Arsenal. 
"It was a Democrat, Lester Hill, who built the rural hospitals around here that Donald Trump and Mitch McConnell and Tommy Tuberville are trying to destroy," Jones said. "It was Howell Heflin who built up agriculture in this state. Those are the Democrats. It was Franklin Rosevelt that put electricity in this state. We're going to do the same thing for broadband. People forget those things. They forget those things because we've let other people define us with lies."
Jones plans to visit Jefferson County on Saturday, then on to the Black Belt and Mobile on Sunday with another stop in Birmingham on Monday afternoon. 
"The goal is to get everybody out. That's the thing if we want to continue to ensure Alabama moves forward — moves forward and not backwards, to continue to have somebody, if I do say so myself, somebody that's just not going to damn embarrass us," Jones said.
"We've had too much of that in Alabama," Jones said, "and I bet you it won't be a year that Tommy Tuberville would be an embarrassment to this state because he doesn't know the issues. He doesn't know what to do, and he's dang sure not going to know what to do when Donald Trump is not president of the United States." 
Jones encouraged supporters to be skeptical of recent polling. One such recent poll, by Auburn University at Montgomery, puts Tuberville ahead of Jones by 12 percentage points, 54 to 42.1. An internal poll by Tuberville's campaign puts Tuberville ahead by 15 percentage points, while an internal poll from the Jones camp put Jones ahead by one percentage point. 
"Don't listen to these polling folks that come in, and they don't know Alabama, and they don't know what they're doing. We're tracking this race, and I can tell you, everything has been moving in our direction the last two months," Jones said. 
People standing along roadsides holding his signs and showing support, Jones said, is "the energy we've got out there. That's what you can't poll."
Ellen Bass of Anniston, standing outside the Calhoun County Democratic Party headquarters just after Jones spoke, told APR that she has numerous Republican friends who are voting for Jones.
"My hat's off to them because they're coming out," Bass said. "They recognize that he is a better candidate."
Ciara Smith, 21, newly elected to the Anniston City Council, told APR outside the headquarters building that Jones is the better candidate.
"I think that he's educated. I think that he speaks with passion and heart," Smith said. "And he knows what he's talking about, which is important, and which is more than we can say about the other candidate."
Speaking to APR after his speech to supporters, Jones said that he feels very good about the state of his campaign.
"Everything we're seeing is moving in our direction," Jones said. "And the more he stays hidden, the better it is for us."