Trayvon Martin case could have happened in Alabama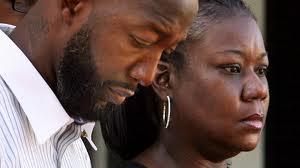 By Beth Clayton
Alabama Political Reporter
MONTGOMERY–Days after the jury announced a not-guilty verdict in the shooting death of Trayvon Martin, Americans on both sides of the aisle have taken this opportunity to make political statements.
Martin supporters on the left are angered and outraged by the senseless death of a young man. To many, this is about racism and injustice.
Pro-gun supporters on the right are calling this a victory of the Justice System, defending Stand Your Ground laws and Zimmerman's use of self-defense.
While the Zimmerman case happened outside of Orlando, Fla., the laws in Alabama could easily provide for a similar outcome.
Alabama's "Castle Doctrine" law, much like the Florida law, allows lethal force in defense of a perceived threat. This law grants immunity from civil and criminal repercussions if the law justifies the use of force.
Alabama is one of at least 20 states with a Stand Your Ground-type law. Alabama's law, SB283, was enacted in 2006.
Several lawmakers sponsored Stand Your Ground legislation in 2006, including Senator Larry Means (D-Attalla) and Representative Albert Hall (D-Gurley) who sponsored the passing legislation. Representative Steve Hurst (D then R-Munford) and Representative Ron Johnson (R-Sylacauga) co-sponsored the bill.
The law flew through both chambers, passing 82-9 in the House and 30-2 in the Senate and was signed into law by Governor Bob Riley.
Senators Hank Sanders (D-Selma) and Bobby Singleton (D-Greensboro) were the lone nay votes in the Senate, while Representatives George Bandy (D-Opelika), Linda Coleman (D-Birmingham), Merika Coleman (D-Birmingham), Priscilla Dunn (D-Birmingham), Laura Hall (D-Huntsville), Eric Major (D-Birmingham), Demetrius Newton (D-Birmingham), Oliver Robinson (D-Birmingham) and John Rogers (D-Birmingham) voted nay in the House.
The NRA issued a press release shortly after Riley signed the bill thanking him for signing the bill.
"Law-abiding citizens now have the choice to defend themselves and their families in the face of attack without fear of criminal prosecution and civil litigation," said Chris Cox, the NRA's chief lobbyist.
In the wake of the verdict showing the consequences of this type of legislation, several Alabama lawmakers have responded to the incident and the jury's decision.
Senator Gerald Dial (R-Lineville) took the side of the Stand Your Ground law. "If someone is attacking you with a gun or a deadly weapon, why let them take your life? They'll shoot you in the back when you are running. You've got a right to defend your life," Dial said.
Representative Darrio Melton (D-Selma) released an op-ed on Monday calling on the community to "work together to get justice for Trayvon" by leading children away from violence.
"While we have to ensure that no Trayvon Martin ever senselessly dies again, we also must ensure that no George Zimmerman ever senselessly resorts to violence again," Melton said.
Currently, Alabama ranks third-highest in deaths caused by injuries from guns, according to the Kaiser Foundation.
Ainsworth returns to work after testing positive for COVID
Ainsworth's office on Sept. 21 announced he had tested positive earlier that week, having been tested after someone in his Sunday school class tested positive for the disease. 
Alabama Lt. Gov. Will Ainsworth on Wednesday announced that he was returning to work that day and had met public health requirements for quarantining after testing positive for COVID-19 some time last week.
Ainsworth's office on Sept. 21 announced he had tested positive earlier that week, having been tested after someone in his Sunday school class tested positive for the disease. 
"While many have battled with coronavirus, my symptoms never progressed beyond some mild congestion that I usually experience with seasonal allergies," Ainsworth said in a statement. "During the quarantine period, I participated in several Zoom calls, caught up on some office work, spent some quality time with my family, and completed a number of overdue projects on my farm."
Members of Ainsworth's staff who were in close contact with him haven't tested positive for COVID-19 but will remain in quarantine for a full 14-day period as a precaution, according to a press release from Ainsworth's office Wednesday. 
"Ainsworth once again urges all Alabamians to practice personal responsibility, which may include wearing masks, maintaining social distancing whenever possible, and taking other precautions to lessen chances of exposure to COVID-19," the press release states.
Ainsworth still disagrees with Gov. Kay Ivey's statewide mask mandate, he said. According to the release, he considers such orders "a one-size-fits-all governmental overreach that erodes basic freedoms and liberties while removing an individual's right to make their own health-related choices." 
The wearing of cloth or medical masks has been proven to inhibit the spread of COVID-19 and the more people who wear masks, the better. While not perfect, masks limit the spread of respiratory droplets that may contain infectious virus shed from the nose and mouth of the mask wearer.
It is possible — even likely — for symptomatic, pre-symptomatic and mildly symptomatic people to spread the virus. That's why it's important to wear a mask even when you're not sick.
Cloth masks offer only minimal protection from others who are not masked, meaning that masks are not simply a matter of personal safety but safety of others. Masks are also only effective when worn over both the mouth and the nose. [Here's a guide on how to wear masks properly.]
Dr. Deborah Birx, coordinator of the White House's coronavirus task force, told Ivey after she announced the statewide mask order that it was a "brilliant" idea. The order has been credited by Alabama infectious disease experts as having dramatically reduced the number of cases, hospitalizations and deaths in the weeks after the order went into effect. 
Dr. Don Williamson, president of the Alabama Hospital Association, told APR on Tuesday that from personal observation he is seeing more people not wearing masks, or wearing them improperly, and said the state could dramatically reduce the risk of COVID-19 if the public regularly wore masks and wore them properly.
Hospitalizations of COVID-19 patients in Alabama on Monday crossed the 1,000 mark for the first time since Aug. 31 — a sign that Alabama may be headed for another peak in hospitalizations as the state prepares for winter and flu season.