Governor Bentley Announces Court-Approved Timeline for Special Election in 1st Congressional District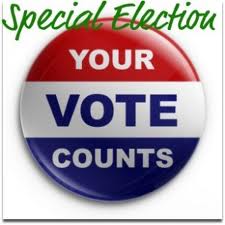 From the Office of Governor Robert Bentley
MONTGOMERY – Governor Robert Bentley on Friday announced a court-approved timeline for the expected special election in Alabama's 1st Congressional District.
Governor Bentley sought a court order in an effort to hold the special election on an expedited schedule.  The Governor's goal is to have Congressional representation for the people of District 1 as quickly as possible while protecting the rights of military and overseas voters.
U.S. District Judge Myron Thompson of the Middle District of Alabama entered a court order late Friday afternoon approving the expedited timeline sought by Governor Bentley.
Governor Bentley earlier announced the dates of qualification for the special election as August 3 through August 5.  Further, Judge Thompson's order now permits Alabama to hold the expected special election on a timeline that allows a new member of Congress to be seated before Congress convenes in January of 2014.
Based on the timeline approved by Judge Thompson, and contained in his order:
The qualification period remains August 3 through August 5.
The special primary election will take place Tuesday, September 24, 2013.
The special primary runoff, if needed, will be held on Tuesday, November 5, 2013.
If a special primary runoff is not required, the special general election will be held on Tuesday, November 5, 2013.
If a special primary runoff is required, the special general election will be held on Tuesday, December 17, 2013.
Further, all third-party candidates, independent candidates, and/or minor party candidates seeking to qualify as candidates in the election must file the appropriate paperwork with the Secretary of State no later than September 24, 2013 at 5:00 p.m.
"This timeline will allow the voters of District 1 to choose their next representative as soon as possible," Governor Bentley said.  "My goal is to have representation for this district when Congress convenes next year.  This timeline also protects the rights of military and overseas voters to cast absentee ballots for the candidate of their choice."
The election timeline is based on the anticipated vacancy of the seat by Congressman Jo Bonner, who recently announced he will resign at 11:59 p.m. on August 2nd to accept a new position with the University of Alabama.  Governor Bentley plans to issue the official proclamation calling the special election as soon as the formal vacancy of the District 1 seat is created.
Print this piece
Alabama Republicans will hold summer meeting August 1
Tuesday, the Alabama Republican Party announced that the state executive committee will meet on Saturday, August 1.
The Alabama Republican Party Summer Meeting is scheduled to be at the Trussville Civic Center, 5381 Trussville Clay Road, Trussville, AL 35173).
"We will be meeting in person and will be following all social distancing guidelines as applicable at the meeting time," wrote Alabama Republican Party Chairman Terry Lathan. "As the guidelines change, the ALGOP will plan accordingly for a safe, in person business meeting. The civic center can accommodate the social distancing guidelines with some alternations. However, as of today, special event buildings are closed. We will look for a backup place in case we need one. For now, our meeting is booked at the Trussville Civic Center."
"Because of the guidelines that require distancing and not knowing what the future brings, the luncheon fundraiser we had scheduled prior to our meeting will be postponed," Lathan explained. "Seating for 8-10 people at a table is not conducive for now- hopefully this will change sooner than later. It takes us months to prepare for 500 at our dinners, luncheons and meetings. The virus situation has hijacked many of our choices. Stay tuned for information about an exciting event later in the fall."
Lathan said that, "The guidelines are fluid and our plan will need to adjust accordingly." "Please be assured that our team will be focused on having a safe and efficient Summer Meeting on August 1."
"I encourage you and your county parties to use your time this summer working on your political plans," Chairman Lathan told the members of the Executive Committee. "We have asked the chairs to turn in your tentative plans to us by July 1 so we all can prepare early to win back the US Senate race and re-elect President Trump. It's Great to be a Republican."
Re-electing Donald J. Trump (R) and defeating Democratic incumbent Senator Doug Jones are the focus of the Alabama Republican Party. Tommy Tuberville and Jeff Sessions are in the July 14 Republican Primary runoff seeking that nomination.
The Alabama Republican Party holds six of the state's seven congressional seats. They are not challenging incumbent Terri Sewell (D-Selma). Republican incumbents Mo Brooks of Huntsville and Gary Palmer of Hoover do not have Democratic challengers. Republicans are hoping to re-elect incumbent Congressmen Robert Aderholt (R-Haleyville) and Mike Rogers (R-Saks) who face Democratic challengers. Congressional Districts One and Two are both vacant. In CD1 Bill Hightower faces Jerry Carl in the Republican Party primary runoff. In CD2 Barry Moore and Jeff Coleman are seeking the GOP nomination. Both eventual nominees will face Democratic opponents in the fall.
The Alabama Republican Party holds every statewide office. The highest profile state office on the November ballot is Public Service Commission President where the Alabama Republican Party hopes to re-elect incumbent Twinkle Andress Cavanaugh.
Print this piece