Sessions Comments on "Water Wars" Hearing
By Brandon Moseley
Alabama Political Reporter
Atlanta is a very big city and is an even bigger metro area and it uses vast quantities of water. Many communities in Alabama live down river from the Atlanta MSA. Some in Alabama have argued that particularly in times of low rainfall (unlike now) Atlanta takes too much water and leaves too little for the Alabama and Florida communities that relay on the rivers.
The U.S. Army Corps of Engineers has jurisdiction over all navigable bodies of water in the country, including those that Atlanta is drawing its drinking water out of. The U.S. Senate is looking at both sides in this ongoing debate over water usage and river flow. U.S. Sen. Jeff Sessions (R) from Alabama released a written statement after last week's hearing concerning the Apalachicola-Chattahoochee-Flint (ACF) and the Alabama-Coosa-Tallapoosa (ACT) River Systems.
Sen. Shelby said in his written statement, "This was an important opportunity for the Senate to hear directly from the Army Corps of Engineers and representatives of all three states about the status of water management in the ACF and ACT basins. This challenging issue has been facing Alabama, Georgia, and Florida for decades. And as the Atlanta metro region continues to consume increasing amounts of water from these shared and limited water resources, it is imperative that all stakeholders have a full understanding of the actions the Corps has taken, or plans to take in the years ahead. I was pleased to be able to ask senior Corps officials detailed questions to understand their plans and to press them to follow the law—including the Water Supply Act of 1958—as important decisions are being made that will have impacts in all three states."
Sen. Sessions continued, "During today's hearing, senior Corps officials conceded that Atlanta area interests had violated their water supply contract limits, but the Corps officials agreed to abide by the existing storage contracts at Lake Allatoona as they write the new manuals. This is an important commitment, but we will need to monitor the issue closely to ensure that proper steps are taken. Governor Bentley and the entire Alabama House delegation have written Congressional Leadership about these matters, as have Governor Rick Scott of Florida and the Florida delegation. As importantly, Senate EPW Committee Chairman Barbara Boxer and Ranking Member David Vitter have also correctly advised the Corps to 'not take actions that favor the position of any of the three States' but, rather, to serve as a 'neutral facilitator of a negotiated solution.' I am hopeful that today's hearing helped emphasize the importance of these efforts."
On Monday, July 22, 2013, the Senate Committee on Environment and Public Works held a hearing entitled, "Oversight of Army Corps of Engineers Water Management in the Apalachicola-Chattahoochee-Flint (ACF) and the Alabama-Coosa-Tallapoosa (ACT) River Systems."
Alabama Governor Robert Bentley (R) sent a letter to the committee. In the letter, Gov. Bentley said that the Corps of Engineers was wrong in allowing so much water to be diverted from the two federally managed reservoirs (Lake Lanier and Lake Allatoona) and that Alabama communities have been negatively affected by the resulting low flow of water downstream.
Sen. Jeff Sessions is a senior member of the Senate Environment and Public Works Committee.
Trump Truck and boat parades this weekend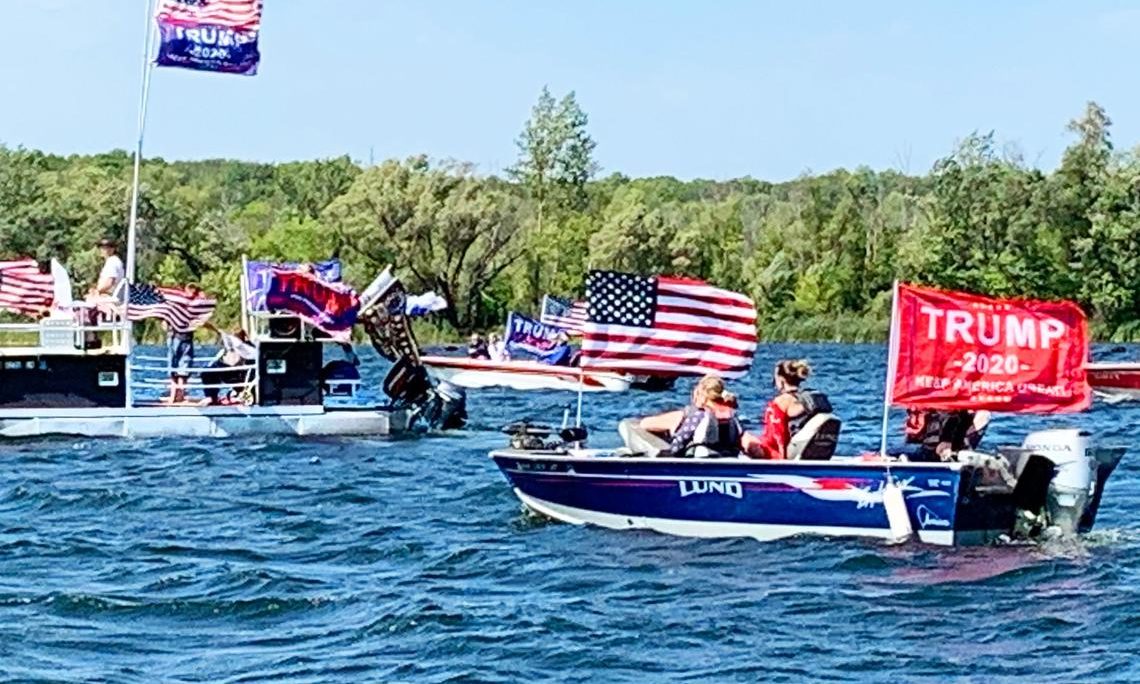 As Election Day draws near, Alabama Republicans are excited about promoting the re-election of Donald J. Trump as President and the election of Tommy Tuberville for U.S. Senate. This weekend two pro-President Trump events are happening in the state. There will be a truck parade from Ashland to Phenix City on Saturday sponsored by the Clay County Republican Party, while there will also be a boat parade on Wilson Lake in the Shoals sponsored by the Colbert County Republican Party on Sunday.
The pickup trucks will assemble at the Ashland Industrial Park in Clay County, 8240 Hwy 9, Ashland. There is a pre-departure rally at 10:00 a.m. central standard time. The trucks will depart at 11:00 a.m. and then proceed on a parade route that will take them into the bitterly contested swing state of Georgia. The Trump Pickup Parade will wind through east Alabama and West Georgia traveling through LaGrange and Columbus before concluding near the Alabama/Georgia line in Phenix City, 332 Woodland Drive, Phenix City at approximately 2:00 p.m. central time. Speakers will begin at 3:00. Trump flags will be on sale at the event.
The Phenix Motorsports Park will be hosting what sponsor hope could possibly the world's largest Pickup Tuck parade in U.S. history that is routing over 50 mile through Georgia in effort to "pickup" President Trump's numbers in GA.
A number dignitaries have been invited to address the Phenix City rally, including Coach Tuberville. Former State Sen. Shadrack McGill, Trump Victory Finance Committee member former State Rep. Perry O. Hooper Jr., and Paul Wellborn, the President and CEO of the largest Family owned Kitchen Cabinet manufacture in the USA are among the featured speakers who have committed to speak at the event.
Entertainment will be provided by: Charity Bowden, an up and coming country music singer who was the runner up on "The Voice". Charity will sing 'I am Proud to be an American' as well as songs from her Voice performances. The McGill Girls will also perform. The three beautiful and talented sisters will be singing patriotic songs in three part harmony. Geoff Carlisle, a professional DJ will be keeping the crowd pumped with music and entertainment.
Following the speakers and the entertainment there will Trump truck-vs- Joe Bidden truck races down the drag strip for the finale.
The Northwest Alabama boat parade will be on Sunday. The boats will gather at 2:00 p.m. near Turtle Point and then the flotilla will parade around the open waters of Wilson Lake til 3_00 p.m.. There will be a contest for best decorated Trump boats.
Trump supporters have held a number of large boat parades across the state to show their support for the re-election of Pres. Trump.
Boat parade sponsors say that this parade will be: pro-American, pro-law enforcement, pro-military.