Alabama Leaders' Fiscal Philosophy Pays Off for Citizens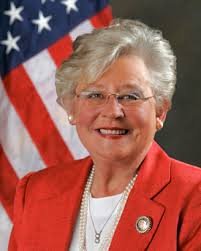 By Lieutenant Governor Kay Ivey
When Alabama voters elected a new kind of leadership in 2010, a new approach to how we fund state government was ushered in. Significant strides were made to reduce the overall size and cost of state government even in the face of challenging economic times. Governor Robert Bentley put Alabama on track to save $1 billion, and we are well on our way. Legislative leadership reined in wasteful spending and created efficiencies in the way state government functions. And I reduced my office's budget by 30 percent and have continued to operate more efficiently.
Alabama's economy has improved in the last three years – more than 40,000 jobs created and huge economic development wins for the state like Airbus in Mobile. A forecast by the University of Alabama indicates our economy is expected to grow by more than 2 percent this year and accelerate with 3.2 percent growth in 2014. Meanwhile, the national growth rate is forecast at 1.6 percent. More Alabamians are getting back to work bringing unemployment to 6.5 percent, but as consumers hesitantly begin to spend their paychecks, the cost of living is going up. The current economic situation is like a tug-of-war.
The Federal government has opted to tax and spend to fix its economic situation; tax citizens to raise revenue, yet still spend well beyond its means sending our government into a spiral of unmet and increasing debts. That's not how we do business in Alabama. Unlike the out-of-control spending we see from Washington politicians, our fiscally-responsible budgets provide level funding for most state agencies, without increased taxes for our citizens and avoiding proration in our education budget.
In Alabama, we have fiscally conservative leaders at the helm of our budgets. As President of the Alabama Senate, I have the opportunity to work closely with Senator Arthur Orr, Chair of the General Fund Budget, and Senator Trip Pittman, Education Trust Fund Chair. In the House, Representative Jay Love chaired the Education Budget and Representative Steve Clouse took the lead on the General Fund Budget. They do a remarkable job under pressure. The Legislature meets for three months of the year, but these Legislators work year-round to calculate the state's expenditures. Writing the budgets is the primary Constitutional duty of the Legislature and the most challenging.
In the General Fund, 60 percent is already allocated for the state's two largest expenditures – corrections and Medicaid. The remaining 40 percent funds every remaining function of government from courts to the forestry commission; senior services to public safety. Despite financial constraints, a 2 percent pay raise was included for Alabama teachers and support personnel in the Education Trust Fund for FY14. And thanks to conservative budgeting and the Rolling Reserve Act passed in 2011, proration of the Education Trust Fund was once again avoided.
Government does not get smaller on its own; we have to be intentional about it. You can expect this kind of leadership, which the people of Alabama asked for, to continue. No stone will be left unturned as we continue to identify ways to cut spending and operate more efficiently and effectively for the people of our state.
Alabama reports 1,750 new COVID-19 cases ahead of July 4th
The seven-day average of cases per day surpassed 1,000 for the first time Friday.
Heading into the Fourth of July holiday weekend, Alabama is reporting more cases of COVID-19 than ever before as hospitalizations continue a worrisome surge and the state's death toll rises.
Since the first coronavirus case was identified in Alabama on March 30, 41,362 Alabamians have tested positive for COVID-19, according to the Alabama Department of Public Health.
The state reported at least 1,758 positive cases on Friday alone, the most since the pandemic began. In the past seven days, 7,645 cases have been reported, the most of any seven-day period since the pandemic began.
The seven-day rolling average of new cases — used to smooth out daily variability and inconsistencies in case reporting — surpassed 1,000 for the first time Friday.
Ahead of the holiday, the Alabama Department of Public Health is urging Alabamians to celebrate at home due to the coronavirus crisis.
On Friday, the Alabama Department of Public Health announced that another 22 Alabamians have died from COVID-19 just in the last 24 hours. That takes the state's COVID-19 death toll to 983. Of those, 96 died in the last week alone (June 27-July 3).
A few simple steps can greatly reduce your chances of being exposed and exposing others to COVID-19. Everyone should practice good hygiene, cover coughs and sneezes, avoid touching your face and wash hands often. Avoid close contact with people who are sick, even inside your home, and maintain a distance of at least 6 feet from others not in your household.
The use of cloth face coverings or masks when in public can greatly reduce the risk of transmission, particularly if the infected individual wears a mask. Many people are contagious before they begin to show symptoms — or may never develop symptoms but are still able to infect others.
Alabama reported an additional 22 deaths Friday, bringing the state's COVID-19 death toll to 983, according to the Alabama Department of Public Health.
Of those, 96 died in the past seven days alone, or roughly 10 percent of the state's total death toll. In the past 14 days, 171 people have died, or roughly 17 percent of the state's death toll.
Even as the number of tests also increases — at least 430,000 have been tested — a larger percentage of tests are coming back positive compared to any other time period, according to the Department of Public Health and APR's tracking.
Roughly 15 percent of tests in the past week have been positive.
The large increases come as Alabama Gov. Kay Ivey on Tuesday extended the current "safer-at-home" public health order, which was set to expire Friday, to July 31.
The number of individuals hospitalized with COVID-19 is also at a new high, with at least 843 people hospitalized with the virus on July 2, the most since the pandemic began.
On Monday, in Jefferson County, where cases are increasing rapidly, residents were ordered to wear masks or cloth face coverings in an attempt to slow the spread of the virus. On Tuesday, the city of Mobile also began mandating masks or face coverings. The cities of Tuscaloosa, Montgomery and Selma have also implemented face covering orders.
Of the 7,645 cases confirmed in the last week, 1,321 — or roughly 17 percent — were reported in Jefferson County alone. Nearly 28 percent of Jefferson County's 4,802 total cases have been reported in the last seven days. Since March, 152 people have died in Jefferson County.
A campaign rally for President Donald Trump that was planned for Mobile on July 11 has been canceled because of the rapidly worsening coronavirus situation there. Mobile County has had 633 newly diagnosed cases in the last week, or roughly 8 percent of the state's cases this week. Mobile County has had a total of 3,904 cases and 134 deaths over the course of the pandemic.
Montgomery County reported 426 newly diagnosed cases in the last week. Overall Montgomery has had 3,947 total cases and 104 deaths thus far.
Tuscaloosa County has 393 new cases this week. The surging number of cases in Tuscaloosa and Lee Counties — where 276 tested positive this week — could potentially put the 2020 college football season in jeopardy. Tuscaloosa has had a total of 2,188 cases and 42 deaths, while Lee County has a total of 1,302 cases and 37 deaths.
Despite making it through several months with relatively moderate increases, Madison County is also experiencing a surge of new cases in recent weeks — with 407 cases in the last week alone. Madison has had 1,271 cases and seven deaths.
Many people are flocking to the beach for the Fourth of July holiday, where the coronavirus is also surging in Baldwin County with 328 new cases in the last seven days. Baldwin had been largely spared to this point with 828 cases in total and nine deaths. This week's increase accounts for 40 percent of the county's total case count.
Alabama is not alone in seeing surging case numbers. Forty of the 50 states reported rising coronavirus cases in the last week. On Thursday, 57,236 new cases were diagnosed and 687 Americans died. The U.S. death toll from the global pandemic has risen to 131,823.
Globally, there have been 11,092,229 cases diagnosed, though the real number is likely much higher. At least 526,450 people have died from COVID-19, and, with 208,860 new cases diagnosed on Thursday alone, there is no sign that this global pandemic will be over any time soon.