BCA Launches Education Reform Group To Counter AEA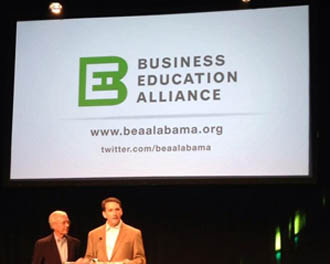 By Bill Britt
Alabama Political Reporter
MONTGOMERY—Last weekend, republican legislators, lobbyists and top business leaders gathered at the posh Grand Hotel in Point Clear to enjoy a "unique networking opportunity to discuss politics and policy with friends and colleagues in a beautiful, informal and relaxed setting," according to the Business Council of Alabama (BCA) website.
Along with promised golf outings and fine dining, the conference served up speeches by publisher and writer Michael Hyatt, political analysts Charlie Cook and Gov. Robert Bentley. But by all measures, the jewel of the weekend was the announcement of the formation of the Business and Education Alliance (BEA).
A "non-partisan advocate for education programs with proven track records and results both here and nationwide," according to the groups finance chairman Jay Love. Love recently resigned his State House seat to work on "education reform."
The new group will be headed by former state school superintendent Joe Morton.
The foundation is listed with the Secretary of State as a non-profit, charitable organization, whose mission is charity or education.
Several people at the event laughed at the notion that the BEA was non-partisan, being founded by BCA boss Billy Canary.
BEA was incorporated by Canary and Hardwick C. Walthall of the law firm Maynard Cooper & Gale on June 16, 2013. Canary said of the organization he incorporated, "We support the BEA's desire to be both pro-business and pro-education. In the end, we share a common goal: Excellence in education." However, Canary has been a constant opponent of public education in Alabama seeking to replace it with charter schools, distance learning and other forms of privatized education.
Most notably, he had worked along side House Speaker Mike Hubbard to destabilize the Alabama Education Association (AEA).
Of the many texts transmitted during the announcement of the newly formed BEA one read, "This is a direct attack on the AEA." But, the announcement was greeted by many republican lawmakers as a "great day for education" echoing the same rhetorical jubilance as when the Alabama Accountability Act was passed.
Even Gov. Bentley, who was widely supported with money from the teachers' organization, praised the founding of the group saying, "[BEA] is exactly what we need" in Alabama. Those close to the Governor said he was referring to the BEA's promise to work with his College and Career Task Force initiative.
However, many educators see this as just one more instance in which the Governor has joined forces with those who seek to wreck public education in the state.
The new Chairman of BEA, Joe Morton, in the past has been accused of being "openly hostile" to public educators. This is because of "his record of recommending that teachers lose their certificates for various types of misconduct," according to an AP report.
During his tenure as superintendent, Morton also funneled millions in education dollars to Learning Through Sports, Inc. The software company received $13 million from an "at risk" fund controlled by Morton.
Learning Through Sports Inc. was founded by Brian Shulman, a former Auburn football player, and Auburn Network Inc., a multimedia company owned by Mike Hubbard.
Those donors funding the alliance are hidden from public scrutiny under the veil of the organization's non-profit status. Love's years as chairman of the House Ways and Means Education Committee should leave him with many friends to call on in his new position.
Trump Truck and boat parades this weekend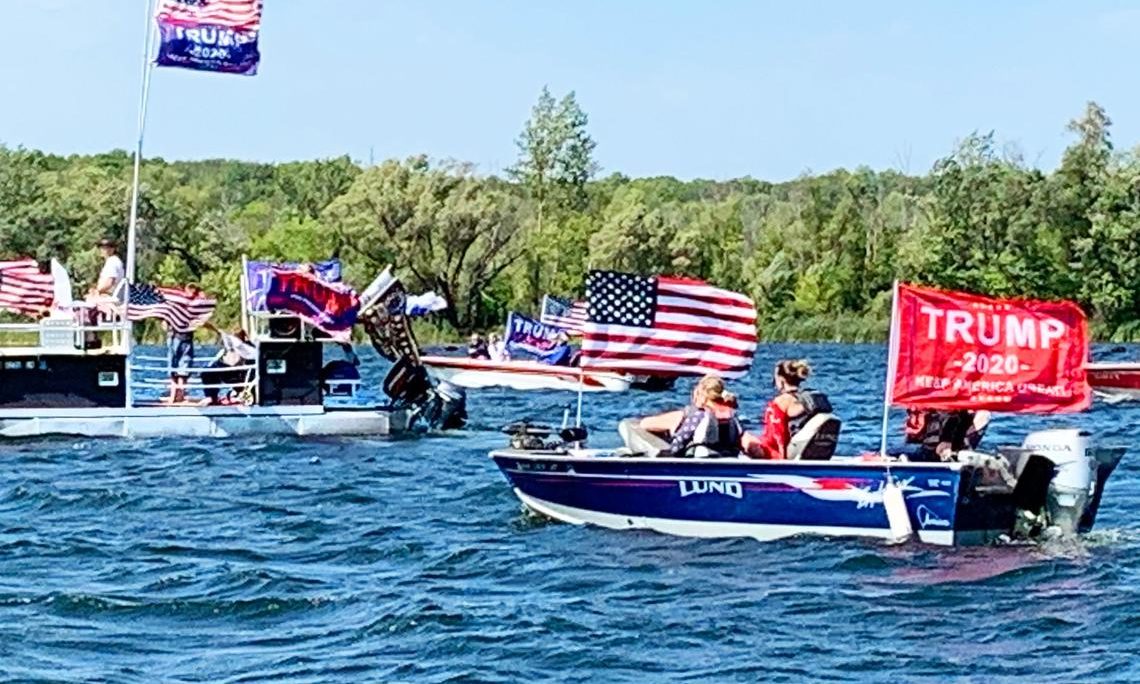 As Election Day draws near, Alabama Republicans are excited about promoting the re-election of Donald J. Trump as President and the election of Tommy Tuberville for U.S. Senate. This weekend two pro-President Trump events are happening in the state. There will be a truck parade from Ashland to Phenix City on Saturday sponsored by the Clay County Republican Party, while there will also be a boat parade on Wilson Lake in the Shoals sponsored by the Colbert County Republican Party on Sunday.
The pickup trucks will assemble at the Ashland Industrial Park in Clay County, 8240 Hwy 9, Ashland. There is a pre-departure rally at 10:00 a.m. central standard time. The trucks will depart at 11:00 a.m. and then proceed on a parade route that will take them into the bitterly contested swing state of Georgia. The Trump Pickup Parade will wind through east Alabama and West Georgia traveling through LaGrange and Columbus before concluding near the Alabama/Georgia line in Phenix City, 332 Woodland Drive, Phenix City at approximately 2:00 p.m. central time. Speakers will begin at 3:00. Trump flags will be on sale at the event.
The Phenix Motorsports Park will be hosting what sponsor hope could possibly the world's largest Pickup Tuck parade in U.S. history that is routing over 50 mile through Georgia in effort to "pickup" President Trump's numbers in GA.
A number dignitaries have been invited to address the Phenix City rally, including Coach Tuberville. Former State Sen. Shadrack McGill, Trump Victory Finance Committee member former State Rep. Perry O. Hooper Jr., and Paul Wellborn, the President and CEO of the largest Family owned Kitchen Cabinet manufacture in the USA are among the featured speakers who have committed to speak at the event.
Entertainment will be provided by: Charity Bowden, an up and coming country music singer who was the runner up on "The Voice". Charity will sing 'I am Proud to be an American' as well as songs from her Voice performances. The McGill Girls will also perform. The three beautiful and talented sisters will be singing patriotic songs in three part harmony. Geoff Carlisle, a professional DJ will be keeping the crowd pumped with music and entertainment.
Following the speakers and the entertainment there will Trump truck-vs- Joe Bidden truck races down the drag strip for the finale.
The Northwest Alabama boat parade will be on Sunday. The boats will gather at 2:00 p.m. near Turtle Point and then the flotilla will parade around the open waters of Wilson Lake til 3_00 p.m.. There will be a contest for best decorated Trump boats.
Trump supporters have held a number of large boat parades across the state to show their support for the re-election of Pres. Trump.
Boat parade sponsors say that this parade will be: pro-American, pro-law enforcement, pro-military.