Bentley Says that Education Should be About Getting a Job
By Brandon Moseley
Alabama Political Reporter
Alabama's unemployment has been dropping, but the numbers of the unemployed and underemployed remain stubbornly high in an economy that officially came out of recession four years ago.
Yet when Alabama Governor Robert Bentley came to Pell City on Thursday to meet with business leaders, Charles Browning (owner of Interstate Specialized Logistics) told the Governor that the business has had tremendous difficulty finding qualified labor.
Governor Bentley said that that is a growing problem across the state. The Governor said, "Most of these kids are not going to get a four year liberal arts degree and if they do they are not going to get a job."
Bentley said that drugs are another problem. Golden Dragon Wire has located a wire plant in Wilcox County (one of the poorest places in Alabama). The plant has hired 150 people and is headed to 300 jobs when it is up and fully running. The Governor said that he asked the managers if they were hiring any local people. They said that they only received 85 applications from people in the local area. Of those, only 25 passed the drug testing and then half did not appear for he second interview. The Governor said that the most important thing for youth is to stay off drugs. "If you get into that drug culture you don't have a life. You end up in the prison system or shot."
Gov. Bentley told 'The Alabama Political Reporter' that the job that is most in demand in the state by employers is truck driver and that is followed by nurses.
Amy Browning Strickland, with Interstate Specialized Logistics, told the Governor that they made a point of taking trucks to the local schools and making presentations to the school children about trucking. Bentley said that he loved what they are doing and said that more businesses need to do things like that to get kids thinking about jobs and careers at an early age.
Interstate Specialized Logistics is a specialized heavy haul brokerage that makes customized trailers to haul unusually heavy specialized loads.
Gov. Bentley said that the state has lots of high paying jobs that are unfilled because students are finishing school without the skills necessary to do them.
Bentley told the St. Clair Economic Development Board meeting at Jefferson State Community College's St. Clair County Campus that the purpose of education should be about developing skills necessary for jobs. Anything else is just entertainment.
Bentley said that he set up the College and Career Ready Task Force to get education leaders talking with business and industry leaders about how to get more students on a career path toward skilled traders where they can finish school and move on to a trade. Governor Bentley said that if we don't train students they are going to drop out of high school. Bentley said that we need to get students interested in something that they can get a $50,000, $60,000, $70,000 a year job doing. Bentley said that industry needs to come up with some money to help make this happen.
The Governor said that he wants to change how training takes place in high school. The Governor said that not everybody needs Algebra II, but they do need to know consumer math. They do need to know how to read a ruler.
Bentley said that the four year colleges have come on board and they have developed degrees that will be more marketable for graduates. "Alabama and Auburn and all the big universities are at the table with us," the Governor said.
The Governor told St. Clair County leaders that the counties needed to do more to help him sell their counties to employers. The Governor congratulated St. Clair County Commission President Stan Bateman (R) and the St. Clair County Economic Development Board for their work; but said that other counties are not doing as much work. The Governor singled out neighboring Blount County as an example. They don't even have a county economic development board to help Governor Bentley sell Blount County.
The conservative Republican Governor visited the Pell City Steak House, Interstate Trucking Services, and met with the St. Clair County Economic Development Council at Jefferson State Community College's St. Clair County Campus. Governor Bentley finished the St. Clair County trip that evening at a campaign kickoff event at Sammy's Touch and Go at the Pell City Airport hosted by the St. Clair County Republican Party.
Trump Truck and boat parades this weekend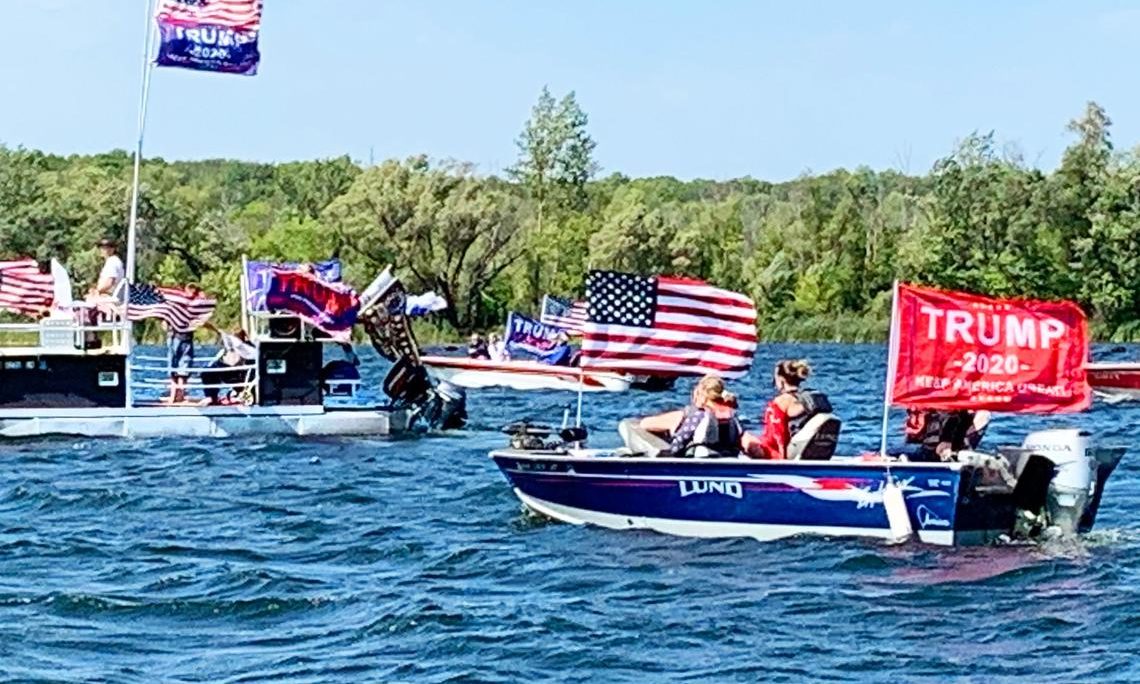 As Election Day draws near, Alabama Republicans are excited about promoting the re-election of Donald J. Trump as President and the election of Tommy Tuberville for U.S. Senate. This weekend two pro-President Trump events are happening in the state. There will be a truck parade from Ashland to Phenix City on Saturday sponsored by the Clay County Republican Party, while there will also be a boat parade on Wilson Lake in the Shoals sponsored by the Colbert County Republican Party on Sunday.
The pickup trucks will assemble at the Ashland Industrial Park in Clay County, 8240 Hwy 9, Ashland. There is a pre-departure rally at 10:00 a.m. central standard time. The trucks will depart at 11:00 a.m. and then proceed on a parade route that will take them into the bitterly contested swing state of Georgia. The Trump Pickup Parade will wind through east Alabama and West Georgia traveling through LaGrange and Columbus before concluding near the Alabama/Georgia line in Phenix City, 332 Woodland Drive, Phenix City at approximately 2:00 p.m. central time. Speakers will begin at 3:00. Trump flags will be on sale at the event.
The Phenix Motorsports Park will be hosting what sponsor hope could possibly the world's largest Pickup Tuck parade in U.S. history that is routing over 50 mile through Georgia in effort to "pickup" President Trump's numbers in GA.
A number dignitaries have been invited to address the Phenix City rally, including Coach Tuberville. Former State Sen. Shadrack McGill, Trump Victory Finance Committee member former State Rep. Perry O. Hooper Jr., and Paul Wellborn, the President and CEO of the largest Family owned Kitchen Cabinet manufacture in the USA are among the featured speakers who have committed to speak at the event.
Entertainment will be provided by: Charity Bowden, an up and coming country music singer who was the runner up on "The Voice". Charity will sing 'I am Proud to be an American' as well as songs from her Voice performances. The McGill Girls will also perform. The three beautiful and talented sisters will be singing patriotic songs in three part harmony. Geoff Carlisle, a professional DJ will be keeping the crowd pumped with music and entertainment.
Following the speakers and the entertainment there will Trump truck-vs- Joe Bidden truck races down the drag strip for the finale.
The Northwest Alabama boat parade will be on Sunday. The boats will gather at 2:00 p.m. near Turtle Point and then the flotilla will parade around the open waters of Wilson Lake til 3_00 p.m.. There will be a contest for best decorated Trump boats.
Trump supporters have held a number of large boat parades across the state to show their support for the re-election of Pres. Trump.
Boat parade sponsors say that this parade will be: pro-American, pro-law enforcement, pro-military.