Sanford Addresses Forest Owners About Controversial New Hunting Regulations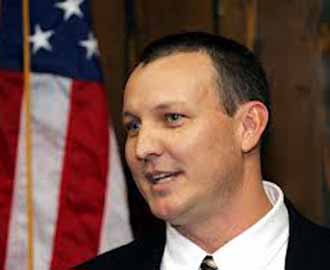 By Brandon Moseley
Alabama Political Reporter
Deer Hunting season begins soon and hunters all over the state are cleaning their rifles, practicing with their bows, checking tree stands, buying new camoflauge clothing and planting food plots.
This year they will also need to remember to bring their smart phones or lap tops and their internet access with to the woods whenever they go hunting because the state of Alabama is now demanding that all hunters report to the state whenever they kill a deer or a turkey and they are requiring that hunters report that information within 24 hours of the kill.
Many hunters think these reporting requirements go too far and Alabama State Senator Paul Sanford (R) from Huntsville agrees. On Thursday, Senator Sanford addressed members of the Alabama Forest Owner's Association gathered at meetings across the state via teleconference about the situation.
Sen. Sanford said that the reporting requirements were too great a burden, especially for people in rural areas and those who are on primitive hunts. Sen. Sanford said that his family has had a game management plan for their land and wildlife; but expressed concern that the 24 hour reporting rule was simply too burdensome. Sanford said that he had asked the Alabama Department of Conservation and Natural Resources to overturn the rule, but they were implementing it anyway. Sen. Sanford said that he was asking the Alabama Legislative Council of which he is a member to amend the regulation.
Many in the hunting community believe that the board has moved in a wrong direction in recent years. Previously, hunters were allowed to take one buck a day during hunting season. Many landowners used this to thin undesirable bucks from the herd. Then the state limited hunters to just 3 bucks per season, upsetting some hunters and leading some to spend more of theirr hunting time and dollars out of state. The state added paper reporting requirements. Anyone caught with a deer without a harvest record in his possession recording the kill was subject to fines.
Now they have added the 24 hour reporting requirements. The reporting burden which also applies to turkeys now also applies now to private landowners, like the Alabama forestowners.
According to the Division of Wildlife and Fisheries website,
"WFF will initiate the Game Check program for the 2013–14 hunting season. Game Check will require all deer and turkey hunters, both licensed and exempt, to report all deer (i.e., bucks and does) and turkeys harvested in Alabama. All deer and turkey hunters will still be required to have a Harvest Record in their possession while hunting and be required to fill it out prior to moving the deer or turkey. Following completion of the harvest record, hunters will then be required to report all deer and turkeys harvested within 24 hours of killing the deer or turkey. Harvests can be reported via the Outdoor Alabama app for iPhone and Droid smartphones, ADCNR's website (www.outdooralabama.com/gamecheck), or by phone (1-800-888-7690)."
According to the WFF,
"When a hunter reports their deer kill to Game Check, they will provide their hunting license number, the county where the deer was killed, the sex of the deer, and whether the deer was killed on public or private property. Information from harvested turkeys reported through the Game Check process includes hunting license number, county, public or private land, and adult or jake. The hunter will be issued a verification number at the time they report their harvest. The verification number must then be recorded on the harvest record and must stay in the hunter's possession."
Failure to comply with the order could result in a fine, reportedly of about $50.
Critics of the controversial new state regulations are asking the legislature to overturn the 24 hour rule and privacy advocates question why the State of Alabama needs to know why the state would need to know which hunter killed each deer and turkey where in the first place.
Critics also say that the state is putting up artificial barriers to keep people from hunting by making the whole process more and more difficult for the average Alabamian who simply wants to spend a few afternoons in the woods with his or her rifle.
The state argues however that they need this information in order to properly manage the herd.
Print this piece
Five patients with COVID-19 have died at EAMC hospital in Opelika
UPDATE: East Alabama Medical Center said Sunday that its death toll has increased to six.
Death toll at East Alabama Medical Center increases to 6
The number of patients who have died from COVID-19 at East Alabama Medical Center in Opelika since Friday has increased to six, the hospital said in a statement Sunday.
---
Five patients who were being treated for COVID-19 at East Alabama Medical Center in Opelika, Alabama, have died since Friday, the hospital said in a statement Saturday.
"Our hospital family expresses its collective condolences to the families of these five patients," said Laura Grill, EAMC President and CEO.  "As everyone knows, this virus has taken a toll on our nation and world, and our community is not exempt from that. Our hearts and prayers are with these families at this very difficult time."
Three of the patients were from Chambers County and two were from Lee County. The Alabama Department of Public Health is still investigating the deaths and has not updated their website to reflect them.
Hospital officials and ADPH are working through the process for official state determination before adding them to the COVID-19 death count.
"The ICU staff, respiratory therapists and physicians who worked most closely with these patients are especially struggling and we ask that the community lift them up today just as they have been lifting up our whole organization the past two weeks," Grill said.
EAMC is currently treating 19 patients hospitalized with a confirmed COVID-19 diagnosis. Five patients who were previously hospitalized with COVID-19 have been discharged. There are 22 patients who are currently hospitalized at EAMC with suspected COVID-19.
The number of hospitalized patients has more than doubled from seven on Tuesday. It anticipates more.
The county had at least 56 confirmed cases of COVID-19 by Saturday afternoon, more per capita than Jefferson County, Shelby County and Madison County. That number has also continued to grow. To the north, Chambers County, which falls under EAMC's service area, has the most cases per capita in the state, meaning there are more confirmed cases per person than any other county. That county's total stands at 17.
Many of the patients who have tested positive, according to EAMC, had a common "last public setting" in church services.
"While there are no absolute patterns among the confirmed cases in Lee County, one nugget of information does stand out a little—the last public setting for a sizable number of them was at church," East Alabama Medical Center said in a statement Friday night.  "Not at one church, or churches in one town, but at church in general."
The hospital has urged churches to move online and cancel in-person services. Some churches have continued to meet, as recently as last Sunday, despite "social distancing" directives from the Alabama Department of Public Health that prohibited non-work gatherings of 25 or more people.
EAMC is urging the public to act as if they are under a "shelter-in-place" at home order, as the state has so far refused to issue such a directive.
"EAMC is asking everyone to shelter in place at home," the hospital said in a statement Friday night. "Sheltering in place means you stay at home with immediate family members only and should not leave your home except for essential activities such as food, medical care, or work. You should not host gatherings of people outside of your immediate family. You should also maintain a 6-foot distance from other people as much as possible, wash your hands frequently for at least 20 seconds each time, and frequently disinfect high-touch surfaces."
It's also asking businesses that have access to personal protective equipment like gowns, masks, latex gloves and hand sanitizer to bring those items to a collection site outside of EAMC's main lobby. The site is open from 9 a.m. to 4 p.m. on weekdays.
This story is developing and will be updated.
Print this piece