Sanford Addresses Forest Owners About Controversial New Hunting Regulations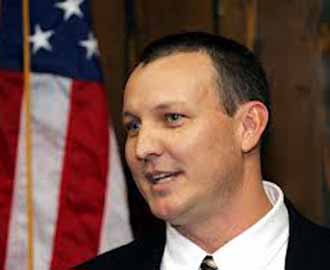 By Brandon Moseley
Alabama Political Reporter
Deer Hunting season begins soon and hunters all over the state are cleaning their rifles, practicing with their bows, checking tree stands, buying new camoflauge clothing and planting food plots.
This year they will also need to remember to bring their smart phones or lap tops and their internet access with to the woods whenever they go hunting because the state of Alabama is now demanding that all hunters report to the state whenever they kill a deer or a turkey and they are requiring that hunters report that information within 24 hours of the kill.
Many hunters think these reporting requirements go too far and Alabama State Senator Paul Sanford (R) from Huntsville agrees. On Thursday, Senator Sanford addressed members of the Alabama Forest Owner's Association gathered at meetings across the state via teleconference about the situation.
Sen. Sanford said that the reporting requirements were too great a burden, especially for people in rural areas and those who are on primitive hunts. Sen. Sanford said that his family has had a game management plan for their land and wildlife; but expressed concern that the 24 hour reporting rule was simply too burdensome. Sanford said that he had asked the Alabama Department of Conservation and Natural Resources to overturn the rule, but they were implementing it anyway. Sen. Sanford said that he was asking the Alabama Legislative Council of which he is a member to amend the regulation.
Many in the hunting community believe that the board has moved in a wrong direction in recent years. Previously, hunters were allowed to take one buck a day during hunting season. Many landowners used this to thin undesirable bucks from the herd. Then the state limited hunters to just 3 bucks per season, upsetting some hunters and leading some to spend more of theirr hunting time and dollars out of state. The state added paper reporting requirements. Anyone caught with a deer without a harvest record in his possession recording the kill was subject to fines.
Now they have added the 24 hour reporting requirements. The reporting burden which also applies to turkeys now also applies now to private landowners, like the Alabama forestowners.
According to the Division of Wildlife and Fisheries website,
"WFF will initiate the Game Check program for the 2013–14 hunting season. Game Check will require all deer and turkey hunters, both licensed and exempt, to report all deer (i.e., bucks and does) and turkeys harvested in Alabama. All deer and turkey hunters will still be required to have a Harvest Record in their possession while hunting and be required to fill it out prior to moving the deer or turkey. Following completion of the harvest record, hunters will then be required to report all deer and turkeys harvested within 24 hours of killing the deer or turkey. Harvests can be reported via the Outdoor Alabama app for iPhone and Droid smartphones, ADCNR's website (www.outdooralabama.com/gamecheck), or by phone (1-800-888-7690)."
According to the WFF,
"When a hunter reports their deer kill to Game Check, they will provide their hunting license number, the county where the deer was killed, the sex of the deer, and whether the deer was killed on public or private property. Information from harvested turkeys reported through the Game Check process includes hunting license number, county, public or private land, and adult or jake. The hunter will be issued a verification number at the time they report their harvest. The verification number must then be recorded on the harvest record and must stay in the hunter's possession."
Failure to comply with the order could result in a fine, reportedly of about $50.
Critics of the controversial new state regulations are asking the legislature to overturn the 24 hour rule and privacy advocates question why the State of Alabama needs to know why the state would need to know which hunter killed each deer and turkey where in the first place.
Critics also say that the state is putting up artificial barriers to keep people from hunting by making the whole process more and more difficult for the average Alabamian who simply wants to spend a few afternoons in the woods with his or her rifle.
The state argues however that they need this information in order to properly manage the herd.
Print this piece
Opinion | It's time for Alabama Democrats to learn from Alabama Republicans
Democrats never seem to learn from Republicans. 
All around the country, and all around the state of Alabama, Democrats are still playing by the rules. Still listening to the cries and outrage from the other side. Still entertaining the idea that compromise and diplomacy are important to Republicans on some level. 
Still watching Lucy jerk that football away at the last moment. 
It's time that stopped. 
It is time — actually, well past time — for Democrats to adopt the attitudes of their GOP colleagues, and just do whatever the hell you want to do. 
Whatever goal you set, go achieve it. Whatever policy is important, implement it. Whatever action you believe is right, take it. 
This is how Republicans have governed now for years. It is how they have wrestled control of the U.S. Supreme Court — just don't hold a hearing for a duly appointed candidate — and how they have stolen elections — keep blocking attempts to secure elections. It is how they control half of Congress — thanks, gerrymandering! — despite representing nearly 20 million fewer people and how they have managed to offset a growing minority vote — put up every roadblock short of a poll tax. 
In Alabama, it has how they adopted the AAA act to funnel tax money to private schools — just completely rewrite the bill in the dead of night — and how they passed the most restrictive abortion ban — just ignore promises and public opinion. It is how they have stopped attempts to pass gambling legislation — by straight up lying about the law — and how they have steadily cut into ethics laws — pretend that no one can understand the laws they wrote themselves — and how a House Speaker convicted on 12 felonies still isn't in prison three years later — just don't send him. 
They don't care. 
About rules. About the law. About public perception. About basic decency. 
And it's time for Democrats, especially in Alabama, to adopt the same attitudes. 
Because if Republicans can behave this way to implement racist bills and roll back ethics laws and protect the income of the elites, then Democrats shouldn't think twice about doing it to protect rural hospitals or new mothers' health or workers' rights or decent public schools. 
Now, this will be a big change for Democrats, so let me explain how this would look in practice, using the ongoing saga of Confederate monuments. 
Republicans shoved through an absurd bill last year that protects the state's monuments to those who fought to enslave other human beings, and they're shocked — shocked and outraged — that African Americans in Alabama might find it offensive to honor the men who enslaved their ancestors. 
The bill they passed last year was a dumb bill, right down to the portion which levied a fine on cities if those cities removed or damaged a monument. The bill completely screwed up the fines portion, failing to penalize cities for moving or damaging monuments over 40 years old and failing to place a per-day fine on those cities. Instead, the Alabama Supreme Court said the cities would be subject to one $25,000 fine. 
Birmingham has a monument that it desperately wants to move. It has already boarded up the monument in Linn Park, and the ALSC, in the same ruling, ordered the boards to come down. 
And this is the first opportunity for Mayor Randall Woodfin to approach this with a new attitude. 
Tear it down. 
Write out one of those big "Price is Right" checks for $25,000, hold a press conference and award that money to Steve Marshall like he just won at Plinko. 
At the same time, workers should be taking that monument apart piece by piece and moving it to the Birmingham Civil Rights Institute, where it can be viewed for its historical significance instead of serving to honor traitors and racists. 
No apologies. No shame. Don't even entertain their complaints. 
A similar approach should be taken by the city of Montgomery in regards to its occupational tax, which Republicans are attempting to stop through legislative action. 
Montgomery is going broke, and it can't put enough cops on the streets. Part of that is because every day about 70,000 people flood into the city to go to work, and then they leave each afternoon and spend their money in — and give their tax dollars to — surrounding cities and counties. 
Montgomery has to do something to offset the costs, so an occupational tax has been proposed. But just as quickly as it was, the ALGOP — the kings of handouts to people who don't need them — passed a bill to block it. 
So, some creativity is required.
Instead of an occupational tax, pass a public safety tax. 
If you work within the city limits of Montgomery, but live outside of those city limits, your paycheck will now be taxed an extra 1 percent to offset the cost of the police and fire services that you might use while in the city every day. 
No apologies. No shame. Don't listen to GOP complaints. 
It's a shame that things have to be like this, but they do. Democrats have tried for decades to force rational debate and to promote the value of compromise. Those pleas have fallen on deaf ears, which have been attached to toddler-like brains that have justified atrociously selfish behaviors and awful governance. 
At this point, it has gone on so long and been so successful for Republicans, the only thing that might break through is a taste of their own medicine. 
Give it to them.
Print this piece