Former County Commissioner Nodine Continues Public Legal Battle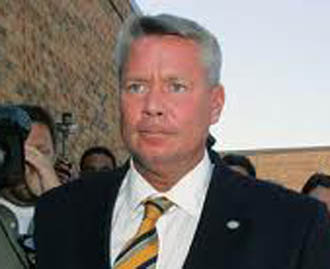 By Lee Hedgepeth
Alabama Political Reporter
BAY MINETTE, AL— Former Mobile County Commissioner Stephen Nodine is continuing his public effort to hold accountable public figures involved in what he contends is prosecutorial misconduct surrounding his indictment and trial—resulting  in a hung jury—for the murder of his mistress, Angel Downs on Mothers' Day 2010.
His latest action is a formal complaint filed with the Federal Bureau of Investigation and the Department of Justice Civil Rights Division against Former Baldwin County District Attorney Judy Newcomb, Special Prosecutor David Whetstone, Baldwin County Sheriff Huey "Hoss" Mack, and Alabama Attorney General Luther Strange.
Included in the complaint are letters from Hallie Dixon, the Baldwin County DA who won election shortly after Newcomb's failed prosecution attempt, to Alabama Attorney General Luther Strange, who was taking over the prosecution from Baldwin County at the request of the Downs family. In the letters, she lays out a list of exculpatory evidence pointing to Nodine not having pulled the trigger. While the letter admittedly did not include incriminating evidence against him, Dixon pointed out that she was confused about the Attorney General's intention to superintend the case, and about any future prosecution.
The list of evidence included investigative conclusions based on hair position, alleged scratches on Ms. Downs' skirt that were decided were not evidence of dragging, allegations of scratches on Mrs. Downs' back based on some photos, but debunked by others (the first "scratch" photos were later proved to have been "blurred and lightened" by law enforcement), and finally, the fact that the gun that killed Angel Downs was admittedly wiped clean by police before it was fingerprinted and blood tested for DNA.
In the letter, she also pointed out that the state's own medical and forensic examiners had classified the death as "consistent with suicide," and that they would testify for the defense in the case of a retrial.
This week, when Nodine sat down with APR, he elaborated on the significance of the wiped gun: "That's really the crux of the whole thing… It would have shown that Angel was holding that weapon and committed suicide just like every expert and every investigator thought, and they did everything to cover that up."
All of this, Nodine claims, as well as the fact that the case was superintended by the Attorney General when Hallie Dixon was questioning retrial altogether, leads to a fishy story. He contends that both the original prosecution and the superintending by the AG were politically motivated moves.
"The night of May 9th they knew what happened," Nodine said, explaining that the original prosecution for murder was misguided.
"Tragedy as it is, as many personal mistakes as I've made, I have a sense of responsibility as a human being. If you don't think I feel responsibility for Angel's death, you're crazy, you know? But to be held responsible for murder? For pulling the trigger? Not in a life time. So they knew all of this."
Also included in the evidence accompanying the complaint are reports written by police officers who were assigned to the Downs case. One officer claimed, and still does, that the decision to call the death of Angel Downs a murder was "politically motivated."
As for why other parties like AG Luther Strange were included in the complaint, Nodine said, as for Strange, "He had a responsibility to prove my innocence. He ran for public office saying that… he wasn't going to go in superintending these cases from local district attorneys. Not only did he do that, he did it in such an unprofessional, lackadaisical manner by not checking the facts out."
"People make excuses about how he may not have known about all this information. I say, then shame on him! He had a responsibility to know the facts. If you ran a campaign on not superintending cases from local DAs, and here is the most high profile case, and you're not going to look at the file? They didn't look at the file until November 3rd. They superintended the case in early October."
Former Commissioner Nodine also commented on the overall politicization of the criminal justice system, pointing to the plight of former Alabama Governor Don Siegelman, a Democrat currently in prison for bribery, having appointed a campaign donor to a nonpaying position.
"Governor Siegelman is in prison wrongfully. You hear me? I've known Don my whole political life. The guy was shackled. This is what justice system has become. It's become political, and this is the same thing that's happened in my case. It just became a political football."
As far as his motives for the Civil Rights complaint, Nodine was emphatic: "I've been on both sides of the fence now. I've been in federal prison, and I haven't. I know the young black man who doesn't have a shot at the justice system if he doesn't have money—if he doesn't have the influence. There are so many that have been wronged by this system. So if I don't act, if I don't fight, shame on me. Yeah I could've let this go a long time ago. But I'm not going to, because the system is broken."
Nodine agreed to a plea deal that prevented prosecution on any charges related to the death of Angel Downs, but he was sentenced to two years for use of marijuana while using a firearm, as well as perjury related to a legal form. He is currently working in the Baldwin County Work Release Program.  Newcomb, Whetstone, Strange, and Mack have publicly denied any wrongdoing.
Jones says Senate race a choice between "substance and leadership, and nothing"
"One of the great disappointments in this campaign is that Alabama is not really getting choices between substance and substance," Jones said.
Speaking outside the Calhoun County Democratic Party headquarters in Anniston on Friday, Sen. Doug Jones, D-Alabama, told a group of supporters that Alabamians haven't gotten a look at what his Republican opponent might do if he wins the Nov. 3 election. 
"One of the great disappointments in this campaign is that Alabama is not really getting choices between substance and substance," Jones said. "They're getting a choice between substance and leadership, and nothing — nothing. We have not heard anything from Tommy Tuberville about what he really wants to do." 
While Jones has held numerous interviews with the media, and regular web briefings over the summer and in recent weeks, Tuberville's campaign seems to prefer the safety of keeping Tuberville from making possible gaffs or damaging statements in interviews. 
Tuberville hasn't agreed to interviews with traditional media outlets, or to debate Jones, and instead has focused on conservative talk radio spots, speaking to smaller Republican groups and at private parties.
Tuberville's campaign has ignored or denied our numerous attempts to interview Tuberville, including another request on Friday. He also declined to attend a student forum held at Auburn University on Wednesday, which Jones attended. The forum was sponsored by the Auburn College Republicans and College Democrats.
"If you ever hear something Tommy Tuberville says, it is just simply this: 'Build a wall. No amnesty. Drain the swamp.' That ain't him. That's Donald Trump," Jones said. "He cannot think for himself. He doesn't think for himself." 
Jones spoke of his record of working to help veterans through legislation. And he referred to Tuberville's nonprofit for veterans and reporting that indicates, through tax records, that less than a third of the money raised for Tuberville's charity went to help veterans. 
"I don't just create charities and send only pennies on the dollar. I do things for the veterans of this state and this country," Jones said. 
Jones also made a case for Alabamians to remember the contributions past Democrats made in the state. Jones said it was Democratic Sen. John Sparkman who helped build Alabama's Redstone Arsenal. 
"It was a Democrat, Lester Hill, who built the rural hospitals around here that Donald Trump and Mitch McConnell and Tommy Tuberville are trying to destroy," Jones said. "It was Howell Heflin who built up agriculture in this state. Those are the Democrats. It was Franklin Rosevelt that put electricity in this state. We're going to do the same thing for broadband. People forget those things. They forget those things because we've let other people define us with lies."
Jones plans to visit Jefferson County on Saturday, then on to the Black Belt and Mobile on Sunday with another stop in Birmingham on Monday afternoon. 
"The goal is to get everybody out. That's the thing if we want to continue to ensure Alabama moves forward — moves forward and not backwards, to continue to have somebody, if I do say so myself, somebody that's just not going to damn embarrass us," Jones said.
"We've had too much of that in Alabama," Jones said, "and I bet you it won't be a year that Tommy Tuberville would be an embarrassment to this state because he doesn't know the issues. He doesn't know what to do, and he's dang sure not going to know what to do when Donald Trump is not president of the United States." 
Jones encouraged supporters to be skeptical of recent polling. One such recent poll, by Auburn University at Montgomery, puts Tuberville ahead of Jones by 12 percentage points, 54 to 42.1. An internal poll by Tuberville's campaign puts Tuberville ahead by 15 percentage points, while an internal poll from the Jones camp put Jones ahead by one percentage point. 
"Don't listen to these polling folks that come in, and they don't know Alabama, and they don't know what they're doing. We're tracking this race, and I can tell you, everything has been moving in our direction the last two months," Jones said. 
People standing along roadsides holding his signs and showing support, Jones said, is "the energy we've got out there. That's what you can't poll."
Ellen Bass of Anniston, standing outside the Calhoun County Democratic Party headquarters just after Jones spoke, told APR that she has numerous Republican friends who are voting for Jones.
"My hat's off to them because they're coming out," Bass said. "They recognize that he is a better candidate."
Ciara Smith, 21, newly elected to the Anniston City Council, told APR outside the headquarters building that Jones is the better candidate.
"I think that he's educated. I think that he speaks with passion and heart," Smith said. "And he knows what he's talking about, which is important, and which is more than we can say about the other candidate."
Speaking to APR after his speech to supporters, Jones said that he feels very good about the state of his campaign.
"Everything we're seeing is moving in our direction," Jones said. "And the more he stays hidden, the better it is for us."