Roby Says that Farm Bill is a Top Legislative Priority for Her
By Brandon Moseley
Alabama Political Reporter
U.S. Representative Martha Roby said that passage of the oft delayed Farm Bill is a top legislative priority for her and urged the conference committee to show the nation that its leaders can come together and deliver for the American people.
Rep. Roby said in a statement to the Committee,
"I am grateful for the opportunity to serve on this conference committee and to work toward a solution on this very important bill. I also want to say thank you to the staff of the Agriculture Committee for all their hard work behind the scenes. For three years we've been working on a new Farm Bill that would meet this country's agricultural and economic needs, while enacting important reforms to farm and food stamp policy. I'm pleased that the process is moving forward today."
Rep. Roby added,
"This Farm Bill is a top legislative priority for me because it is important to the people of Alabama's Second Congressional District. I've hosted numerous town hall meetings, held regular sit downs with my own Agriculture Advisory Panel, and visited with farmers throughout my district."
Rep. Roby continued,
"I'm proud that my state of Alabama is home to multiple land-grant universities that play an important role in developing new farming techniques and technologies. In fact, just today I met with Auburn University President Jay Gouge and learned about their cutting edge research that is shaping the future of agriculture. From Dothan to Deatsville and from Eclectic to Elba, Alabama farmers deserve a new Farm Bill that provides the certainty they need to plan their planting. "
Rep. Roby said,
"Alabamians also recognize that this bill needs to contain the kind of reforms that show Congress is serious about changing the culture of spending and government dependence. Our country needs agricultural policy that makes sense. We need regional equity that allows the same opportunity and protections for all types of commodities, not just those in certain areas. We need an EPA that helps farmers comply with necessary regulations, not an aggressive, police-like agency bent on punishing those who are just trying to yield a crop….It is time to end the practice of direct payments to farmers, and transition to an insurance system that allows for planting flexibility. Let's show the nation that its elected leaders can deliver on behalf of the American people."
Both the Republican controlled U.S. House of Representatives and the Democratic controlled U.S. Senate have passed different versions of the Farm Bill. In the House the Republican Farm Bill was sabotaged by fiscal hawks who joined with Democrats to defeat the bill crafted by the Agriculture Committee. Democrats thought it cut too many people from the food stamp program (EBT), while fiscal hawks on the Republican right thought it did not cut food stamps enough. The Republican Caucus in the House regrouped after the stinging defeat and passed a farm bill that was separate from the food stamp program, while the Senate passed a Farm Bill that included generous spending for the controversial nutrition assistance programs.
A bicameral Conference Committee has been appointed and is charged with negotiating a final agreement on a new Farm Bill. The Committee convenes today,. U.S. Representatives Martha Roby and Mike Rogers (R) from Saks were both appointed to represent House Republicans. Rep. Roby said that she is calling for sensible reforms and is optimistic that common ground can be reached.
The Federal Agriculture Reform and Risk Management Act, commonly known as the Farm Bill, has been delayed due to differences between the two parties.
Trump rallies supporters in Pensacola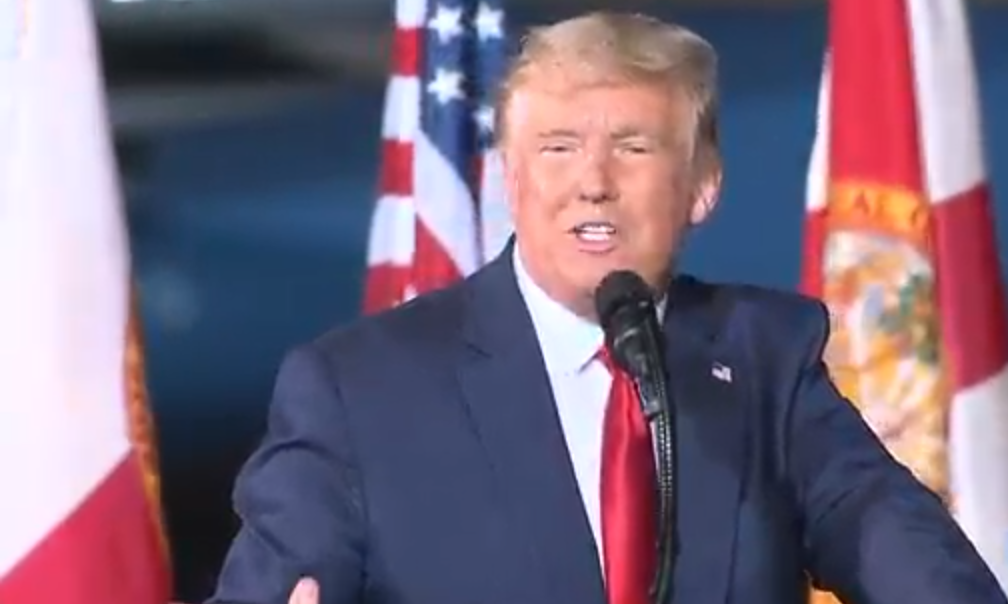 Friday, President Donald J. Trump (R) was in Pensacola speaking to a large crowded of supporters in an effort to energize his base in the final 12 days of the campaign.
Trump acknowledged that his Democratic opponent, former Vice President Joseph R. Biden Jr.; but claimed that he did not want to be beholden to the big money donors.
"I'd be the greatest of all time at raising money, but I don't want to call up every guy on Wall Street and say, you got to give me $10 million, they'd all give it to me," the President said. "I would have numbers … I don't need the money. Last time, we did it with a very small fraction of the money that Crooked Hillary used, right? No, but they were saying he raised a lot of money. That means he's making deals."
Trump reiterated his claim that Biden has used his office for his own personal gain and to enrich his family. The President has produced little in the way of evidence to prove that assertion.
"Joe Biden uses his public office to enrich himself and his family," Trump charged. "I use public office to bring jobs and wealth back to American workers and American families."
"The drug companies don't exactly like me too much, lately, big pharma," Trump said claiming that he was lowering drug prices. "You know what, who cares, I'm doing the right thing. Favored nations, you'll see numbers, 50, 60, 70% lower. This is the first time in 52 years, last year, where drug prices came down. Not much one percent, but you know what, first time they've ever come down. But now we're going for the big one. We pay the most of any country in the world by far. We're going for favored nations, where we pay the lowest price anywhere in the world to matched."
"We support our police, our great law enforcement, our police," Trump said. "We protect our Second Amendment, which is under siege but not with me it's not. We defend our borders, maintain energy independence. Did you hear Joe last night made a big mistake? He made a big mistake. I said, "Oh, you're against oil." "Well, yes, sir, we would like to get …" "Oh," I said, "thank you." Texas, are you watching, right? Pennsylvania, are you watching? Ohio, are you watching? And then today they came, "Well, actually we're not rarely against it. We don't know." They didn't know what the hell happened."
"We will deliver record prosperity, epic job growth, 11.4 million people over the last few months, it's a record," Trump promised. "A safe vaccine that quickly ends this horrible pandemic. And we're rounding the turn, with or without the vaccine, we have the vaccines. They're going to be great. But with or without it, we're rounding the turn. Normal life, it's all we want, fully resuming. We want normal life to fully resume and that's happening."
"We had the greatest year in the history of our country last year. And then we got hit with the China plague, right?" Trump said. "We got hit with the China plague. We signed a great trade deal with China. In fact, three weeks ago, they bought the largest amount of corn, the largest amount of soybeans, beef, everything, largest deal ever."
"I gave the largest tax cut and tax reform in American history. And we will cut taxes again for the middle class even more," Trump added. "By contrast, Sleepy Joe Biden will give you the biggest tax hike in history. He's looking to give you the biggest … think of it. Does anybody have a 401k? Because you can just throw it right out the window if that happens."
Trump said that he got COVID-19; but then his doctors gave him treatment that made him better.
"I got to go back to work for the American people," Trump said. "We got to get back, right? We got to get back to work for the American people. No, it was great. I mean, we've learned so much about this disease. And young people, Barron, my son, Barron, the doctor said, "Sir, Barron tested positive." Like about 15 seconds later, he said, "Sir, he's all cured. He just, I don't know." They're young, they have a very strong immune system. What can I tell you? I said, "Barron, I'm jealous." As you've heard from his own mouth last night, Joe Biden will delay the vaccine, prolong the pandemic, close your schools and shut down our country. We're not doing that. We're having a record comeback. And that's despite the Democrat governors not wanting to open up."
"Biden would bury you in regulations, dismantle your police departments, dissolve our borders," Trump charged. "You don't have borders, you don't have a country, right? Confiscate your guns, want to get rid of your Second Amendment. I'm not here, if I'm not here, you don't even have a Second Amendment, you wouldn't have it. Eliminate private healthcare, 180 million people have incredible private healthcare. They want to end it. Terminate religious liberty, destroy the suburbs with regulations, where they want to put low-income housing projects into the suburbs. I don't think so. That would be the end of the American dream. And they'll abolish fracking."
"If Biden wins, the flag burning rioters on the streets will be running your federal government," Trump continued. "They will decide which businesses can exist and which will be outlawed. That's what they want to do. They will decide which rights you can keep and which will be revoked. They will reeducate your children. They will cancel your culture. Although, we're making it very hard on them, you saw the withdrawals, I've made them all over the country. They wanted to reeducate our people. They wanted to disrespect our people. It was racist. It was terrible what they were doing. They'll order you to stay at home while letting rioters and MS-13 killers roam free. You saw that, stay home, don't go to church. They don't want you to go to church. But if you want to riot in the middle of a main street, you can do it."
"We're doing much better than we did last time," Trump claimed. "In fact, we're leading everywhere. I think we're leading everywhere. I'll tell you what, North Carolina doing great. We think in Pennsylvania, doing great. They've got to be very careful in Philadelphia. They play games in Philadelphia and they won't let us watch the count in Philadelphia. Remember we had a certain Republican running a number of years ago, got almost no votes in Philadelphia? Doesn't work that way. So we're watching Philadelphia."
"Alabama, by the way, your neighbor, in Alabama … Whoa. Whoa. Alabama," Trump said. "Well, wait, how many people here are from Alabama? Whoa. Whoa. How many people here are from Florida? Alabama has been growing. I'm up so much in Alabama, right? You have a great candidate, the coach, a coach, another great coach. He's won three national championships. Urban Meyer, I was talking to him. We're talking about your coach/Senate candidate, which hopefully will be soon. And Urban said, "Not only is he a great guy, he's a great coach." He's a great coach, and he's going to be a fantastic Senator. So that's good. So say hello to him, Alabama. I'm glad I knew about this whole deal in terms of your location. Can you imagine if I didn't call out Alabama for being a great state? Could you imagine? I'd be in big trouble. I'd be in big trouble. No, we're way up in Alabama. Alabama has been good for day one."
"One of the reasons is they say I got elected was because I put out a list of 25 great conservative judges," Trump said. "And a lot of people, they said 22% of the people voted for me. I never believed that. But the fact is, I guess it must be so. But Joe, he won't even say whether or not he's going to pack the court. You know why? Because he has no idea. Other people are telling him, "Joe, you're going to pack the court." "Okay. Yes, sir." And Joe, he doesn't know. You could have 16, 18, 19, 20, 21 judges. It's crazy."
"I couldn't sit by and watch these horrible trade deals that are ripping off America all the time," Trump said. "I couldn't sit back and watch China year after year, after year, hundreds of billions of dollars they made, and we have a much different attitude towards China now, much different, they are coming after me, a lot of people in Washington. By the way, nobody's ever gone through what I've gone through. Nobody. No President has ever gone through this."
"Under Biden and Obama our veterans were neglected, mistreated, abused, and left on the secret wastelands," the President said. "That's what they were. It was just a wasteland. They were on waiting lists for forever. Nothing got done. They'd have to wait for doctors for two weeks, four weeks. The VA's office of inspector general found that over 300,000 veterans died under the last administration waiting for care. When I came into office, I signed the VA accountability act. More than 11,500 VA workers who were not giving our veterans the kind of care and respect that they deserved. We said, "Get out, you're fired. Get out." You couldn't fire anybody. They could be sadists, they could be thieves. You couldn't fire anybody. We got it passed. It's called VA accountability. It was a big deal. For 42 years they tried to get it done, we got it done. Then to help veterans get the care they need when they need it, we approved veteran's choice and we made it permanent."
"We will eradicate this pandemic and defeat the scourge from China once and for all," Trump promised. "So we're joined today by incredible people. Ron DeSantis, you said hello to and Casey, you said hello to, but I just want to tell you, you have a great governor and you have a great, great first lady. Thank you very much. He is a great governor."
"Tonight I also want to express my love and support for all the families here on the panhandle who were affected by hurricane Sally and other recent storms," Trump stated. "You've been hit a lot, but we're there whenever you get hit, I'm right behind that storm. Right behind it and we take care of it. We take care of it. Last month I approved a major disaster declaration for the state of Florida. And together we will rebuild the panhandle stronger than ever before. We're doing it right now, stronger and better. Rebuilt stronger. We do plenty of others, but I won't tell you about everything. Because we don't have enough time. I could be here all night about what we're doing for Florida and for Alabama."
"Under my leadership. We achieved the most secure border in US history and we are finishing the wall with nearly 400 miles already built," Trump told supporters. "And this is the wall they wanted. This is the wall the border patrol want. And we now have just about the safest Southern border we've ever had, but we'll be finished very soon with the wall."
"Last night, Joe Biden vowed that his immigration policy will be catch and release," Trump said. "He thinks it's great. You catch a criminal, murderer, rapist, you catch the criminal and you release the criminal into our country. And you say, "In four years you have to be back for a court case." Right? But they never came back. We had an argument. I turned out to be right. He said, "And then they come back." I don't know what he was thinking. I don't think he had a clue."
"If Joe and Kamala are elected, it will trigger a tsunami of illegal immigration the likes of which you've never seen," Trump claimed. "Millions will come from scores of countries all over the world to take advantage of us. No community in the United States will be spared to serve his donors, Biden last night pledged mass amnesty within the first 100 days."
"Biden is a candidate of endless war and needless death," Trump said. "I did more in 47 months than Sleepy Joe Biden did in 47 years. A vote for Republicans is a vote for safe communities, great jobs, and a limitless future for all Americans. A vote for Republicans is a vote for the American dream, not the American nightmare."
"Over the next four years, we will make America into the manufacturing superpower of the world." Trump promised. "And we will end our reliance on China once and for all. It's already started. We will hire more police, increase penalties for assaults or law enforcement. Do we love our police? Yes? I have the endorsement of almost every police organization in the country including New York's finest."
Trump also promised to: ban sanctuary cities, uphold religious liberty, free speech, the right to life and the right to keep and bear arms, and stand with "the people of Cuba, Nicaragua, Venezuela, and their righteous struggle for freedom. We will stand with the people of Colombia. We're working very closely with them in their fight against the narco terrorists. We will strike down terrorist who threaten our citizens, and we will keep America out of endless foreign Wars."
Trump has a large lead in Alabama; but Florida is a very tight. A recent Rasmussen poll had Trump up slightly; but a number of other polls have Biden up in Florida.
The general election is Nov. 3.