Alabama's Leaders Recognize Veterans on Veterans Day
By Brandon Moseley
Alabama Political Reporter
Alabama has the highest veteran population on a percentage basis of any state. Governor Bentley and other Alabama leaders took a moment on this Veterans Day, a holiday that began in Alabama, to salute the service of those veterans.
Alabama Governor Robert Bentley (R) said on Facebook, "On Veterans Day, we honor those men and women who at one time or another have chosen to leave behind friends and family to preserve our freedom. We're inspired by our their dedication, encouraged by their bravery and thankful for how they serve our country with dignity and honor. We're also thankful for the family and friends of our service members who support their loved ones and share in the sacrifice. We should give thanks every day for the freedoms we enjoy because of the service of our veterans."
Speaker of the Alabama House Mike Hubbard (R) from Auburn said on Facebook, "Each and every day we should honor and thank the brave men and women who defend our freedoms from tyranny. Today, we stand together as a nation and pay respect to all those who have served. Thank you."
Congresswoman Terri A. Sewell (D) from Selma issued a written statement in recognition of Veterans Day. Rep. Sewell wrote, "On Veterans Day, we pause to pay tribute to every service member who has answered the call to protect our democracy. Across every generation, their courage has never wavered. For that, we owe our nation's veterans and their families a debt of gratitude."
Alabama Attorney General Luther Strange (R) said on Twitter, "Thank you to all our veterans, we are forever grateful for your service to our great nation and state."
Republican nominee for Alabama's First Congressional District Bradley Byrne from Montrose said on Facebook, "We pay tribute to the many men and women who have served our country and to the servicemen and women still defending our freedoms today, Happy Veterans Day."
Alabama State Representative Dickie Drake (R) from Leeds said on Facebook, "Proud of our military family and proud to serve. Thank you God for my two awesome sons. Happy Veterans Day to all vets and to their families who kept the home fire burning while they served." Rep. Drake is a veteran and the father of two active duty military pilots.
Alabama State Senator Harri Anne Smith (I) said on Facebook, "HAPPY VETERANS DAY! THANK YOU TO ALL THOSE WHO HAVE SERVED AND FOUGHT TO PROTECT OUR FREEDOMS WHICH WE HOLD SO DEAR."
Alabama Public Service Commission candidate Jonathan Barbee (R) said, "I want to thank all Veterans for their sacrifice. Past, present, and future, we honor your commitment to defending our freedoms and the American way of life. You will always be remembered in our hearts."
Seventh District Congressional Candidate Matt Jenkins (R) said on Facebook, "Today is the day that we as Americans dedicate to the observance of the sacrifices that Veterans have made for our nation. This is the day we pause to thank those who have served in the United States Military to protect freedom and democracy not only around the world but here at home as well. As Veterans, Danielle and I realize the tremendous sacrifices that have been by Veterans and their families. As you sit today, remember that a US Military Veteran has stood the watch since the Revolutionary War to ensure the freedoms we as Americans hold dear. May God Continue to Bless our Nation, our Veterans and the Great State of Alabama."
Rep. Sewell continued, "We acknowledge that no ceremony or parade can fully repay the debt we owe. Our gratitude must be displayed in the support we provide to our veterans and service members when they return home. It is unacceptable that nearly 1 million veterans suffer when SNAP benefits are slashed and that 67,000 will go to bed tonight without a home. No one who fights for our country should return to our shores and have to fight for a job, a meal, a home or quality healthcare.  Providing support to our veterans and their families with the care they need and the benefits they deserve is one of our most fundamental moral obligations as a society. This obligation endures long after the war has ended and we should remain dedicated to that cause. The immeasurable contributions and resolve of our nation's veterans represent the very best of what the American people have to offer. Today, we must express the gratitude of a grateful nation as we remember our wounded, our missing and our fallen."
Congressman Spencer Bachus (R) from Vestavia said on Twitter, "Thank you to our veterans for protecting our freedoms. America recognizes your service and sacrifices today."
Auburn University President Jay Gogue said, "Our heartfelt appreciation goes out to all the men and women who have or currently serve our nation in the U.S. military. We are truly grateful."
State Representative Merika Coleman-Evans (D) said on Facebook, "Thank you so much to all of the Veterans who served this country bravely and proudly. The freedoms that we enjoy in this country are because of your commitment to protect and serve. I especially thank my husband, my dad and all of my cousins, aunts and uncles who served in the armed forces!
Shelby County Republican Party Chairman Freddie Ard said on Facebook, "Every American lives in freedom because of those who have served in the United States military. Our veterans cannot be thanked enough, so we just have to say it often. Especially today, a heartfelt "thank you" for your service to our great country."
Alabama Democratic Majority Chairman Mark Kennedy said on Facebook, "Peggy and I would like to wish a special Happy Veterans Day to our son Leigh Kennedy. He is currently serving over seas in Kuwait. We are so proud of Leigh and all those who serve our Country."
Alabama State Senator Clay Scofield (R) said on Facebook, "Every American has been given a very special gift. This gift wasn't bought in a store or on the Internet. It was bought at places like Yorktown and Trenton during the Revolution. It was fiercely defended on distant battlefields like Belleau Wood, Normandy, Iwo Jima, Bastogne, Inchon, Khe Sanh, Kuwait, Tora Bora, and Fallujah. This special gift is called Freedom. It has been bought with blood, sweat, and tears in a struggle unmatched by any other civilization in the history of mankind."
U.S. Senator Jeff Sessions said, "On Veterans Day, our nation pauses to honor the millions of Americans who have served their country and defended its people. Each generation, these brave souls have risen to answer the call. Alabama has a long, distinguished tradition of military service and is home to many of our nation's greatest heroes. Last night, in Birmingham, I was humbled to present an award to the Tuskegee Airmen, whose tremendous courage in the face of adversity is a lasting inspiration to all of us. Today, in Huntsville, I was privileged to participate in a breakfast and parade to honor the contribution of all who served. God bless our veterans, their families, and our country."
Congressman Mike Rogers (R) from Saks said, "The brave men and women in uniform who currently serve and have served sacrifice daily on our behalf. I hope we will continue to honor them and remember the ones who have paid the ultimate sacrifice not only on Veteran's Day, but every day. Without their selfless willingness to serve, we would not have the same freedoms we enjoy today."
Print this piece
Perspective | Huntsville doctor recounts protest dispersed by police tear gas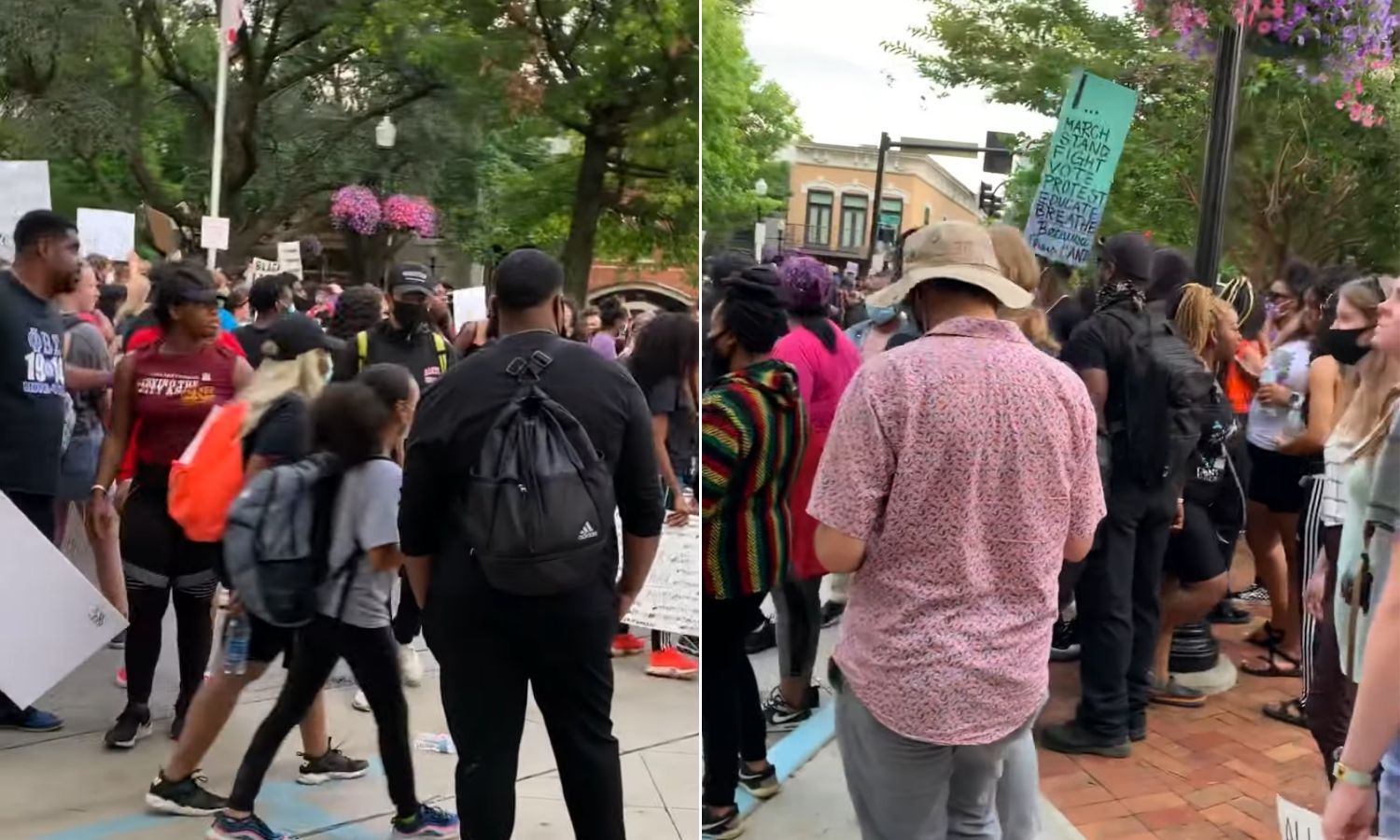 Dr. Pippa Abston is a Huntsville area physician. The following is her first-hand account of the protest in Huntsville, Alabama, on Wednesday, where police fired tear gas and rubber bullets at demonstrators after an Alabama NAACP rally.

I arrived at Big Springs Park at about 4:30 before the start of the protest at 5 p.m. I am pleased to say that multiple medical people and first aid volunteers came. We had at least one EMT. People brought armloads of supplies and water. We had a medical area set up towards the back, and some of us walked through the crowd. I carried a medic sign on a pole.
After the speakers — which I don't think I can do justice to describing, other than to say extremely inspiring — we were led up the stairs on the side of the park to march. There was chanting. It seemed to me that there were a whole lot more people than on Monday night. The line of marchers really couldn't move much. We chanted.
Instead of a big march around the square, mainly people seemed to settle in the area in front of the courthouse. Everything I saw appeared peaceful in that area. Again, there were large numbers of police on the courthouse steps. This time they were holding large numbers of wrist ties, indicating to us that they planned to do a lot of arrests, I suppose. We could see people posted on top of the courthouse, and I was told they were snipers, but I couldn't get a close enough look to verify that.
Suddenly — and again for no discernible reason — police dressed in riot gear lined up along the intersection where Fountain Circle turns into Southside Square. We heard a siren and then once again, unintelligible talking over some kind of sound system. I was roughly opposite the courthouse steps, and none of us could hear them.
It turned into that game "operator" that kids play. People were passing along information that they had heard, but it wasn't the same information. Some said we were supposed to leave in 4 minutes, others said everybody just had to get off the street and onto the sidewalks.
Toward Clinton, which was blocked also on Monday, there was no riot line of police, but there were some police cars, and it wasn't clear to anyone standing there if that was an exit route. I asked several people if anyone had provided an exit route, as is required, and they said no.
Around that time, some people started coming up to us and reporting that first aid volunteers were being detained and ordered to remove their red cross signs made with tape, on the grounds that they were impersonating doctors. Because of this, the many medical volunteers we had were not identifiable to the crowd.
Several people came to me over the course of the night, because I still had the sign and a red cross on my shirt and backpack. I had put my medical license in with my ID, and I said "let them just try that." But no one did.
We were also told that police on the courthouse roof were targeting medics — that they were pointing out our position. We were warned by several people to watch out because of that.
A few minutes later, people started passing down the word that they were about to start shooting rubber bullets. So the medical team I was with once again went down the stairs towards Big Spring Park, thinking likely that would be the way folks would flee again.
There was an initial rush of folks running down the stairs again, with some screaming, but this was brief and then people went back up again. We were unsure what to do but decided to stay in the park to be ready for their return. We heard chanting.
After some amount of time, which I did not note, because I intentionally left my watch at home, a large crowd of people came screaming, running down those same stairs again into Big Spring Park, being chased by police and we heard shooting of rubber bullets. We ran also. We heard several large explosions that sounded like bombs. We were told it was tear gas. Even though it wasn't really too close to where we were, my eyes did burn.
People passing us said that police had told them we had to leave Big Spring Park, a city park, because it was private property, and that we would be fine if we went across Church Street as long as we didn't get near businesses.
So a lot of us — maybe 100 or so — walked over there. As we were heading there, we saw a large line of patrol cars with lights and sirens on, coming down Church Street, and we wondered if it was ok after all to go there, but they passed by. We were told they were circling the courthouse.
People milled around on the sidewalk area across near Church Street, which is definitely public property, talking, wondering what was next. Again, we stayed in case we needed to give medical help and also because we had never received any instructions from the police about where to go.
We got word that they were loading up large numbers of police into trucks and coming … to do what, we didn't know, but we were worried, so we walked further away from Church Street toward the Von Braun Center area.
We saw a line of police advancing down Clinton and onto Monroe Street, and we were worried we were going to get trapped. A large crowd to the left of us were moving past the art museum, and suddenly there were explosions again and what looked like fireworks aimed at the crowd. I was told it was tear gas.
People were running and screaming and several of us were trying to help wash their eyes. These tear gas explosions happened several times. We thought they were trying to drive us to Monroe Street, but we had also seen troopers marching that way, and we didn't know if we were going to get cornered.
We were still washing people's eyes. Some people were having intense skin reactions to the gas, burning and redness.
One person had been hit so badly in the eyes that they couldn't see to find their ride, so they walked with my group back to where we were parked and got a ride with my friends. It seemed like protesters were mostly dispersing from that end of the park. We heard there were continuing protests on Jefferson Street.
I made it home. That was like being in a war, getting shot at, having gas thrown at us. And once again, one of the scariest parts was that it wasn't clear where to go and be safe from being shot at.
We have to keep showing up for these protests. They are obviously trying to terrorize us into staying home, but we must persist.
The Huntsville police chief is saying that us putting on eye protection and getting out first aid equipment was one of their reasons for gassing and shooting us, because it was a sign we wanted violence.
If I go hiking during hunting season with an orange hat on, am I hoping a hunter will shoot me in the head?
If I lock my car door, am I hoping to have my window broken?
If I wear a mask, am I hoping to get COVID-19?
They had snipers yesterday. If we come wearing bulletproof vests — and no, I don't own one — are they going to shoot us and say well, look what they made us do?
Could it be that we are aware of their weapons and their history of unprovoked brutality and want to protect ourselves while we exercise our First Amendment rights?
Print this piece