My Vision for the PSC and Why I'm Running

By Jonathan Barbee
www.BarbeePSC.com
Every day voters in our country and state face an onslaught from politicians who are constantly trying to implement their agenda.  With special interests, out of touch politicians and out of control federal agencies, all wanting to regulate, mandate, tax or confiscate our freedoms, jobs, money and liberties to the brink of existence, no wonder many people have lost faith on our government.
I have a vision for a brighter future for Alabama, and a plan to get us there.  I know Alabama's future requires affordable energy, and I'll provide the leadership to keep our energy prices as low as possible.  I'll work to create an Alabama where industry and the environment both thrive, so that future generations of Alabamians can prosper and enjoy the wonders and beauty of our great State.  And I'll push back against outrageous regulations, keep the liberals out of our PSC, and ensure that Alabama's God-given natural resources aren't forsaken just because of Barack Obama's ill-conceived agenda.
President Obama and the other liberals have repeatedly demonstrated that they will force their agenda onto the people with no concern over our unwillingness to embrace their flawed logic.  He doesn't care about our conservative values, ideals, and principles.  He's more concerned with policies that are turning our cities and towns into more Detroits.
We are taxed enough.  We are regulated enough.  We are mandated enough.  And we have had more than enough confiscated, charged, levied and just plain stolen from us.
We've all heard politicians promise an honest, good government, but then fail to deliver anything more than the status quo.  Once they get elected there's too much "Robbing Peter to pay Paul." It's been a horrible cycle and I think that is what has caused many people to become disengaged and cynical about politics and politicians.
President Obama's allies in Montgomery are working with their friends in Washington to implement policies to limit Alabama's coal mines and power plants.  They want to destroy our mountaintops and beaches with wind farms.  They want us to stop using our State's bountiful resources to create jobs and benefit the hard-working people of this State and fall right in line with their distorted view of what makes America success.
The elitists and their bureaucratic allies don't share the same conservative, common sense values you and I share.  They don't share our work ethic.  They don't share our belief in our God, our families, and the freedom to work and make a better life for ourselves.
Know that once I'm elected, I will work to uphold our conservative values.  I will be fair and reasonable and I will not be a sock puppet for the special interests.  I will work every day to help make Alabama a better place to live, work and raise a family because that's what we should expect from our public officials.
There are some things that you can expect from me and there are some things you should not.  You won't hear me making wild promises about what kind of miracles I'll work once I'm elected.  I won't cure the sick, heal the lame, make electricity free, or be able to single handedly stop the liberal's agenda.
However, I will wake up daily and work to oppose Obama's out-of-control EPA when they try to destroy Alabama jobs.  I will oppose them when they try to drive up our utility rates with unrealistic regulations, and when they try to inflict their inefficient, costly, animal-slaughtering wind farms on our beautiful State.
I will work to balance the needs of the utility companies to make a fair profit with the needs of Alabama consumers and industry.  Without making a profit, the utilities will go out of business, and then who will fix the power lines the next time a tree falls or a tornado ravages a community?  On the other hand, if our power bills are too high, our families will suffer, many small businesses could close, and it will be impossible to attract more industry to our State.  Striking this balance won't be easy, and it will never satisfy everyone, but it has to be done and done right-without the influence of the special interests on either side-for all our sakes.
With other conservative leaders, I will work as hard as I can to bring more industry and jobs to our State, and create an environment where our existing companies can grow and expand.  Sometimes this will require hard choices, but those are decisions I'm willing to make.
When I have to make hard choices, I will be guided by my faith in God, in my conservative values, and by the people of Alabama, not political pressure from special interests.
I want to bring common sense and fairness to Place 2 of the Public Service Commission, but I can't do it alone.  I need your help, and I need you on my team.  I'd like you to find me on Facebook or visit my website.  When I'm in your town, come speak to me about what's on your mind.
Together, we can make Alabama an even better place to live and work, for ourselves and our families!
Opinion | Let the head coach lead the team: Vote no on Amendment 2
"As the 34th chief justice of the Alabama Supreme Court and an Alabama justice for over 15 years, I strongly urge you to vote 'no' on Amendment 2," Chief Justice Tom Parker writes.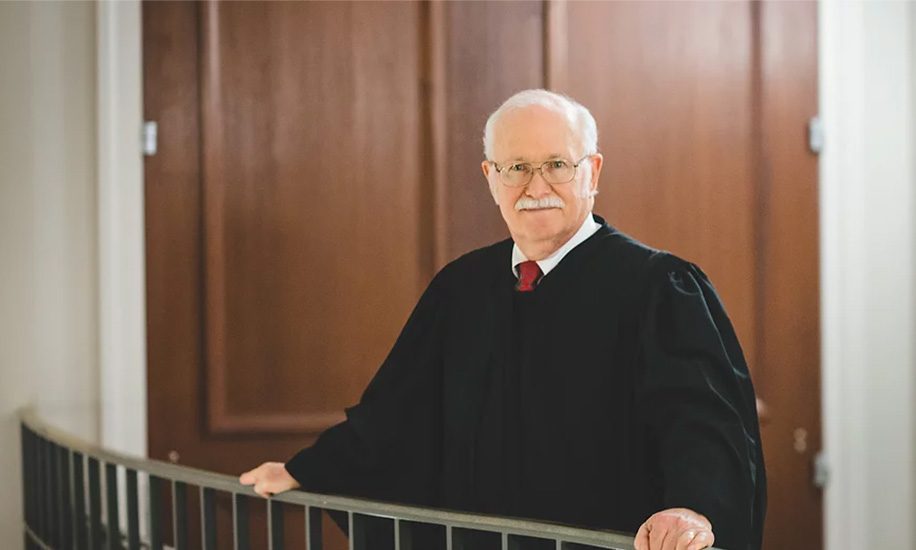 Down the ballot from the presidential race are several proposed constitutional amendments, but one of them does not deserve your vote. Statewide Amendment 2 contains a "Trojan horse" that would disrupt the Alabama court system from the top-down and overthrow an important part of the Alabama Constitution.
As the 34th chief justice of the Alabama Supreme Court and an Alabama justice for over 15 years, I strongly urge you to vote "no" on Amendment 2.
Just what would this amendment do? Amendment 2 would strip from the chief justice the important power to appoint his own administrative director of courts (ADC) — the second-in-command of the whole judicial branch of government since the ratification of the Judicial Article in 1973 — and would instead give that power to the eight associates justices of the Supreme Court.
Amendment 2 would give the ADC a long 10-year term and make it much more difficult to remove him or her, instead of serving at the discretion of the chief justice as they do now.
This strange scenario is like Nick Saban and Gus Malzahn having their assistant coaches selected for them by the athletic departments at Alabama and Auburn, and then being told they have to keep those assistant coaches for 10 years! Such a bizarre scheme would totally undermine the ability of the head coach to effectively lead the offense, defense, special teams and all departments of their program — and, if necessary, fire underperforming coaches.
That's not good leadership in football, and it's not good government for Alabama. It's a losing game plan.
The direct relationship and accountability between a head football coach and his assistant coaches are crucial to the successful execution of the head coach's process and vision.
In the same way, the ADC, under the direct leadership of the chief justice who appoints him, directs the day-to-day administration of Alabama's Unified Judicial System, which includes all the circuit and district judges, personnel and equipment throughout the state of Alabama.
The ADC is one of the most important positions in the Alabama court system, because the ADC is the linchpin between the chief justice and the trial courts throughout the state. The ADC provides direct accountability and feedback to the chief justice so that he can make necessary and sometimes quick "game-time decisions" that affect all courts.
The ADC is the singular "assistant coach" carrying out the leadership and direction of the judicial "head coach."
This is exactly how the framers of the Judicial Article of the Alabama Constitution intended it. Article VI, Section 149 makes the chief justice "the administrative head of the judicial system" with the power to appoint the ADC "to assist [the chief justice] with his administrative tasks."
But Amendment 2 flips the constitutional order and destroys that close accountability between the chief justice and the ADC. Instead, it gives the appointment power to the eight associate justices who, ironically, are not elected with the authority to lead the administration of the judicial branch of government.
To put it in the context of another branch of government, it would be like letting the governor's cabinet select her chief of staff for her. How strange would it be for the elected head of the executive branch to be unable to choose her top in-house official? And then to be told to work with this person for the rest of her term! This is what Amendment 2 would do to the leadership dynamics of the judicial branch.
Since you did me the great honor of electing me as chief justice two years ago, I have experienced first-hand just how demanding it is to run the day-to-day operations of our entire judicial system. I take seriously that responsibility to lead the court system, as does the ADC.
But my ability to lead this branch, and the ability of future chief justices, would be severely hampered if Amendment 2 passed. Mind you, the chief justice would still be the elected administrative head under the Constitution, but their second-in-command would be picked by a political process and given a longer term of office than even the chief justice's 6-year term.
Supporters of Amendment 2 claim that letting the associate justices pick the ADC would lead to "stability" and "longevity" in that position. That's the problem! The amendment would make the ADC nearly unaccountable to the chief justice that he is supposed to assist — and for a cushy 10-year term, regardless of how poorly he is doing the job.
The ADC should carry the football for the chief justice the people have elected, and it is entirely appropriate that both positions follow the desires of the people who elect the head of the branch.
Vote no on Amendment 2 and let the head coach lead the courts as the people have elected him to.