Bentley Leads Japanese Business Mission
By Brandon Moseley
Alabama Political Reporter
Alabama Governor Robert Bentley (R), Alabama Department of Commerce Secretary Greg Canfield (R), and other state economic development officials spent fours days in Japan last week holding talks with Japanese businesses' movers and shaker including Toyota Chairman Takeshi Uchiyamada at the automaker's headquarters. Governor Bentley met Toyota Chairman Uchiyamada, company President Akio Toyoda and Executive Vice President and board member Seiichi Sudo. Toyota is expanding it's engine factory in Huntsville.
Governor Bentley said in a written statement, "The State of Alabama enjoys a strong business relationship with several companies that are based in Japan. Thousands of people in Alabama have a job today thanks to that ongoing relationship. By building on those relationships and by discussing our positive business climate, we can further our goal of recruiting more jobs to Alabama."
The head of the Toyota engine factory in Huntsville, Jim Bolte, accompanied the Alabama officials on their visit to the automaker's headquarters. Bolte said, "Relationships are important in any business, but especially when it comes to global ones."
Governor Bentley also met with Hiroyuki Ishige, the chairman and CEO of the Japan External Trade Organization (JETRO), a group which promotes trade and investment. Bentley said, on Facebook, " I met with Hiroyuki Ishige, Chairman & CEO of the Japan External Trade Organization. We discussed the automotive industry and opportunities for growth."
Governor Bentley, Secretary Greg Canfield and the department's Asia business development expert Hollie Pegg were shown Toyota innovations, including an experimental personal vehicle, hybrid cars and eco-friendly design and safety improvements.
Toyota announced in 2001 that it was building a $220 million, 325-worker engine plant in Huntsville. The facility has had four major expansions in 11 years, pushing the Alabama investment to $850 million and the workforce to nearly 1,200. The factory can produce 750,000 engines per year and can produced four-cylinder, six-cylinder, and eight-cylinder engines.
Bolte said, "We are very proud of our team members … their big efforts, and great results. It's one of the main reasons we have continued to grow. Our partnership with AIDT (the state's workforce development agency) has been stellar in this regard as well."
On Tuesday, Governor Bentley and the Alabama team met with the president and CEO of Otsuka Holdings. Otsuka Holdings is the parent company of Pharmavite, which produces Nature Made vitamins in the United States. Pharmavite opened a $90 million, 240-worker plant in Opelika, Ala.
Numerous Japanese manufacturers have made Alabama their a U.S. base including: Honda and Toyota, HTNA in Jasper which produces carpet and interior trim products for automakers, Daikin Industries in Decatur which makes chemicals, and Toray which makes carbon and Teflon fibers in Decatur. More than 65 Japanese companies have operations in Alabama.
Since Honda announced that they were coming to Lincoln in Talladega County in 1999, Japanese companies have invested more than $4.4 billion in Alabama and have created more than 14,300 jobs. The Alabama Department of Commerce estimates that Alabama also exports $795 million worth of of goods to Japan annually.
This week, Governor Bentley will be in Biloxi, Miss., for the annual Southeastern U.S.-Japan Association (SEUS-Japan) conference, which connects top business, economic development and political leaders from the Southeast with delegates from Japanese companies. In fall 2015, the SEUS-Japan conference will be held in Birmingham.
To learn more about the Governor's trip to Japan visit the Alabama Commerce affiliated website:
www.madeinalabama.com
Trump Truck and boat parades this weekend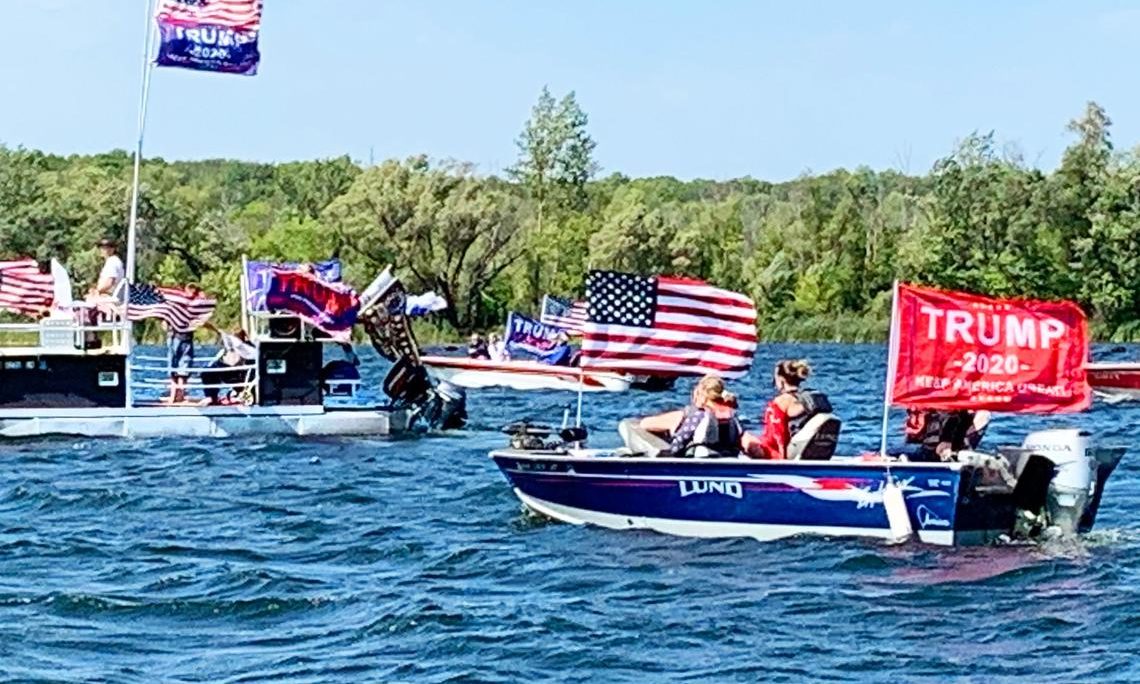 As Election Day draws near, Alabama Republicans are excited about promoting the re-election of Donald J. Trump as President and the election of Tommy Tuberville for U.S. Senate. This weekend two pro-President Trump events are happening in the state. There will be a truck parade from Ashland to Phenix City on Saturday sponsored by the Clay County Republican Party, while there will also be a boat parade on Wilson Lake in the Shoals sponsored by the Colbert County Republican Party on Sunday.
The pickup trucks will assemble at the Ashland Industrial Park in Clay County, 8240 Hwy 9, Ashland. There is a pre-departure rally at 10:00 a.m. central standard time. The trucks will depart at 11:00 a.m. and then proceed on a parade route that will take them into the bitterly contested swing state of Georgia. The Trump Pickup Parade will wind through east Alabama and West Georgia traveling through LaGrange and Columbus before concluding near the Alabama/Georgia line in Phenix City, 332 Woodland Drive, Phenix City at approximately 2:00 p.m. central time. Speakers will begin at 3:00. Trump flags will be on sale at the event.
The Phenix Motorsports Park will be hosting what sponsor hope could possibly the world's largest Pickup Tuck parade in U.S. history that is routing over 50 mile through Georgia in effort to "pickup" President Trump's numbers in GA.
A number dignitaries have been invited to address the Phenix City rally, including Coach Tuberville. Former State Sen. Shadrack McGill, Trump Victory Finance Committee member former State Rep. Perry O. Hooper Jr., and Paul Wellborn, the President and CEO of the largest Family owned Kitchen Cabinet manufacture in the USA are among the featured speakers who have committed to speak at the event.
Entertainment will be provided by: Charity Bowden, an up and coming country music singer who was the runner up on "The Voice". Charity will sing 'I am Proud to be an American' as well as songs from her Voice performances. The McGill Girls will also perform. The three beautiful and talented sisters will be singing patriotic songs in three part harmony. Geoff Carlisle, a professional DJ will be keeping the crowd pumped with music and entertainment.
Following the speakers and the entertainment there will Trump truck-vs- Joe Bidden truck races down the drag strip for the finale.
The Northwest Alabama boat parade will be on Sunday. The boats will gather at 2:00 p.m. near Turtle Point and then the flotilla will parade around the open waters of Wilson Lake til 3_00 p.m.. There will be a contest for best decorated Trump boats.
Trump supporters have held a number of large boat parades across the state to show their support for the re-election of Pres. Trump.
Boat parade sponsors say that this parade will be: pro-American, pro-law enforcement, pro-military.