Brooks Exposes Problems with HealthCare.gov Website
By Brandon Moseley
Alabama Political Reporter
On Tuesday, Congressman Mo Brooks (R) from Huntsville announced in a statement that the troubled HealthCare.Gov website is not safe to use. The findings were released in a hearing of the Science, Space, and Technology Committee titled, "Is My Data on Healthcare.gov Secure?"
Congressman Brooks said, "By coercing Americans into using HealthCare.gov, regardless of cyber-security threats, this Administration puts the political need for a successful rollout of socialized medicine ahead of hardworking Americans who will suffer the consequences."
Rep. Brooks said in a prepared statement after the hearing, "I find it appalling and outrageous that this Administration desperately persists in coercing American citizens into using a website that does not work while exposing users to unlimited identity theft and financial loss risks.  At a minimum, this Administration should reimburse American citizens for cyber-security losses incurred by their having done nothing more than obey ObamaCare law. To date, this Administration has not offered to compensate American citizens for identity theft and other financial losses caused by HealthCare.gov cyber-security failings."
The conservative Alabama Congressman concluded, "No words can adequately express the depth of concern I have about a 'Big Brother' policy that forcibly puts so many American families at risk for uncompensated financial loss."
According to information provided by Brooks from the United States Department of Health and Human Services, the ObamaCare website, HealthCare.gov, was not fully security tested before it went public last month. This oversight has exposed Americans who use HealthCare.gov to the potential of identity theft and other cyber-attack risks.
Congressman Brooks pressed a bi-partisan panel of cyber-security experts on whether they would personally advise Americans to use, or not use, HealthCare.gov in light of its security flaws.  According to Brooks they all agreed that they would not advise Americans to use HealthCare.gov because using the troubled web site exposes the users to cyber-security risks that could result potentially in identity theft or other financial losses.
Dr. Avi Rubin testified, "I would say that the security would have to be studied a lot more carefully before I would agree to that," when asked by Brooks if he would advise Americans to use the troubled web site.  Dr. Rubin is the Technical Director of Health and Medical Security Laboratory for the Information Security Institute at Johns Hopkins University.
Congressman Brooks asked the panel "Given healthcare.gov security issues and assuming for the moment that you would be personally responsible for all damages incurred, if any, from your advice, would any of you advise an American citizen to use this website as the security issues now exist? Yes or No."
The Chief Executive Officer of TrustedSEC LLC, David Kennedy, replied, "No sir not at this time."
Mr. Morgan Wright, the Chief Executive Officer of Crowd Sourced Investigations, LLC and Dr. Fred Chang, who is a Chair in Cyber Security at Southern Methodist University both agreed with Mr. Kennedy.
Rep. Brooks said, "I'm appalled that this Administration is knowingly exposing American citizens to cyber-security threats."
According to media reports on Tuesday, the Health and Human Services Department received a report from independent consultants in March that the HealthCare.gov website would not be ready by October, but Health and Human Services Secretary Kathleen Sebelius (D) elected to push on ahead anyway with the rollout.
As of last week, only 664 Alabamians were able to get through the web site to purchase a policy and over 84,000 Alabamians have received notices that they will be dropped by their insurance carrier.  The poorly designed government website has been rocked by cyber attacks, mal-ware, and site flaws.
It is not known how many (if any) of the Alabamians who used the website have had their personal information stolen.
Congressman Mo Brooks has been a strident opponent of the unpopular Patient Protection and Affordable Care Act since his election in 2010.
Congressman Brooks represents Alabama's Fifth Congressional District.
Trump Truck and boat parades this weekend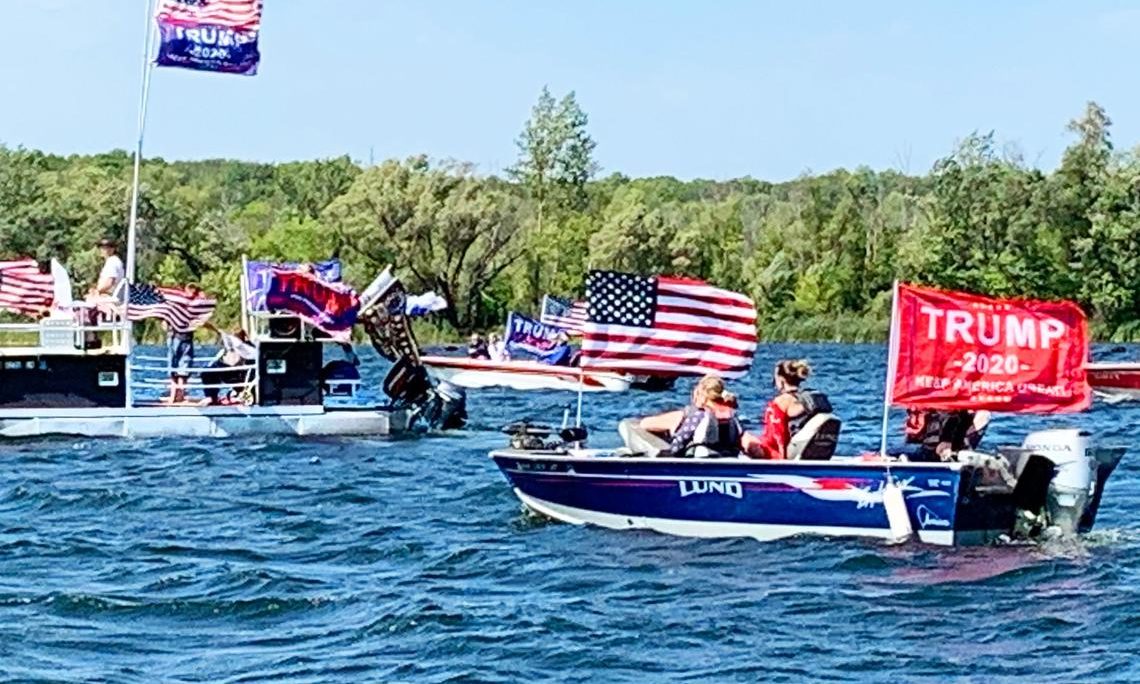 As Election Day draws near, Alabama Republicans are excited about promoting the re-election of Donald J. Trump as President and the election of Tommy Tuberville for U.S. Senate. This weekend two pro-President Trump events are happening in the state. There will be a truck parade from Ashland to Phenix City on Saturday sponsored by the Clay County Republican Party, while there will also be a boat parade on Wilson Lake in the Shoals sponsored by the Colbert County Republican Party on Sunday.
The pickup trucks will assemble at the Ashland Industrial Park in Clay County, 8240 Hwy 9, Ashland. There is a pre-departure rally at 10:00 a.m. central standard time. The trucks will depart at 11:00 a.m. and then proceed on a parade route that will take them into the bitterly contested swing state of Georgia. The Trump Pickup Parade will wind through east Alabama and West Georgia traveling through LaGrange and Columbus before concluding near the Alabama/Georgia line in Phenix City, 332 Woodland Drive, Phenix City at approximately 2:00 p.m. central time. Speakers will begin at 3:00. Trump flags will be on sale at the event.
The Phenix Motorsports Park will be hosting what sponsor hope could possibly the world's largest Pickup Tuck parade in U.S. history that is routing over 50 mile through Georgia in effort to "pickup" President Trump's numbers in GA.
A number dignitaries have been invited to address the Phenix City rally, including Coach Tuberville. Former State Sen. Shadrack McGill, Trump Victory Finance Committee member former State Rep. Perry O. Hooper Jr., and Paul Wellborn, the President and CEO of the largest Family owned Kitchen Cabinet manufacture in the USA are among the featured speakers who have committed to speak at the event.
Entertainment will be provided by: Charity Bowden, an up and coming country music singer who was the runner up on "The Voice". Charity will sing 'I am Proud to be an American' as well as songs from her Voice performances. The McGill Girls will also perform. The three beautiful and talented sisters will be singing patriotic songs in three part harmony. Geoff Carlisle, a professional DJ will be keeping the crowd pumped with music and entertainment.
Following the speakers and the entertainment there will Trump truck-vs- Joe Bidden truck races down the drag strip for the finale.
The Northwest Alabama boat parade will be on Sunday. The boats will gather at 2:00 p.m. near Turtle Point and then the flotilla will parade around the open waters of Wilson Lake til 3_00 p.m.. There will be a contest for best decorated Trump boats.
Trump supporters have held a number of large boat parades across the state to show their support for the re-election of Pres. Trump.
Boat parade sponsors say that this parade will be: pro-American, pro-law enforcement, pro-military.