Ivey Announces Mike Ward Will be the New Chairman of the Alabama Military Stability Foundation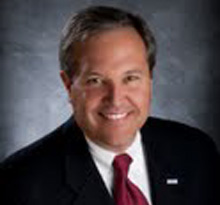 Staff Report
Alabama Lieutenant Governor Kay Ivey (R) in her role as Chairman of the Alabama Job Creation and Military Stability Commission (MSC) announced the recent election of Mike Ward as Chairman of the Alabama Military Stability Foundation (MSF).
Mike Ward said, "Working with key leaders from the Tennessee Valley, I've been privileged to help support Redstone Arsenal through my work with the Chamber for more than 20 years. That work has included support for our community's BRAC efforts since the mid 1990's. I am very familiar with the process and look forward to supporting the other military installations in the State as we face potential future rounds of BRAC."
Lt. Gov. Ivey said, "Mike possesses a deep understanding of the importance of reinforcing Alabama's role as a good host to the military. The goal of the Commission and Foundation is to cultivate a military-friendly environment so that missions carried out in Alabama, stay in Alabama. I am confident he will serve as an effective leader and look forward to continuing to work with him."
The MSF is a private, non-profit organization that was established to serve as the day-to-day operational arm of the MSC. The two organizations work together to develop and implement measures to retain and strengthen Alabama's military assets in the face of any potential cuts due to the impending next round of Base Realignment and Closure Process (BRAC).
Ward is currently the Vice President of Government Affairs for the Huntsville/Madison County Chamber of Commerce and has served as a member of MSF since it was created in 2011. Ward replaces Brigadier General Paul Hankins (Ret.) who was formerly the Commander of the Air Force Officer Accession and Training Schools. Ward's term continues until October 2014. Ward has a degree in Business Administration from the University of Alabama. Ward and his wife, Cathryne, have three children.
A new round of BRAC cuts appears inevitable due to steep cuts in the Defense budget combined with a greater portion of the Defense budget going towards veterans benefits leaving fewer dollars for operations and the active force. Defense spending is only 20% of federal spending; but Defense has received 40% of the sequestration cuts. Sec. of Defense Chuck Hagel has recently proposed cutting military pay and befits in order to limit the hollowing out of the force. Alabama officials hope that they are able protect the state's military bases and pick up units and operations from bases that close in other states.
Rep. Martha Roby (R) told the 'Dothan Eagle' earlier in the year, "Now is a crucial time for our military. The ever-changing landscape means more uncertainty for our warfighters and policymakers at the Pentagon. It is as important as ever that the House Armed Services Committee fulfills its military oversight role and make sure we provide for the common defense of this great nation."
Lt. Gov. Kay Ivey is running for reelection. She faces both a Republican primary opponent, Stan Cooke – businessman and minister from Sumiton, and a Democratic challenger. Former state Representative James Fields (D) from Cullman announced on Friday that he is running for the office. Scott Ninesling who works as a fire chief at a liquefied natural gas plant in Angola half the year has also announced that he is running for the office.
Jones says Senate race a choice between "substance and leadership, and nothing"
"One of the great disappointments in this campaign is that Alabama is not really getting choices between substance and substance," Jones said.
Speaking outside the Calhoun County Democratic Party headquarters in Anniston on Friday, Sen. Doug Jones, D-Alabama, told a group of supporters that Alabamians haven't gotten a look at what his Republican opponent might do if he wins the Nov. 3 election. 
"One of the great disappointments in this campaign is that Alabama is not really getting choices between substance and substance," Jones said. "They're getting a choice between substance and leadership, and nothing — nothing. We have not heard anything from Tommy Tuberville about what he really wants to do." 
While Jones has held numerous interviews with the media, and regular web briefings over the summer and in recent weeks, Tuberville's campaign seems to prefer the safety of keeping Tuberville from making possible gaffs or damaging statements in interviews. 
Tuberville hasn't agreed to interviews with traditional media outlets, or to debate Jones, and instead has focused on conservative talk radio spots, speaking to smaller Republican groups and at private parties.
Tuberville's campaign has ignored or denied our numerous attempts to interview Tuberville, including another request on Friday. He also declined to attend a student forum held at Auburn University on Wednesday, which Jones attended. The forum was sponsored by the Auburn College Republicans and College Democrats.
"If you ever hear something Tommy Tuberville says, it is just simply this: 'Build a wall. No amnesty. Drain the swamp.' That ain't him. That's Donald Trump," Jones said. "He cannot think for himself. He doesn't think for himself." 
Jones spoke of his record of working to help veterans through legislation. And he referred to Tuberville's nonprofit for veterans and reporting that indicates, through tax records, that less than a third of the money raised for Tuberville's charity went to help veterans. 
"I don't just create charities and send only pennies on the dollar. I do things for the veterans of this state and this country," Jones said. 
Jones also made a case for Alabamians to remember the contributions past Democrats made in the state. Jones said it was Democratic Sen. John Sparkman who helped build Alabama's Redstone Arsenal. 
"It was a Democrat, Lester Hill, who built the rural hospitals around here that Donald Trump and Mitch McConnell and Tommy Tuberville are trying to destroy," Jones said. "It was Howell Heflin who built up agriculture in this state. Those are the Democrats. It was Franklin Rosevelt that put electricity in this state. We're going to do the same thing for broadband. People forget those things. They forget those things because we've let other people define us with lies."
Jones plans to visit Jefferson County on Saturday, then on to the Black Belt and Mobile on Sunday with another stop in Birmingham on Monday afternoon. 
"The goal is to get everybody out. That's the thing if we want to continue to ensure Alabama moves forward — moves forward and not backwards, to continue to have somebody, if I do say so myself, somebody that's just not going to damn embarrass us," Jones said.
"We've had too much of that in Alabama," Jones said, "and I bet you it won't be a year that Tommy Tuberville would be an embarrassment to this state because he doesn't know the issues. He doesn't know what to do, and he's dang sure not going to know what to do when Donald Trump is not president of the United States." 
Jones encouraged supporters to be skeptical of recent polling. One such recent poll, by Auburn University at Montgomery, puts Tuberville ahead of Jones by 12 percentage points, 54 to 42.1. An internal poll by Tuberville's campaign puts Tuberville ahead by 15 percentage points, while an internal poll from the Jones camp put Jones ahead by one percentage point. 
"Don't listen to these polling folks that come in, and they don't know Alabama, and they don't know what they're doing. We're tracking this race, and I can tell you, everything has been moving in our direction the last two months," Jones said. 
People standing along roadsides holding his signs and showing support, Jones said, is "the energy we've got out there. That's what you can't poll."
Ellen Bass of Anniston, standing outside the Calhoun County Democratic Party headquarters just after Jones spoke, told APR that she has numerous Republican friends who are voting for Jones.
"My hat's off to them because they're coming out," Bass said. "They recognize that he is a better candidate."
Ciara Smith, 21, newly elected to the Anniston City Council, told APR outside the headquarters building that Jones is the better candidate.
"I think that he's educated. I think that he speaks with passion and heart," Smith said. "And he knows what he's talking about, which is important, and which is more than we can say about the other candidate."
Speaking to APR after his speech to supporters, Jones said that he feels very good about the state of his campaign.
"Everything we're seeing is moving in our direction," Jones said. "And the more he stays hidden, the better it is for us."