Sessions: Obama's Policies Responsible for Income Disparity and Falling Wages
By Brandon Moseley
Alabama Political Reporter
Alabama Senator Jeff Sessions issued a statement in response to President Barack Obama's speech on the deteriorating conditions facing working Americans. Sessions pointed out that the President has been meeting with a small group of CEOs to craft an immigration plan that would displace U.S. workers. 

Senator Sessions said,
"It is shocking for the President to give a speech about income disparity and falling wages while pushing an immigration plan that will hammer American workers and widen the disparity. The Congressional Budget Office confirms the White House-backed plan would reduce wages, reduce per capita GNP, and increase unemployment. The President says people are worried 'the system is rigged' and yet it is the President who has teamed up with a small cadre of CEOs to double the flow of immigrant workers when these exact same companies are laying off American workers in droves."
"

Sen. Sessions continued,
"Wages for American workers are lower today than they were more than a decade ago—and take-home pay has fallen each year since the President came into office. A recent study demonstrated that all net job growth since 2000 has gone to immigrant workers while the number of U.S.-born Americans working has declined by 1.3 million…The President's policies also threaten college students who are about to enter a difficult economy. His plan would more than double the number of temporary foreign workers for wealthy tech companies. As Professor Ron Hira, a leading expert on H-1B visas, has noted, the visas are being used for 'facilitating offshoring and providing employers with cheap, temporary labor—while reducing job opportunities for American high-tech workers in the process.'"
According to Sessions, Harvard professor Dr. George Borjas found that high levels of immigration between 1980 and 2000 caused the wages of lower-skilled American workers to drop almost 8% and found that current immigration levels have resulted in a $402 billion annual wage loss for workers; however this has translated into a $437 billion increase in profits for business owners (most of the 1% that Progressives like to target in their rhetoric).
Sen. Sessions concluded,
"It is time to have an open and honest conversation about our shrinking middle class and the consequences of our immigration policies on American workers and their wages. Unfortunately, that is not what we got from the President today.  The truth is that the policy formula favored by President Obama—more regulation, hostility to American energy, anti-growth taxation, surging debt, bigger government, more federal interference, government-run healthcare, and mindless immigration policies—are the cause, not the cure, for growing middle class distress."
Senator Jeff Sessions (R)  has been a vocal opponent of the 'Gang of Eight' immigration reform bill that passed the U.S. Senate and is being considered by the U.S. House of Representatives.
According to a CIS report promoted by Sessions from 2000 to 2007, immigration levels were high, but the share of U.S. workers with a job actually dropped despite a growing economy.  In 2008 the economy plunged into the Great Recession.  Despite the slow painful recovery since 2008 to the start of 2013, an estimated 5.4 million new immigrants arrived.  Meanwhile millions of Americans (both citizens and immigrants) remain unemployed, underemployed, or have dropped out of the work force altogether.
According to Sen. Sessions the evidence supports his position that large-scale immigration can produce slow job growth and declining wages among native-born American citizens.
The Senate immigration bill would double the number of temporary guest workers and provides for more than 30 million grants of permanent legal immigrant status over the next 10 years.  This would be a tripling of the number called for under current law.
Supporters of comprehensive immigration reform point out that many of the person who receive the coveted H1B visas are foreign students who studied in United States universities on student visas and are often both very talented and very sought after by American companies.
There are an estimated 12 million illegal aliens living in the United States.  Many of these were smuggled across the southern border by criminal gangs, but millions entered legally with visas to work, visit, or study here but then illegally overstayed their visas.
President Obama has made comprehensive immigration reform and gun control his legislative priorities during this Congress.
Senator Jefferson "Jeff" Beauregard Sessions (R) was Alabama Attorney General prior to being elected in 1996 to replace the retiring Sen. Howell Heflin (D) in 1996.
Sen. Sessions defeated state Senator Roger Bedford (D) from Russellville in that election and has cruised through token opponents since then.
Sen. Sessions faces reelection in 2014, but at this point the Alabama Politcal Reporter is not aware of any credible opponents (Republican or Democrat)  challenging Sen. Sessions.
Trump Truck and boat parades this weekend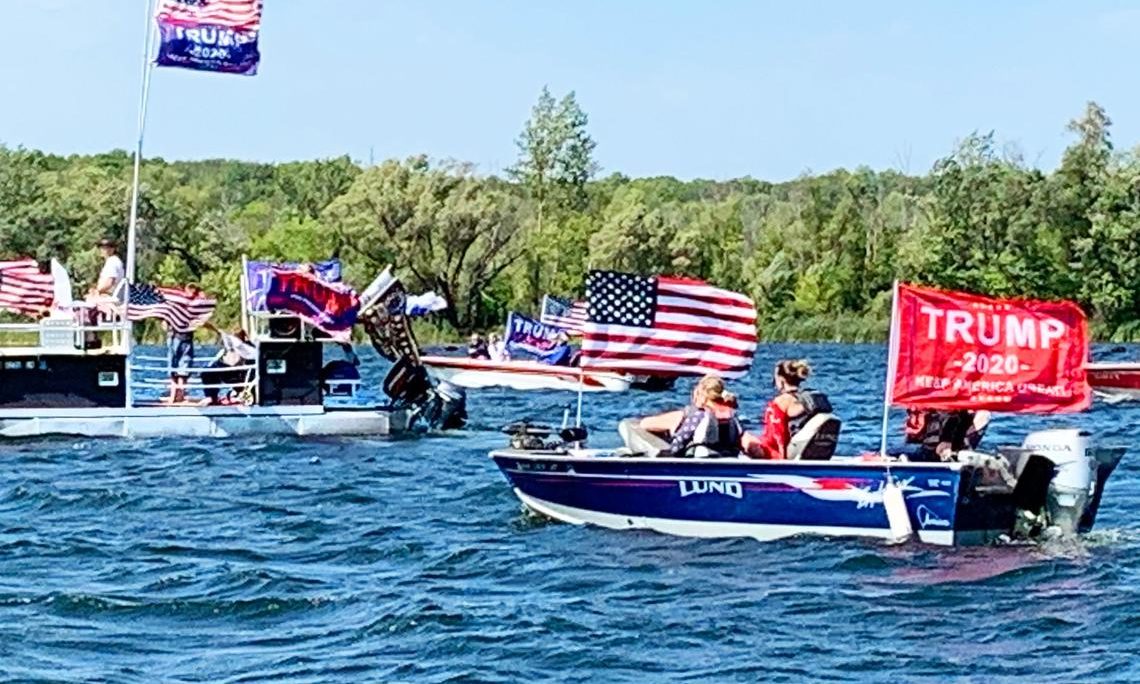 As Election Day draws near, Alabama Republicans are excited about promoting the re-election of Donald J. Trump as President and the election of Tommy Tuberville for U.S. Senate. This weekend two pro-President Trump events are happening in the state. There will be a truck parade from Ashland to Phenix City on Saturday sponsored by the Clay County Republican Party, while there will also be a boat parade on Wilson Lake in the Shoals sponsored by the Colbert County Republican Party on Sunday.
The pickup trucks will assemble at the Ashland Industrial Park in Clay County, 8240 Hwy 9, Ashland. There is a pre-departure rally at 10:00 a.m. central standard time. The trucks will depart at 11:00 a.m. and then proceed on a parade route that will take them into the bitterly contested swing state of Georgia. The Trump Pickup Parade will wind through east Alabama and West Georgia traveling through LaGrange and Columbus before concluding near the Alabama/Georgia line in Phenix City, 332 Woodland Drive, Phenix City at approximately 2:00 p.m. central time. Speakers will begin at 3:00. Trump flags will be on sale at the event.
The Phenix Motorsports Park will be hosting what sponsor hope could possibly the world's largest Pickup Tuck parade in U.S. history that is routing over 50 mile through Georgia in effort to "pickup" President Trump's numbers in GA.
A number dignitaries have been invited to address the Phenix City rally, including Coach Tuberville. Former State Sen. Shadrack McGill, Trump Victory Finance Committee member former State Rep. Perry O. Hooper Jr., and Paul Wellborn, the President and CEO of the largest Family owned Kitchen Cabinet manufacture in the USA are among the featured speakers who have committed to speak at the event.
Entertainment will be provided by: Charity Bowden, an up and coming country music singer who was the runner up on "The Voice". Charity will sing 'I am Proud to be an American' as well as songs from her Voice performances. The McGill Girls will also perform. The three beautiful and talented sisters will be singing patriotic songs in three part harmony. Geoff Carlisle, a professional DJ will be keeping the crowd pumped with music and entertainment.
Following the speakers and the entertainment there will Trump truck-vs- Joe Bidden truck races down the drag strip for the finale.
The Northwest Alabama boat parade will be on Sunday. The boats will gather at 2:00 p.m. near Turtle Point and then the flotilla will parade around the open waters of Wilson Lake til 3_00 p.m.. There will be a contest for best decorated Trump boats.
Trump supporters have held a number of large boat parades across the state to show their support for the re-election of Pres. Trump.
Boat parade sponsors say that this parade will be: pro-American, pro-law enforcement, pro-military.