Mike Rogers Urges Yelen to Audit the Fed
By Brandon Moseley
Alabama Political Reporter
Former Congressman and Presidential candidate Representative Ron Paul (R) from Texas has long advocated (under both Democratic and Republican administrations) that the U.S. Federal Reserve System be audited.  The de facto National Bank is charged with managing the money supply.  The dollar bills in our wallets are "Federal Reserve Notes" and many Americans are concerned with how the Federal Reserve is being run.
What used to be considered a "fringe" issue has grown more mainstream as $trillion deficit after $trillion deficit have been stacked onto a national debt that has grown into numbers most of us can't really comprehend.  The current debt is $17,342 billion and is growing at the rate of $2 billion a day.
Congressman Mike Rogers (R) from Saks on Thursday sent a letter to Janet Yellen asking her to audit the Federal Reserve.
Janet Yellen is the new Chair of the Federal Reserve.  She replaces Chairman Ben Bernanke.  Supporters of Bernanke claim that his "quantitative easing" policies are responsible for keeping the Great Recession from becoming the Great Depression II.  Critics blame Chairman Bernanke and his predecessor, Allan Greenspan for the real estate bubble that became the Great Recession and question if the trillions in backdoor stimulus used to prop up the Obama economy has the makings of a much more dangerous bubble.
Representative Rogers letter states, "During your confirmation, you noted that the Federal Reserve has been a steadfast steward of our nation's monetary policy. I urge you to share that record with the American public by opening the books and allowing the U.S. Comptroller General, an independent entity, to fully audit all actions. So much of what the Federal Reserve does is designed to bring certainty and stability to our economy. I cannot think of a better way to add to that certainty than cutting through the cloak of secrecy to ensure openness through auditing."
Rep. Mike Rogers supports H.R. 24, a House Resolution calling for an audit of the Federal Reserve. H.R. 24 has over 180 cosponsors and provides authority for the U.S. Comptroller General to fully audit the Federal Reserve. "I urge Janet Yellen to listen to the consistent message from Congress and the American people and audit the Fed," Rogers said.
Congressman Rogers serves as Chairman of the Strategic Forces subcommittee on the Armed Services Committee and is a senior member of the Homeland Security and Agriculture committees.
Representative Rogers is asking voters for a seventh term representing Alabama's Third Congressional District.
Trump Truck and boat parades this weekend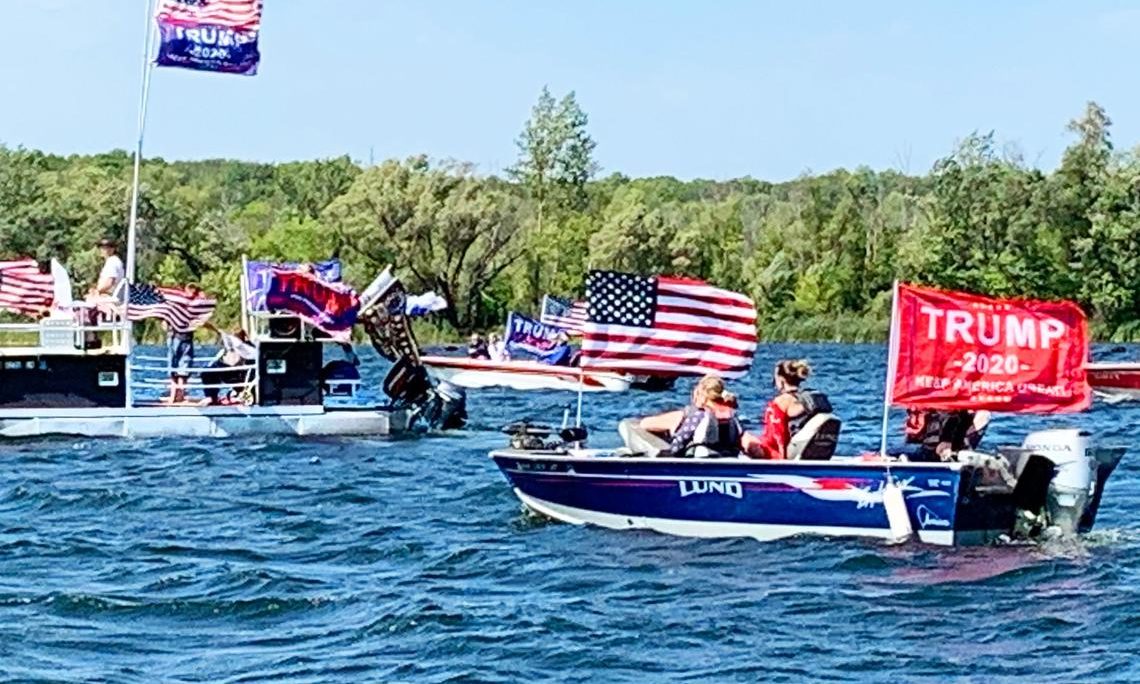 As Election Day draws near, Alabama Republicans are excited about promoting the re-election of Donald J. Trump as President and the election of Tommy Tuberville for U.S. Senate. This weekend two pro-President Trump events are happening in the state. There will be a truck parade from Ashland to Phenix City on Saturday sponsored by the Clay County Republican Party, while there will also be a boat parade on Wilson Lake in the Shoals sponsored by the Colbert County Republican Party on Sunday.
The pickup trucks will assemble at the Ashland Industrial Park in Clay County, 8240 Hwy 9, Ashland. There is a pre-departure rally at 10:00 a.m. central standard time. The trucks will depart at 11:00 a.m. and then proceed on a parade route that will take them into the bitterly contested swing state of Georgia. The Trump Pickup Parade will wind through east Alabama and West Georgia traveling through LaGrange and Columbus before concluding near the Alabama/Georgia line in Phenix City, 332 Woodland Drive, Phenix City at approximately 2:00 p.m. central time. Speakers will begin at 3:00. Trump flags will be on sale at the event.
The Phenix Motorsports Park will be hosting what sponsor hope could possibly the world's largest Pickup Tuck parade in U.S. history that is routing over 50 mile through Georgia in effort to "pickup" President Trump's numbers in GA.
A number dignitaries have been invited to address the Phenix City rally, including Coach Tuberville. Former State Sen. Shadrack McGill, Trump Victory Finance Committee member former State Rep. Perry O. Hooper Jr., and Paul Wellborn, the President and CEO of the largest Family owned Kitchen Cabinet manufacture in the USA are among the featured speakers who have committed to speak at the event.
Entertainment will be provided by: Charity Bowden, an up and coming country music singer who was the runner up on "The Voice". Charity will sing 'I am Proud to be an American' as well as songs from her Voice performances. The McGill Girls will also perform. The three beautiful and talented sisters will be singing patriotic songs in three part harmony. Geoff Carlisle, a professional DJ will be keeping the crowd pumped with music and entertainment.
Following the speakers and the entertainment there will Trump truck-vs- Joe Bidden truck races down the drag strip for the finale.
The Northwest Alabama boat parade will be on Sunday. The boats will gather at 2:00 p.m. near Turtle Point and then the flotilla will parade around the open waters of Wilson Lake til 3_00 p.m.. There will be a contest for best decorated Trump boats.
Trump supporters have held a number of large boat parades across the state to show their support for the re-election of Pres. Trump.
Boat parade sponsors say that this parade will be: pro-American, pro-law enforcement, pro-military.