Leeds Criticized for Charging To Move Cars
By Brandon Moseley
Alabama Political Reporter
On Tuesday, numerous transfer trucks along with other motorists were involved in accidents across Alabama.  One of the biggest traffic snarls was in Leeds where several of the 18 wheelers jack-knifed in icy conditions. Thousands of motorists who work in Jefferson County, but live in Leeds, St. Clair County, or points beyond backed up behind the blocked interstate.
In Leeds, icy conditions and a steep grade made U.S. Highway 78 impassable to most non-four wheel drive vehicles.  That combination left thousands of vehicles, including this reporter trapped on the interstate or parked alongside the road in Leeds near the 140 exit.  Many motorists left their vehicles and made the four mile march to Moody where friends or family could come rescue them.  On Wednesday, moving all the abandoned vehicles looked like a daunting task.  Towing companies were brought in by the city of Leeds to attempt to clear the situation.
Many motorists reported receiving phone calls that said come get your car now or it will cost $175 to get it out of an impound lot.
Leeds Mayor David Miller said on Facebook,
"Well no matter what you do there's always somebody who attacks you with a false set of 'facts.' Despite the real fact that the City has been working around the clock to sand roads and assist people who are stranded to get to the City shelter at the civic center or to the shelter at the First Methodist Church Family Life Center where they are housed in warmth and fed for free, I am being attacked for people actually having to pay to have their cars towed when they are blocking the road or are in a position to cause a hazard. It is claimed that 'only Leeds' is charging for this service and all the other municipalities are doing this for free. Here are the facts: 1. It is illegal for any municipality to provide towing service to a private individual for free. 2. The City of Leeds is not charging anyone for towing services. They are being charged by the towing company for their service."
There was outrage from many commentators including the Alabama Media Group's John Archibald.
Republican Public Service Commission Candidate Jonathon Barbee said on Facebook, "Per ALDOT and Governor Dr. Robert Bentley, no one should try to move their cars or drive on the roads until tomorrow morning. If you are being towed by Leeds or Locust Fork, or any other city, you do not have to pay these towing companies. If you've had to pay, please bill it back to your Insurance Company as an Ice Accident and report it to ALDOT. If a tow truck company is holding your vehicle and expecting pay, please remind them of the state order and they are in violation of the "State Of Emergency" act by the Governor. Here is the phone number 334-242-7100. If you need an attorney to help in a Class Action suit against the company and the city, please contact (205) 201-0049. Don't let them bully you. Fight Back!"
Alabama Legislative Watchdogs Director and prominent Leeds resident Deanna Frankowski said, "Have spoken to Governor Bentley's staff and there has been NO discussion with Mayor Miller of Leeds regarding towing reimbursement by the state. The fact is that Governor Bentley communicated to Mayor Miller that the state is sending equipment to Leeds to tow cars to the side of the road at NO CHARGE to citizens."
Mayor David Miller responded to the criticism on Facebook, "The city didn't have any cars towed or moved on or from the interstate. Our focus was on getting the roadway cleared up the hill into the city so that we could get the stranded people on the interstate who were coming down from their cars along with the people who had made it off exit 140 onto hwy 78 only to be stuck there to shelter. By removing the cars on Scott City Hill which were blocking the roadway, we were able to get something over 300 people at last count to shelter."
Mayor Miller continued, "An update on the towing situation in Leeds. As I stated earlier, we had to tow a number of cars which were abandoned and blocking access for us to get stranded persons from the interstate and at exit 140 to our shelters. Local private towing companies were used for this purpose and took the towed vehicles to their lots in downtown Leeds where they can be retrieved. Unfortunately at the time there was no way for the City to legally pay for these services, but the emergency required the cars be moved. Several have suggested that we should have just moved the cars to the side rather than tow them. That would have been a solution if there had actually been a "side" to move them to. This was not a wide city street with room to get the cars safely out of the way, but a steep hill with no side room."
Miller said, "I completely understand the frustration and anger generated by this action and the perception that the City was charging the citizens for towing the cars. It was even suggested by some that the City was getting a percentage of the towing fees. None of this was true.  Most important is what we have been able to do to resolve this situation since it developed. I have been in contact with Mr. Art Faulkner, State EMA Director and arranged for heavy equipment from McClellan to clear the vehicles from the interstate that are still in the roadway. These vehicles will not be towed, but will be moved to the side of the interstate so that the owners may return when weather permits and retrieve their cars."
The Mayor continued, "Of even more importance to Leeds citizens is that I have been able, working through Governor Bentley and his office, Senator Slade Blackwell and Rep Dickie Drake to come up with an arrangement for reimbursement to all persons whose cars were towed. This is something which the City could not directly do on its own and we are greatly appreciative of this assistance to our citizens.
Many thanks to our police, fire and street department personnel and to those many private citizens who gave such a great effort to minimize the impact of this weather event and to aid over 300 people to get transported to our shelters. Thanks also to the Leeds First United Methodist Church and to Cedar Grove Baptist Church who opened their facilities to handle the people we could not accommodate at the Civic Center."
The sudden snow storm was a shock too many on Tuesday.  Weather forecasters correctly forecast that Tuesday was going to be a winter weather event; but they wrongly forecast the time that the storm was going to hit and they wrongly predicted that the most populous region of the state, the I-20 corridor, would just get a lite dusting.  Alabama Department of Transportation resources were reportedly pre-positioned hundreds of miles away in Montgomery and Mobile.  School systems, trusting their weather forecasters felt safe in opening schools.
At approximately 10:00 a.m. the "light dusting" began and it quickly became a mini-blizzard dumping two to three inches of snow on the Birmingham-Hoover metro area.  School superintendents responded by dismissing children.  Similarly panicked employers shut down offices across the metro area.  Everybody was suddenly on roads all at the same time devoid of sand or salt water treatments that were rapidly turning to ice.
It was a traffic disaster.  Transfer trucks on Arkadelphia Road became hopelessly stuck on the frozen road surfaces, parents rushing to pick up children from schools got their cars stuck or crashed.  Parents could not reach schools to pick up children and often got stuck themselves.  On Interstate 20 multiple tractor trailers crashed near Moody and at Chula Vista.  On U.S. Highway 280 in Homewood numerous crashes stopped traffic.  Motorists who managed to avoid the icing conditions on the back roads got to I-65, I-59, or I-20 to find the roadways shut down by numerous collisions.
Thousands of Alabamians and motorists from other states were trapped overnight in traffic on Interstate 20, U.S. Highway 280, I-65, and other roadways in frigid temperatures while crews worked to remove the wreckage of trucks and automobiles to reopen frozen interstates.
Jonathon Barbee is a TV producer/director from Trussville who is challenging incumbent PSC Commissioner Terry Dunn in the June 3rd Republican Primary.
Alabama women to Ivey: Support fair processes
Last week, Ivey co-authored a letter of support for Barrett and released it to media outlets.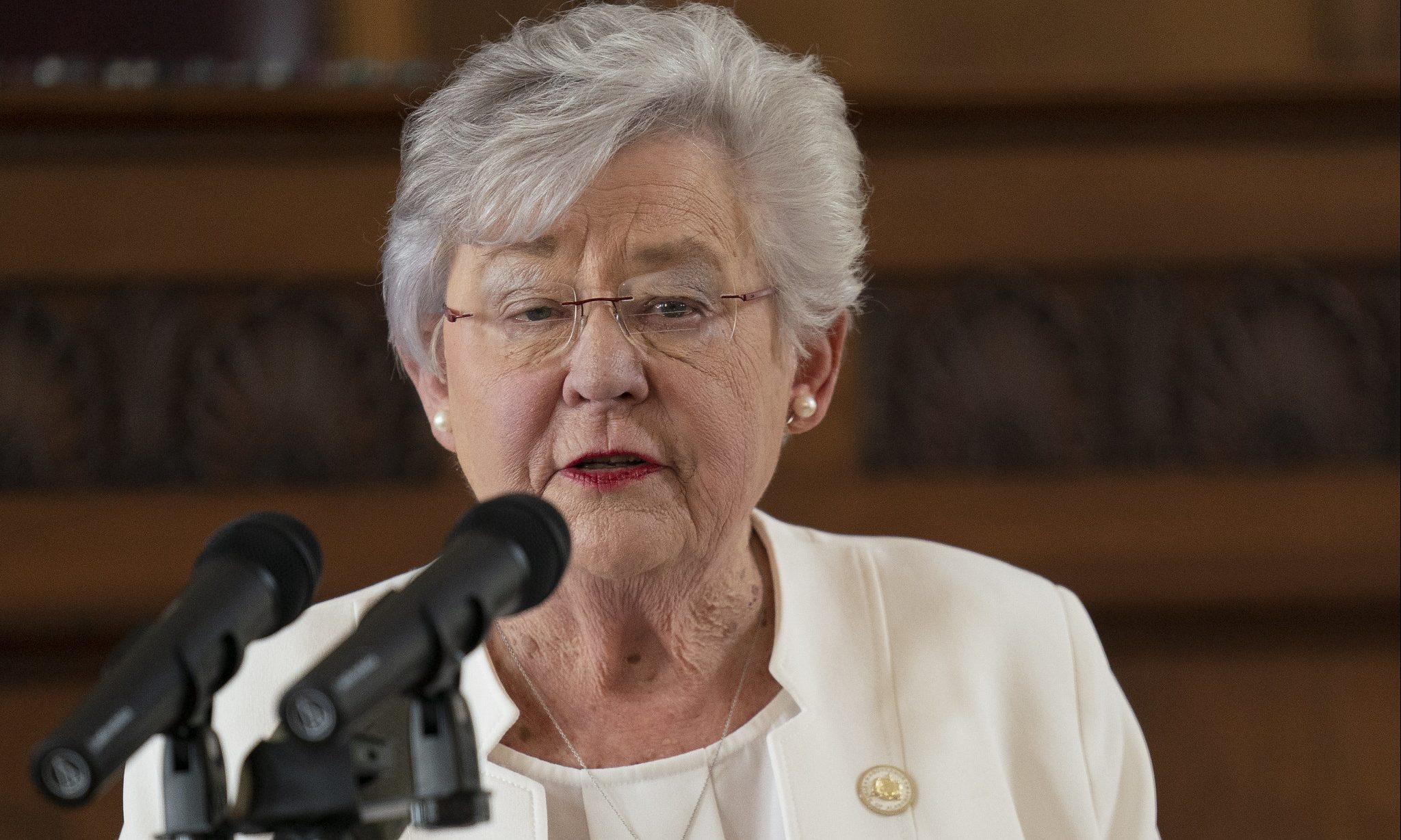 A letter signed by a bipartisan group of about a thousand Alabama women takes issue with Gov. Kay Ivey's recent support of Republican Supreme Court nominee Amy Coney Barrett, and it encourages Ivey and other state officials to instead support fair processes.
Last week, Ivey co-authored a letter of support for Barrett and released it to media outlets. In response, the letter from Alabama women calls the process to nominate Barrett, which is occurring after more than 50 million votes have been cast and in a Senate that is predicted to change from Republican to Democratic control, unfair and "anti-democratic."
The letter, which doesn't criticize Ivey or request that she rescind her endorsement of Barrett, asks instead that Ivey and other state leaders honor women by implementing and following fair processes that provide women with equal opportunities.
The full letter is below:
Dear Governor Ivey,
We are a group of women. We are current and future mothers, grandmothers, caregivers, leaders and champions of all citizens of our great state. We are moderates, progressives and conservatives. When we agree with our leaders, we say so, as we have in your support for education, workforce development, and sensible mask policies.  
We also speak up when we do not agree. Thus, we want to respond to your letter in support of Amy Coney Barrett because it does not represent our views. 
Like you and Judge Barrett's father, we want to tell all young girls that they can do anything their male counterparts can do and they can be anything and everything they want to be. We want it to be a truth, not just a signal "that the most qualified individual will get the job".  In addition to those things, we want them to know and believe that the process will be fair, because no matter the job, the process should be fair. And our children and young people (boys or girls) should be able to trust that democracy works and can be counted on. How can we assure them when this process has been so rushed and undemocratic?
We are women who oppose Judge Barrett's confirmation, because confirming her at this time, when 50 million Americans have already cast their votes, is anti-democratic. Regardless of what ways she does or does not think or talk like us, what matters is that a confirmation should not take place after the election is underway. 
We do not expect you to rescind your support of Judge Barrett. However, we urge you and the other women leaders who have advanced to top positions in our government to stand with us in asking for a fair process that takes place after the election. A process that helps us to believe that our voices and our votes matter because the American people should have the right to choose who nominates the next Supreme Court Justice.
Respectfully, 
Emily Hess Levine
Lindsey Chitwood
Megan Cheek
Kira Fonteneau
Ronne M. Hess
Cindi Cassis Branham
Anna Brantley Fry
Joellyn M. Beckham
Kristen Berthiaume
Alexandra Ruthann Bullock McElroy
The letter is signed by more than 800 women. The full list of signatures was sent to APR with the letter. We have chosen to list only the first 10 for the sake of brevity.