House Minority Leader Craig Ford to Run For Re-Election
By Brandon Moseley
Alabama Political Reporter
On Thursday, Representative Craig Ford (D) from Gadsden ended much speculation when he announced that he was seeking re-election to the Alabama House of Representatives.
The Minority Leader in the Alabama House of Representatives said, "I enjoy serving the people of District 28, and I believe I can do more for education, state employees, law enforcement, firefighters and the people of Etowah County by serving another term in the House."  Ford announced that he will seeking re-election to the Alabama House of Representatives House District 28 in Etowah County.
In a written statement, Rep. Ford said that his priorities for another term will be education and job creation. During his tenure in the legislature, Rep. Ford has sponsored numerous bills to provide cost-of-living pay increases for educators and public employees, repeal the Alabama Accountability Act, and provide full funding for participants in the state's Pre-paid Affordable College Tuition (PACT) Program.
Ford has also been a strong advocate for vocational and workforce development training, as well as dual enrollment for high school students.
Representative Ford said, "It's about schools, it's about jobs and it's about families.  We need to make the people here at home our priority. I want to be your voice in Montgomery, not Montgomery's voice to you."
Prior to Wednesday's announcement there was speculation that Rep. Ford might challenge state Senator Phil Williams (R), but with the announcement that Attalla Mayor (and longtime Ford friend) Larry Means (D) was running for his former Senate seat, Ford made the announcement that he would run for re-election to his House seat. Some Democrats had mentioned Ford as a possible gubernatorial candidate to challenge Republican incumbent Robert Bentley.
Craig Ford has served in the Alabama House of Representatives since 2000, when he won a special election to fill the seat after his father, Rep. Joe Ford, passed away. After the Republican landslide victory in 2010, Ford was elected by the remaining Democrats to be the House Minority Leader.  The Etowah County Democrat serves on the House Rules Committee, the Ways and Means Education Committee, and the Commerce and Small Business Committee.
Ford faces a challenge from Etowah County Board of Education Chairman Doug Sherrod (R) in the general election.  Candidates have just until 5:00 p.m. on Friday, February 7 to file qualifying papers with appropriate fees to enter this and other races in the state of Alabama.
Representative Ford is a partner in Hodges-Ford Insurance and is the owner of the Gadsden Messenger Newspaper. He and his wife, Gwen, have two children, Jonathan and Wells Elizabeth. Gwen teaches at Gadsden State Community College.
Rep. Ford is a former member of the U.S. Army Reserve and the Alabama National Guard, where he rose to the rank of Captain. Ford has a degree in Marketing from Auburn University in 1991. Ford is a charter member of the Coosa Valley Chapter of the Military Officers Association of America, serves as an Associate Member of the Alabama Retired Teachers Association, is an active member of the First United Methodist Church of Gadsden, and is a former board member of the YMCA, Break Away Ministries, and Coosa Baseball. Minority Leader Ford is still involved in coaching youth sports.
Trump Truck and boat parades this weekend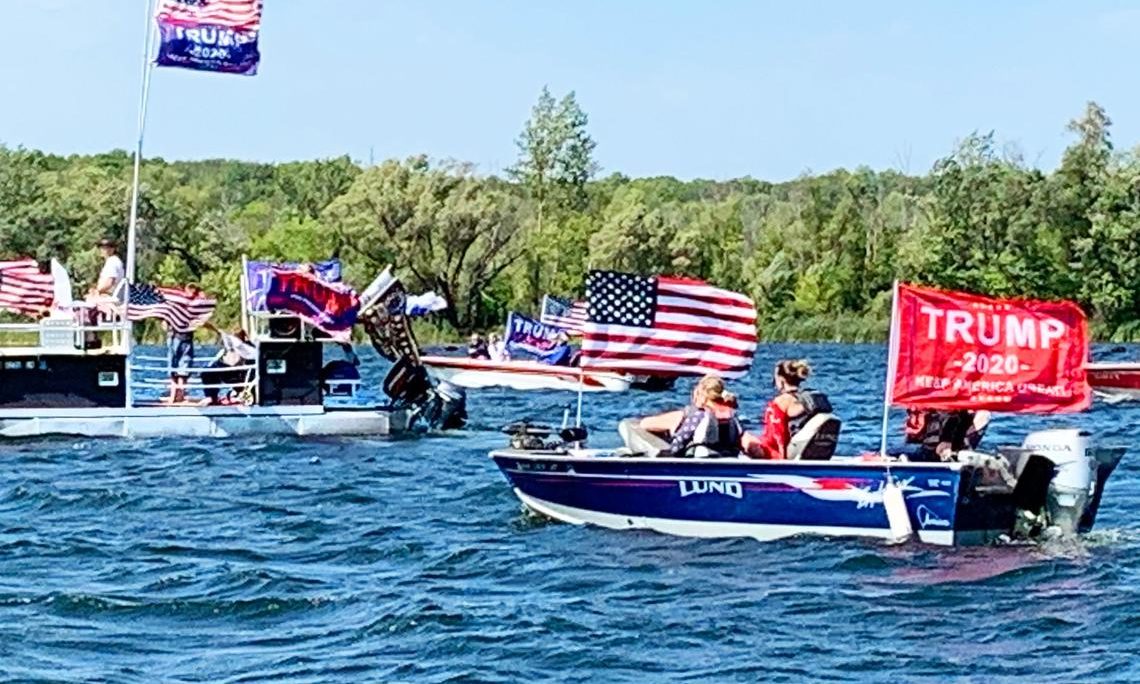 As Election Day draws near, Alabama Republicans are excited about promoting the re-election of Donald J. Trump as President and the election of Tommy Tuberville for U.S. Senate. This weekend two pro-President Trump events are happening in the state. There will be a truck parade from Ashland to Phenix City on Saturday sponsored by the Clay County Republican Party, while there will also be a boat parade on Wilson Lake in the Shoals sponsored by the Colbert County Republican Party on Sunday.
The pickup trucks will assemble at the Ashland Industrial Park in Clay County, 8240 Hwy 9, Ashland. There is a pre-departure rally at 10:00 a.m. central standard time. The trucks will depart at 11:00 a.m. and then proceed on a parade route that will take them into the bitterly contested swing state of Georgia. The Trump Pickup Parade will wind through east Alabama and West Georgia traveling through LaGrange and Columbus before concluding near the Alabama/Georgia line in Phenix City, 332 Woodland Drive, Phenix City at approximately 2:00 p.m. central time. Speakers will begin at 3:00. Trump flags will be on sale at the event.
The Phenix Motorsports Park will be hosting what sponsor hope could possibly the world's largest Pickup Tuck parade in U.S. history that is routing over 50 mile through Georgia in effort to "pickup" President Trump's numbers in GA.
A number dignitaries have been invited to address the Phenix City rally, including Coach Tuberville. Former State Sen. Shadrack McGill, Trump Victory Finance Committee member former State Rep. Perry O. Hooper Jr., and Paul Wellborn, the President and CEO of the largest Family owned Kitchen Cabinet manufacture in the USA are among the featured speakers who have committed to speak at the event.
Entertainment will be provided by: Charity Bowden, an up and coming country music singer who was the runner up on "The Voice". Charity will sing 'I am Proud to be an American' as well as songs from her Voice performances. The McGill Girls will also perform. The three beautiful and talented sisters will be singing patriotic songs in three part harmony. Geoff Carlisle, a professional DJ will be keeping the crowd pumped with music and entertainment.
Following the speakers and the entertainment there will Trump truck-vs- Joe Bidden truck races down the drag strip for the finale.
The Northwest Alabama boat parade will be on Sunday. The boats will gather at 2:00 p.m. near Turtle Point and then the flotilla will parade around the open waters of Wilson Lake til 3_00 p.m.. There will be a contest for best decorated Trump boats.
Trump supporters have held a number of large boat parades across the state to show their support for the re-election of Pres. Trump.
Boat parade sponsors say that this parade will be: pro-American, pro-law enforcement, pro-military.