With "Common Sense Conservative" Agenda Passed, Pro-life Bills Crop Up in State House
By Lee Hedgepeth
Alabama Political Reporter
Before this session began, many in the political world had made confident predictions: 2014 would be a pretty noncontroversial year in the Alabama legislature. With primary elections just around the corner, and a general not too far behind, many in our state had been sure that GOP leadership would —at least as much as possible — try to stick to so-called "common sense conservative" agenda items.
Today, though, begins the first complete legislative week since the Alabama House of Representatives passed their final piece of priority legislation on the theme, making room for more extensive debate in areas some Alabama Republicans may just regret when it comes time for voters to go to the polls this November.
With no priority bills left to discuss, lawmakers in the lower chamber have dropped four bills that breach a topic vital to the far right GOP  base, but arguably painful to their election year public profiles in moderate districts: abortion. Especially with some lawmakers in districts made even more politically "safe" by 2010 redistricting, abortion has turned up—like it or not—to be a big issue this 2014 regular legislative session.
The first bill on the topic, HB489, increases from twenty four to forty eight hours the length of time before any abortion that doctors must provide in writing a plethora of information to the patient. Sponsored by Representative Henry and twenty nine other House cosponsors, the proposal includes required dissemination of materials such as a waiver clarifying the mother has seen or been offered a recorded ultrasound.
HB490, sponsored by Representative Mary Sue McClurkin and cosponsored by twenty six others, would make it a Class C felony for a doctor to perform an abortion without first checking for a fetal heartbeat or for the doctor to perform the abortion once a heartbeat had been found. Similar laws have been legally challenged nationwide, given the great differences in result that come from varied methods of checking for fetal heartbeat. For example, patients examined by a doctor with more advanced ultrasound equipment may be barred from receiving an abortion much earlier than her less advantaged counterparts would be.
The last abortion bill, HB494, seems to be the most wide-scoped proposal, with provisions covering many different areas. The bill first provides further barriers for minor seeking abortions, such as parental notification and consent in some cases. It also makes it a crime for a parent or guardian to coerce a minor into an abortion. In addition, it says that a guardian ad litem is to be appointed by the Alabama Department of Public Health with the purpose of arguing and advocating on the behalf of the "unborn child," and is to be given all the privileges that would be afforded to the Attorney General in the case.
All three abortion-related bills, House Bills 489, 490, and 494, are scheduled to be discussed in a public hearing at 9am on the eighth floor of the State House tomorrow, Wednesday February 19th. Also on the docket for that public hearing is HB482, a much debated bill that would effectively change the makeup of the Birmingham Water Works board; proposed by the GOP, Democrats — especially from the Jefferson County area — are expected to not only fight back fiercely, but possibly to introduce their own controversial local bills in response.
Stay up to the minute on everything Alabama politics by liking us on Facebook at www.facebook.com/alreporter, or by following us on Twitter @alreporter
Trump Truck and boat parades this weekend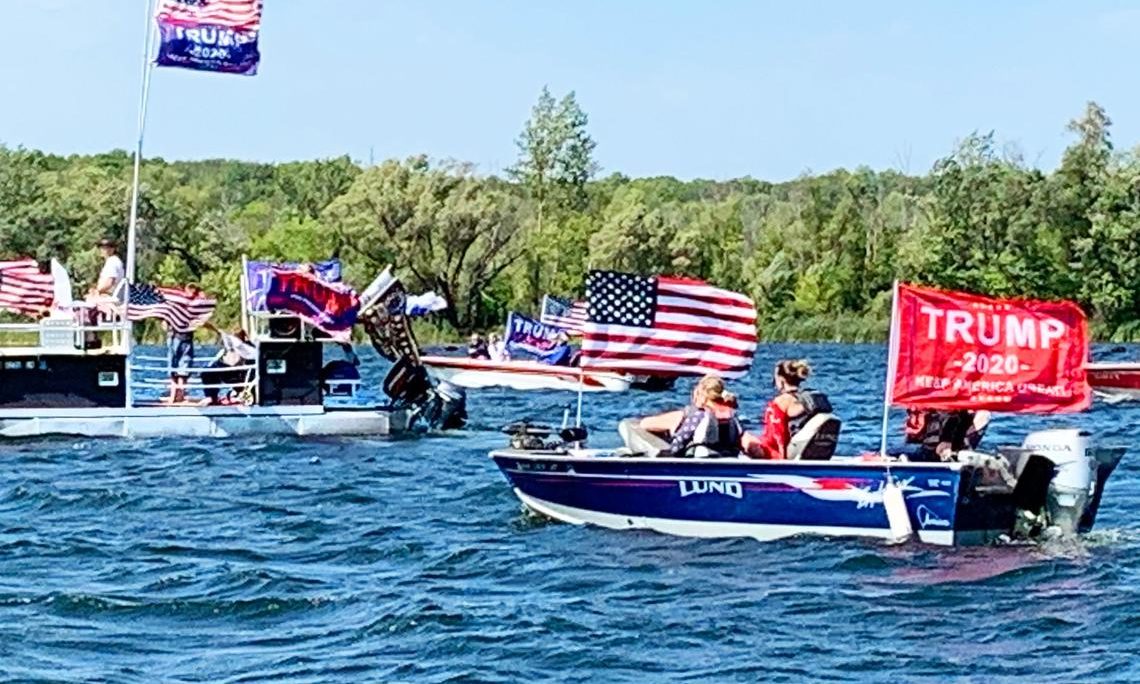 As Election Day draws near, Alabama Republicans are excited about promoting the re-election of Donald J. Trump as President and the election of Tommy Tuberville for U.S. Senate. This weekend two pro-President Trump events are happening in the state. There will be a truck parade from Ashland to Phenix City on Saturday sponsored by the Clay County Republican Party, while there will also be a boat parade on Wilson Lake in the Shoals sponsored by the Colbert County Republican Party on Sunday.
The pickup trucks will assemble at the Ashland Industrial Park in Clay County, 8240 Hwy 9, Ashland. There is a pre-departure rally at 10:00 a.m. central standard time. The trucks will depart at 11:00 a.m. and then proceed on a parade route that will take them into the bitterly contested swing state of Georgia. The Trump Pickup Parade will wind through east Alabama and West Georgia traveling through LaGrange and Columbus before concluding near the Alabama/Georgia line in Phenix City, 332 Woodland Drive, Phenix City at approximately 2:00 p.m. central time. Speakers will begin at 3:00. Trump flags will be on sale at the event.
The Phenix Motorsports Park will be hosting what sponsor hope could possibly the world's largest Pickup Tuck parade in U.S. history that is routing over 50 mile through Georgia in effort to "pickup" President Trump's numbers in GA.
A number dignitaries have been invited to address the Phenix City rally, including Coach Tuberville. Former State Sen. Shadrack McGill, Trump Victory Finance Committee member former State Rep. Perry O. Hooper Jr., and Paul Wellborn, the President and CEO of the largest Family owned Kitchen Cabinet manufacture in the USA are among the featured speakers who have committed to speak at the event.
Entertainment will be provided by: Charity Bowden, an up and coming country music singer who was the runner up on "The Voice". Charity will sing 'I am Proud to be an American' as well as songs from her Voice performances. The McGill Girls will also perform. The three beautiful and talented sisters will be singing patriotic songs in three part harmony. Geoff Carlisle, a professional DJ will be keeping the crowd pumped with music and entertainment.
Following the speakers and the entertainment there will Trump truck-vs- Joe Bidden truck races down the drag strip for the finale.
The Northwest Alabama boat parade will be on Sunday. The boats will gather at 2:00 p.m. near Turtle Point and then the flotilla will parade around the open waters of Wilson Lake til 3_00 p.m.. There will be a contest for best decorated Trump boats.
Trump supporters have held a number of large boat parades across the state to show their support for the re-election of Pres. Trump.
Boat parade sponsors say that this parade will be: pro-American, pro-law enforcement, pro-military.